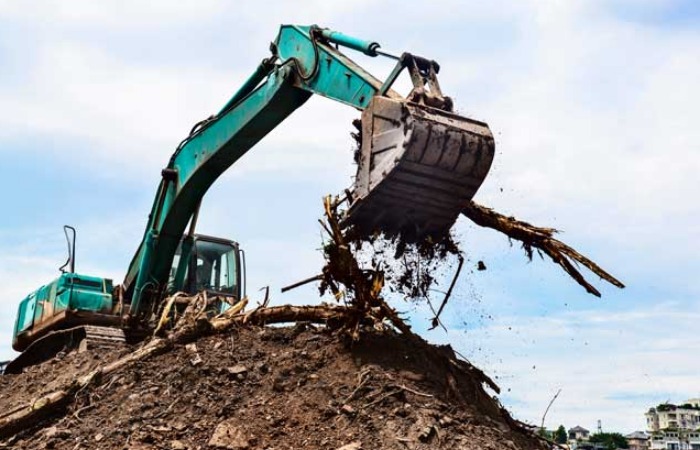 The excavator market of India is witnessing increasing competition with players striving to meet customer expectations by introducing more advanced excavator models and making improvements in their existing range of excavators to enhance their productivity and efficiency. OEMs are also focussing on machine design and considering the use of materials like carbon fibre, plastic, aluminium, ultra-high strength steel, etc. for reducing the weight of the equipment, without compromising machine stability, strength, and durability. Some OEMs are also undertaking R&D on the use of alternate fuels and electrification in a bid to reduce carbon emissions. All these factors bode well for the growth of the excavator market in the coming years.
During Excon last year, leading OEMs including Sany, Komatsu and Volvo launched their biodiesel and electric variants of excavators for the Indian market. With Excon 2023 to take place in December 2023 in Bengaluru, even companies are supposed to join the bandwagon of launching their biodiesel and electric variants of their excavators.
Tata Hitachi launched the all-new 3-tonne mini excavator, NX30. This is a made-in-India machine – specially designed for Indian application conditions and manufactured to meet the "best of everything" customer expectations of better operating performance, low fuel consumption, easy maintenance, high reliability, comfort, and stunning aesthetics.
The all-new Tata Hitachi NX30 is the first of the new NX series of hydraulic excavators, that marks the dawn of the next generation of excavators. The NX Series offers next-generation performance, hydraulics, versatility, comfort, maintenance, and savings. The next-gen mini excavator NX30 has been designed to provide precision control, high productivity, high fuel efficiency, excellent operator comfort, high versatility, and unmatched return on investment.
Tata Hitachi NX30 is powered by a powerful, fuel-efficient, and productive Yanmar engine and comes with a wide range of bucket options to ensure best-in-class performance. The new NX series excavators come with the next-generation Hydraulic system, which incorporates the latest in hydraulic technology. Powered by the Quadra Flow Hydraulic System, a patent-pending, multifunctional hydraulic system, the NX30 delivers power and speed as per the demands of the application and promises best-in-class fuel efficiency while doing the same.
Toshiki Onishi, Director (Sales, Marketing, and Customer Support), Tata Hitachi Construction Machinery, said, "Tata Hitachi's next-gen excavators offer a perfect combination of next-gen performance with lower operating cost. Mini excavators are the fastest-growing market segment in India today, and we are excited to announce the launch of NX30, a made-in-India machine backed by proven Japanese technology. With this, we have strengthened our portfolio of mini excavators and reinforced our capabilities to deliver class-leading next-gen machines to meet the evolving demands of the mini excavator market in India."
Komatsu India launched two new environment-friendly B20 biodiesel-ready models of hydraulic excavators – Komatsu PC205-10M0, and Komatsu PC500LC-10R. "These hydraulic excavator models are manufactured in India," said Yasunori Fujii, Managing Director, Komatsu India.
The Komatsu machines are designed to run on B20 biodiesel. The excavators deliver the same power and productivity when they consume alternate energy and reduce greenhouse gas emissions. The models have been specially developed to suit the tough Indian applications and conditions. Komatsu machines are digitalised and equipped with KOMTRAX tracking systems that enable users to monitor equipment health and increase efficiency.
These new models incorporate Komatsu's cutting-edge technology and have been specially developed to suit tough Indian applications and conditions. The new high-performance hydraulic excavators have generated tremendous interest among buyers and have been lauded for introducing highly productive machines. All these models are bio-diesel compatible and poised to bring about a behavioural change in customer-buying preference and contribute to the sustainability index of the nation. Komatsu is in discussions with oil companies to make biofuel available at project sites with easy access to end users.
JCB India introduced the industry's first fully electric excavator, the JCB 19C-1E. It is a zero-emission machine and has four lithium-ion batteries that power the machine for a full day on a single charge. With a significant focus on safety and productivity, JCB's 2GO system safely isolates all controls as a secondary safety system. Its auto-idle and auto kick-up redistribute power to preserve battery life. The machine has been introduced after rigorous testing and validation.
In addition to the JCB 19C-1E electric mini excavator, the company also launched two more mini excavators, the 35Z HD, and the 37C HD. Both machines come with heavy-duty structures and have easy manoeuvrability due to their compact size. The 5-tonne mini excavator range comprises the 50Z and the 55Z, which were also on display. These machines are designed for higher adaptability to work in confined areas, with high-strength heavy-duty booms and excellent operator comfort features like a full-suspension seat, smooth joystick operations, and electronic engine speed control with mode selection.
Recently, during its customer meeting, Caterpillar India launched Cat 350 excavator along with the 374 and 395 excavators. These products are equipped with the best-in-class technology which can help increase productivity, provide better cost efficiency, enhance safety, and offer more customisable features compared to their predecessors to meet the multi-functional requirements of the customers.
Said Mukul Dixit, India Director of Sales and Marketing in Caterpillar's Global Construction and Infrastructure Division, "Our next-gen excavators on display are designed to maximise productivity and help increase efficiency in their business operations."
Some of the features of the Cat 350 excavator are high digging force and swing torque, large bucket size minimising cycle time and maximising payload; highly efficient electro-hydraulic system and long-life filters limiting operating costs; reinforced structure achieving superior durability; supporting operations in rugged conditions up to 4,500m (14,764 ft) above sea level; standard high-ambient temperature capability of 52°C (125°F) and a standard cold start capability of -18°C (0°F); and optional cold start capability of -32°C (-25°F) is available for extreme conditions.
Deepak Shetty, CEO & Managing Director, JCB India, said, "We continue to introduce products that significantly limit their impact on the environment. The JCB 19C-1E is the industry's first fully-electric excavator in India and is integral to JCB's 'Road to Zero' initiative, a programme that we have been working on for the past few years. The machine has been tested extensively and has various built-in features that enhance safety and performance. With zero emissions and low noise, this is ideal for infrastructure development in urban areas and indoor working."
The new 19C-1E is the industry's first fully electric mini excavator, with zero emissions at the point of use and zero compromise on performance. JCB is leading the way in clean technology and reducing emissions, especially in urban, air quality-sensitive environments and enclosed spaces. Also, the low noise levels make the 19C-1E ideal for urban areas, indoor working, 'out-of-hours' working, and allows better communication with co-workers.
Sany India recently launched their SY225C-10HD excavator. Deepak Garg, Managing Director, Sany India & South Asia, said, "The products are compatible with biofuels. The excavators are much more economical in terms of fuel consumption and are backed with advanced technology. Their cost per cubic unit stands to be 10-12 per cent better than before. These excavators have inbuilt Artificial Intelligence features that improve the productivity and economies of customer operations and also have launched three new excavator attachments namely pile driver, pile breaker and ripper."
He added, "Digitalisation is the need of the hour. Everybody has server connectivity for excavators. We are the first to have that connectivity for cranes, rigs and other equipment and powered with AI. At the next level, we are working on driverless machines and looking at entire projects being controlled by AI."
Volvo CE India, along with SDLG India, launched their E6135Fi hydraulic excavator. The E6135i excavator is a 13-tonne machine designed and built for heavy lifting. It features a powerful four-cylinder DDE engine coupled with an energy-saving, load-sensing hydraulic system and delivers best-in-class performance. A genuinely versatile and stable machine, the E6135i excavator is ideally suited for a variety of urban and rural applications.
Surat Mehta, Head of SDLG Business in India, explained, "SDLG Growth Machines have captivated customers across India in the quarrying, mining, roads, railway siding, and port segments. They are ecstatic about the profitability they can extract from SDLG machines, as well as their ease of adaptability to a wide range of applications."
"Technological advancements are the need in present times within every industry. Newer technologies give a boost to new opportunities and developments, which in turn uplifts the market opportunities and significant growth can be seen in the market size. As the technology and products get updated, there is more space for new designs and advancements in machine build-up, this gives new dimensions to the technology trends. It is seen that emerging technology or innovations give rise to new ideas of product upgrade too," said Himanshu Sharma, Head – Marketing and Corporate Communication, B&R Industrial Automation.
He added, "The market is continuously exploring newer technologies but recently multifunctional earthmoving equipment are in higher demand such as a backhoe loader, which can be used in many applications like material handling, excavating, and re-filling. As consumer demands are increasing manufacturers are turning towards implementing advanced automation. Thus, the manufacturers are introducing new models of earthmoving equipment with multiple functionalities."
Added Sharma, "Automation has become vital at present in every stage of the construction equipment industry, from design and planning to maintenance. The evolution of automation has given rise to a mass spectrum of different options for handling equipment. More of that it has refrained human dependency thus reducing faults and errors. The alarm and remote monitoring systems have eased human dependency and machine error rectification. Under the Make in India scheme, as per reports, it is expected that billions of investments for the infrastructure sector would be accomplished in years to come."
Rental market
Being a general working machinery, excavators are largely available for projects through the rental market. So, the growth of the rental market is important from the perspective of excavators. Purchasing heavy machinery and equipment can be extremely costly especially due to recent emission norms and inflation machinery prices have gone up by 20 per cent due to which construction companies need not have to worry about the high upfront costs of ownership. This cost-effectiveness has made equipment rental a popular option for companies in the infrastructure development sector.
In the past five to six years, rental penetration has grown multi-fold and is now close to over 40 per cent which was merely 5 to 10 per cent six years back.
Speaking on the rental market for earthmoving equipment in India, Satin Sachdeva, Secretary General, Construction Equipment Rental Association, said, "The equipment rental market provides construction companies with access to the latest equipment and technology. This means that companies can complete their projects with the best possible equipment, without having to worry about the high costs of purchasing the latest machinery. Allowing them to make informed decisions on rent or buying."
Road ahead
The excavator industry is undergoing a transformation driven by the growing emphasis on sustainability, energy efficiency, and environmental regulations. Electric and alternative fuel variants are playing a significant role in shaping the future of this industry.
The road ahead for the excavator industry involves a shift toward more sustainable and environmentally friendly options, including electric, hybrid, hydrogen, and alternative fuel variants. These innovations will be influenced by technological advancements, regulatory changes, and market demand, ultimately driving the industry toward a greener and more efficient future.
Excavator safety tips: Before, during and after operation
Also known as diggers, excavators consist of a boom, dipper or stick, bucket, and cab on a rotating platform known as the upper structure or revolving frame. This upper structure sits on the top of an undercarriage with tracks or wheels. Excavators fall under the heavy equipment category and like any other heavy equipment, they are costly and hence, need to be safely operated and properly maintained so as to boost their life. If you are a contractor or a construction company owner or an excavator operator, then you might agree that adherence to the safety and maintenance tips not only keep the equipment in the good condition but give you peace of mind too that the equipment will not show signs of depreciation too early and can be used efficiently for years together with high uptime. Further, observance of safety tips can also increase job site safety. So what are these excavator safety tips? Well, here is a look at those excavator safety tips for before, during, and after the operation.
Safety tips before the operation
Read the operators' manual to get familiar with the controls of the equipment.
Read the warning labels and stickers as well as maintenance information, specification charts, and other important information posted around the machine.
Visually inspect controls, engine compartments, undercarriage parts, hydraulic parts, and other parts and see that everything is in proper condition.
Check that mirrors are clean and set properly.
Check all the attachments of the excavator. See if everything is in its proper place.
Check the track system as well before operating the excavator so that accidents can be prevented at the job site.
Walk around the equipment and check loose bolts, trash build-up, oil leaks, or damaged parts.
Always ensure that all the safety equipment is working and clean.
Make it a point to know and understand the width of the machine in order to maintain proper clearance from surrounding obstacles and obstructions.
Switch on the key and check for any diagnostic codes or warning alerts that are active. Rectify the code before starting the operation.
Test the equipment thoroughly before the operation to check its condition and effectiveness.
Always use seat belts as they are provided for comfort and safety.
Check with the concerned person if there are any underground lines or structures at the job site. Excavators should never be used too close to the edge of trench.
Safety tips during operation
Excavators have only one seat where the operator should sit, apart from that no one should be allowed in the bucket, cab or anywhere else on the machine.
Don't start the equipment before you are in full control.
Match speed with job conditions.
The excavator speed should be reduced while working on rough terrain or within congested areas.
The bucket should be kept lower to the ground during transportation as this can increase visibility and machine stability.
The flat route should be selected as far as possible when moving the excavator around the Jobsite.
The equipment should be steered as straight as possible and only small gradual changes in the direction should be made when turning is needed.
On travelling up the slopes, the equipment should be moved vertically instead of diagonally.
The boom and arm should be extended with the bucket lowered and rolled out when driving up the slopes. This can help in dropping the bucket and preventing the equipment from sliding.
The bucket bottom should be kept low and parallel to the ground when moving down the slope.
In very slippery conditions, boom and arm can be used to move up and down the slope. The boom and arm can be extended when going up a steep slope and when needed, the bucket should be lowered and the arm should be retracted to pull the machine up. The bucket can be positioned with the flat surface resting on the ground when traveling down a steep slope. While retracting the arm, the boom should be raised and the machine should be propelled until the front of the tracks reach ground level.
In case of using the excavator for trenching, the equipment should be leveled by placing dirt underneath the tracks.
In order to achieve better stability, you need to work with the propel motors to the rear of the machine.
The soil should be dumped as far as possible from the excavation site so as to avoid possible cave-ins.
When excavation needs to be done on slopes, then the machine should be leveled by digging a shelf (or a bench cut).
On steep bench cuts, you need to cut appropriately away from the upper bank to allow for adequate swing clearance when casting down the slope.
You should never dig underneath the excavator.
The excavator's tracks should be at a 90-degree angle to the excavation with the propel motors to the rear of the machine, in case of backfilling tasks.
You need to ensure that you don't clean the excavator's bucket by striking it on the ground or against another object.
You should not bang the bucket on the ground for breaking the hard strata before the digging process. It may damage the front structure & other key aggregates of the machine.
Safety tips after the operation
Choose the right parking place. In fact, choose a level surface with the bucket attachment lowered to the ground.
If the equipment needs to be parked on a slope, then the excavator should be choked on the downhill side.
The auto-idle switch should be turned off.
Hydraulic system pressure is to be released by moving all the hydraulic controls several times until release the system pressure is completely from the circuit. The key switch & hydraulic isolation switch are to be in on condition during this process.
The hydraulic isolation switch is to be turned off.
Ensure that the engine runs at half throttle without load for a few minutes (2-4min) to help cool the turbocharger down.
Before shutting the engine off with the key switch, the RPM should be set to low idle.
When exiting the equipment, the cab should be locked properly.
Don't forget to lock up the cab when exiting the equipment.
To sum up...
Do keep these excavator safety tips in mind if you wish to increase the lifespan of your excavator and prevent dangerous injuries to men and machines. These small but important tips can help to increase productivity as well as the efficiency of the machine to a very large extent.
Now, if you are looking to buy efficient excavators that require minimum maintenance but give excellent results, then Sany Group's excavators should surely be on your mind. They are highly fuel-efficient, reliable, durable, high on safety, require less maintenance, have a long life, and offer excellent performance and unmatched productivity to maximise your gains. They come loaded with Dynamic Optimization Matching Control System (DOMCS) which realises a match between the engine and external load demand for better fuel efficiency.
Article courtesy: Sany India