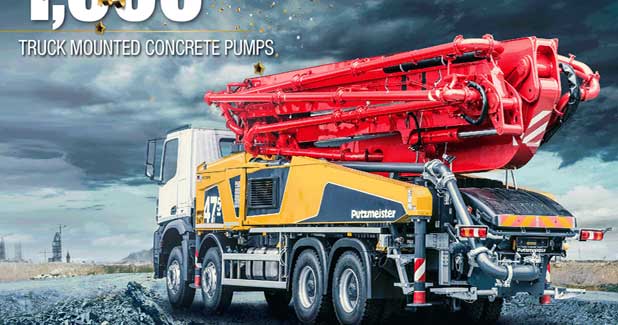 Putzmeister is gearing up to deliver the 1,000th Putzmeister truck-mounted boom pump from its factory in Goa. Putzmeister offers these truck-mounted pumps in three configurations - 36 m (four-arm, Z-fold), 42 m (five-arm, RZ-fold) and 47 m (five-arm, RZ-fold) to customers in India, Nepal, Bangladesh, Bhutan, Sri Lanka and Maldives.
Headquartered in Germany, Putzmeister set up operations in India as early as 1997 and commenced production from its plant in Goa in 2007.
Putzmeister truck-mounted boom pumps have worked on most major metro, bridge, refinery and thermal power plant projects in India. Globally, these pumps are renowned for their ability to work across a range of application conditions and extremely harsh environments, including radioactive environments.
The company is currently in the process of rolling out Putzmeister Machine Cockpit on its fleet of boom pumps in India. This will allow fleet owners to optimise their machine uptime and fuel consumption. Remote fault monitoring will enable quicker fixes. Automated maintenance alerts will improve equipment management. And of course, fleet owners will know where their machine is at all times - ensuring no unauthorised movement or use.