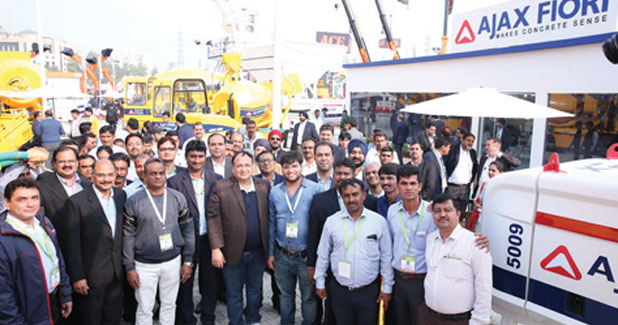 AJAX being associated with BC since its inception in India has always used the platform wherein the customers are exposed to its wide-ranging product portfolio, technological advancements and commendable services. In the latest edition of bauma CONEXPO INDIA, Ajax Fiori launched three new products in the presence of its esteemed customers and various stake holders.
Argo 4500 SLCM
Om Prakash Agarwal of Agarwal Suppliers, Jhalawar, Rajasthan launched the Argo 4500 self loading concrete mixer (SLCM). The ARGO 4500 SLCM with an output of 4.5 cu m/hr offers the following features:

Increased drum output effectuating more productivity, workability and throughput at real-time site operations
Electronic drum control system resulting in saving fuel to the customer and also have better homogeneity in concrete, meeting the divergent goals of increasing output quality and better ROI.
Auto-cleansing system designed and developed with high-end technology providing the best cleaning services
Non-directional tyre with puncture proof solution
Load-cell based weighing system for greater accuracy of the fine and coarse aggregates weighing
Fleet-tracking and monitoring system through telematics.
Other tangible benefits include value for money in operation and maintenance; best-in-class after-sales service support, provision of hands-on experience, in-depth training
to operators, and cutting-edge features providing product accuracy and reliability in terms of technological advancement.
CRB 20 batching plant
Rajesh Agarwal of Sapna Construction, Indore, Madhya Pradesh launched the CRB 20 batching plant with an output of 20 cum/hr, which offers a low investment and high returns in terms of quality and performance. The CRB 20 comes with a planetary mixer for optimum homogeneity, and concrete discharge is fed directly to the concrete pump.
ASP 3009 concrete pump Rajat Agarwal of Rajat Enterprises, Indore, Madhya Pradesh launched the ASP 3009 concrete pump. AJAX developed ASP 3009, a smaller capacity concrete pump to suit projects which involves lesser volume of concrete and pumping height. This stationary concrete pump with a pumping capacity of 30 cu m/hr is the best suited pump for bridges, small/medium residential and commercial buildings, villas and row houses to name a few.
The output and size of the pump is designed such that it can be optimised with AJAX Argo SLCM for placing concrete at the site.
Partnership with GS Caltex
Going forward, AJAX engaged a new partnership with GS Caltex and introduced 'Hydro Power Plus Oil', a specially formulated hydraulic oil for AJAX by GS Caltex for its Argo SLCM variants to enhance the machine performance. The 'Hydro Power Plus Oil' was officially launched at AJAX stall in the presence of Jagadish Bhat, CEO of Ajax Fiori Engineering (I); Rajesh Nagar, Managing Director of GS Caltex (I); Jayanta Ray, General Manager of OEM and Industrial, GS Caltex (I); along with the representatives from both companies.
AJAX also displayed its AF7 XP transit mixer and A25ZX boom pump. Visitors from across the country had a glimpse of AJAX's offerings in concreting equipment space encompassing all the verticals of concreting viz, production, transportation, and placement were displayed.