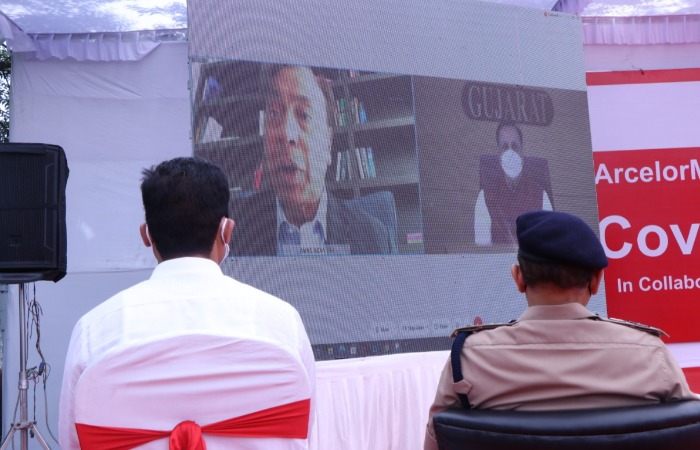 As the second wave of the Covid-19 virus swells; to supplement the government`s efforts, ArcelorMittal Nippon Steel India (AM/NS India) – a joint venture between ArcelorMittal and Nippon Steel – in alliance with the Government of Gujarat and District Administration, Surat, has set up a 250-bed COVID care hospital at Hazira, which will receive an uninterrupted supply of oxygen gas from its plant. This facility will be scaled up to a 1000-bed centre in the near future.
This temporary hospital was virtually inaugurated by Vijay Rupani, Chief Minister, State of Gujarat from his Gandhinagar office. CR Patil, Member of Parliament; along with Kishor Kanani (Kumar), Minister of State Health and Family Welfare, Medical Education; and Dilip Oommen, Chief Executive Officer, AM/NS India, attended the event. Lakshmi Mittal, Executive Chairman, ArcelorMittal also joined the inaugural session virtually.
This dedicated 250-bed COVID care hospital near the AM/NS India Hazira manufacturing plant will admit only patients who need oxygen. AM/NS India will ensure speedy transfer of patients via ambulances to nearby hospitals in case they require more intensive medical intervention. Keeping in mind the logistics challenges and technical limitations involved in transporting oxygen to the hospitals, the decision was taken to set up this facility, thus ensuring continuous oxygen supply in addition to saving time.
Appreciating the prompt action from AM/NS India, Rupani said, "The current surge in COVID cases has been a challenge for all state governments along with the issue of Oxygen shortage. We appreciate the prompt support by AM/NS India in setting up this COVID hospital which will help patients in need, and address the current oxygen situation. We expect AM/NS India to continue their support in our fight against Covid-19."
Extending his support, Mittal said, "I thank the Government of Gujarat and Vijay Rupani for their support due to which we were able to set up this COVID care hospital in 72 hours. The Prime Minister had requested suggestions for tackling the current COVID situation and since AM/NS India produces oxygen gas in the Hazira facility we decided to build this hospital near the facility to help those in need. This will overcome the bottleneck in oxygen supply."
ArcelorMittal Nippon Steel is primarily producing gaseous oxygen for steel production. However, it has ramped up the production of liquid oxygen substantially to 210 M/T per day for medical use. As the Covid pandemic is becoming severe in the region, we are utilising the gaseous oxygen for medical purpose which otherwise cannot be transported.
Elaborating on the Covid Hospital, Oommen, said, "We, at AM/NS India, realise the need to support the authorities in the fight against the global pandemic. As part of our continued endeavour to serve the community, we have introduced the concept of bringing hospital to the vicinity of the oxygen plant, instead of transporting oxygen to hospital. Considering the speed at which the pandemic is spreading, we have also factored in the ramping up of the number of beds. We thank the Government of Gujarat for its cooperation and I reinforce all possible support from AM/NS India in the fight against Covid-19."
AM/NS India is committed to standing shoulder-to-shoulder with the government, authorities, and medical personnel who are working relentlessly to safeguard people.
AM/NS India is a joint venture between ArcelorMittal and Nippon Steel, two of the world's leading steel manufacturing organisations. A leading integrated flat carbon steel producer in India, the company has an achievable crude steel capacity of around 9 million tonnes per annum. It produces a full diversified range of flat steel products, including value-added steel, and has a pellet capacity of 14 million tonnes with another 6 million tonnes expansion plan is in the pipeline.