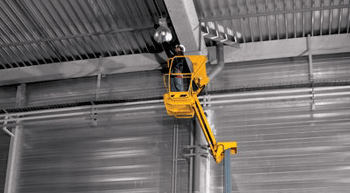 The future demand for access equipment in cement and steel sectors is promising in the years ahead.
The use of access platforms (AWPs) is multifarious. As such, these equipment are used across all sectors where there is a need to work at height productively and most importantly safely. Hence, the verticals of steel and cement industry have similar needs, which are sufficed by such equipment.
Use of AWPs makes the work safer, faster and hence more productive; and when it comes to material lifting, the equipment that comes of great use is telehandlers.
Haulotte is one of the largest full range manufacturers of access equipment with a range from 6 m to 43 m, in telehandlers, and the company also manufactures 3T to 4T machines with a working height up to 17 m. Such equipment has extensive use in the steel and cement industry where working at heights with men and material is a regular requirement. The awareness of use of such products has been steadily growing in India and many renowned steel and cement companies use such equipment in their day-to-day operations.
Speaking about the growth potential, Souma Ray, Director, Haulotte India, had this to say. ?We see a very promising future for access equipment in these sectors in the years ahead. Access equipment and telehandlers are extensively used worldwide during construction phase and thereafter for operational and maintenance requirement when plants are commissioned. It is very heartening to note that both steel and cement sectors are poised for growth as this will bring in a spurt in the demand of our products.?
Acceptance and awareness
To what extent the end user segments from these verticals have adopted the advanced men and material lifting systems? Says Ray, ?Although, the potential of use of such equipment are endless, there is a need for more awareness on safety and practicality of usage of access equipment in these verticals. Certainly, the end users are becoming aware of safe working systems and procedures followed in the west and the same is being gradually adapted in to their working atmosphere.?
Is initial high cost of access systems a deterrent in adopting such advanced and more productive and safe systems in steel and cement plants? Says Ray, ?Safety cannot be compromised at any cost. Access equipment are built for working safely at heights, so certainly we cannot make any compromise in providing the best technology in our equipment. Cost acts as a deterrent only when awareness is limited. However, with increasing awareness levels on the advantages of using such products, people are ready to pay more for moving on from traditional and conventional scaffoldings to access equipment.? He further adds, ?We definitely need legislations for safer working at heights in our country like in the developed countries. However, along with legislations, the general awareness towards safe working also has to increase.?
Safety and stability
Says Ray, ?Haulotte access equipment are manufactured as per European CE standards confirming to EN280, which are among the most stringent in terms of safety. There are safety cut-off systems which prevent the machine to be overloaded or work at an outreach, which can result in an accident due to negligence of the operator. Our products have tilt alarm, load sensor, drive enable switch, fully proportional controls, and auxiliary system for lowering in emergency as standard features. Our objective is to produce machines which give confidence to work at heights.?
He adds, ?Also, one of the recent technological advancements we have introduced in our diesel boom lifts is the Entrapment Prevention System, ACTIV? Shield? Bar. This is a secondary guarding system that ensures safety of the worker in an entrapment situation. The system once activated allows on reverse and down function of the machine, thus preventing further danger to the worker. The system, unlike some of our competitors offerings can be reset from the platform itself, thus saving both time and money.?
According to him, Haulotte telehandler offers maximum stability (obtained by locking the rear axle, thus solidifying the chassis) unmatchable handiness giving operational flexibility, progressiveness and precision: in addition to its wealth of on-board technology, the Haulotte telehandler (or telescopic handler) is also endowed with the power of a diesel engine and the versatility of its many accessories. Its general ergonomics improve visibility and allow easy maintenance.
Ray sums up on a high note: ?With India emerging as an economic superpower, I am confident that it will propel us to incorporate the best practices of safety followed worldwide. We are very positive about the growth of the access equipment industry in India. In the years ahead, access equipment usage shall become a mandatory feature across all sectors, when it comes to safe working at heights.?
HAULOTTE RANGE
Aerial Work Platforms: 7 products range over 60 models
Articulating booms, from 12 to 41 m working height, diesel or electric powered. Scissors lift, from 6 to 18 m working height, equipped with rough terrain diesel for outside applications or silent electric for interior use, their platform capacity ranges from 230 to 1,000 kg
Telescopic booms, from 14 to 43 m working height
Vertical masts, from 6 to 10 m, they can be used both outdoor and indoor
Push around; from 7 to 14 m working height, this light compact machine is designed for fragile floor surfaces
Trailer booms, from 12 to 26 m, their compactness and lightweight allow them to be towed to any site
Telehandler range: T6 models 10 m working height : 3 machines with maximum lift capacity 3,200 kg, 3,500 kg and 4,000 kg
14 m working height: 2 machines with maximum lift capacity 3,600 kg and 4,000 kg 17 m working height with maximum lift capacity 3,600 kg and 4,000 kg