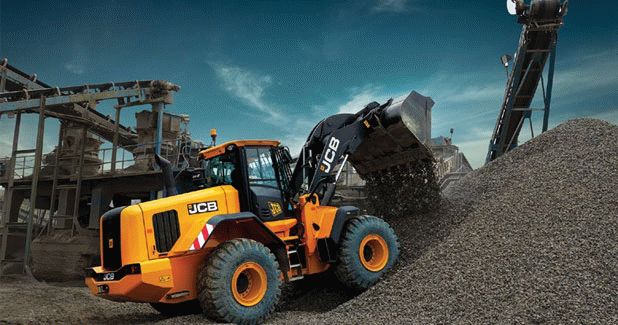 After a prolonged slump, the wheel loader market is bouncing upwards.
The 3-5 tonne payload capacity loaders have emerged as bestsellers, says the CE industry.
The Indian mining and material processing industry, along with other bulk material handling operations like coal loading or bulk handling at ports, and aggregate processing in roads, is already on a fast track growth trajectory in India, thereby driving the demand. The most commonly required equipment is wheeled front end loaders which work as front line equipment. The bucket type, capacity and payloads are selected from the most common available range beginning from 1 cu m with 2 tonne payload to 20 cu m with 40 tonne payload, depending upon the application. In every case, this equipment is deployed as a production tool by the industry. As such, they are replete with high-tech operator controls, ergonomic comfort, operation-centric productivity enhancement options and best-in-class safety features.
Over the past six months, in both EXCON 2015 and Bauma 2016 Munich construction and mining equipment expos, wheel loaders equipped with latest generation features were prime exhibits, attracting a large number of potential customers from India, enabling them to select the best of breed loaders to compliment their requirements.
Market dynamics: India Inc
All-round euphoria prevails in the Indian markets for wheel loaders. While sales in certain classes of loaders are booming, the customers are also procuring bigger loaders for bulk loading operations in coal and related sectors, followed by small capacity loaders for urban infra applications.
VG Sakthikumar, Managing Director, Schwing Stetter Sales and Services Pvt Ltd, a newcomer in this space, explains, ?The current market trend is 3 tonne and 5 tonne loaders. But loaders with 1 cu m buckets and with higher boom lengths are also getting sold in good numbers. They are preferred by low capacity batching plants. More such innovative products will surely get into the market during the next few years.?
Sanu George, Business Head, SDLG India, says, ?The demand for SDLG wheel loaders is gradually growing in the mining industry. We are in discussions with a number of potential customers about their requirements. Much of this demand is being generated in the wake of the government?s plan to boost coal production in India for domestic consumption. The applications for SDLG wheel loaders in coal mining include wagon-loading duties and truck loading of coal.?
George says that the general construction market demand has slowed down over the last year. But he expects this segment to rebound by the last quarter of this year or early next year. He says that within road construction activities, there is strong demand - as the sector is booming.
?In terms of material re-handling in quarries, demand here is largely aligned with the market conditions affecting the respective infrastructure types - roads, railways and general construction industries. Those quarries supplying materials to the road building sector are currently active, while quarries serving the general construction sector remain flat. SDLG is planning to roll out new products in the near future which we expect will help strengthen our position in these sectors,? says George. He adds, ?Historically, ports have been a very strong sector for SDLG wheel loaders. The robust and reliable design of the machines in a cost-effective package makes them an attractive option for port operators. However, in recent months, activity levels have been quite low, and in particular, coal re-handling operations in this sector have been limited, which has a direct effect on demand.?
Neeraj Bhatia, SBU Head Construction Equipment, Eimco Elecon (I) Ltd joins in, ?Wheel loaders, primarily, are used in construction, material handling and mining applications. In excavators and loader backhoes, the concept of working with back actor attachment over shovel use had always taken priority in material handling methodology in India. Although this trend has started witnessing a revision in the last few years, the use of specialised machines is gaining momentum over multipurpose machines. Cost consciousness, efficient and speedy execution of projects, has necessitated use of wheel loaders over loader backhoes and excavators for material handling jobs at various applications.?
Bhatia says that the Indian wheel loader industry has always been under stress and has witnessed a roller coaster sales curve over the last 20 years. ?In the very recent past, this product has just broken its downtrend, due to initiatives taken by the government on various infrastructure projects related to the roads and mining sectors. With stable Central governance, we can expect that these reforms will continue to give the loader industry its due. A CAGR of around 10 per cent or slightly more for the equipment industry is expected for the next couple of years. Roads, port and mining sectors will take centre stage during this period of development,? he says. ?The future prospects look favourable for the wheel loader industry as the government has taken necessary steps to open up sectors like iron ore and coal mining, focusing on core industries. Growth of loaders is anticipated with the growing infrastructure and mining market,? adds Bhatia.
Ajay Aneja, National Sales Head, CASE India says, ?The recent demand for construction equipment has seen potential growth to a great extent with several initiatives taken by the Central government. The wheel loader market in India is estimated to witness modest expansion in 2016. The growth of the construction equipment industry also depends on streamlining different issues, such as project clearances and approvals, administrative and procedural reforms. Currently, there are approximately 3,000 mines operating in India, ensuring huge potential for growth, with proper administrative and regulatory provisions. Adequate infrastructure sustainability can create additional demand for the wheel loader market in India.?
Jasmeet Singh, Head - Corporate Communications and External Affairs, JCB India Ltd, also confirms the revival story. ?Due to the overall decline in the infrastructure sector in the past few years, the growth of the wheeled loader segment has remained stagnant like all other construction equipment segments. However, we are now seeing an overall recovery in the Indian construction equipment sector,? he says.
Dimitrov Krishnan, Vice President and Head, Volvo CE India, also confirms, ?Overall, we?re seeing a steady increase in the use of wheel loaders in India. Customers have looked to the greater productivity of these machines compared with alternatives, particularly backhoe loaders, which have long been the primary machine of choice for Indian contractors.?
Krishnan feels that the increased focus on energy will lead to greater demand for larger wheel loaders used in mining applications. ?Similarly, as infrastructure development continues we will see more wheel loaders in material handling applications related to the supply of building materials,? he says.
?In terms of product size, the 3 tonne to 5 tonne capacity class will most likely continue to be the most popular for the foreseeable future, but larger machines will also see an increase in demand. In addition, we expect interest in compact wheel loaders to also grow,? adds Krishnan.
Singh says, ?The government?s renewed thrust and investments in the sector have helped in its revival. The wheeled loader segment, especially the 3 tonne to 5 tonne category, will gain further momentum once the large scale mining/infra projects are cleared and implemented.?
Market drivers
Industry players believe that most of the sales are being driven by application-centric requirements matched with the appropriate loader capacities.
George points out, ?We offer wheel loaders in two classes in India, the 3-tonne rated LG936L and the 5-tonne rated LG958. Approximately 75 per cent of the market is for the 3-tonne unit. SDLG is one of the world?s leading suppliers of wheel loaders in terms of volume, and we?re looking at ways to reinforce our position in the 3-tonne category and are exploring future product introductions to underline our market leadership. Our 5-ton unit is most popular in mining and ports applications, and we?ve been pleased with its acceptance into the customer base in these sectors.? Sakthikumar opines, ?We would say 3 tonne and 5 tonne are the fast moving variants in India. When it comes to RMC application, the 3 tonne becomes the preferred model. For mining and port handling, the 5 tonne wheel loader has a good opportunity.?
Bhatia says, ?The Indian market has primarily been deploying 3 tonne class loaders in the last four-five years in mining and bulk handling applications, which has now been upgraded to 5 tonne and above payload class. The reason for delay in this change can be attributed to the need for availability of parallel infrastructure to logistically transport this material to its destination. Further, with promising growth compared to the rest of the world, India is now being viewed as a big market for all earthmoving and material handling products. Although loaders with payload capacity of 3-3.5 tonne presently constitute around 67-70 per cent of the total loader market, loaders with payload of 5 tonne and above will drive the market growth in the days to come.?
Krishnan says, ?Customers pay a lot of attention to the anticipated cost-per-ton and high productivity levels, which are two areas where Volvo machines can demonstrate superiority. But equally important is reliability and the availability of customer support. Volvo CE?s nationwide dealer network is a real differentiator here, offering industry-leading parts and service support to machines that have a reputation for superior reliability.?
Opportunities will ensure sustainance
Sakthikumar explains his rationale, ?Mechanisation is the need of the hour. In fact, it?s already happening in a big way and is going to go further on. For applications like coal handling, loaders of various capacities play a very crucial role. As more sectors get opened up, it will add to the growth of the loader industry on the whole.? Krishnan says, ?At Volvo CE, we believe the opportunities for large capacity wheel loaders in the short to medium term are relatively good. Higher demand and increased output can only be attained efficiently through the use of larger capacity machines. However, there is still a large question mark hanging over the mining sector related to the ongoing low price levels in the global commodities market and the depressed outlook for many international mining companies. It?s clear this situation is causing some hesitation and concern within India, even if it?s not directly related to the country.?
George says, ?Our focus at SDLG is on the smaller capacity wheel loaders, so we are not best positioned to discuss anticipated demand for high capacity units. However, we do believe that the coal industry in India is likely to experience greater demand for high capacity units as the energy sector looks to boost output levels. Three-quarters of the market for wheel loaders is in the 3-tonne capacity class, and at SDLG we do not anticipate that changing dramatically in the coming years. Certainly as a company, we will be focusing on strengthening our own position in the 3-tonne and 5-tonne categories.?
Bhatia says that since a lot of initiatives are being taken to regenerate held-up mining projects, there is no doubt that manufacturers with large capacity loaders will witness good days ahead very soon. He says, ?Allocation of mining blocks to private sector players will definitely spur demand for large capacity loaders. Also, the decision of Coal India to induct high capacity loading tools is definitely going to augment the requirement of higher capacity loaders. Most of the national and international players have already taken steps or are making different strategies to encash this opportunity.?
Bhatia feels that the market for loaders has always remained subdued in our country in spite of the fact that this machine is extremely essential for material handling in a very effective and efficient manner. He attributes this weak demand to availability of cheap labour and the urge to take multi-utility machines in place of specific purpose machines.
?The market of mid-sized loaders can be divided into two basic categories depending on their use i.e., for construction work and for mining applications. Loaders of 2 to 3.5 tonne capacity are prevalently deployed in construction work. The 5 tonne loaders are primarily used in mining applications, though recent mega projects have opened the doors to 5 tonne capacity loaders as well. There is a substantial scope for every category of loader in the years to come, since the mindset of users is seen getting upgraded to specific-application vehicles from multi-utility vehicles,? he adds. Singh presents his assessment, ?At present, wheeled loaders in the 3 tonne to 5 tonne category are leading this segment. These machines are primarily used in mining projects, in quarries and crushers for loading & unloading, and bulk material movement. Other than that, they are also widely used in infrastructure projects like roads, highways, dams, and airports.?
?As mentioned, the government?s renewed focus on the mining segment will create opportunities for the 5 tonne segment wheeled loader. At JCB, we have recently introduced a new product ? the 455ZX wheeled loader. This 5.5 tonne payload machine is made in India at our state-of-the-art facility in Pune. The machine will be primarily used in sectors such as mining, railways, ports, and roads,? says Singh. He adds, ?Small and medium capacity loaders are now being increasingly used in agri-logistics and process industries. JCB recently introduced a new, innovative Super Loader - a perfect blend of value, versatility and performance. It is designed as a dedicated 1 ton loader for loading applications at higher heights. At present, JCB offers two variants of this machine in the Indian market, a 3.1 m dump height machine and a machine with a 4.0 m dump height.?
Significance of total cost of ownership (TCO)
All buyers in the construction and material handling sectors are focused on ensuring the lowest possible TCO to acquire a competitive edge. It is not the product acquisition price alone which can deliver the best-of-class TCO. There are many associated factors which contribute to the same, and vendors are offering innovative solutions to users, in well thought-out packages.
Says Krishnan, ?There are a range of factors that contribute to lifecycle costs, and in India, many customers have developed their own sophisticated models for understanding the current or projected lifecycle costs for any machine. Understandably, customers look at elements such as fuel efficiency, cycle times, anticipated parts and maintenance costs, residual value of the machine, and more. At Volvo CE, we are focused on three specifics in relation to lifecycle costs.? Krishnan elaborates on the specifics in relation to lifecycle costs, ?First is fuel efficiency. It?s not uncommon for our customers to experience a 10 per cent advantage or more in fuel consumption using a Volvo compared with another brand. And it?s easy to see how such a significant saving on a major cost of operation can translate into a large financial saving over the course of a machine?s lifetime. Second is productivity. Using the latest technology and detailed design, Volvo CE is able to deliver some of the best cycle times in the business. And third is reliability. Using the highest quality manufacturing combined with sophisticated analytical data, Volvo CE is able to produce machines that work better on the job site, and also support its dealer network with parts, information and expertise to help keep its machines running in the field with minimum downtime.?
Sakthikumar enumerates his ideas, ?Our wheel loaders are specially priced, well in range of the current market trend, and very much competitive. Our loaders are known to have comparatively low fuel consumption, which actually minimises the running cost. We do have the option of going for filters that have extended lifetime with finer micron values, which can withstand dusty environments; this will reduce the maintenance cost.?
He elaborates, ?We have adequate spares stock supported by well-trained engineers to minimise the downtime of machines. Customer requirements are for a robust machine with low maintenance and running cost at a competitive price tag.? George lists his company?s product features, ?Our wheel loaders use a single-stage, single-phase three-element hydraulic torque converter with an axis-fixed semi-automatic transmission to allow them to make full use of the engine?s power and increase the torque to ensure greater traction of the vehicle. Their design also includes a single-plate rear frame and a four-plate front frame that adopts joint bearings to ensure flexible operation and a small turning radius for more compact manoeuvring.?
He adds, ?Load-sensing hydraulics work in a single-pump system and reduce power consumption, and improve working efficiency. Proven and high-quality brand electrical components make up an upgraded electrical system that delivers improved reliability and stability. And finally, the spacious, bright and fully-enclosed cab gives the operator a broad view of the workspace and a comfortable environment to function within - helping maintain focus on the task at hand.?
Singh presents the overall package being offered by JCB, ?Our range of wheel loaders is known to provide the best-in-class lifecycle cost, return on investment and costs per tonne. They are fitted with fuel-efficient engines and ZF transmissions. This enables the machines to work productively for long hours. The machines also have robust structures to make them work reliably for years.?
He further explains, ?With 63 dealers and over 650 outlets, JCB India has the largest dealership network in the construction and earthmoving equipment industry. These outlets are spread all across India and provide professional product support to our customers. Our dealers employ over 6,000 trained professionals to cater to different customer requirements. Our dealerships are also supported by our four parts depots for parts supply and the training centre at Pune for training of technicians and service engineers.?
Singh says that product support is a key requirement in the industry. ?Machines operate in deep interiors of difficult and arduous sites. To address this challenge, apart from service vehicles, we also have mobile vans that have the concept of ?Workshop on Wheels?. These vans are fully equipped to handle most service and repair jobs on JCB machines,? he says.
Bhatia relates to efficiency and reliability, ?We at Eimco Elecon are presently manufacturing two sizes of loaders of 2.3 tonne and 3.5 tonne payload capacities. The articulated hydrostatic wheel loader, AL-120, with bucket capacity 1.2-1.6 cu m, is a highly fuel efficient, swift and reliable machine because of its in-built technology. The flow-on-demand feature, and its compact and optimised size makes this loader a perfect choice for batch mixing plants and crushers.?
He elaborates, ?The fuel cost per tonne of material handled, is lowest in its class and also lower than cost incurred by loader backhoe, excavator, shovel because of its technologically advanced hydraulic features. Single and easy joystick operation, four-wheel drive, small turning radius, and provision for various attachments make this machine a wonderful combination for the applications of material handling in ready mix concrete plants, hot mix plant, solid waste management and other industrial material handling applications.?
?The AL-520 loader, with bucket capacity of 1.9-3.0 cu m, is a rugged loader with hydrostatic steering, single lever operation and electronically controlled transmission. All these features make both the models highly efficient and productive in operation. The lifecycle concept can be a novel one for Indian users, who traditionally have given a lot of importance to initial cost of the product. For Eimco Elecon, we had practiced it from day one of our marketing underground mining equipment by offering life-long free services through our dedicated after-sales engineers. Ruggedness in design coupled with efficient and reliable hydraulics has always remained at the core of our engineering activities. Eimco Elecon has always been winning the heart of their customers or reaching very close to their expectations through its presence in the vicinity for effective after-sales support,? adds Bhatia.
Connectivity: A means to deliver customer satisfaction
Real time equipment data management from and for remote locations through a dedicated connectivity link, is the order of the day, for both customers and suppliers alike, for managing their business profitably. Manufacturers are offering their own customised solutions to their customers, irrespective of their fleet size or location. George confirms, ?Data-driven technologies and electronics in general will continue to improve the design, productivity and efficiency of wheel loaders in the future. But it?s important to remember that customers and users also want machines that are easy to maintain and simple enough to use on the job site. There will always be a balance here. At SDLG we have a strong record of continuous improvement in our wheel loaders, but this has always been matched with a strong sense of understanding of our customers? needs and not simply factoring technology into a design for the sake of it. Often, our industry has been guilty of doing this without taking the customers? sentiments into consideration.?
Krishnan describes Volvo?s stance, ?At Volvo CE, we are well-known for bringing the latest technologies and innovations to this industry, allowing customers to get better productivity, reliability and efficiency from their operations. It?s clear that connectivity in construction equipment will grow in the future and it?s actually something we already offer as a manufacturer in the form of our CareTrack package. The system generates a wide range of reports with data on aspects such as fuel consumption, operational hours, geographical location and more. These reports are available via a Web portal or can be received via SMS or email alerts. CareTrack can also be used to manage machine servicing and wear parts. This allows fleet managers to reduce fuel costs, optimise machine and operator performance, as well as proactively manage service and maintenance to maximise uptime.?
Bhatia confirms, ?The construction equipment industry is continuously witnessing a lot of innovations on features related to the lifecycle cost and safety. Customers have started giving high importance to factors like fuel efficiency, reliability, control, and information on regular maintenance to ensure upkeep of the machine. The days are not very far when due weightage will be given to these features while taking a final call during selection of equipment.?
Singh describes in detail, ?At JCB, we have integrated the Internet of Things with our earthmoving and construction machinery through an advanced Telematics technology called Livelink. We innovated and introduced Livelink, which is an advanced machine monitoring system that not only gives users the location of their equipment at all times, but also relays back all machine-related information which can be accessed by customers, dealers and JCB. Livelink strives to deliver constructive, real-time information to increase profits and improve productivity. Both the equipment owners and operators can access information such as fuel consumption, idle time, machine location, fluid levels and service alerts on their mobile devices or laptops using the Internet.?
He adds, ?Our objective is to ensure that your machine is always healthy and gives the highest level of performance. The JCB Livelink system helps in informing users via SMS alerts, the location and condition of their JCB machines. The geo-fencing and time-fencing features also give out SMS alerts whenever the machine moves out of the designated, predetermined geographical areas. This feature also works when the machine is being operated beyond the time that the customer has preset.?
Vision 2020
All wheel loader manufacturers recognise the huge market potential and the need to sustain the business in future. Obviously, the visions vary in line with the companies? philosophies, strategies and current standing in the marketplace.
Sakthikumar opines, ?Now, we have started to penetrate the market, and based on the responses from customers, we need to make improvements in the product and in our service as well. Our aim is to minimise the downtime of equipment by providing on-demand service and spares. With the market size expected to grow by 20-25 per cent, we hope to improve our market share to 10 per cent by 2020. Technologies that will improve the wear life of ground-engaging components, engines with low fuel consumption and above all a competitive price, will dominate this product market.? George says, ?At SDLG, we feel there is strong potential for growth in the wheel loader market as users in India shift from backhoe loaders to wheel loaders. This will come with a greater focus on machine productivity, leading customers to choose machines that can do specific jobs better, rather than utility machines, which is what backhoe loaders are. Of course, there will always be demand for backhoe loaders in India, but certainly our feeling is that in general construction in particular, users will start to look at wheel loaders over backhoe loaders.?
He adds, ?In the mining sector, we expect to see a shift to higher capacity wheel loaders - of 5 tonne and above, whereas in general construction, we expect to see more wheel loaders launched in capacity classes below 3 tonne.?
Krishnan cautions, ?We do not anticipate any dramatic change in the wheel loader industry over the next five years or so. Machine populations will grow, larger units and more compact machines will trend; but the ?bread and butter? class at 3-tonne to 5-tonne will continue to make up the bulk of the industry.?
Bhatia says, ?2020 is not very far off. The Indian economy is expected to grow at around 7 per cent in the next couple of years. The positive actions and reforms initiated by the government in the field of mining by passing the Coal Mines Special Provision Bill and the Mines & Minerals Development and Regulation Bill, and also bringing in Real Estate Regulation Act, Model Building Bye Laws and Affordable Housing for all, have won the confidence of investors. The judicious allocation of funds for roads, railways and ports is seen as a silver lining on the performance of the government. The ?Setu Bharatam? and interlinking of rivers projects will create addition demand for loaders, graders, dozers and excavators, and will also give impetus to new products like skid steer loaders and concrete equipment.?
Aneja opines, ?The construction equipment industry has seen strong growth in the first half of this calendar year, recording a growth rate of over 40 per cent in the last six months. As a result of various policies like Make in India, Smart Cities and Swachh Bharat, the domestic construction industry has become a driving force, and has the potential to grow to $5 billion by 2020, considering the infrastructure growth underway at present.?
He adds, ?CASE India has a legacy of excellent quality products and has been a major contributor towards greater efficiency and productivity of resources in India. The company makes environment friendly equipment by making them more fuel efficient and reducing emissions. CASE India engineers are constantly developing clever innovations as per requirements of the Indian market.? ?Additionally, the company has introduced globally followed world-class manufacturing processes at its plants, that enable the company to provide superior quality products to India as well as export markets. For a global full liner company such as CASE India, the introduction of newer equipment for Indian requirements is only a matter of time and the right opportunity. The company is committed to remain sensitive to market needs and is confident to match them with agility,? concludes Aneja.
Conclusion
Another re-growth cycle is on the anvil for wheel loaders in India. The success or failure to capitalise on the same will largely depend on the dexterity with which the suppliers meet the deliverables, to enable their customers to profitably deploy the loaders and in turn meet their own business objectives.
Fast-Selling Models 3-5 Tone Range
XCMG: LW300FN, ZL50GN
SDLG: L936; L958
CASE:7700 L
Eimco Elecon:AL120; AL520
JCB: 430ZX Plus, 432ZX 455ZX
Volvo: L60F, L350F
Important Features to Look out for
High travel speeds
Auto bucket levelling
Electronic joysticks
Cruise control
Ergonomic operator station
High all-round visibility from cab
Anti-skid steps
Safety handrails with grips
High-grade lights and fog lamps
Adjustable operator seat with safety belt
Self braking
ROPS & FOPS protection
Emission compliant engine
Steering limiter
Centralised lubrication
Reverse alarm
Rear view camera
Rear view mirrors
Quality aftermarket support