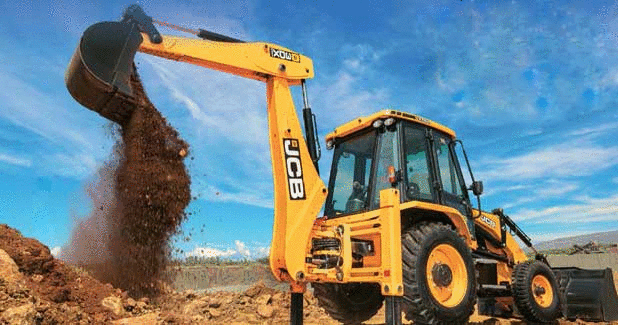 As the largest used construction equipment in India, backhoe loaders have made their presence felt in almost every infrastructure development project. In spite of the current economic slowdown in the market, backhoe loaders are here to stay on top of the equipment value chain to effectively support the infrastructure growth of the country.
Backhoe loader is the equipment of choice in India when the market shifts from manual labour to mechanisation. Over the years, backhoe loader has become the largest used construction equipment (CE) category in India, contributing to 40-45 per cent of the overall CE sales by volume, as per industry reports. Technology is picking up simultaneously in backhoe loaders as they are becoming greener and smarter with added features of fuel efficiency, energy efficiency and digital technology.
Production and sales trend
Backhoe loader is the most popular construction equipment sold in India. The market for backhoe loaders was growing exponentially in the last couple of years, but due to economic slowdown, the market took a downturn this year with production and sales of backhoe loaders hitting hard. However, this situation is expected to improve and the market will be back on track towards the end of this year, according to industry stakeholders due to the infrastructure development plans of the government in the long term. Samir Bansal, General Manager-India, Off-Highway Research, explains the trend, "Backhoe loader sales achieved a high of 33,595 units in 2011. However, with a slowdown in construction activity, demand steadily declined every year to reach 21,192 units in 2015 but grew thereafter to peak at 45,552 units in 2018. Production of backhoe loaders fell to a low of 23,318 units in 2015, but grew thereafter to peak at 51,178 units in 2018. This growth was mainly driven by the domestic market in 2016, while both local and export markets were instrumental for the rise in 2017 and 2018."
However, a drop is visible in this year's production and sales. Jasmeet Singh, Associate Vice President-Corporate Communications and Corporate Relations, JCB India, observes, 'The industry was at its highest in the calendar year 2018. However, due to 2019 being an election year, the industry is going through a demand compression. The liquidity related challenges around non-banking financial companies (NBFCs) are further adding to the overall stress.'The economy is going to bounce back in the coming years as 'the budget this year is a vision document with respect to India becoming a $5 trillion economy by 2024. It focuses on rural economy as a key growth driver in the foreseeable future,' According to Jasmeet Singh.
Sandeep Singh, Managing Director, Tata Hitachi Construction Machinery Co, comments on the market trends, 'The backhoe loader market has been growing at a CAGR of nearly 25 per cent for the last three years driven by government focus and investment in rural and urban infra - roads, metro, housing, irrigation and general construction. The customer expects to operate the equipment at the lowest cost with minimum breakdown and ease of maintenance, eventually eying a higher resale value.'
Manish Arora, Business Head-Construction Equipment Division, Mahindra & Mahindra, observes a drop of 30 per cent y-o-y in July this year. 'The industry currently is averaging around 2,400 units per month in the current fiscal. Production also has seen a cut inline with the reduced demand in the market,' he adds.
Abhijit R Shinde, Head-Sales, Escorts Construction Equipment, also points out towards the slowdown in the market this year with a 32 per cent de-growth compared to last year. This has also affected the production. According to Ajay Aneja, Brand Leader, CASE India, the beginning of the year 2019 was very good for backhoe loader market due to the projects allocated in the previous year. He adds, 'The market saw a slight distress in demand due to elections in April. However, post-election, a lot of new projects have been awarded which will definitely call for more machines.'
Manish Handa, Business Head-Earthmoving Equipment Division, ACE, says, 'There may be hiccups in the short-term but in long-term India's growth story is intact. We are geared up to maximise the opportunity by offering rugged and reliable backhoe loaders for lifting India's growth and investing in manufacturing capacities accordingly.'
Recovery on cards
The overall slowdown in the economy has definitely impacted the prospects of backhoe loader market as the largest used construction equipment in the country. Bansal elaborates on the trend, 'After a strong January-March quarter, equipment demand has remained sluggish and some recovery can be expected after monsoon. Off-Highway Research forecasts the backhoe loader market to decline 12 per cent to 40,000 units in 2019, which will be followed by a moderate growth to reach a level of 45,000 units in 2022 and 2023.'
According to Sandeep Singh, during the run up to the elections and beyond, the amount of spends has come down as the market has tanked and this has shown signs of significantly impacting the backhoe loader market too. 'We expect the market this year to be nearly flat given the above circumstances and expect it to recover with the new government driving initiatives that is expected to have an impact in the later part of the year.'
Arora elaborates,'Currently, we are experiencing a choke in the cash flow situation in the market place. This has lead to stalling of ongoing and new projects. Eventually, this is reflecting in poor off-take of construction equipment including backhoes. The industry is expected to continue to witness a total drop of around 25 per cent by the end of this financial year.'
Shinde though is optimistic on the fast recovery from the current slowdown as he comments, "The entire CE industry is in de-growth in the current fiscal and is likely to continue in the current quarter. But looking at the current budget, emphasis on infrastructure, the industry is expected to show positive movement in second half of the current fiscal year."
Aneja is also on the same page when he says, "With the new government coming in and various announcements call for more of construction equipment will definitely drive the demand."
According to Handa, despite the prevailing global uncertainties and slow economic growth, rising needs for better infrastructure in both urban and rural areas will boost demand for the versatile and cost-efficient backhoe loaders. He adds, "Moreover, looking ahead India would continue to be an attractive investment destination globally. The new political dispensation lends a lot of credibility and hope for the growth of infrastructure and economy in future, which will inevitably boost the sales of backhoe loaders in India."
The slowdown in the current market has impacted the backhoe loader customers across the segments with the rental market and small contractors affecting the most. Bansal says, "The adverse market conditions prevailing currently are impacting the equipment demand, and construction and rental businesses. However, this is a temporary and cyclical phase, and sales are expected to start recovering from September (after monsoon) as there is still a large infrastructure gap in every sector that needs to be bridged."
Arora speaking on the same lines adds, "Yes, it is very evident in the increase of non-performing assets (NPAs) of various financiers and the drop in industry volumes is hurting us. But we foresee some correction happening around October this year and further improvements in the industry off-take from January next year."
Backhoe loader to remain the most popular
Backhoes are multi-purpose and multi-functional machine that can perform a variety of tasks at sites. They are primarily used for digging, dozing, levelling and in general site applications. According to Jasmeet Singh, rural roads present significant opportunities for this segment followed by areas such as sea ports and airports.
"Given its versatility and mobility, the machine finds great use at almost every construction site, especially in rural India. With new growth drivers such as irrigation, interlinking of canals, railways, mining, and real estate, we can expect a further push in the sales and utilisation of backhoes," he adds.
As an entry level utility equipment, the user pattern of backhoe loader has remained largely same over the years. According to Sandeep Singh, backhoe loader utilisation has largely remained the same with backhoe usage being prominent compared to loader.
"In backhoe applications, we observe an increased usage of attachments for application like demolition and road construction, which were earlier largely manual operations. Usage of multiple buckets of different width, based on the kind of work has become a norm these days. Backhoe loader staying true to its sense as a multi-utility machine, is now being equipped with multiple buckets and other attachments like rock-breaker and augers."
Arora comments, "We see the current utilisation to continue in future as well." Shinde sees applications of backhoe loader reducing in large projects at the same time continuing as one of the most preferred machines for smaller, medium and multiple jobs.
According to Aneja, prevailing to the growth of construction and highway sector, backhoe loader is one of the "highest-demand" construction equipment due to its multi-usage applications. He adds, "Backhoes are the go-to equipment, which is now being used as a loader/excavator for loading, digging, asphalt breaking and excavation job works. Also, contributing to the "Swachh Bharat Abhiyaan Yojana", backhoe loaders are being engaged in aiming at cleaning of various ponds, lakes and rivers."
Handa describes the advantages of backhoe loader,"It is a versatile machine and its remarkably compact size helps in easy movement across rough terrains, construction sites and roads. Backhoe loaders save a lot of time as this multi-purpose equipment can easily perform various operations such as digging, grading, dozing, clamping, back dragging, filling, loading and levelling at construction sites and the operator doesn't need to switch between different pieces of equipment, making backhoe loader a perfect machine for various applications and sites."
Elaborating on speciality applications, he adds, "They can also do jobs like digging ditches, laying pipes, planting underground cables or laying the foundation for buildings and drainage systems. If an augur is attached to the backhoe, it can be used to drill holes for planting trees and signage and fencing projects in different variety of soils. A bucket can be integrated for cleaning the ditch on the rear and an asphalt cutter can be attached to the backhoe to repair roads. Similarly, various others attachments can be easily fixed in backhoes for performing a number of other tasks."
Are excavators and loaders a challenge?
With projects growing bigger in scale and execution period getting shorter, many big contractors are using more of excavators and wheel loaders in projects for better productivity and faster execution. Has this trend impacted the backhoe loader demand?
Bansal explains, "The backhoe loader demand is driven by first-time-buyers and users due to its versatility, mobility and price. There is a regular shift of contractors opting for specialist machines such as crawler excavators and wheeled loaders even today and backhoe loader usage is growing in the rural areas where the project size is small."
According to Jasmeet Singh, large-scale infrastructure projects demand for not only the best quality output, but also work on tight timelines thus, creating a need for specialised, intelligent and innovative construction equipment. "Backhoe loaders are multi-purpose machines that are equipped to work in all scale projects. JCB backhoes are smart machines that exhibit a blend of technology and digital innovation to build India's Next Gen Infrastructure," he adds.
Jasmeet Singh elaborates on the vast range of backhoe loaders offered by JCB for smaller and bigger projects."Our JCB 2DX backhoe loader, the compact backhoe, is specifically designed to suit the rural and semi-urban applications. It is widely used in some unique applications such as plantation, brick kilns, construction of rural roads, fibre optics laying, truck unloading, and tractor trolley loading. Further, the large 4DX is the most productive backhoe loader in India and is best suited for mass excavation or digging in hard strata."
According to him, while large-scale projects will see an influx of specialised equipment, backhoe loaders are very useful in semi-urban and rural infrastructure projects in India. "With the announcement of massive infrastructure development in rural India in the recent Budget, there is a need for machines that can provide intensive mobility and work at unstructured sites and roads. Backhoe loaders are a proven concept to work at such project sites, since four decades in India. They have been customised and structured as per Indian infrastructure market. Hence, we do not see a major switch in demand from backhoes to any other machine in the foreseeable future," Jasmeet Singh asserts.
Arora observes, "We have seen customer preference shifting from backhoes to small excavators in a few places. But the reason why a backhoe is so popular is its ability to march long distances from one site to another site on its own. This is a major disadvantage with excavators, and we feel the demand for backhoes will continue despite the shift. Another aspect which weighs in favour of the backhoe is that it is an entry-level product into the construction industry. So, we see a lot of first-time buyers and users opting to buy a backhoe as their first machine. We don't see this trend changing in the near future as well."
Shinde sees certain limitations in excavators and loaders in spite of their higher productivity compared to backhoe loaders. "As mentioned earlier, backhoe loader is a multi-utility product and can do the jobs where excavators and loaders have limitations. In my opinion, the backhoe loader market will remain the high-volume market in the Indian CE industry."
Aneja also sees advantages in backhoe loaders in many aspects as he explains, "Backhoe loader is famous for its multi-usage applications. To avoid using multiple equipment, contractors also aim at using one equipment which serves all purpose of the job. Depending upon the project type, a contractor may take the call. However, with backhoe being a dynamic equipment serving multiple applications, is the best and the most efficient choice for the contractors."
Features reloaded
As the most popular construction equipment in India, it is important for upgrading backhoe loaders with more features and technologies to bring in operational economy and productivity. All the backhoe loader OEMs are bringing in such features in their machines. Jasmeet Singh says, "JCB works on a philosophy of continuous transformation. As a company, we are always looking for a better way, which is explicit in each of our products. In December 2017, JCB India exhibited a range of intelligent and innovative machines with many "industry first" features at Excon 2017. We introduced the iconic JCB backhoe loader - the 3DX Xtra with 30 new innovative features, including 15 industry firsts, and five world firsts including an automated manual transmission, called Easy Shift."
On the IoT-based solutions, he adds, "For better serviceability, we are providing the latest solutions based on the evolving customer trends by integrating "Internet of Things" through our advanced telematics technology, LiveLink. JCB has also taken cognizance of evolving customer needs and has come up with solutions pertaining to reduced cost of operation, enhanced reliability, performance, ease of use, safety, serviceability and design in its new ecoXcellence range of backhoe loaders."
While the basic design and operations of the backhoe loader has remained the same, the customers are looking for ways to increase the usage of the machine to increase their revenues. Keeping this in mind, Tata Hitachi has designed its latest offering in the backhoe loader market - Tata Hitachi SHINRAI. Sandeep Singh elaborates on the features, "A major customer segment for the Indian backhoe loader market is hirers. Hence, fuel consumption is the major criteria for their consideration. Tata Hitachi's SHINRAI boosts fuel efficiency with its Excellent Hydraulic System (EHS), wherein the flow is regulated sensing the pressure of the system. SHINRAI also boasts of high bucket forces, dump height and good reaches."
The machine tracking feature is provided through INSITE: Tata Hitachi's new Telematics suite. This helps Tata Hitachi as well as the customer keep an eye on the parameters of machine running, usage, location, critical alerts and fuel levels. Therefore, the customer has information at his fingertips as to where and how the machine is working, enabling him to rightly deploy the machine with maximum uptime, thereby boosting productivity and profits.
According to Arora, Mahindra EarthMaster range of backhoes was the first to have joystick controls for backhoe operation. He adds, "We have also introduced a revolutionary new technology called Remotecare which helped our customers with basic information about his machine running at a site away from the customer's location. Many features like a digital cluster and a machine that could talk to the operator in his regional language and warn him of any upcoming breakdown in advance were introduced."
Mahindra CE has equipped the latest EarthMasters with Digisense - a GPS-enabled microprocessor that tracks key information about the machine. The users can also track the physical location of their machines and geo tag it for more control. Various usage reports and reports can also be generated through this feature enabling better tracking and control on maintenance and operation costs.
"We have upgraded our machines with a higher horsepower engine offering and our customers can now opt for an air-conditioned cabin as well," adds Arora.
According to Shinde, Escorts is the first Indian company to have designed backhoe loaders indigenously. He adds, "Our product development team has utilised extensive consumer insights and feedback to develop product which is built to withstand India's rough terrain and heavy usage. Escorts has two models in backhoe loaders, "Digmax II" and "Jungli".
Shinde explains more on the features,"Escorts Digmax II is powered by reliable fuel efficient Kirloskar engine which comes in two options, 76 hp and 90 hp. Escorts Jungli, powered by 76 hp Escorts engine to build the most fuel-efficient, compact and brute power for Jungli, consumes less fuel compared to other machines in its segment. Jungli has unique features which includes heavy-duty boom, heavy-duty loader arm, hard strata bucket with 2WD and 4WD options."
Shinde describes the telematics system in Escorts backhoe loaders. "Digmax II was the first machine to offer telematics. The Equipment Monitoring System (EMS) is an intelligent communication system in Digmax II and Jungli machines which takes freedom to the next level. It enables business owner or fleet manager to control over the business by providing business information such as daily work reports, fuel level, and various warnings on a mobile phone through a normal SMS and voice messages in machine for operator. EMS informs the customer in advance about routine maintenance on the machine. These messages can be accessed by customers from the comfort of their offices, cars and homes."
According to him, Escorts backhoe loaders allow operators to do multiple movements simultaneously by bringing in features that are normally found in excavators. He adds, "The backhoe loader gives loader dump height of 3 m and dig depth of 4.8 m along with bucket breakout force of 6,018 kgf which is best in its class in India. Escorts backhoes are fitted with high torque engines for best-in-class dozing performance. They come with ease in loading high body trucks.
Aneja comments, "The recent innovation that we have brought in our backhoes is the penetration of PRO series, based on customer feedback. This PRO series is powered by an FPT Industrial S8000 engine which delivers powerful performance and fast response time. The series is re-engineered from the ground-up to deliver industry-leading backhoe breakout force, higher loader lift capacity or reach and best-in-class cab visibility."
The new PRO series is robotically designed resulting in great stability, performance and serviceability. Bigger buckets which go up to 4.5/4.7 m with an extendable dig depth of 5.9 m allow greater load lifting and increased productivity. "We have also introduced advanced Eagle-Eye telematics solution to ensure safety of the machine. This is an asset-monitoring system with a unique feature of "Geo-fencing" which means it will help the user to keep a track of his machine and will send an SMS alert if it operates outside the desired area. It provides real-time access to machines and results in enhancing the performance and efficiency of the machine," adds Aneja. According to Handa, the recent three technology upgradations of backhoe loaders include: Advanced engine technology which helps to maximise performance, minimise fuel consumption and the impact of emission regulations; Advanced hydraulics for higher productivity; and GPS system - advanced telematics system to manage and monitor machines remotely.
He describes the features in ACE machines, "The rugged and reliable ACE backhoe loaders (AX124) are powered with highly efficient 76 hp and 96 hp Kirloskar engines. These machines are equipped with improved hydraulic pumps and advanced structured loader arms with higher breakout force while digging or loading materials, ensuring 10-15 per cent higher productivity. Further, it is fitted with globally renowned transmission from Carraro and hydraulic pumps from reputed brands and is available in both two-wheel and four-wheel drive options."
Jasmeet Singh is optimistic on the digital technologies such as IoT and Big Data that have ushered in a new era of innovation in the Indian business landscape and they touch our lives in more ways that we can imagine. "Today, we are moving towards a connected world. The whole idea of India @75 is to have a more digitally enabled environment and an ecosystem that is technologically enabled. Hence, the rise of digital technology in equipment is going to be a major trend for purchase of construction equipment, including backhoe loaders, in the coming years," he adds.
Aftermarket support crucial
Since backhoe loaders are being used by a lot of small and medium customers, effective after-market support is important for the machine uptime and productivity in backhoe loaders. According to Jasmeet Singh, after-sales support is one of the key deciding factors in the overall buying cycle of a product. "At JCB, we are committed to provide unparallelled services, ensuring customer delight. Since these machines work in far flung areas of the country, it is imperative that a well-connected product support is offered to customers to minimise the downtime and maximise productivity," says Jasmeet Singh.
He further adds, "Additionally, we have initiated various customer connect programmes and service campaigns wherein our trained service engineers visit the customer site across India and offer service and parts support. We have also introduced the Premier Line product support program which gives the options of bespoke support packages for customers."According to Sandeep Singh, in the backhoe loader market, the manufacturer must be very close to the customer always. He adds, "Tata Hitachi supports the customer through a vast network of branch/regional offices and through a network of 44 dealers having more than 200 touch points, thereby enabling faster supply and support of parts/service at very competitive prices."
Tata Hitachi has introduced Specialised Field Diagnostic Vehicles: an initiative, which has helped increase the coverage area and served customers better with quality support as these vehicles come equipped with all the necessary tools and trained engineers to reduce downtime and bring the machine back into operation as quick as possible.
Arora explains, "Since the launch of EarthMaster, we have constantly strived to improve upon various aspects of the machine which have a direct impact on the operational economics of the customer. Specific to the machine services, we have been able to achieve the lowest scheduled service cost in the industry. Our customers can easily save around Rs 10-14 per hr on scheduled maintenance alone as compared to other offerings in the market."
Shinde adds,"We have introduced two year warranty with two year maintenance kit on our Jungli XT machine, maintenance-free machine for the customer for first two years. To support the customers, we have a vast network of 62 dealers, over 180 touch points and our own regional offices."
According to Aneja, the machine uptime and efficiency can be maintained by adopting after-sales service as an important tool. It is a crucial parameter to maintain the working essence of the machine. With regular ground check, maintenance and monitoring we can avoid downtime and retain the life-cycle of the machine.
"In CASE India, a robust aftersales service comes complimentary with its equipment range. We offer 24x7 toll-free customer care number for easy access of anytime customer support. Simultaneously, we have also introduced the customer version of service mobile app using which customer can directly log a service request for their equipment and the same will be solved within a stipulated time frame."
Handa elaborates, "At ACE, we pay huge emphasis on customer support and after-sales services. Apart from continuously upgrading our products and processes, we also train our operators and staff on our technological and product advancements. We have pan-India robust aftersales service network of dealers and area offices which operate out of over 100 locations and are supported by 21 regional offices based at key Tier-I and Tier-II cities."
Preparing for new emission norms
The BS-IV emission norms are expected to be introduced next year for construction equipment vehicles that include backhoe loaders. Bansal say, "Only BS-IV compliant machines can be produced from October 2020 and sold from April 2021. This will impact the price of backhoe loaders, but the quantum of increase will be decided by the OEMs considering many factors including the cost impact and sales strategies."
"JCB is fully supportive of the upcoming fuel emission norms," says Jasmeet Singh. He adds, "We are committed to environment as it is a matter of public health. We are prepared to welcome this change, which will lead to better technology and sustainability in the long run.
We believe the new standards will lead to considerable technological advancement in the product thus, getting us at par with other advanced markets such as the US and Europe.
It will also contribute in the enhancement of the overall value chain of the product in terms of research, development and the percolation of this technology in the supply chain."
Sandeep Singh comments on the implications, "Going forward, with new norms, we are likely to have some amount of changes on the engine front. The most critical factor in the upcoming emission norm change is the quality of fuel which would be available, and method of filling adopted by customers. Backhoe loaders customers predominantly refill on daily basis and that too directly from fuel stations, reducing the chance of contamination of fuel. As the backhoe loader is the preferred entry level equipment for the construction equipment industry and is largely favoured by first time buyers, the importance of the price of the equipment as well as quality is paramount."
According to Arora, "There will be a big impact on the prices of our machines to meet the upcoming emission regulations. We will be ready with BS-IV compliant machines within the specified timeframe."
Shinde adds, "As per the upcoming emission norms, backhoe loader will be one of the most impacted products in CE industry but our dedicated team of research and development is on the job and we will come out with a lucrative options for our customers."
According to Aneja, adoption of BS IV emission norms from BS III is a mandatory shift for every OEM in construction space. Therefore, the pricing of all the heavy-duty equipment will increase with efficient engine properties. "Our R&D is well prepared for the changes in emission regulation and has already started the work from this year 2019. We will start the manufacturing of BS IV engine machines from 2020 to roll out the range in 2021."
Handa adds, "ACE is completely geared up to ensure that our backhoe loaders meet the BS IV standards. This will have some impact on the pricing, but the overall value proposition of the product will offset the short-term price impact. Rather, it will enable us in offering more environment-friendly equipment to the customers."
Strengthening market
Since backhoe loaders are dominant in Indian CE market, strengthening the domestic