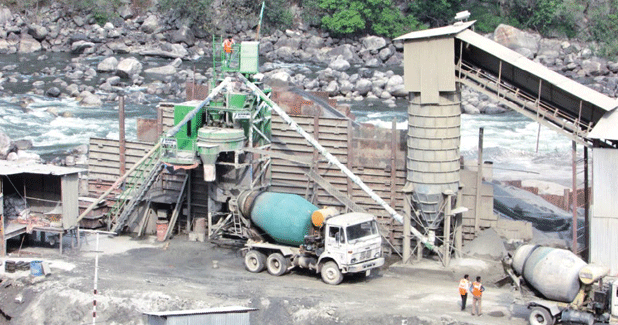 With the influx of fresh initiatives by the government there is a renewed focus on infrastructure development which offers big opportunities of growth for the concrete equipment industry. EQUIPMENT INDIA tracks the development in batching plants.
Technological advances in concrete batching have been seen in India over the last couple of decades, thanks to the boom in infrastructure industry and the real estate sector. Hitherto, concrete batching was mostly volumetric but over the years, with stringent quality standards required for almost all civil constructions, concrete batching by weight has evolved. The timely completions of projects and demand for high quality construction have been key drivers for this evolution. So today, whether it is ready mix concrete or site mix concrete at urban or semi-urban areas, the requirement is concrete batching by weight.
Modern technology is all- pervasive and it has even influenced concrete batching plants. Be it the ready mix plant or the central mix plant, computers provide effective control of the core ingredients that are loaded in the plant according to the way you programme your computer. Such automated plants are fed with accurate quantities of raw material, accessory equipment can be coordinated and as a result, the output is more uniform than manual loading plants. Even these self-loading plants can be adjusted to be fully automatic, semi-automatic or manual via the control options which you have.
Market trends
In the next two years, a number of new power projects, infrastructure projects and real estate projects are expected to start. So there will be good demand of batching plants. Says Samar Ghoshdastidar, Technical Director, Simplex Infrastructures, ?Yes, we expect that new initiatives taken by the government towards infrastructure development will drives growth for our business. It will definitely rejuvenate demand for rental of concreting equipment.?
Speaking about the market size for batching plants S Gopal, Director, Ajax Fiori, says, ?The overall market size for the batching plant is estimated to be around Rs 400-450 crore with the market potential of 1,500-1,600 nos. Batching plants up to 30 cu m/hr hold up to 70 per cent share and the remaining will amount to larger capacity plants. The demand for these plants will largely depend on the take of infrastructure and realty projects.? According to him, the market is not geared up to handle higher capacity plants at this juncture and considering the current pace of the economy, the need of small and medium capacity plants is more evident.
According to Yogesh Salvi, Manager - Export & Special Application, Aquarius Engineers, the past two years were really sluggish for this industry; however, there is a slight improvement in demand for batching plants and the industry is expected to witness a paradigm shift by November this year. Salvi says, ?Plants ranging from 12 cu m to 120 cu m, which dominates the market, the number is 1,100-1,200 plants, out of which, around 700 plants will be of 18 cu m and below capacity range; the mid series of 30-60 cu m is around 500 units. The government is planning several infrastructure projects and once the impetus comes in, we expect an offtake of higher capacity plants of 90 cu m and above which would be around 100 units.?
Speaking about the trends, Salvi says, ?Small capacity plants have grown in numbers because most of these plants are going as captive plants at different project sites. There is a slight increase in the 30 cu m range ready mix series in non-structured segment. In the medium range (up to 60 cu m range), which were predominantly used by ready-mix companies, there is very little movement at this moment. But the ready-mix companies are looking for alternatives like contracts with real estate developers, so there will be requirement for high capacity plants.?
Selection criteria
Selection of a mixer as per the application and requirement plays a vital role in optimising the output. Says Ahamed Mohideen, Deputy Vice President-Plant & Equipment, Lodha Group, ?Selection criteria depends on the size of the plant, which will be based on the maximum output at any point of time. The plant capacity needs to be established based on the maximum demand for concrete. Aggregate size is not a problem for a batching plant. Every manufacturer will accommodate the aggregate size based on the kind of sieves used and accordingly one can maintain aggregate control. Only required size for the particular concrete will enter into the mixing stage.? He explains, ?Effective mixing happens with twin-shaft mixing. Internationally it is more approved brand than planetary mixer. Twin-shaft mixer gives more homogeneous mixing. Internationally, most of the batching plants are coming with twin-shaft mixer. But in India, the local manufacturers go with planetary mixers. Batching plant concept started in India only about 10 years back. Before that, all we use to have were drum mixers, which are similar to planetary mixers. Cost-wise, twin-shaft mixer is expensive compared to planetary mixer.?
According to Ghoshdastidar, choosing a batching plant is based on the requirement of what type of mixer is being used. He avers, ?There are different types of mixers like pan mixer, turbo mixer, planetary mixer, etc. The second important factor is the capacity requirement. Depending on the quantity of concrete required, we need to use a batching plant of specific capacity. Third factor is type of batching plant, depending on the size, compact or elaborate size. We can use compact size batching plants wherever there is space restriction. The configuration of the batching plants also plays an important role. Depending on the requirement, configuration can vary to include various controls and accessories like silos.?
Advantage portable plants
According to Mohideen, in future portable plants will be a huge success in India. He says, ?Portability nowadays is becoming important because a bigger plant cannot be kept at a smaller project site. If the concrete reach is far away where the transportation cost is very high then people go for portable plants. Particularly, the M30 plant by Schwing Stetter is a huge success. Now they have come out with M19 and M15 which are highly portable. I think, in future, if there is availability of aggregates and other raw materials, and if these plants can manage the concrete production, then portable plants will be a huge success in India.?
Explaining the future scenario, Mohideen avers, ?Portable plants are going to play a major role in the smaller projects and everyone wants to be independent of their concrete requirement because sometimes it depends on the batching plant. Sometimes smaller quantities of concrete is always a problem as they don?t get the right kind of supply needed. Also, rainy season, holidays, road blocks, etc creates problems in supply. So it is better to have a portable plant at site. But for major quantities, one cannot depend on portable plants, as it would require the support of a bigger batching plant. And of course in India, bigger size batching plants will come soon because a lot of mega infrastructure projects like smart cities are being planned in India there will be a huge requirement of concrete in future.
Mixer technology
According to Ghoshdastidar, advanced mixing technologies is the outcome of design mix of concrete and this improvement is a continuous process. R&D works are always going on concrete mix design to get maximum strength with minimum cement and fly ash, and silica is also added sometimes. He says, ?There are two main types of mixing process: pan mixer and twin-shaft drum mixer. Both are effective, however, based on mixed design, sometimes pan mixer gives superior product than twin-shaft drum mixer and sometimes twin-shaft drum mixer giving superior product than pan mixer. Planetary pan mixers are better than pan mixers.
Ideally, a batching plant should deliver two things: batching accuracy and quality of concrete, which means cohesive and homogeneous mix. Elaborating on the evolution of concreting mixing technology Salvi had this to say. ?For smaller plants we are using planetary mixers. In the evolution of concrete mixing technology, initially there were reversible drum type mixers. Then pan mixers were introduced and later, planetary mixers and twin-shaft mixers. When there is dry concrete involved, planetary mixer is used. For the production of ready mix concrete, twin-shaft mixer suits the requirement. Both can deliver quality concrete, the only difference is the economics. Planetary mixer with its design structure is a little expensive than twin shaft mixer. We have delivered plants with both mixing technologies. For smaller series of plants up to 0.5 cu m batch size, we are using the planetary mixer. For 1 cu m batch size and above, we provide twin-shaft mixer.?
Says Gopal, ?The USP of compact batching plants of Ajax Fiori is that they are supplied standard with planetary mixers and customised PLC based control system. More so, these planetary mixers are manufactured in-house under strict quality control procedures, in technical collaboration with Eurostar, Italy. World over, the planetary mixers have replaced the turbo mixers for most applications, owing to its capability of producing high quality concrete of different types.? Speaking about the key benefits of planetary mixers Gopal says, ?The planetary mixer mixing tools rotate in a synchronised manner and are able to turn the material distributing all of the material uniformly in the pan without favouring the different nature of the materials creating a homogeneous mix; each revolution changes the flow pattern. The intensity of the mixing action, appropriate speeds combined with design of the mixing tools provide a complete homogenization and an efficient flow pattern.?
Mix designs
Do the currently available batching plants provide a perfect concrete mix especially with reference to larger types of aggregates and additives being used? Concrete mix designs these days are facing challenges due to availability of aggregates like sand etc. and complex structural designs being developed by the designers. Says Mohideen, ?The quality aspect is a major challenge in most of the projects because the consistency of quality depends on the kind of aggregates and other ingredients like the additives used for concrete manufacturing. Also, the plant should be thoroughly calibrated so that the exact mixtures of these materials are fed into prior to the mixing of concrete. In this context, I find contractors are facing big challenge with concrete manufacturers. There are many factors that contribute, if it is an RMC delivered at site through transit mixers, the duration is very important. If the duration is more, then naturally the concrete will be losing its quality level. If the water-cement ratio is not properly maintained, the quality of mix will be affected.?
He adds, ?The additives are also important as certain grades of concrete depend on additives. The additives should be properly weighed and mixed with the concrete so that you get the right quality of concrete. These are the major parameters that decide the quality of concrete. In India, we are more into high rise buildings and also heavy structures are being constructed which require a very good concrete with a homogeneous mix. So, if the RMC manufacturers are not concentrating on the quality level, it will create problems to the industry. Quality of concrete is of prime importance and input of many elements, starting with the selection of aggregates, quality of aggregates, additives, condition of the plant, mixing type, delivery time, etc all decide on the quality of concrete.?
Ghoshdastidar explains, ?Batching plants required for specific jobs based on concrete mix design are normally available, otherwise manufacturers provide us special attachments or modified versions based on the requirement. In our hydel project, we had used ice flakes with aggregates and additional attachments were provided by the manufacturer.? He adds, ?R&D team of the batching plant manufacturer also provides us necessary support in case of large types of aggregates and additives being used. More improvement in automatic batching plants may be required with changing trends in concrete mix design for specific job, however, normal design mix will be continued keeping existing batching plants. Same will be applicable to RMC. In case of RMC, changing trend is comparatively less.?
According to Mohideen, the manufacturers are now going for ceramic based bearings, which will have high abrasive strength. Cost also will go up for these special parts, but it will compensate with the long life of the equipment. Use of special grade steel also can prevent abrasiveness. Says Ghoshdastidar, ?Higher abrasivity of the mix will definitely cause excessive wear and tear of the equipment parts. We give feedback time to time to equipment manufacturers for metallurgical development of concrete equipment so that their equipment ensured enhanced useful life in case of higher abrasivity of concrete.?
Batch control system
Says Salvi, ?Aquarius batch plants control system comprises Modular PLC based PC driven control system with real time SCADA for control and data management. The system provided with Programmable Digital display units installed on the control panel connected to load cells for direct indication of the weights. This ensures high accuracy in batching of coarse and fine aggregates with total control over the plant operation in a real time simulated environment.?
He adds, ?The control system software is designed to manage all type of concrete produced by the batching plant. The interface is developed in a user friendly way, to make every operation simple. With Order management, in every moment the user is provided with a complete view of the work schedule of each day or week, and can access all needed information about the work progress of the plant. The operator is able to start the automatic production and eventually, system can be interfaced with any sort of Invoicing and Accounting programme through CSV file interchanges, in this format all the information can be managed in Access or Excel format to obtain all type of report requested by the customer.?
Salvi elaborates, ?A rich choice of statistic is available inside of the program itself, so production analysis or consumption monitoring is available every time at customer?s disposal. Also, the plant control system software comes with an inbuilt capability of remote access, which helps in quick troubleshooting.?
Gopal had this to say, ?Our batching plants are powered by latest PLC-based batch control systems which have many unique features such as auto in flight technology, continuation on power off and return, auto-manual-auto operation, continuous batching/docket queuing, batch end/load end facility, offline/online swapping of all material, skip waiting feature enables auto batching even in case of faulty waiting sensor, cycle hold, batch hold, and mixer gate auto/manual.?
Precast tech to boost demand
According to Salvi, batching plants for precast application is an upcoming trend in India. He says, ?Precast is an upcoming trend which is the latest technology available and will play a major role in metro cities. In the next 10-15 years, this trend is going to be predominant. We cater to the mass housing needs which is going to be a big requirement in the coming years. We have supplied 10 plants in India and we are leading in this application.? He adds, ?Compared to other countries, India has a different scenario as every segment will co-exist here. There is a market for ready-mix concrete in tier-1 cities but gradually will shift its focus to tier-2 cities. Realty sector may go with retail pre-cast and also there will be a scope for captive plant. There will be demand for bigger plants in infrastructure sector. Earlier the demand for 120 cu m plants was around 30-35 units per year, which is expected to cross 75 plants per year in the coming years.?
The industry expects a good CAGR growth for concrete equipment from real estate and precast industry. As there is a lot of development in real estate coming up in Tier-II and Tier-III cities, definitely the demand for batching and mixing plants will be on the rise. As far as precast industry is concerned, the demand is likely to go up in the next two to three years. Due to modern construction methods being adopted in India, the demand will increase in the precast segment. The growth potential for concrete batching and mixing plants in the infrastructure and road sector will majorly depend on the type of projects coming up.
Market size estimated to be around Rs 400-450 crore and 1,500-1,600 units
Batching plants up to 30 cu m/hr holds up to 70 per cent market
The mid series of 30-60 cu m is around 500 units
Precast application to boost the demand
?Manufacturers have to work to match the specific requirement of the customer.?
The range of pumps depends on the type of project and the capacity requirement to cater to a particular project, says Anuran Ghatak, General Manager - Equipment, HCC. Excerpts....
Is mass concreting a major challenge? If yes, how do you meet the same?
I don?t think there is any major challenge in mass concreting if we have the adequate capacity equipment and technology to do such jobs. We have done mass concreting in many of our dam projects like Teesta Low Dam Project (TLDP), Chamera, Uri, etc. There are different methodologies and all depends on how you adopt the system. Mass concreting is done through different methods. We have also used many pumps together and did mass concreting at a nuclear power project.
What kind of mixing technology do you use?
We use twin-shaft mixing technology, and we have used Eurotec batching plant at our dam site, we can do concrete mixing with 150 mm size aggregates in this plant. The capacity is 120 cu m.
Which are the most preferred brands and their range of pumps and accessories? We don?t have any brand preferences, as we use most of them for our projects. Range of pump depends on the type of project and the capacity requirement to cater to a particular project. For example, for a long distance pumping, we require high capacity pumps. We have used a Schwing Stetter 4800 pump for pumping concrete to a long distance at one of our projects.
Do the currently available batching plants provide a perfect concrete mix especially with reference to larger types of aggregates?
Knowing the rock quality, we take the guarantee from the equipment supplier with adequate design changes in the plant. Those plants are specially made for us. If you are buying a plant, you are not using it for one particular project, it will be using for multiple projects and the abrasive index will be different at different projects. Manufacturers have to work towards this to match with the customer requirement.
- Agith G Antony with inputs from Sudheer Vathiyath