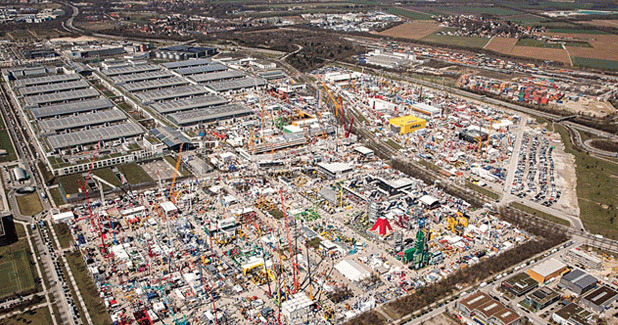 Bauma 2016 - the biggest trade show on earth - spread across over 608,503 sq m (1.5 lakh acres) exceeded expectations this year with a participation of 3,423 exhibitors from 58 countries and the presence of about 580,000 visitors from 200 countries. An exclusive report...
About 580,000 people from 200 countries attended Bauma 2016, cementing its status as the largest trade show in the world. The expo was laid out over three open-air sections and 17 indoor halls. Almost 40 per cent of the exhibits were in the mining segment, located in the South side open area. Most majors were present - the notable exception was Sandvik. All global majors in earthmoving, road building, mini-construction equipment, asphalt processing, crushing & screening, concrete, shotcrete, port solutions, cranes, aerial work platforms, hydraulic piling rigs, form work & scaffolding solutions, diesel engines, transmission & components, hydraulics, electronic control systems, Telematics solutions, measurement, trailers, special attachments, and spare parts were seen wheeling and dealing with a large number of potential but serious customers.
The biggest exhibit was put up by the Liebherr Group, the second largest by Wirtgen, followed by Caterpillar, Komatsu, Volvo, Hitachi, Terex, Ammann, Case, Fayat, Manitowoc and many other renowned equipment, sub-assembly and component manufacturers.
Technology trends
Bauma is the best platform for manufacturers to showcase their latest technologies and products. Some significant and major technology trends visible this time were:

Operator lift for tower cranes has been made mandatory in Europe. As a result, all tower crane makers had showcased their versions of operator lifts (both inside and outside the mast section) with black start and regenerative motors, developed jointly with renowned construction hoist manufacturers.
Most new heavy duty 400 tonne plus lifting capacity mobile cranes by Liebherr, Terex, Manitowoc, Sennebogen, Hitachi and others have presented Taxi Cranes meant for easy transportation to different locations. Many Indian rental companies are excited about procuring this equipment.
In the mining segment, Caterpillar, Komatsu, Liebherr, Hitachi and Terex presented their mining monsters, 700 tonne crawler shovels and rigid dump trucks of 425 tonne payload capacity equipped with Telematics and electronically-controlled efficiency features, along with 6-cu m bucket capacity loaders and 1,000 tonne class excavators. Sennebogen in particular exhibited its latest elevated crawler excavators. Herrenknecht, Joy Global and Robbins focused on underground mining solutions.
In the construction equipment (CE) segment, the major focus was on hybrid versions of various equipment, small equipment with attachments and mini-machines with multiple application capabilities. Kramer, a manufacturer of a range of rigid chassis machines and part of the mega Wacker Neuson group, won one of the six innovation awards at Bauma this year. Telematics, efficiency-enhancing modules, stand-on-the-ground maintenance access points and light weighting were at the forefront.
Rubberised and non-metallic crawler tracks, without compromising on the ruggedness and endurance of conventional steel tracks were another mega trend showcased by Prinoth, Terex, Oerlikon and others.
In the engine segment, Cummins, Rolls Royce, Caterpillar, Liebherr, Perkins, Volvo and Komatsu came out with Tier-IV and Tier-V ready engines for CE applications. They offered integrated and small-sized SCR and DPF arrangements to go along with their engines.
In the mini-equipment segment, more than 1,000 options were on offer for compaction, concrete trowelling, concrete cutting, on-site mixing and grouting.
Innovative concrete boom pumps by Putzmeister, CIFA and Schwing Stetter, up to 67 m high, were most significant. They had in-situ drive motors for boom section movement and access capabilities like a snake.
Integrated panel type form work solutions for construction were one of the mainstays of indoor halls. Majors like Meva, Hunnebeck, Acrow, Peri, Doka and many others showcased lightweight but 5-tonne plus load bearing per square metre solutions, which could be set up by one person equipped with a small hammer. A form work of up to 10 m in height could be set up in a mere 20 minute!
Road machinery: All biggies like Wirtgen, Volvo, Fayat Bomag, Marini, Lintec, Atlas Copco, Astec, Ammann, Caterpillar, Doosan, Case, JCB and Titan showcased their latest versions of asphalt plants with RAP capabilities, sensor pavers with advanced paving management systems, heavy and light compactors, motor graders, skid steer loaders, material crushing & screening (mobile and stationary) plants and some allied equipment. The manufacturers who spoke to EQUIPMENT INDIA said that they are eyeing the Indian, African and the Middle East markets to introduce their new generation products.
Indian Participation
The India Day Seminar, held on April 12, received an encouraging response. M Sevala Naik, Consul General India at Munich, said, ?We are working closely with VDMA and invite exhibitors to come to our country and create in India.? Anand Sundaresan, President, iCEMA, emphasised on manufacturing of components in India and introduction of smaller-sized construction equipment in the country. A panel discussion took place on coal mining and power opportunities in India.
Boosting growth
Klaus Dittrich, Chairman & CEO, Messe Mnnchen, was delighted, ?The response from the participants this year has been amazing. The visitors at Bauma always come looking to invest; but this year, the exhibitors? order books filled up much faster than expected.? Johann Sailer, Chairman, VDMA (Association for Construction Machinery and Building Material Machines), agreed, ?Bauma is the ideal platform for presenting innovative new developments, because it has a big impact in industry around the world.?
No. 1 platform for signing orders
Stefan Heissler, Member of the Board of Directors, Liebherr-International AG, said, ?Bauma 2016 was a tremendous success for Liebherr. We received many orders from a wide variety of different markets. In some segments, our expectations were even exceeded.? Michael Heidemann, Vice Chairman-Management Board, Zeppelin, noted, ?Bauma 2016 has once again shown everyone that it does indeed boost innovation, and has lived up to its reputation for being the leading trade fair.?
J?rgen Wirtgen and Stefan Wirtgen, Managing Partners, Wirtgen Group, agreed, ?Bauma as the leading trade fair has always been a kind of barometer for the industry. From the start, it had a special significance for our company. Our presentation at this year?s event is the most successful so far in the history of the company.?
The mining section also received a positive response. Erwin Schneller, Managing Director, SBM Minerals, said, ?Bauma is international. We had visitors from Chile to Canada, from China to Russia, from Africa to Norway. My personal highlight was that we signed up some unexpected sales at the show.?
High-quality trade visitors
Bauma?s 31st edition was truly top class. Alexander Schw?rer, Managing Director, Peri, said, ?For us, Bauma 2016 was a tremendous success. We are satisfied with the response and high quality of trade visitors.? Frank W Reschke, Sales Director and Member of the Management Board, Masa, agreed, ?We are happy with how the show went. Right from day one, we were welcoming a constant stream of guests from all over the world at our booth. The quality of the trade audience is first rate, as it was three years ago, and we had some excellent business talks.?
Top platform for showcasing innovations
The event was the top platform to premiere innovations to a worldwide trade audience. John L Garrison, CEO & President, Terex Corporation, said, ?Every three years, Bauma offers us the unique opportunity to meet customers from around the world. As the largest trade show in our industry, it is a good opportunity to showcase new products and services.? Masatoshi Morishita, Managing Director & CEO, Komatsu Europe, summed it up, ?We make use of the attention that Bauma attracts to present our innovations. This event is a milestone for the industry. It?s not only Komatsu that tries to get certain machines ready in time for Bauma; this trade show really drives the entire industry forward.?
In a nutshell
Organised in Munich from April 11-17, Bauma 2016 was a seven-day show of superlatives. It attracted around 580,000 visitors from 200 countries, a rise of over 9 per cent from the earlier edition. After Germany, the top 10 countries of origin among the visitors were Austria, Switzerland, Italy, France, the Netherlands, the UK, Sweden, the Russian Federation, Poland and the Czech Republic. A total of 3,423 exhibitors - 1,263 from Germany and 2,160 from abroad (58 countries) presented their products, developments and innovations over a record 605,000 sq m of exhibition space. Exhibitors from outside Germany accounted for 63 per cent of the total, higher than ever before. The next edition of Bauma will take place from April 8 to 14, 2019, in Munich.
Exhibitors Speak
?With this year?s presentation, we were able to once again show our innovations, capability, performance and technological diversity to a large, international trade audience. We had interesting talks with many customers and partners from a wide range of countries and discussed new projects. Our more than 100 exhibits in the sections on construction machinery, mining and components evinced lively interest from our customers and we received many orders from a wide variety of different markets.?
-Stefan Heissler, Member of the Board of Directors, Liebherr-International, Germany
?Bauma is an opportunity for Ammann to showcase our products and professionalism on a global stage. The stand displays the comprehensive nature of the Ammann product line, which ranges from rammers to asphalt and concrete plants. This is visual proof that Ammann is involved in all stages of construction, and therefore better able to help our customers find the solutions they need. That is a message we are eager to communicate with the global audience Bauma attracts.?
Hans-Christian Schneider, CEO, Ammann Group, Switzerland
?At Bauma 2016, we have shown that tunnel projects underline the innovative strength of our industry. Away from the daily routine, Bauma is a great place to freely discuss with our clients, customers and industrial partners from around the world on how underground cooperation can advance.?
-Dr Ing Eh Martin Herrenknecht, Chairman of the Board of Management, Herrenknecht, Germany
?The sales figures just speak of the importance of Bauma, including at the international level. We exceeded the goals we had set for ourselves. All the customers and target groups were at the event. This year, customers from Scandinavia were strongly represented. We also talked to visitors from the Benelux countries, Peru, Colombia, Turkey, India, Indonesia, the US, Australia and Poland.?
- Anja Wiehoff,
Communication Manager, Atlas Copco, Germany
?The Bauma 2016 seems like one big celebration.?
- Masatoshi Morishita,
Managing Director & CEO, Marketing Division President,
Komatsu Europe International, Belgium
?My personal highlight at this year?s Bauma was the quality and international character of the visitors. They came from all around the world, with especially a lot of people from the Middle East, India and South America.?
Rudy Peirs,
Head of Marketing & Communications Europe, Metso, France
?Visitors came to our booth to buy and orders were taken. In our marketing mix, Bauma is a central focus with significance far beyond Germany itself. We have visitors from all the countries of Europe and around the world. We make use of the attention that Bauma attracts to present our innovations.?
- Jnrgen Wirtgen and Stefan Wirtgen, Managing Partners, Wirtgen Group, Germany
?We expect a lot of business at Bauma this year from Asian subcontinent customers.?
- Raman Joshi,
Managing Director, Manitowoc India
?The mining part of Bauma was very successful for us. We gained a lot of information from potential customers and clients all over the world . We got a deep understanding of their needs and demands. On a long term, we see a lot of opportunities for mechanised equipment for underground mining, especially shaft sinking, and we see a good future. We also find that we can enter new markets, including Indian mining too.?
- Gebhart Lehmann, Vice Chairman, Herrenknecht AG
?The first three days at Bauma have been very good. A lot of customers are visiting to see our exhibits, specially the 450 tonne taxi crane, for which we have already secured 30 orders.?
-Ajay Kumar Somani Director - Mobile Cranes, Liebherr India
?From this Bauma, I can see that the customer footfall has gone up multifold. Bauma 2016 is a big revival since the last two editions. Schwing stands as a company showing our latest technologies developed over the last three years, without bothering about the decline. This shows the commitment of our group for the industry. With appreciation shown by our customers, we are encouraged that we will get business not only in Europe but other markets as well.?
- V G Sakthikumar Managing Director, Schwing Stetter Sales & Services Pvt Ltd
?First of all, there is a lot of encouragement from iCEMA members, which basically comes from what is happening in India. The road segment has being doing very well. Last year, almost 8,000 km of road projects were awarded; And more is to come. However, smaller-sized equipment will be required to cater to the major developments in the rural and North-east sectors. Our manufacturers are not geared up for these projects. As such, I am advising all our Indian counterparts to use this Bauma to explore such products as the expo has enough to offer.?
-Anand Sundaresan, President, iCEMA
Visitors? Views
?Our objective of coming to Bauma was completely met in light of many new technologies we were able to pick up during the expo.?

-Gautam Achantani, Managing Director, Concrete Solutions, Gurgaon
?We were exploring new technologies at Bauma for concrete repair solutions. This is my third visit to Bauma and I find it similar to the previous ones.?
-Amit Ahuja, Managing Director, Nine Project, Gurgaon
?I had not expected Bauma 2016 to be of this magnitude. There are a lot of new technologies and systems exhibited here. For my business, it met my expectations in scaffolding and formworks and forgings as well.?
- Nitin Jajal, General Manager, MAIT India
?This time the industry at Bauma was more focused on their core competence instead of the mish-mash earlier. I have seen new technologies which will change the way drilling is done in the next five years. As such in my business, I have to bring in new start-up technologies and take (them) forward.?
-Shyam Chengalath, Managing Director, Panasia