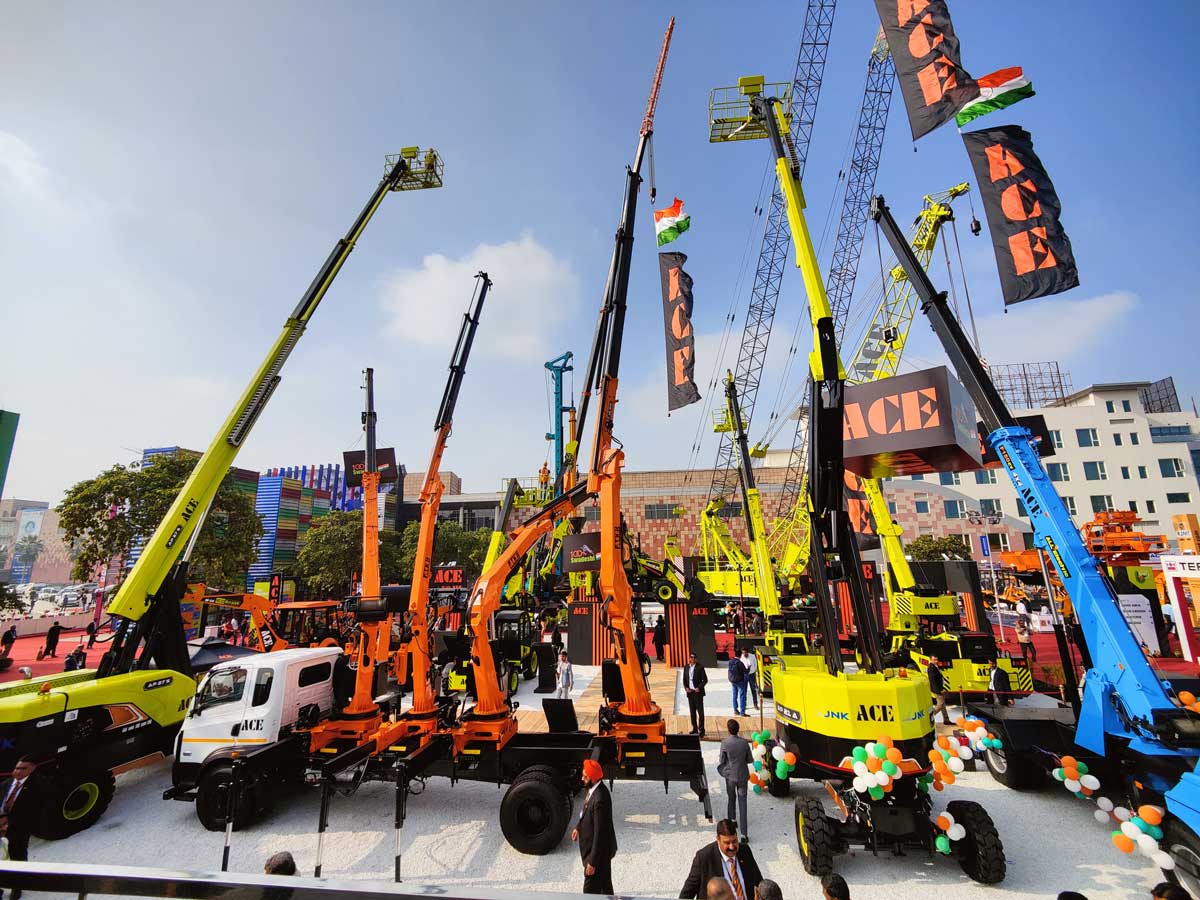 Nitin Gadkari, Union Minister of Road Transport & Highways
graced the bauma CONEXPO INDIA 2023 in Greater Noida with his august presence. He glanced through the entire exhibition area and was upbeat about the prospect of witnessing some innovative products and technologies that are bound to change the construction and infrastructure horizon of the country.
He urged construction machinery manufacturers to make equipment which turns on alternative fuel instead of diesel to curb air pollution. Speaking to the crowd, he said, "You should make joint ventures with foreign companies on the use of alternative fuel run machines. We are planning to impose 20% additional GST on equipment run on diesel."
"We are facing the problem of pollution. Our health is affected due to pollution and this is the time we need to think about air, water and soil pollution. This is the time to make infrastructure development at the same time maintain and protect ecology and environment," he said while inaugurating bauma Conexpo India.
He pressed upon the fact that there are alternative fuels like hydrogen, electricity, CNG, LNG and ethanol available, which should be used. He also stated, "The government is resolved to make India Aatmanirbhar Bharat and infrastructure development plays an important role in it."
In an interesting panel discussion on the topic 'Indian Growth Story Led By Infrastructure Development' at the ICEMA-bC India session, top industry technocrats deliberated upon the various aspects with an objective to push the envelope of Indian infrastructure growth.
Touching upon the self-reliance aspect, V. Vivekanand, Director, Caterpillar India Pvt Ltd was bullish in stating, "We want to become truly Atma Nirbhar. There are still a lot of product components that are being imported today. ICEMA has set up a strong panel which focuses on creating an ecosystem in place by virtue of which we would become more Atma Nirbhar." He further stressed, "We are not only building capacity for equipment, but are also ensuring that mobilisation takes place, so that we can become more efficient and can combat the infrastructure needs of the country. We are building a roadmap for the future of construction and equipment technology."
Complementing his thoughts, Vinayak Pai, Managing Director, Tata Projects Ltd stated that "There is a different dynamic happening at this point of time in the infrastructure segment which is going to accelerate the need for more mechanisation." He also pointed out that "We have shortage of labour with all the amount of construction going on in the country. Hence, the requirement for mechanisation is going to multiply manifold. The need for offsite work calls for better machinery at site and thus, mechanisation is going to be absolutely critical." Comparing our style of working with the global standards, he said "The level of planning in the international market is much more advanced than what we typically follow in our projects. Even the number of people working on a single activity at site is less in other countries compared to India. Here is where mechanisation will play a big role."
Taking this topic further, Rishi Sanghvi, Managing Director, Sanghvi Movers Ltd shared, "At the scale and ambition with which India is growing, the level of building infrastructure and type of projects being executed has now changed dramatically. All those megaprojects in infrastructure require new technologies and at the same time require new mechanisation techniques and new equipment." He went on to add, "It is the need of the hour for the industry to invest in these equipment and to train the manpower to operate them. There is ample opportunity in infrastructure space for the youth of India. The skills and productivity of the youth can be enhanced at various levels. It is the joint responsibility of the government as well as the industrialists to run education campaigns for the youth in various capacities."
Deepak Garg, Managing Director, Sany Heavy Industry India Ltd sharing his views on technological aspect stated that "The construction equipment industry has been working aggressively on faster technology to drive the speed to meet timelines, and improve cost effectiveness Today's technologies in construction equipment, mining equipment and infrastructure equipment have taken a new turn. Most of the equipments today are more productive, and can carry more load with less spending of energy." Commenting on self-reliance, he further stated "India has become self reliant in manufacturing special steel. The types of steel imported earlier from Sweden and Japan are now being made in India. We now use special steel in our products to lighter the product weight, yet being more rigid and cost effective. Even alternate materials are swiftly used in making equipment that are more sustainable, environment friendly and that lasts longer."
Predicting the future of the construction equipment industry, he commented that "Hybrids and electrics are going to be the next-gen in construction equipment. Going forward, in the next five years the entire construction equipment industry will focus on enhancing the electric footprint on infrastructure for electrification purposes."
In an exclusive interaction, Ankush Khanna, Director – Commercial Brand Marketing, ExonnMobil highlighted some key factors. He stated that, "As a result of the prerogative of the government to open up the economy, there is a huge opening in the mining sector and it is driving the GDP of the country to quite an extent. There is a huge advancement of state-of-the-art equipment coming into the sector and it needs advanced lubricating solutions which cannot be delivered by conventional oil. And here, ExonnMobil plays a pivotal role."
Speaking on the construction sector, he further added that "Going by the data the sector is expected to increase at a rate of around 6.2% between 2023 to 2026 which is a phenomenal growth rate. Our capability pillars are towards the products, services and digital ecosystem which we bring to the table. Along with the products comes services, to make a holistic offer. We are now coming up with digital solutions for mining and construction sectors," he stated.
In one of the biggest displays of the exhibition, Sany Bharat exhibited around 21 machines for various infrastructure related applications such as excavation, hoisting, mining, deep foundation along with road and port equipment. Sany Bharat launched 12 new machines in this exhibition. It announced a completely new product vertical that will offer road equipment to Indian road contractors. The company also celebrated a major milestone of manufacturing and supplying 25,000 equipment at various infrastructure development projects across the country. Visitors to this expo got a sneak peek of these newly launched machines that come with Sany's technologically advanced design, ease of operations and reliability.
Speaking on the momentous occasion, Deepak Garg, Managing Director, Sany Bharat and South Asia said, "It was an exhilarating moment to launch our products at a popular expo like Bauma. Like always, we expected a great response and, true to our belief, we saw many product enquiries turning into sales at the venue itself. The eclectic crowd at this event helped us in forging new business ties and expand our customer base." Speaking about the product launch, he said, "The new product range showcases our manufacturing strength and technological expertise, which will translate into enhanced productivity and profitability for our customers. By staying true to our mission of quality changes the world, these models are specially created for the Indian market."
Komatsu India Private Limited, the 100% subsidiary of the global Construction & Mining giant Komatsu Limited and Larsen & Toubro Limited, India's largest engineering company, put together an impressive display at Bauma Conexpo India 2023 to showcase their technological strengths and service capabilities, and reaffirm their commitment to a sustainable future.
For the first time, Komatsu displayed HB365LC-1 Hybrid Excavator which is at least 20% more energy efficient and helps reduce carbon emission compared to conventional equipment. The PC300LC-8 Hydraulic Excavator fitted with Parallel Cabin and Orange Peel Grapple is ideally suited for scrap handling which is expected to grow multifold with the new automobile scrapping policy. Other products on display included Komatsu's PC210-10MO Super Long Front, PC205-10M0 Hydraulic Excavator 'the Earth Master' and newly introduced PC500LC-10R Hydraulic Excavator developed for the mid-mining segment and the next-gen GD535-6 Motor Grader. These new models incorporate Komatsu's cutting-edge technology and have been specially developed to suit tough Indian applications and conditions. The new high-performance Hydraulic Excavators generated tremendous interest among buyers and have been lauded for introducing highly productive machines.
All these models are biodiesel compatible and poised to bring about a behavioural change in customer-buying preference and contribute to the sustainability index of the nation. Komatsu is in discussions with oil companies to make biofuel available at project sites with easy access to end users.
Balkrishna Industries Ltd., (BKT) the Indian multinational company and global player in the Off-Highway tire market launches two 'Made for India' tires under the sub-brand EARTHMAX namely the EARTHMAX Crusher Haul & EARTHMAX SR 34, dedicated to the Indian construction and mining sector.
BKT continuously focuses on crafting unique mobility solutions for the OTR tire industry worldwide. The tires displayed at bauma CONEXPO India demonstrate the Indian multinational's attention to users' needs, trends, and the market proposing suitable and specific solutions for all operating conditions.
The EARTHMAX Crusher Haul is designed for on and off-road - quarry and haulage applications. This all-steel Radial tire has a block-type tread pattern that provides excellent traction. The special compound ensures cut, chip, and wear resistance thus enhancing durability and mileage. The latest novelty by BKT, the EARTHAMX Crusher Haul is perfect for Tippers in the industrial and construction segment and has been developed to suit longer haul with load due to the strong steel belt construction and casing.
Part of the same range, EARTHMAX SR 34 is an all-steel radial tire designed for mining applications. The 'non-directional block' tread pattern provides excellent traction and stability on any type of terrain. The strong all-steel casing features excellent wear and resistance to snags and punctures. The reinforced bead and shoulder design on EARTHMAX SR 34 contributes robust durability under heavy-duty service conditions. The latest novelty by BKT is ideal for wide-body mining trucks and can easily handle heavy loads.
Commenting on the launch of new products at the bauma CONEXPO India 2023, Rajiv Poddar, Joint Managing Director, Balkrishna Industries Ltd. said, "BKT is heavily invested in product development and strongly believes in the motto, 'Right Tire for Right Application'. The new additions to the EARTHMAX family are the evidence of BKT's strong commitment to offering extraordinary mobility solutions which are personalized not only for the application but also for the market."
Schwing Stetter India launched 14 new products at the event. Powered by this new line up of products, the company aims to increase its growth and showcase high-tech leadership in the concreting and construction equipment manufacturing. The range of new products included shotcrete pump (from R&D) - TSR 30.14 (EV), Cylinder Finisher - CF450 XXV, Belt Conveyor - 40m and many more.
Speaking about the event, VG Sakthikumar, Managing Director, Schwing Stetter India said, "This year marks a significant milestone for Schwing Stetter as we celebrate our silver anniversary in India. Therefore, we aim to launch a minimum of 25 new products that will impact the dynamics of the construction industry and stimulate infrastructure innovation in the country this year. We are pleased to share that we are launching the first 14 products here that are built to improve the efficiency and competence the sector needs."
ACE offers one of the most comprehensive selections of cranes and construction equipment in the nation. Their products are tough, trustworthy, and affordable, and they are supported by India's vast network of service and spare parts providers. This strength that is built into product and business helps customers reach their objectives more quickly and affordably.
While showcasing its buildability strength by launching some breath-taking and monumental equipments, Sorab Agarwal, Executive Director, ACE stated that, "In keeping with our commitment to innovation and improvement, here we introduced a fully electric mobile crane making us the nation's first maker of electric construction equipment. It won't be out of place to state that this device, because of its decreased operating costs, will revolutionise the crane industry. Our internal R&D department has locally developed and evolved the technology. We believe that moving toward electric and even lower emission technologies will give the sector sustainability."
In addition ACE displayed a 160-tonne crawler crane that was developed locally, which will once again be the largest crane produced in India, as well as scale models of recently created aerial work platforms.
JK Tyre launched 3 new tyres for the off-road segment at the event. The new offerings included 26.5-25 Loader Champ 28PR E4/L4TL, 23X8.50-12 JET TRAX ULTIMA 6PR TL and 23X5.7-12 JET TRAX SUPER II 4PR TL. Anuj Kathuria, President (India), JK Tyres & Industries said, "JK Tyres had been at the helm of introducing several cutting-edge and technologically advanced products. Our strong position in the off-the-road tyre segment resonates with our commitment to innovation and to make products that maximise performance and durability even on the most challenging Indian terrains. We are sure the three new tyres are 'category defining' breakthrough products which will further strengthen our position in the OTR tyre market."
Automotive and industrial supplier Schaeffler India Limited showcased its comprehensive portfolio for construction machinery, mining machinery, and construction vehicles at the expo centre. Schaeffler's products in the bearing arrangements of the cylindrical roller, needle roller, tapered roller, deep groove ball, and planetary gears were on display.
Harsha Kadam, MD & CEO Schaeffler India said, "The BAUMA CONEXPO India is an excellent opportunity for us to showcase our core technology products made here in India. We are confident to etch an impact in the sustainable, high-technology solutions space among key stakeholders in the construction and mining industry. We are keen to interact with customers and decision-makers of the industry and have quality discussions on our efforts to locally manufacture sustainable products to achieve carbon neutrality."
The event is garnering huge interest amongst the buyers and the sellers showcasing innovative technologies and futuristic solutions.