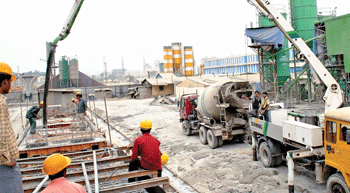 Despite the Rs 2,500-crore concrete equipment industry registered nearly 40 per cent fall in the market and is under severe pressure, there are tremendous growth opportunities in the long term.
The realty sector has been one of the major demand drivers for the concrete equipment such as batching plants, transit mixers and concrete pumps and vibrators. The last couple of years were not good for the industry; especially 2013 was really forgettable for the Indian real estate sector on account of weak macro economic conditions. However, with a stable government at the Centre, there is now more optimism in the country. With rapid land and infrastructure development as well as improved standard of living in Tier II and Tier III cities, housing demand is likely to increase more in these cities. The government?s plan to allocate Rs 2,037 crore to clean up Ganga; Rs 50,000 crore for urban infrastructure projects and announcement of metro projects in cities with 20 lakh people is very encouraging for construction equipment manufacturers. Further, the plan to allocate Rs 14,389 crore for rural road development, Rs 8,000 crore for rural housing scheme and Rs 7,060 crore towards development of 100 smart cities is a boost to the infrastructure segment,? Concepts such as low lifecycle cost, faster return of investments, cost per cubic meter, all have a positive impact on OEMs, who have launched a variety of pumps to suit the requirements of the customer, coupled with innovative service packages. Fuel efficiency is one major parameter that a customer looks into, given the bearing it has on the design of green products. Putzmeister?s new range of eSmart concrete pumps, launched during Excon, has already created a niche for itself. It has an electronic control (OPS) which allows much better control and monitoring. As claimed by the company, the pump is a green and smart machine; green because it only uses 70 litre of hydraulic oil instead of the over 300 litre used by the competition; smart because it gives all the information about pumping hours, running hours, and wear and tear.
Only about ten per cent of concrete produced is currently pumped, which tells about the huge scope for concrete pumps for the infrastructure and realty sectors. The prevailing demand-supply mismatch has a slew of reasons behind it: overcapacity and the prevailing slowdown in the economy over the last two years. Despite this, however, the long-term demand curve for concrete pumps, especially boom pumps and boom placers, is expected to get back on track. The very fact that we have not yet touched double digits when it comes to concrete pumping, when compared to over 50 per cent of the developed markets, tells its own story. A country like Turkey with 65 million people, sells 350 boom pumps every year whereas the units sold in India is not even a hundred. Looking at the future, urbanisation brings a steady flow of people into the already stressed fabrics of the cities, so even a city like Mumbai will need over a hundred boom pumps per year. The mega cities with mass housing projects which need mass concreting in less time will be major growth drivers. But there are many hurdles to overcome, be it acquiring a steady flow of projects in various verticals to drive demand or increasing the speed of construction, which is pretty slow compared to developed markets, as well as clearing the financial bottlenecks.
According to Parminder Gabri, Sales Director, Putzmeister Concrete Machines, the growth of pumps has been flat for last two years but there is huge scope for the coming times. Parminder says ?In India, less than ten per cent of the total concrete manufactured is pumped using concrete pumps. This is far less than the figure worldwide, where more than half of the concrete manufactured is pumped. Boom pumps are becoming more popular among construction companies. We expect a huge surge in demand once the market picks up. Other positives will be government policies for the manufacturing of ready- mix concrete, growth in the real estate sector and the introduction of new infrastructure projects by the government.? VG Sakthikumar, Director, Schwing Stetter India, says, ?The boom pumps are a different breed of concrete pumps; unlike other stationary and line pumps where the pipelines need to be laid well before pumping; the boom pump does not require this exercise. It has an assembly of pipelines with R, Z or R-Z folds which enable a 360- degree rotating capacity.? According to him, the most economical construction machine is the one that can be used continuously. Therefore, it should be rugged, reliable and above all, suitable for universal applications, from increased concrete placement speed to having a tower crane free to handle other necessary lifting and reduced labour requirements.
Despite the prevailing low demand for batching plants and other related concrete equipment, the strong focus given by the new government on the faster development of infrastructure and housing sector is expected to boost the demand. Speaking about the market trends, Sakthikumar says, ?In India, the demand and growth pattern of ready-mix concrete (RMC) varies from location to location. Some states are doing well while many other states have zero demand. Bigger states with metropolitan cities are not doing well currently. Majority of batching plants are in low volume range of 10-15 cu m. Our range of plants (18-240 cu m), which is around 700-800 units per annum, is the market size today and we supply close to 500 units.? According to him, at present, there is no improvement in demand. There are a lot of batching plants -which are supplied in the past-lying idle without any job. If there is a demand, it is from the contractors who don?t possess a plant. Many of our old machines are waiting for job and concrete. So, currently there is no demand for new machines. He adds, He further adds, ?There is a chance for a shift towards bigger capacity plants, because the moment the growth comes back, everybody would like to complete their jobs faster and go to another job so that they can make profit in both the projects. It the machine output is less or if the mechanization capacity is less, they will have to focus on one project only, and they may lose profit on second project. So speed will be an issue when market bounces back.?
Speaking about the technological trends Samar Ghosh Dastidar, Technical Director, Simplex Infrastructures, says, ?Most of the construction equipment available in India today is of international standards due to the presence of international players. But there is a need for upgradation facility of the existing equipment. Today, the batching plant I am using may not be needed for some other projects, where I should be able to upgrade the plant.? He further adds, ?In the current industry trend, the erection time is becoming shorter and shorter and also focuses more on pollution control. The pollution level and control systems vary from project to project. Some projects like Delhi Metro have stricter provisions for pollution control and environment friendly operations. This practice is tomorrow?s requirement for other projects. A lot of improvements can also be done in maintenance and support system.?
Says Dastidar, ?Once you bring a certain amount of concrete from a batching plant, you must place this concrete as fast as possible, before the initial setting process starts. With boom placers, we can do the concreting much faster, even for small columns. If we are not using boom placers, we have to fix concrete pipelines in each and every place or bring the concrete near the place and put it inside manually. This takes a lot of time. Thus, boom placers are more handy compared to pumps, even though they have their own limitations. The use of boom placers is gradually picking up and becoming popular. Today, most projects have three to four boom pumps and one placer. People are finding the use of boom placers much easier and it is slowly gaining popularity.?
Wilfried Theissen, Managing Director, Putzmeister Concrete Machines, sums up on a high note, ?Hopefully by in the next two to three years, the market should pick up. It absolutely has to pick up; the needs for infrastructure, housing, power plants, water treatment?are huge.?
Only about ten per cent of concrete produced is currently pumped, which tells about the huge scope for concrete pumps for the infrastructure and realty sectors.
Opportunities
Announcement of metro projects in cities with 20 lakh people
Modernisation of Railways
Creating of diamond quadrilateral project of high-speed trains
Networking of freight corridors
Time-bound national highway programmes
Allocation of Rs 14,389 crore for rural road development
Promoting low cost airports
Development of ports (16 new projects) and inland and coastal waterways
Rs 7,060 crore allocation for creation of 100 smart cities