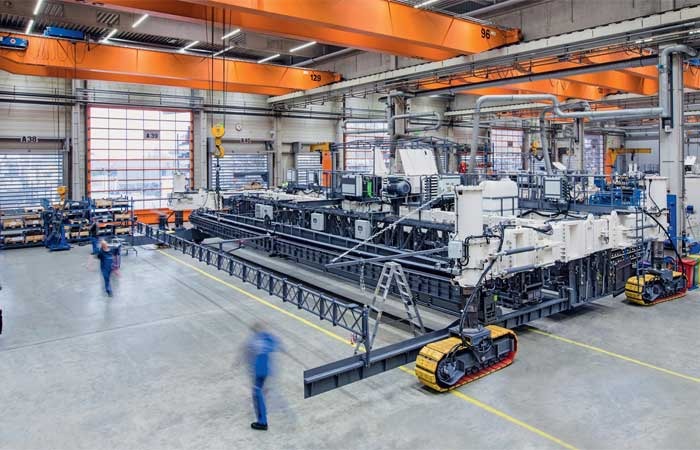 Growth is round the corner for concrete equipment as market is projected to cross $1,300 million by 2024, exhibiting a CAGR of 13 per cent because of anticipated growth in the construction industry.
In almost every construction activity, the importance of concrete is growing and so is concrete equipment. Major concrete equipment used in the construction activity include batching plants, transit mixer, concrete pumps and concrete pavers. These equipment perform different stages of concrete usage in construction starting from concrete mixing to transporting, pumping, placing and paving.
Ever increasing projects sizes, tight completion schedules and high strength concrete requirements are driving contractors to look for technologically-advanced and high efficiency concrete batching and placing equipment. In the past one decade, concrete equipment manufacturers have worked hard to bring awareness among builders and contractors that how advance technologies features and control systems help in producing high quality, homogeneous concrete and deliver it to greater heights and distances quickly.
Government initiatives towards infrastructure development is further boosting the demand for concrete equipment in India. Some of the construction projects in the country include Smart City Mission, AMRUT, the Atal Mission for Rejuvenation of Urban Transformation, Metro Rail in urban areas, Bharatmala, and Sagarmala, among others. In addition, government is also supporting the Indian concrete equipment market by liberalising taxation policies for the construction industry such as GST and custom duty.
Concrete market: Looks positive
Said Tennyson Anthony, General Manager – Construction Products, Husqvarna India Products, "The concrete equipment that we deal in has an addressable size of Rs 100 crore in India and the growth rate is anywhere above 20 per cent year on year. With more and more emphasis on concrete roads by MoRTH, the acceptance towards quality and advanced products have increased amongst the Indian customers. The customers have become more demanding towards new cutting-edge technologies, which will make their downtime lowest and give high productivity, this is a happy problem to have for us."
Said a spokesperson from KYB-Conmat, "Concrete equipment market in India is looking very positive currently, backed by the strong investment plans of the Central and State Governments and private core sector companies. We have observed that the demands across all product ranges of concrete equipment viz batching plants, transit mixers, concrete pumps, self-loading mixers, etc. are consistently growing over a period of time after the lock downs. In the past few years, demands for high productivity and high-capacity machines are increasing and customers are open to explore more technologically-advanced products and we feel the product evolution of equipment will be faster in coming years."
Wilfried Theissen, Managing Director, Putzmeister India, said "In the first quarter of CY2021, the demand for concrete equipment had grown back to 2019 levels for most equipment categories. However, with Covid-19 cases spiralling in the country and local lockdowns introduced to curb the spread, things are set to slow down again. The reverse migration of labour in anticipation of a complete lockdown is only going to add to challenges at the construction site and impact demand for new equipment."
"The current market size is approximately at 150 batching plants, 150 concrete pumps, 750 concrete truck mixers and 350 to 400 self-loading mixers per month, provided the lockdown restrictions does not affect the demand from the industry. The year 2021 should see an increase of 20 per cent over 2019," said VG Sakthi Kumar, Managing Director of Schwing Stetter (India).
Technologically-advanced products
The WIRTGEN GROUP is the world market leader in concrete paving machines. Wirtgen offers two range of Concrete Pavers- Offset and Inset Pavers. With offset slipform pavers, the concrete is transported into the offset mold via a loading conveyor or a conveyor auger. The offset pavers SP 15 and SP 25 are used to build safety barriers, water gutters, kerbs or narrow paths in India.
Said Ramesh Palagiri, Managing Director and Chief Executive Officer, Wirtgen India, "With inset slipform pavers, the concrete is placed directly in front of the machine and distributed by a spreading auger or spreading plough. Concrete pavements are used in an exceedingly wide range of applications such as in the construction of motorways, trunk roads, airport runways, container storage areas or railway tracks. These structures are exposed to extremely high loads by heavy goods and high traffic volumes. Concrete pavements are the ideal choice when it comes to withstanding these loads on a long-term basis. In addition, traffic volumes keep increasing continuously on a global scale, making ever-higher demands on concrete roads. Wirtgen inset slipform pavers offer working widths ranging from 1.0 m to 16.0 m and are perfect candidates for the economically efficient production of concrete pavements. The range of product offered for Indian market are SP 62, SP 64, SP 94, SP 124, SP 124 L, SP 164."
He added, "Texture curing machines TCM 180 gives the concrete pavement desired surface texture, applying a dispersion which prevents the surface and edges from drying too quickly. The specified surface texture is achieved with a brush. Alternatively, a burlap or synthetic turf can be drawn across the concrete pavement in a longitudinal direction. Automatic crown adjustment and a film unwinder round off the features of the machine."
"Over the years, we have expanded our product portfolio from Self-Loading Concrete Mixers to a total Concrete Equipment supplier. Our portfolio includes Batching Plants, Boom Pumps, and India's first locally made Concrete Slip-Form Paver. Today, we have a customer base pan India and across the globe. We support our customers with a network of Dealerships and After-Sales Support touchpoints. AJAX offers world-class technology solutions to meet the growing customer demands for precision and efficiency to deliver profitability," said Aneja.
AJAX was the pioneer in bringing the concept of SLCM in India way back in 1992 and revolutionised the way of concreting in project sites. Said Aneja, "Over the years, we have added new features like Load Cell weighing system for higher accuracy that has been patented. Further, we have introduced smart fleet telematics, rear view camera, admixture dosing units, bidirectional tyres, AC cabins, EH drum control, high pressure water jet, smart CBC etc., to name a few and many of these have been Industry first keeping in mind our customers evolving needs. In August 2021, we introduced India's First all new CEV Stage IV compliant ARGOs that offer the best-in-class benefits with excellent fuel efficiency as well as less down time due to longer service intervals ensuring very high reliability due to our high-quality standards."
Putzmeister follows a continuous R&D model. Says Theissen, "We regularly introduce updates to our existing product line and new variants. We introduced equipment for the RMC sector, including a Batching Plant MT 0.35 with a capacity of 21 m3/hour, and Stationary Pumps BSA 1405 D RMC and BSA 1407 D RMC. We continue to roll out our remote monitoring tool, Putzmeister Machine Cockpit to our fleet of Putzmeister Truck Mounted Boom Pumps. More recently, we also started offering Sany concrete pumps. This helps us reach a wider market with differentiated products."
In concrete equipment, Schwing Stetter offers improved batching plants range from 60-120 cum, M30Z IV for projects were frequent shifting, H1.25JR plants for metro cities for ready mix concrete, and many more.
Sunbeam Infra Equipments offer 8 cu m transit mixer, 41 m boom pump (in cooperation with KCP-Korea), diesel driven mixer pump and an improved version of our SS50 high-pressure trailer pump. "All these have been done keeping in mind the expectations of our Indian customer," says Krishna.
RDC Concrete (India) is the largest independent ready mixed concrete company in India. The company manufactures and supplies Ready Mix Concrete (RMC). Its portfolio of customers includes construction companies, real estate developers, contractors, infrastructure companies, industrial projects (cement, steel, power plants, etc.), commercial projects and individuals owners. Apart from normal concrete mixes of various grades, RDC Concrete also produces special concrete solutions using its world class infrastructure and technology and ensures product and service quality.
KYB-Conmat is introducing new and advance ranges of self-loading concrete mixers—CSLM 2800, CSLM 4300 and CSLM 4800—which can produce 2.8, 4.3 and 4.8 cbm of concrete in each cycle, respectively. These CSLMs offer high productivity, faster loading and unloading, and have an electronic weigh batching system with printer. The concrete mixing quality is also superior due to the advanced design of the spiral blades. These machines are very operator friendly due to its single joystick control and reversible operator posts.
Said the spokesperson from KYB-Conmat, "We have seen an increased demand, mainly from corporate customers and big fleet owners for advanced automation, digital technologies including GPS enabled equipment for the past few years. These customers are willing to adopt various latest technologies in concrete equipment which will fetch them increased the operational efficiency, offer high safety and optimise the cost of owning and operation."
Says Anthony, "We offer the broadest range of products under concrete placement range like: Concrete vibrators – electric, mechanical, electronic and pneumatic range; Screeds – manual and electric; and Trowels – manual and ride-on-trowel. Under compaction range, we have double drum rollers, forward and reversible plate compactors and earth rammers. Apart from the above, we also have demolition related products viz. demolition robots, wall saws, wire saws, power cutters, floor saws, and its accessories related thereto. Our products can be offered in all the stages of the construction and sometimes beyond."
Market outlook
Said Theissen, "India is an important market for the Putzmeister Group and this will continue to be the case in the future. Our dedicated team of engineers and technicians are constantly working on ways to help our customers get the most of their equipment and deliver projects reliably, efficiently, and safely."

VG Sakthi Kumar had this to say: "Future is bright. Since more focus is now on infra, road, metros, and high speed trains, all these have huge requirements of concrete. We have inaugurated a state-of-the-art global manufacturing hub in Cheiyar – 90 km from Chennai to exceed the future demand."