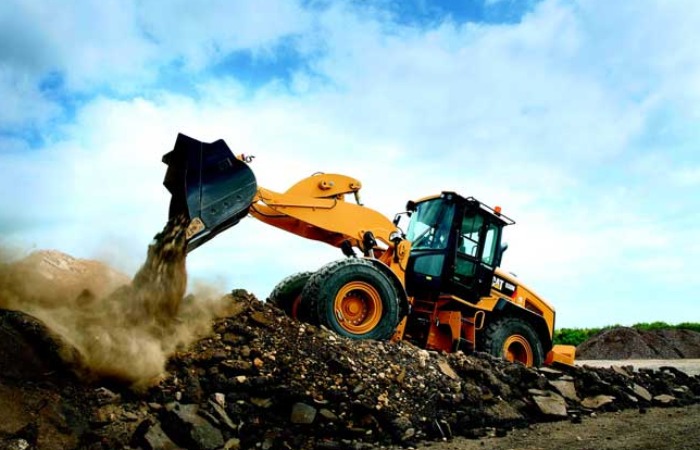 Earthmoving equipment market in India has been witnessing strong growth over the last few years because of increasing demand from the construction sector across the country. The demand is also growing owing to increasing government spending on infrastructure development, including residential and non-residential projects. Further, increasing mining activities are also driving the market for earthmoving equipment. This continuous growth in infrastructure, mining and construction projects is anticipated to enhance the application scope of earthmoving equipment.
Earthmoving equipment mainly comprises excavators (compact excavators, dredging, dragline excavators, front shovel and others), loaders (skip loaders and wheel loaders), backhoe loaders, construction tractors and others (grader, scrapers, track loaders and material handlers, etc.). Among all earthmoving equipment, backhoe loaders are flourishing well in India and have a very bright future in the country.
The backhoe loader, consisting of a tractor, front shovel/bucket and small backhoe in the rear, is a versatile piece of equipment and is therefore, often the only piece of heavy equipment brought onto small to medium landscaping projects. A backhoe can duplicate the work of a bulldozer, front-end loader and excavator. The backhoe loader also has the advantage of being driven directly to the different job areas as opposed to other specialised machines, which need to be towed into the site and require external power sources. Thus, backhoe loaders are quiet popular in India and the country is the second largest market for backhoe loaders in the world. Followed by backhoe loaders are the excavators, which are also very popular in the earth moving equipment segment.
According to industry reports, the earthmoving equipment segment accounts to more than 60 per cent by volume, which in turn sets the tone for the overall equipment market. Backhoe loaders and hydraulic excavators together make most of earthmoving equipment industry. As the major category in the construction equipment market, the growth of earthmoving equipment market depends on the infrastructure development and mining activities. Though the market was impacted by the Covid-19 pandemic induced slowdown, the market is seeing green shoots after a revival in mining and construction activities back in action.
According to a report from Techsci Research, "India's construction equipment market is projected to cross $ 4.7 billion by 2025, on account of anticipated growth in construction industry, increasing foreign investments, and rising number of smart city projects in the country."
Government initiatives focused on infrastructure development are further boosting demand for construction equipment in India. Some of the largest projects include Smart City Mission, AMRUT (Atal Mission for Rejuvenation of Urban Transformation), Metro Rail in urban areas, Bharatmala, and Sagarmala, among others. In addition, government is also supporting the construction equipment market by liberalising taxation policies for construction industry such as GST and custom duty.
Market revival in 2021
According to Sandeep Singh, Managing Director, Tata Hitachi Construction Machinery Company, among the segments with significant volumes, backhoe loaders and compactors have recovered the fastest and the rest of the segments are showing very significant recovery in the last couple of months. "The good monsoon last year leading to a record rabi output and a good monsoon for the second consecutive year has supported the backhoe loader demand in the rural market. This has been further bolstered by the government focus on rural infrastructure including PMGSY (rural roads) as well as PMAY (rural housing)," he adds.
On the roads sector push and demand from mining, Singh says, "The fast resumption and recovery of the road building programme of the government has driven demand for compactors as well as hydraulic excavators despite labour shortages at construction sites. More than 3,900 km of highways were constructed in first half this fiscal year, a positive when looked in the context of lockdown interrupted construction in the busy period of April and May this year. Highway awards of more than 5,000 km grew by an impressive 140 per cent YoY despite lockdown, suggesting the focus in large scale highway construction this year and beyond." The recovery in the roads and highways segment has also driven demand for stone aggregates and demand coming from the stone quarrying and crushing segment as well as sand mining and for bricks used in construction. This has further helped in the recovery. A good number of contracts in coal mining as well as increased demand for iron ore following last year's auctions have supported demand for mining equipment."
The relatively lower impact of Covid-19 spread in rural India and natural social distancing at construction and mining projects have helped in rebuilding confidence of the stakeholders to move ahead in building infrastructure. According to Singh, south continues to be a large market for construction equipment, followed by north, east, northeast and west. "Even though south saw a rapid and large spread of Covid-19, the government's unlocking and fast normalisation of economic activities helped, as also the construction activity as explained before," says Singh.
According to him, Kerala saw a good demand for mini excavators and continues to drive that market. Similar is the case with north, where a lot of construction activity is focused – driven by Uttar Pradesh, Rajasthan, etc. He explains the progress in other markets, "Covid-19 spread in east happened in phases, but rural activity and mining is driving demand in this region. Road construction activity has also accelerated in the northeast. West, traditionally a big market, of which Maharashtra contributes to a large part, the intensity of Covid-19 spread and slower relaxations probably led to a slower recovery of the market. However, the activity there also has picked up, led by the construction of the Mumbai-Nagpur Samruddhi Mahamarg. Another area where we see growth is the need for equipment in the border road areas."
Sandeep Mathur, Brand Leader, CASE India, comments, "The revival of the industry has already started. The government is continuing to announce the commencement of new projects to speed up the activities in the sector. Recently, Union Minister for Road Transport & Highways Nitin Gadkari had reiterated government's commitment to make India a manufacturing hub. The government has announced an investment of Rs 500 billion for construction of highways for the economic zones to ensure better connectivity. These measures are an attempt to ensure positive growth of the industry in the upcoming time and would most likely result in an increased demand of road construction equipment as well."
As the year 2022 unfolds, the economic revival has already begun. The government is coming up with policies and announcements to boost the construction sector. Mathur highlights, "Currently, we are observing a lot of project announcements for the roads and highway sector. The government is focussing on invigorating the infrastructure of the country in order to make India a more investment and business friendly place. At CASE, we are ready to partake in all of the upcoming projects with our full portfolio of efficient equipment for every terrain and site."
On the key trends to look for in 2022, Yogesh Sindwani, National Portfolio Manager, Earthmoving Equipments, Escorts Construction Equipment, says that the factors such as production, sales demand, Make in India and exports, new emission norms and cost play key roles in the overall CE as well as earthmoving equipment industry. He adds, "Production demand is going up which will need the industry to develop products with higher productivity with reliability. Make in India has already shown positive sentiments from the Indian buyers and this is a motivation for Indian manufacturers like us to design and develop excellent products. This will open up more export markets for Indian manufacturers."
Equipment finance
Finance is the backbone of building growth for any industry. Being the most popular and demanding category, earthmoving equipment are perhaps given top priority by banks and NBFCs for financing. However, in the current market scenario, financial institutions have become rigid in providing finance for equipment purchase even for earthmoving equipment.
Adds Mathur, "In order to alleviate liquidity, we at CASE through our financial arm CNHi Capital, are making sure there's enough capital available for customers who wish to make purchases. We offer lucrative schemes that can help potential customers in buying equipment and have also introduced a 48 hours loan approval policy to facilitate easy loan service. We've always gone the extra mile for our customers and will continue to walk shoulder to shoulder with them."
Sindwani is of the view that almost all the major NBFCs as well as PSBs are active in financing earthmoving equipment. "Escorts has also tailor made tie-ups with selected NBFCs and PSBs for our earthmoving equipment.
Rental push
Rental market is considered as a major growth driver for earthmoving equipment market, especially for backhoe loaders and excavators. However, compared to world market, India is still far behind in having an organised rental market. According to Singh, the CE market in India lags the world in having an efficient and sizeable rental business model.
He adds, "Post Covid, there will be a move to expand this business as companies will shift to efficient allocation of resources and capital. We are seeing an initial movement towards organised rentals and the benefits of cost, quality, and customisation are being recognised. We have already started our rental business on a pilot scale last year and look to expand it with machines with special attachments and customisation. These will be backed by a commitment on upkeep of the rental units and an assurance of usage hours."
Mathur comments on the rental market scenario, "Before the pandemic, the rental market in India was in a nascent stage.
Currently, as the pandemic sets in, securing finance is becoming a challenge, so there could be a possible surge in the rental market. However, at CASE India, through our financial arm CNHi Capital, we are making sure there's enough capital available for customers who wish to make purchases. We're hoping that any liquidity crunch is alleviated through their efforts.
Sindwani adds, "As of now the rental market for earthmoving equipment is at a toddler stage and in my opinion it will take time to grow. We at Escorts are not in rental business as of now, but we are exploring the same for our higher capacity models."
EI recommendations
Overall, the Indian earth moving equipment industry is poised for excellent growth in the coming years, based on India's overall manufacturing sector and infrastructure growth. To leverage this opportunity, Indian construction equipment manufacturers need to focus on developing individual and pooled capabilities to develop global competitiveness across the sector. Collaborative endeavours to provide integrated services, industry bodies to promote the industry's interests and working with the government to promote technology development are some of the key measures that should be taken in the future.
Bright future
Concisely, increasing demand for construction and infrastructure activities is anticipated to augment earth moving equipment market growth over the next few years. Increasing government spending on infrastructure development including roads, metro rails, flyovers and commercial complexes will further help to surge the market growth over the next few years.
As a result, the heavy earthmoving and material handling equipment segment is projected to grow at the CAGR of 8.42 per cent from 2020 to 2025. It is believed that the key players in the segment will have to implement different strategies such as expansions, agreements, contracts, joint ventures and partnerships to garner a larger share in the market.