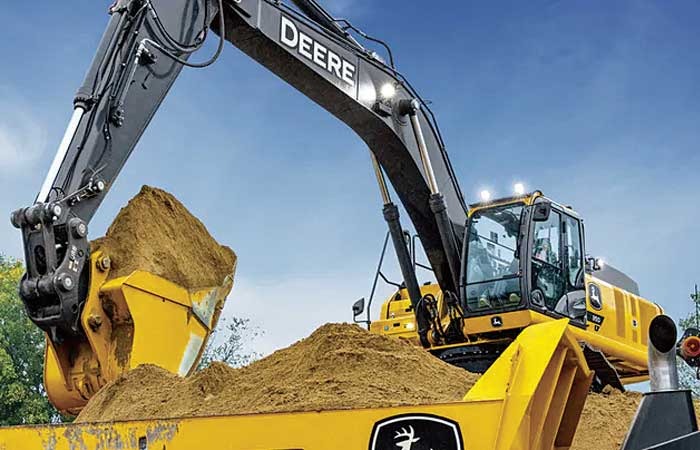 John Deere has launched the first excavators under its new Performance Tiering strategy – the mid-sized 350 P-tier and 380 P-tier. These revamped machines support on-demand safety, comfort, and control — all while delivering the power needed for high production on the job, the company says.
Upgrades on the new machines include improved front-joint durability, a redesigned hood that boosts serviceability and cooler access, and up to 7 per cent better fuel economy. In addition, the new mid-sized models are designed to accommodate different operators with the simple flip of a lever.
"Our goal in enhancing the 350 P-tier and 380 P-tier is to address the needs of operators by creating a comfortable and technologically advanced machine that can make their job easier," said Justin Steger, solutions marketing manager, John Deere Construction & Forestry.
Deere first rolled out the new naming strategy last year on its midsize wheel loaders.
Under the new tiering system, Deere is dropping the letter at the end of the model's name that signified the machine's generation. In place of that letter is one of three letters meant to signify its performance and technology tier: a G, P or X.
Each of the letters represents a set level of features, with G as the economy model; P includes advanced features; and the X-tier denotes the company's hybrid diesel-electric technology and most advanced features.
For the 350 and 380, the new P-tier replaces the G-Series nomenclature. On the machines, a "P" is presented under the model number. At this time, no other tier levels have been unveiled for excavators.
Both excavators offer SmartGrade technology as a factory option and field upgrade kits. Customers can choose from 2D guidance, 3D guidance, 2D SmartGrade Ready Control, and SmartGrade 3D Control, including over-dig protection and in-cab real-time distance to target.
These grade management options allow customers to choose a level of technology that's right for them with the ability to upgrade as their business grows, the company says.