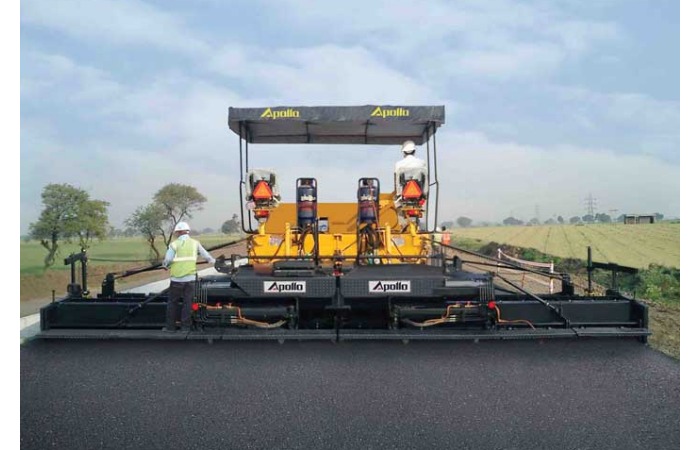 A paver is one of the road construction equipment used to lay hot asphalt mixture containing aggregates mixed with hot asphalt on roads. A host of new interventions are helping pavers deliver higher productivity, better paving quality and surface finish, along with speed for faster completion of projects.
Manufacturers are giving a facelift to their pavers by incorporating new technologies and intelligent systems. While the aim is to achieve better throughput, they are also considering innovations to reduce operator fatigue and machine optimisation so that they can bring more value to their customers. There are two types of pavers – mechanical and sensor pavers. Mechanical pavers are the most economical and efficient solution while sensor pavers are advanced pavers with intelligent monitoring systems. Mechanical pavers, though economical, cannot provide a smooth finish to the surface. In turn, this affects the traffic flow of the highway and increases maintenance requirements in the finished road. Sensor pavers have intelligent operating technology that helps control the machine in terms of mat thickness as well as the level of the mat and the grade required in the finished road.
The market is definitely moving from mechanical to sensor pavers and the industry estimates the total market for sensor pavers to be more than 300 units per annum.
Wirtgen has come up with a recent  innovation, Road Scan temperature measurement system, which helps the paver operator to know the exact temperature of the mix—as it is being paved, and also later—through the recorded data.
VÖGELE's other innovations include pressure bars and electric heating of the screed, Niveltronic Plus operating concept and Ergo Plus operator features. Its Dash-3 pavers also offer the Eco Plus for saving fuel, Auto Set Plus, Pave Dock Assistant, etc. VÖGELE also offers technologies like the Spray Jet paver that does the tack coat and paving with the same paver; Mobile Power feeders that are being used for building airport runways and expressways; and the Inline paving technology, with which the binder and surface courses are paved "hot on hot" in a single pass, thereby accelerating activities on a job site. In other words, the two VÖGELE pavers work "in line", with just a few meters between them, so that one lane can remain open to traffic.
"We're seeing an increased interest in sensor pavers that help contractors do more with less, such as the P5320ABG tracked paver,which delivers a basic paving width of 2.5m," says Dimitrov Krishnan,Vice President and Head, Volvo CE India. "We attribute this to the pressure on contractors to increase productivity both in the size ofthe roads they build and the speed at which they complete them."
Achieve the ultimate in paving operations with Volvo's P5320B ABG tracked paver, delivering outstanding performance, durability and ease of operation in paving widths of up to seven meters. With decades of ABG paving technology plus an extensive service network, the P5320B offers market-leading paving quality, ensuring maximum uptime and profitability of your investment.
Also, sensor pavers have intelligent operating technology that helps the machine meet the desired mat thickness, mat level and required grade, unlike regular pavers that simply follow the undulations of the road base and are, therefore, unable to give a smooth finish to a paved surface, he explains.
Krishnan elaborates on the advantage of sensor pavers over mechanical pavers, 'The paving quality of any road is defined by the ability of the paver to satisfy three requirements in line with the highway design: mat thickness, level of the mat, and the grade required.
Regular pavers without sensors simply follow the undulations of the road base and are therefore unable to give a smooth finish to a paved surface. But sensor pavers have intelligent operating technology that helps the machine deliver on these three requirements.'
Palagiri echoes the same as he says, 'In highway segment, use of sensors pavers play a very important role in getting the right levels and grades when building the roads.
The final finish of the road depends, to a great extent, on the accuracy delivered by these pavers, in addition to the mix quality and temperature at which it is laid and also compaction.'
In keeping with this increased interest, Volvo CE has introduced innovations on the P5320ABG, such as load-sensing hydraulics and an automatic hydraulic track tensioner.
In Karnataka, P Prabhakar Reddy, a public works contractor, has used the P5320ABG (with two DD100 asphalt compactors and four DD90 double-drum compactors) for a string of projects, including the 344-km NH-167 that stretches from Hagaribommanahalli in Karnataka to Jadcherla in Telangana, and a road that connects to the new terminal at Kempegowda International Airport in Bengaluru.
Ease of operation, paving quality and hassle-free operations are among the key reasons why Reddy opted for the paver. "Anyone can operate a Volvo machine with ease; that is a definite advantage because we face constant pressure on margins and the availability of skilled manpower," he says. "All Volvo equipment delivers outstanding performance, particularly the Volvo P5320B ABG. We get the excellent finish we look for in every project without fail."
Another in-demand Made in India sensor paver from Volvo is the wheeled P4370B ABG, which delivers a basic paving width of 2.5m. Pave Assist, which is powered by Volvo Co-Pilot, an on-board computer and display providing real-time data to monitor the progress and output of the paving job, is available for both models.
"Imported sensor pavers from Volvo include the units offering maximum paving widths of 9m, 10m, 13m, and 16m, of which the most popular is the P6820C ABG (offering paving widths of 2.5m to 10m)," says Krishnan.
The Indian government's plans to increase road construction from its current level of about 23 km a day to an eventual 40 km a day have made road pavers, particularly sensor pavers, increasingly important for projects around the country. Sensor pavers help in achieving these goals.
- Karthik Muthuveer