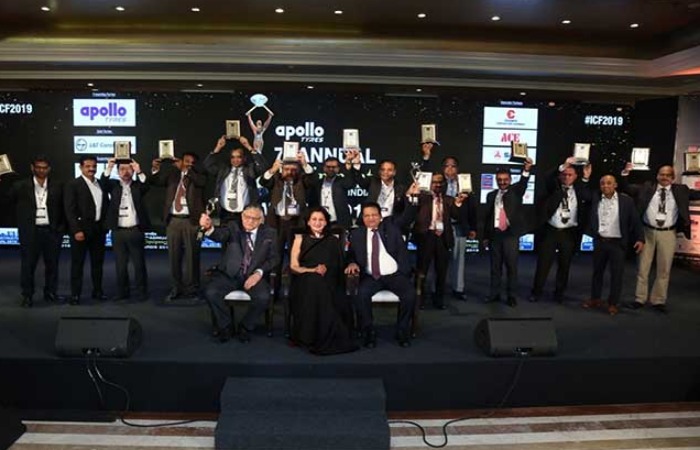 In the prevailing pandemic conditions, The 8th Annual EQUIPMENT INDIA Awards will be held virtually on October 15, 2020. This year's Awards will be recognising the Best Selling companies in various construction equipment categories, apart from the Equipment India Person of the Year 2020. The winners are selected by an eminent Jury panel comprising professionals from across the value chain of construction equipment market such as contractors, financiers, market analysts and component manufacturers.
Jury Panel of 8th Annual EQUIPMENT INDIA Awards

Anant Raj Kanoria, CEO, iQuippo
Arun Sahai, COO, Ahluwalia Contracts (India)
Devendra Kumar Vyas, Managing Director, Srei Equipment Finance
Farid Ahmed, Divisional Head Marketing – OHT, Apollo Tyres
Gaurav Tiwari, GM – Mech, Dilip Buildcon
H S Mohan, CEO, Infrastructure Equipment Skill Council
Kennady V Kaippally, Country Manager, Bonfiglioli Transmissions
Mahesh Madhavan, Head - Construction & Infra Practice, Feedback Advisory
Neerav Parmar, Senior Vice President - Contracts and Procurement, Shapoorji Pallonji
Sameer Malhotra, Director & CEO, Shriram Automall India
Samip Desai, Director, Moba Mobile Automation (India)
Samir Bansal, GM India, Off-Highway Research
Sandip Shah, AVP-Head, Contracts & Procurement, Omkar Realtors
Sanjay Koul, Managing Director, Timken India
Sanjeev Nimkar, Managing Director, Kirloskar Oil Engines

In the last year's EQUIPMENT INDIA Awards, Sumit Mazumder, Chairman & Managing Director, TIL won the Equipment India Lifetime Achievement Award while the Equipment India Person of the Year 2019 was conferred on Vijay Agarwal, Chairman & Managing Director, Action Construction Equipment.
Best Seller awards in various equipment categories were: Ammann India in Asphalt Finishers, JCB India in Backhoe Loaders, CASE India in Compaction Equipment, BEML in Crawler Dozers and Rigid Dump Trucks, Tata Hitachi in Crawler Excavators and Mini Excavators, Atlas Copco (India) in Mobile Compressors, Action Construction Equipment in Mobile Cranes, Caterpillar India in Motor Graders and Wheeled Loaders, and Doosan Bobcat India in Skid-steer Loaders.
EQUIPMENT INDIA also recognised Escorts Construction Equipment with Best Debutant Award and JCB India with Best Innovation Award.
This year also, the EQUIPMENT INDIA Awards will be part of the two-day INDIA CONSTRUCTION FESTIVAL (ICF) 2020 to be held online during October 15-16, 2020. The coinciding events during the two-day ICF will be the 10th India Roads Conference to be held on October 15. The Construction World Leadership Summit and the 18th Construction World Global Awards will be held on October 16, 2020.
Organised by FIRST Construction Council, the two-day India Construction Festival and the Equipment India Awards are expected to attract the global infrastructure and construction value chain.
INDIA CONSTRUCTION FESTIVAL 2020
It is true that the impact of COVID-19 on India Inc in FY2020 was only for a few days – the last two weeks of March. But many would agree that the Indian economy was already in trouble and COVID-19 only exposed the fault lines.
Nevertheless, despite all the obstacles, uncertainties and challenges, a few entities managed to persevere and prevail, posting growth and exhibiting excellence, keeping their growth intact. And these are the companies, from the universe of construction, contracting, engineering, building materials and construction equipment that the Foundation of Infrastructure Research Studies Training (FIRST) honours – many of whom will be awarded for their outstanding work at the 6th INDIA CONSTRUCTION FESTIVAL 2020.
Organised by FIRST Construction Council and Construction World magazine, the INDIA CONSTRUCTION FESTIVAL has seen participation of the entire Indian construction industry. The Prime Minister of India Shri Narendra Modi has lauded this platform for its ability and intention of showcasing the best and encouraging the industry by setting standards of excellence.
Once again, the Festival has the partnership of New York-based Engineering News-Record magazine, popularly known as ENR – the world's oldest and largest circulated engineering magazine – to honour and felicitate not only India's fastest growing construction companies, India's Top Challengers and India's Bestselling Equipment Companies but also felicitating Global Leading Design and Engineering Firms.
Last year, the INDIA CONSTRUCTION FESTIVAL was a celebration of victory! More than 60 awards and honours were conferred upon leading Construction Companies, Global Design and Engineering Firms and Building Materials and Equipment Companies.
And, this year too, we will bestow a similar number of awards on deserving companies.
So tune in on October 15 and 16 as we unveil this year's winners at the INDIA CONSTRUCTION FESTIVAL – the CONSTRUCTION WORLD Person of the Year 2020 in the Public Sector; CONSTRUCTION WORLD Person of the Year 2020 in the Private Sector; India's Largest and Most Profitable Construction Contractor; India's Fastest Growing Construction Companies; India's Fastest Growing Steel Companies; India's Fastest Growing Paint Companies; India's Fastest Growing Tile, Ceramic & Sanitaryware Companies; India's Top Challengers; ENR Top International Design Firms; ENR Top International Contracting Firms; Equipment India Person of the Year 2020; and Bestseller Awards in Asphalt Finishers, Backhoe Loaders, Compaction Equipment, Crawler Dozers, Crawler Excavators, Mini Excavators, Mobile Cranes, Motor Graders, Rigid Dump Trucks, Skid-steer Loaders, and Wheeled Loaders.
Events at the 6th INDIA CONSTRUCTION FESTIVAL
| | | |
| --- | --- | --- |
| Event | Date | Time |
| 10th India Roads Conference: Panel 1 – Implementation of roads and highways proposed under Bharatmala and expressways | 15th October | 3:30-4:30 pm |
| 10th India Roads Conference: Panel 2 – Financing road projects for HAM and EPC companies – Challenges & Mitigation | 15th October | 4:30-5:30 pm |
| 8th EQUIPMENT INDIA Awards | 15th October | 5:30-6.30 pm |
| Construction World Leadership Summit: Building Growth in a COVID Economy | 16th October | 4:30-5:30 pm |
| 18th Construction World Global Awards | 16th October | 5:30-7.00 pm |