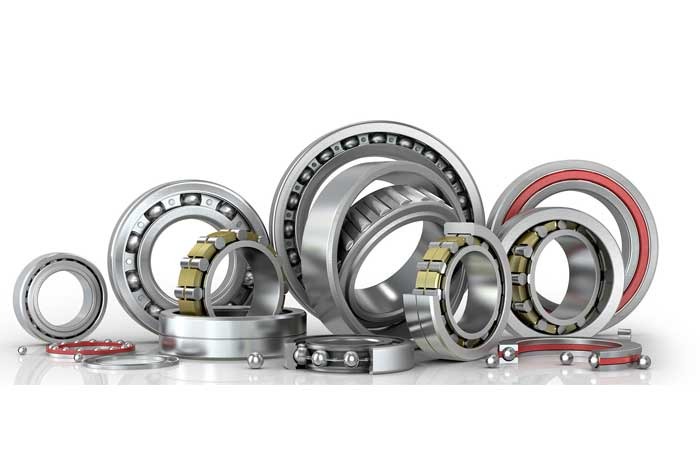 Indian bearing market is estimated at Rs 95 billion and it constitutes less than 5 per cent of global bearing demand. In terms of consumption, about 60 per cent of requirement is catered through domestic production while the remaining is met through imports. Indian market is dominated by international majors as well as indigenous players like NEI, NRB and others. While there are large numbers of players present in the industry, the competitive intensity is moderate as the top 5 players constitute approximately 80 per cent of the market share. Major market holders are having robust technology collaborations with their parent foreign holding group which is a strength as bearings require the highest standards of quality because of their end use in critical machine parts.
Bearing as a component is in itself quite excluded with each category placing its important use in different machines/machine parts and not limiting to specific manufacturing industry. Bearings have extensive use both in the industrial sector and automobile sector because of the functionality for which it is made; constraining relative motion to only the desired motion, and reducing friction between moving parts.
Emerging markets with infrastructure needs continue to accelerate the growth of construction equipment manufacturing, which in-turn drives the bearing market in construction segment. Bearings will always be in demand as it is the inevitable part of an equipment that fulfill a number of important functions, starting with their ability to reduce friction. Other primary functions include supporting a load, promoting the efficient transmission of power and ensuring alignment is maintained. These characteristics enable machinery to run for a longer operating period at a more efficient rate. However, it is also important to select the right bearing with respect to the application, in order to get the net result of optimum efficiency of the machine. Bearing maintenance is also equally important to achieve the desired efficiency of the bearing and the machine. Lubrication plays an important role in the maintenance and prolonged life of bearings.
Bearings fulfill a number of important functions, starting with their ability to reduce friction. Other primary functions include supporting a load, promoting the efficient transmission of power, and ensuring alignment are maintained. These characteristics enable machinery to run for a longer operating period at a more efficient rate. The net result is that bearings enable machinery to consume less energy.
Current market
Kaustubh V Phadtare, Managing Director, Kavitsu Group of Industries, elaborates, "Construction equipment uses a variety of bearings, right from three-row roller bearings to smaller single-row ball bearings. These are chosen based on the load ratings of the vehicles and whether they are dynamic or stationary. These bearings can be externally geared or internally geared, with a driving pinion shaft.
According to Phadtare, bearings are an essential part of construction equipment as they help to reduce friction while rotating the surfaces. He adds, "Choosing the right bearing depending on the load rating and working cycle is very important, as wrong selection can be catastrophic. Also, proper and timely maintenance ensures that the bearing lasts for a longer period. Manufacturers must also follow strict quality checks so that there is no premature failure in the bearings."
"Working closely together with the manufacturers of construction machinery, engineers in the Schaeffler Group develop bearing solutions that meet the extreme requirements in this field. To do so, they incorporate the ever-increasing demands - such as greater automation, higher safety standards, better reliability and easier operability - into further developments and innovations. We have developed bearings with lightweight steel alloys of different grades, alternate materials like ceramic, etc. Apart from this, we have also developed special coatings for our bearings, thereby improving the performance of bearings. We also offer mechatronic solutions for CE applications which enhance value output for our customers," said Harsha Kadam, MD and CEO, Schaeffler India.
According to Sanjay Koul, Chairman and Managing Director, Timken India, "Infrastructure sector has become the biggest focus for the government and vision 2030 proposed action plan to become a manufacturing and export hub for construction equipment and propel the development of world-class infrastructure in the country. Apart from infrastructure, the industrial sector is also expected to do well in coming years due to programmes such as Atmanirbhar Bharat and Make in India, which should further drive growth in the construction equipment market and have a direct impact on demand for bearings in the CE market."
Rangababu Ch, Segment Leader Heavy Industry, SKF, said, "The market for construction equipment will follow an upward trend in the medium to long term, with BS(CEV)-IV emission norms getting rolled out, the construction equipment industry is looking beyond the Middle East and Africa and enter in the developed country market. Equipment makers are looking for cost-effective solutions as the input cost is increasing. The market is moving towards maintenance-free bearings, made-in-India products, and telematics/intelligent feedback system is gaining momentum.
"India is becoming a global manufacturing hub, which means the demand for industrial bearings will continue to expand. Fuelling further economic development and the need for bearings is the country's strong consumer base and skilled workforce. Considerable growth is projected for construction equipment as government initiatives to boost the country's infrastructure take effect. This equipment will capitalise on a longstanding trend for bearings to effectively manage heightened power density. Construction equipment is constantly evolving toward higher efficiency, lower carbon footprint and greater productivity. Rolling and sliding bearings are advancing in tandem towards lower friction, higher speeds and higher load carrying capabilities," said Pramod Francis, Head – Application Engineering, CCTY Bearing India.
Innovations
Phadtare explains, "Kavitsu provides solutions for every range of the product comprised in the construction equipment portfolio. The major products include bearings for excavators, crawlers, tower cranes, telescopic cranes, truck-mounted cranes, bridge repair cranes, and so on. Also, smaller bearings are supplied for bulldozers and road rollers."
Says Rangababu, "In my view, factory owners, today, are looking to Big Data, artificial intelligence, and machine learning to revolutionise processes and efficiency on the plant floor as well as fleet maintenance. SKF is working alongside them to drive digitalisation. Through our unique business model – Rotating Equipment Performance (REP) – we partner with customers in the asset management area to improve the reliability, and availability of machines in the field."
Says Koul, "Construction equipment industry continues to evolve with adoption of technologies such as hybrid transmission. Timken, with its vast knowledge in bearing and friction management, is helping its customers choose the right bearings for each application. This helps to increase productivity and reduce vehicle downtime, thereby enhancing the overall value for customers.
"By delivering high-precision bearing solutions and systems for a large number of industrial applications, the Schaeffler Group is shaping "Mobility for tomorrow" to a significant degree. Schaeffler plays a large part in achieving peak performances in a wide variety of construction machinery around the world. The INA, FAG and LuK brand products used are characterised by high-performance density, long operating life, and maintenance-free bearing and clutch solutions at many installation points. CE manufacturers and operators face multiple challenges: Complexity is continuously increasing, market requirements are changing rapidly - and Schaeffler's mechatronic modules and cost-effective, ready-to-use system solutions provide the perfect answer. Schaeffler has been developing mechatronic components for a wide range of industrial applications for some years. These components are "enablers" for Industry 4.0 and they will not only reduce downtime but also help in predicting failures," says Kadam.
CCTY Bearing's most recent innovation is the Square Ball Universal Joint. Francis adds, "This patented design replaces a convention universal joint in intermittent applications, such as steering. The maintenance-free bearing has just eight components."
As a key supplier to the CE market, CCTY Bearing invests in both its products and partnerships. The most notable is a new manufacturing plant under construction in Gujarat. Slated for completion in 2022, the Indian facility will provide 25,100 m2 of manufacturing, warehouse and engineering assistance. This expanded footprint in India will join CCTY Bearing's global network of offices that provide engineering support, design assistance and warehousing for JIT delivery. Product expansion includes the formulation and development of propriety PTFE and POM-based sliding layer materials. These maintenance-free options for bushes and spherical plain bearings extend the bearing's life while reducing wear and fatigue. An in-house research and development lab allows customers to achieve application-specific designs and lubrication formulas for maximum load and life.
SKF is a big player in the lubrication systems area for mobile and earthmoving machinery to lubricate chassis parts, pins, bushes, steering arms, brake cams, slewing rings, buckets and boom parts. We are also working on intelligent, need-based lubrication systems to reduce the overall lubricant consumption and its associated costs.
Adds Rangababu, "We have developed drum bearing for compactors (CRB) in our domestic factories, we are also working on plain spherical bearings for articulation joints for compactors/hydraulic cylinders. Apart from this, we have hydraulic seals, and chains for construction equipment as a product range."
He adds, "In the Industrial segment, we have a wide product portfolio of bearings, seals, and lubrication systems, coupled with rotating equipment solutions and remanufacturing. We cater to all industries globally, directly as well as indirectly, through a network of distributors. We are also the undisputed leader in the industrial distribution market, which primarily serves the aftermarket. With SKF's unique REP programme, we are partnering with customers wherein SKF takes the responsibility of managing the customer assets to improve the reliability and availability of the assets, and supply of parts at an agreed fixed monthly subscription."
Timken works closely with its customers and provides design and application recommendations to optimise performance and reliability. In other words, our latest innovation in bearings with appropriate modifications like fuel efficiency, debris resistance, improved life, etc. has been designed and produced based on customer requirements.
AKSH Manufacturing has around 100 units of standard variants for AKSH slew ring bearings including without gear and with external or internal gear. The company manufactures bearings of outer diameter ranging from 120 mm to 1,500 mm. Apart from a standard set of bearings, the company does customisation based on the specific requirement of customers as we have our own technology. We do 40 per cent of business in customised slew bearings. We will be shortly introducing our range of high-performance slew drives with minimum of 50 units of standard variants.
Challenges
Regulatory requirements of emission rules and improved safety norms demand reduced vehicle weight and lower friction technology. Customers require a lighter weight, intelligent vehicle control, and of course, low noise and improved reliability from their vehicles. It clearly requires companies to have robust R&D and new production facilities to cater to such specifications.
The companies with a technological partnership with their foreign group entities do put forward as on stronger hold as compared to the Indian companies with no foreign collaborations as they have the advantage of tried and tested technical competencies before being brought into India.
Raw material cost accounts for around 60-62 per cent of bearings manufacturer's revenue. Bearings are mainly manufactured using high-grade steel or alloy steel, which exposes them to global steel price movement. Though the top players have the advantage of increasing prices on the back of technical know-how and quality standards, but still increasing input costs is a big hurdle to increasing the margins beyond a constant level.
Tough market conditions
The Covid-19 pandemic has adversely impacted the market where every industry slowed down. The demand for bearings in the construction equipment segment is down because equipment sales and utilisation are low. In April and May, construction activities were the lowest and due to which the sales and utilisation of various equipment almost came to a standstill. The current market is distressed with the Covid-19 pandemic impact, but the growth scenario in infrastructure. The government's ambitious plan for National Infrastructure Pipeline (NIP) is expected to bring back the momentum in construction activities. The recent reforms in the mining segment have created a movement in coal mining and other mineral mining activities. All these are expected to drive the demand for more high-capacity bearings for CE applications in India.
Bright future ahead
Considering the opportunities set in several industries along with prospective initiatives by Govt. of India, the Indian bearings industry has a great foreseeable roadmap ahead. This makes the industry an opportunity for investors. Not all companies are investible and clearly, the valuations have to be justifiable, but the industry is worthy of in-depth research and continuous observation of its performance.
With the construction and mining equipment market forward-looking on account of the increased construction activity, bearings will see better movement in the years to come.
BEARING LUBRICATION: KEY CONCEPTS
· Advancements in materials have extended the operating life of bearings, even under severe operating conditions.
· New additives enable bearing lubricants to be designed and developed for specific applications.
· Future bearing materials will boost performance and improve efficiency.
· Choosing the right bearing depending on the load rating and working cycle is very important.