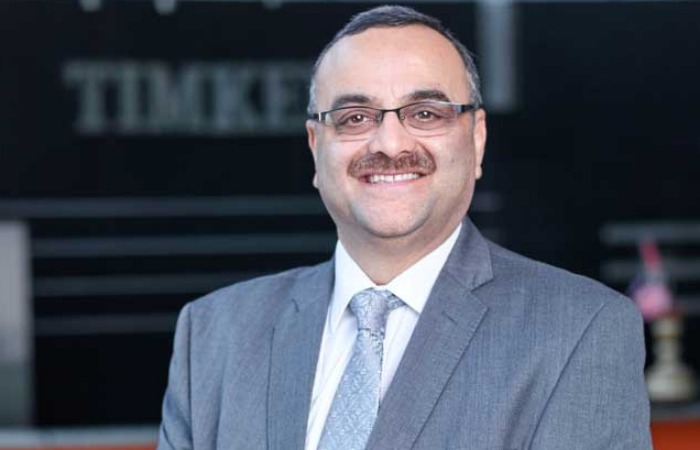 - Sanjay Koul, Chairman and Managing Director, Timken India Limited
How is the market for industrial bearings progressing? What is the latest trend in bearings for construction equipment (CE) applications?
Infrastructure sector has become the biggest focus for the government and vision 2030 proposed action plan to become a manufacturing and export hub for construction equipment and propel the development of world-class infrastructure in the country. Apart from infrastructure, the industrial sector is also expected to do well in coming years due to programmes such as Atmanirbhar Bharat and Make in India, which should further drive growth in the construction equipment market and have a direct impact on demand for bearings in the CE market.
What are the emerging technology trends in bearings for CE?
Construction equipment industry continues to evolve with adoption of technologies such as hybrid transmission. Timken, with its vast knowledge in bearing and friction management, is helping its customers choose the right bearings for each application. This helps to increase productivity and reduce vehicle downtime, thereby enhancing the overall value for customers.
What are your latest product ranges in CE bearings?
Timken works closely with its customers and provides design and application recommendations to optimise performance and reliability. In other words, our latest innovation in bearings with appropriate modifications like fuel efficiency, debris resistance, improved life, etc. have been designed and produced based on customer requirements.
What are the new innovations in your range of bearings?
As the inventor of TRB and an expert in friction management solutions, Timken continues to innovate solutions for its customers. Some of them are listed here.
| | |
| --- | --- |
| Product | Feature |
| DuraSpexx™ and P900™ Bearings | Extended fatigue life and durability via specified enhancements to bearing material, finish, and profile |
| DuraSpexx™ Power Rating Series | Bearings designed with 23% higher ratings (2x catalog life) |
| Debris Resistant Bearings | For extended bearing performance in debris contaminated environments |
| Engineered Surfaces | Provides improved wear, friction, and fatigue properties for bearings via proprietary coating and surface technologies |
| AquaSpexx™ Bearings | Water corrosion resistance via use of a proprietary zinc-alloy coating. Sacrificial protection. |
| Timken TDC™ Bearings | Corrosion resistance via use of proprietary Thin Dense Chrome coating. Hard, barrier protection. |
| Timken Fuel Efficient Bearings | Timken® Fuel Efficient bearings can make a significant difference by reducing bearing power consumption up to 30% and increase fuel efficiency by up to 2%. |
What are the opportunities in CE market for bearings? Do you anticipate any challenges?
The global pandemic and economic downturn that followed has created unprecedented challenges. Although sales of construction equipment, including mobile cranes, declined in India in 2020 due to Covid-19, we foresee a positive outlook in this segment in coming years. Indian construction equipment market is projected to cross $4.7 billion by 2025, led by growth in the construction industry, increasing foreign investments, and the rising number of smart city projects in the country. (Source: From Website TechSci Research)
Development of smart cities are expected to provide a major boost to the sector. In Union Budget 2021, the government has earmarked a significant investment, Rs 233,083 crore ($32.02 billion), in transport infrastructure. The government expanded the 'National Infrastructure Pipeline (NIP)' to 7,400 projects. About 217 projects worth Rs 1.10 lakh crore ($15.09 billion) were completed as of 2020. (Source: IBEF)
What are your product and market expansion plans?
Timken's product portfolio goes beyond bearings. Besides being a global leader in TRBs, Timken is also a major player in the mechanical power transmission products.
Above image shows various applications where Timken products go in a wheeled loader. Over the years, Timken has acquired brands that produce world-class couplings, automatic lubrication solutions etc., which has helped us become a single-source solution provider to the varied needs of our customers. Timken has plans in place to expand in India through these products.
How do you look at the future of bearings for CE applications in India?
India will continue to be among the fastest growing economies and rebound stronger from the pandemic in coming years with focus on infrastructure and initiatives such as Atmanirbhar Bharat, which will drive demand in the construction sector resulting in increased demand for bearings in the CE applications. Timken is well positioned to navigate the challenges ahead and take advantage of opportunities arising out of rapidly evolving markets.