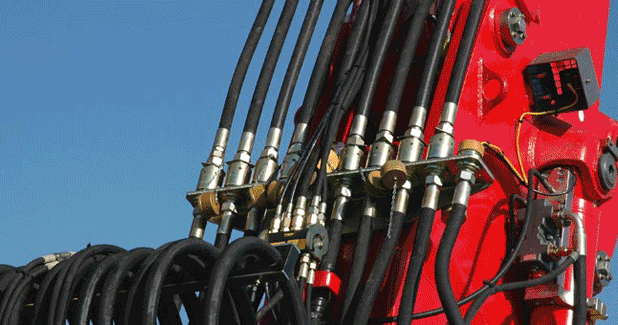 A perfect combination of hydraulic hose and fitting improves the efficiency of an equipment.
Hydraulic hose and fittings is one of the most important components in fluid power transmission. Selection of the right hose depends on various factors viz, operating pressure range, temperatures, abrasion resistance, and application and flow requirements. One should also consider the type of fluid conveyed and the application.
Product and tech trends
As hydraulics are becoming more compact, the trend is towards, more compact and highly flexible hoses and availability of hoses with different levels of performance depending on the criticality of the application. Says Nidhi Khanna, Manager-Branding & Marketing Communication, Gates India, 'With continuous innovation, our engineers have been able to provide customers products of high reliability and leak-free performance, reducing their equipment downtime and increasing the operational efficiency. Our application engineering team works very closely with the customers to provide the most optimal solutions in fluid conveying.'
It's not as easy to make a superior hose, it needs a complete know-how about the materials used. Quality of the hose is dependent on the design and quality of the rubber compounds, reinforcements used in the hose, fitting design and compatibility. The hoses should be able to withstand the severe pressure cycling, flexing, elevated temperatures, abrasion of the hose against the machine body or other hoses. All these have an impact on the life of the hose. Hose is typically constructed of three parts: an inner tube that conveys material, reinforcement and a protective outer cover. Cover protects the tube and reinforcement from heat, abrasion, corrosion and harsh environmental conditions. It is made of rubber, fibre braids, polymers or a combination depending on the application.
Reinforcement determines working pressure and impulse resistance. Wire reinforcement provides the hose the necessary strength to resist internal and external pressures.
Braided hose is typically made of wire or textile, with one or multiple layers and typically used for medium- to high-pressure applications.
Spiral hose, made of four or six alternating layers of high tensile steel wire handle high to extremely high pressures for longer service life on high impulse applications.
Helical hose, coil reinforcement prevents the hose from collapsing during suction transfer from reservoir to pump.
Tubes are made from a variety of compounds, the tube must resist damage and deterioration from conveyed material as well as the effects of temperature extremes. According to Shandar Alam, Director - Sales and Service, Vehicle and Hydraulics Businesses, India, Eaton, the technology is fast shifting towards more compact machines with higher productivity, more efficiency, reliability and with guarantees on uptime. He says, 'OEMs are developing new generation machines and equipment with simplified designs and architecture that improve the overall efficiency. Adoption of mechatronics, i.e. integration of hydraulics with electronics is the future. Use of diagnostics and prognostics on hoses for conditioning and monitoring, smart connectors and 3D printing technology are some of the major technology trends we foresee in hose and fittings market.'
For improved product performance, some of the commonly used material in hoses include chlorinated polyethylene (CPE), nitrile rubber (NBR), chlorosulphonated polyethylene (CSM) and EPDM. For fittings, carbon steel (12L14,1215, 1045) and stainless steel (304,316 grades) ensure superior performance.
New products and solutions
Says Khanna, 'At Gates, we offer hydraulic hoses ranging from low to medium to high pressures, specialist hoses used in fuel handling, drilling, steam and various MRO applications. We also offer fittings, tube assemblies and adapters to be able to offer a 'port-to-port' leak-free solution to our customers. In addition, we have sleeves for additional hose protection on extreme abrasive conditions in construction and mining applications. We cater our clienteles with two ranges of products: Premium range of products, which last for 2~2.5 times higher than the stated specifications and Fit for purpose product line, which meets the required specifications. Our products are highly robust as they are designed considering the extreme operating conditions. We have products suitable for extreme summers in India while we have a range suitable for coldest countries too.'
She further adds, 'Besides the standard range, we understand the customers' requirement based on which we offer customised products. Gates can furnish special hoses for specific applications. We are also able to bring the global technology to India in alignment to the products and price as per local market conditions. We do not compromise on quality in order to have the competitive pricing but use our technology to drive cost down.'
Eaton has a very wide range of product offerings in hoses and fittings. Alam explains, 'Uptime of capital intensive equipment is very critical and Eaton has always focused on the product performance and reliability by developing and delivering fluid conveyance solutions that last multi-million impulse cycles. For example, our high pressure Dynamax hose is tested and qualified for three million impulse cycles. This is a first in the industry.'
Elaborating on the product portfolio, Alam adds further, 'In our product portfolio, we have all ranges and sizes of hoses from 250 to 16,000psi, extensive range of industrial hoses right from air/water transfer to high abrasive and high critical applications like cement, concrete transfer, dry material and bulk transfer, mud suction and discharge etc. We also offer a variety of hose fittings, tube fittings, quick-disconnect couplings, Flexmaster joints and snap-to-connect connectors. We have recently introduced one and two wire braided hose in one million cycles with higher operating pressure and temperature to meet specific OEM requirements. We also offer customised products like concrete hoses and carbon injection hoses for still mill application that cater to regional and global requirements.'
How to choose the right hose
There are many types of industrial and hydraulic hoses - all designed for a particular application or several related applications. Selecting the right hose for a particular application is crucial for the smooth function of an equipment. Khanna elaborates, 'Proper hose selection is the first step in preventive maintenance. Selecting the best product for the application will allow to obtain the maximum life expectancy from the product for the most value. Various factors to be consider are: where is the hose used, what kind of machinery is used, what's the ambient temperature, what is the required bend radius: along with various external conditions. To ease out, Gates recommends to follow simple step to follow STAMPED, an acronym, which means Size, Temperature, Application, Material to be conveyed, Pressure, Ends or couplings, Delivery (volume and velocity).'
It is critical that the hose and coupling manufacturer are the same. Khanna cautions against the practice of mix and match hose and couplings from various manufacturers. This is very important for ensuring the safe working of the assembly.
She further adds, 'Once the hose and couplings are selected, it is important that the assembly is made properly. If not, the ends could blow off or the hose may fail at coupling. Here, Gates adds value to its customers by proper routing, application engineering expertise and providing solutions to increase uptime significantly.'
The selection process for proper hose and couplings can sometimes seem overwhelming and complicated. When in doubt it is best to contact the local hose manufacturing representative who can assist in the selection of the best hose and couplings for a particular application. 'But the best value is the hose assembly that gives the maximum life, not the hose assembly that costs the least,' says Khanna.
Alam comments in the same line, 'The selection of the correct hose and fitting is critical to ensure optimum field performance. Hydraulic hoses and fittings are designed to carry hydraulic fluids with high pressure and high temperature, and are important elements for hydraulic systems. The 'STAMPED' principle is generally used while selecting a hose. Fitting selection mainly depends on factors like versatility, reliability, pressure rating and applications.'
Safety
Lack of awareness among customers about a hose assembly may lead to premature failure. 'The awareness of the importance of safety in hydraulic hoses has increased significantly and customers are preferring quality products,' says Khanna.
She adds, 'Most of the leakages happen at the interface of hose and coupling, but some people resist to change, preferring local fittings available in market at cheaper prices over a validated coupling from the manufacturer. Gates offers a high performance and safe hose and coupling system, which we insist our customers to buy to get maximum output and to reduce down time. It is always preferable to buy fittings directly from hose manufacturers, which are manufactured and validated as per industry standards for leak-free performance.'
Alam agrees as he says, 'Certainly, a lot of awareness related to safety and leakage is being created in the hydraulics industry. Nowadays OEMs are looking for more robust hoses which will not only eliminate leakage problems but also improve the overall efficiency of the system. Preference for fire-resistant hoses is increasing in critical applications like steel mills and molten metal furnaces to improve safety.'
Monitoring and maintenance
According to Khanna, proper installation and preventive maintenance procedures improve workplace safety, reduce downtime and increase production. She adds, 'The high pressure and temperature associated with hydraulics make hose and fitting maintenance, as well as selection critical. Monitoring and maintenance is equally important on regular intervals with hydraulic products as the risk of injury and/or excessive, costly downtime decreases. It also helps with cleaning of hydraulic spill which keeps the equipment operating at maximum efficiency. Gates application engineers can help the customer with designing a preventive maintenance program and training on Safe Hydraulics.'
Alam says it is very important to monitor hose assemblies and carrying out preventive maintenance as it is critical to ensure safe and productive operation of hydraulic systems. In a challenging economic climate where keeping costs low is a top priority, no one wants to compromise on operator safety, spend on expensive emergency repairs and face production downtime especially in mission critical applications such as oil rigs, mining, steel mills where the cost of downtime is significantly higher. Alam elaborates on his company's advancements in this direction, 'Eaton's Lifesense? hose is a path breaking technology in hose condition monitoring system. The technology is capable of forewarning the user of impending hose failure, while, the customer hitherto was dependent on either preventive maintenance that deprives the user of full life usage of the hose, or changing the hose as and when it fails, which poses potential safety issues, downtime costs and loss of expensive lube oil that is detrimental to the environment.'
Opportunities & challenges
Alam sees challenges in the market, at the same time, he is confident on the opportunities within. 'The Indian market is highly price-sensitive and very competitive. But this market offers great opportunity as India is one of the fastest growing economies in the world. The technology is moving towards more compact machines that are highly productive, more efficient and reliable with least scope for unexpected down time. This offers an opportunity for an innovation and technology driven organisation such as Eaton to keep developing efficient and smarter solutions that are efficient, safe, reliable and sustainable.'
Indicating some operational challenges, Khanna bats for training the users. She says, 'We have to train our users about the dos and don'ts. It's an evolution, as at times our end-customers are not exposed to the latest technologies. Today, a lot of equipment is coming loaded with electronics and their use needs be taught. We are working with OEMs and going to their end-customers to educate them on how to, for instance, rightfully use hydraulics in an equipment. This helps in improving the life of equipment and, in turn, also returns to the customer. If you educate the operator, the equipment owner also gets automatically benefited. It is important to build products that are robust. Another way of looking at 'the abuse' aspect is that India is a tough environment. At Gates, we work with a mission that our products match up to certain specifications. We have a legacy of developing products that are mostly above expectations in quality.'
She further adds, 'Also we are educating the market for treating hose and couplings a critical sub-system of the larger hydraulic circuit. Suppliers offer countless types and styles of hydraulic hoses, couplings, and fittings. Because of industry-wide pressures to contain costs and solve challenges quickly, engineers often match hose from one manufacturer with couplings from another. Mixing components, as opposed to taking a systems approach, can have consequences ranging from minor leaks to major safety hazards. Safety comes first for us at Gates and we are taking every step to make the Industrial world safer.'
Looking ahead
Product design and development is an ongoing process in almost every manufacturing set up. Khanna elaborates on the activities at Gates, 'All the products in India get developed at the R&D centre at Lalru and are approved by our global Customer Solution Centre in Denver. Many products are in development and testing stage. Some of the products on the anvil are the ISO series of spiral hoses. These are in field testing and we would be formally launching it in the coming few months which offers the customer excellent value. We will also be adding new power transmission products in the replacement market for construction equipment. Making our products available with a capability of right mapping at the right time at right channels is what we believe in.'
The industry is bullish about the growth prospects. Says Khanna, 'We are quite positive on the emerging market trend in India for fluid power business. With many initiatives coming up by the present government, it will open up opportunities in various segments like infrastructure, mining, transportation, agriculture and defence. With the Make in India initiative, the component manufacturers will have access to a larger market.'
According to Alam, demand for hydraulic hose and fittings is anticipated to grow in the coming years due to increased activity in construction, the rise in demand for agriculture products and growth in the automotive, manufacturing and aerospace sectors. We also expect programs such as 'Make in India' to further open opportunities in segments such as defence and transportation. Initiatives around Smart Cities are also likely to provide a boost to the hydraulics industry.'
On the technology front, Alam says, 'The market is moving towards more compact hoses that offer a longer life, more flexibility and a higher operating pressure and temperature. On the fittings side, the current focus is on higher corrosion resistance, zero leakage and improved torquing.'
On the market size and growth trend, Khanna says, 'We see major investments flowing in the infrastructure space. The overall market size of hose and fittings in 2016 was about $ 112 million and is expected to grow strongly in the next few years. This is driven by the steady growth in both OEM and replacement market demand.'
Alam comments on the market growth trends, 'Hose and fittings have applications in diversified segments such as construction equipment, steel mills, oil and gas, material handling, and agriculture equipment. When these end-markets do well, hose and fittings market is bound to perform and grow. The year 2016 has been good in terms of overall hose and fittings market and we expect to see growth in 2017 and beyond.' Combination of the right hose and fittings will create a perfect fluid power system that will aid the efficient operation of a hydraulic equipment. Along with new product and technology development, awareness on selecting the right pair of hose and fitting will play a major role in the efficient operation of an equipment.
- Sudheer Vathiyath