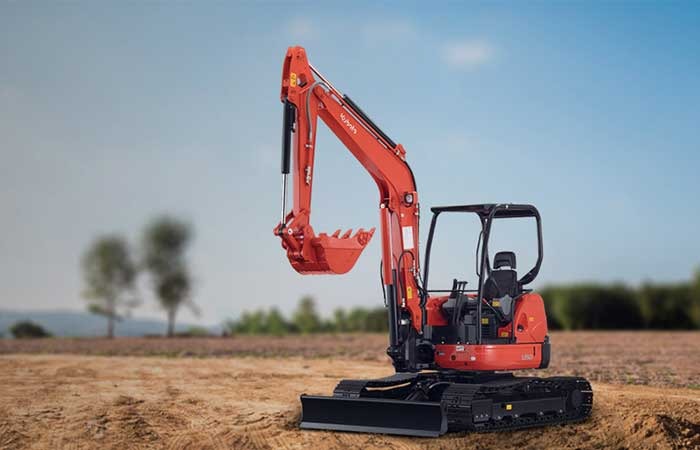 According to Arizton's latest research report, India's construction equipment market will grow at a CAGR of 8.9 per cent during 2022-2028. Mini excavators hold a decent share in the overall construction equipment industry.
Mini machines can replace four to five humans and projects where working space is confined and narrow to reach. For instance, basement refilling and basement cleaning are potential applications for a mini-excavator a safer option than a backhoe or skid steer.
Overall, the construction equipment industry witnessed 20 per cent year-on-year (YoY) volume growth in Q2FY21, followed by double digit growth in October and November 2020, observes Rahul Shorey, Head Sales, Construction, Tata Hitachi Construction Equipment.
On sectors driving the demand for mini equipment, Shorey adds, "Mini excavators are used for a variety of applications from urban development to agriculture. Clearly the main reason for their use is space constraint where a normal excavator or backhoe loader cannot operate and for work that requires greater efficiency and speed."
Said VG Sakthikumar, Managing Director, Schwing Stetter India, "The customers want to de-risk when it comes to capital investment and they are looking for alternative solutions on rental leasing, etc. If they are forced to buy they would like to keep their investments minimum and buy machines which can be versatile and can be used in many projects. Therefore we expect that all entry level equipment to have a bigger requirement during this current economic scenario."
Dheeraj Panda, Director of Sales Marketing and Customer Support, Sany Heavy Industry India, attests to having seen a sudden rise in the sales of mini excavators, compactors loaders and other equipment segments as manpower shortages owing to labour migration forced contractors to look at alternatives for quick completion of projects.
The outlook in the current fiscal remains positive on the back of robust government infrastructure investment continues Shorey. "In particular highway construction and awards for April to December FY21 have increased by 12 per cent and 110 per cent respectively. In December 2020 alone, about 1,560 km of highways were constructed, up approximately 60 per cent YoY. Twenty-three expressways have been announced with target completion dates between March 2023 and March 2025."


Trending models
Recently, Schwing Stetter India unveiled its premium category mini excavator range under the XCMG brand at a grand gala function at the Flora Airport hotel & Convention Centre at Cochin, Kerala. This premium "U" series Excavators are XE 20 U, XE 28 U, XE 38 U, and XE 40 U. All the models are embedded with the latest technology. Some of the other amenities that the machines have are boom deflection, Zero tail, modern canopy and AC cabin, for fatigue-free operation of the operator, as well as built-in self diagnostic modules for easy service and maintenance. Schwing Stetter India is a firm believer in creating products that are reliable, have frugal fuel consumption and are high performers; and these are a testament to that belief. Schwing Stetter is also actively increasing its presence across the country; to ensure they can reach their customers irrespective of their location. By launching the XCMG mini excavators in Cochin, Kerala; Schwing is taking yet another step in its expansion.
Speaking about the importance of this market, VG Sakthikumar said, "With our aim of expanding pan India, Kerala is one of the biggest markets for us; especially in this mini excavator segment. Therefore, we thought it imperative to unveil our four models in the heart of the state, Cochin, where we already have a significant customer base."
Sany's most popular mini-excavator is the SY35U. This and other excavators are loaded with an advanced telematics system zero tail swing boom swing and boom offset as standard features. Cabin and canopy options are also available with the SY27 model to meet all-terrain requirements.
Customers have started exploring the use of different attachments for different applications of mini-excavators. Observes Panda, "The rental market accounts for major demand for mini excavators mainly in the South. This trend will spread to other parts as well in the near future as machines help deal with labour shortages and speedily complete projects."
Tata Hitachi offers ZX20U and TMX20 in the 2-tonne segment and the ZX33U in the 3-tonne segment. The 2-tonne excavators come fitted with 0.07 cu m buckets while the 3-tonne excavator is fitted with a 0.09 cu m bucket. Optional trenching buckets are also available. These machines are used in agriculture real estate civic and municipal applications.
Tata Hitachi's mini excavators are made with a focus on performance comfort and simplified maintenance. The machines have high operational speeds and offer superior fuel economy. The operator's station has been detailed with ergonomic controls and work area design. Apart from a robust design and boom swing features the ZX20U and ZX33U come with zero tail swing enabling workability in very tight spaces. The machines come with full metallic covers for greater durability and they open wide to allow easy maintenance. Special care has been taken to include radial air filters and air pre-cleaners where possible catering to Indian site conditions.
Adds Shorey, "Within the mini excavator category, the 3-tonne class has seen continuous growth over the past couple of years. This has mainly come at the expense of the 2-tonne class which started the mini excavator market in India. There is also a marginal contribution by the 5-tonne class. As most excavators in the 2-tonne class are imported and there is a mixture of both indigenous and imported machines in the 3-tonne class the price value proposition has led customers tp prefer the 3-tonne class. However we believe overall equilibrium between the different classes will be reached soon with the major share dominated by the 3-tonne class followed by the 2-tonne class. We continue to believe that the 5-tonne market will remain a niche segment in the near term."
Mahindra's traditional RoadMaster is an optimised motor grader that comes at almost one-third the price of a traditional motor grader and provides adequate productivity for most Indian road construction usage. With the BSIV emission standards customers can expect the new and improved versions of the RoadMaster range with enhanced productivity and telematics capabilities.
"While the general elections will impact sales in 2024, we are positive of a quick recovery afterwards if we have a stable government at the Centre," opines Jalaj Gupta, Business Head – Commercial Vehicles, Mahindra & Mahindra.
Deepak Shetty, CEO and Managing Director, JCB India, sees opportunities in roads and highways urban development and rejuvenation solid waste management and water among many others as these projects will have to be executed in space-constricted urban semi-urban areas where compact mini-excavators find great utility. "As cities and towns expand compact mini-excavators will be useful in trenching cable laying power irrigation and housing," he says.
Case Construction Equipment has launched its new mini-excavator D-Series range in Europe, featuring 20 models from one to six tonnes, including two electric models. In addition to the range offering a complete line-up of machines that deliver a solution for every customer need, each new D-Series mini-excavator is equipped with the latest technology, features and attachments for all markets and applications. This versatile and agile machine range is supported by superior serviceability and reliability, optimising up-time, productivity and profitability for customers. Furthermore, the European Case D-Series mini-excavator range is manufactured at dedicated plants in Italy, benefitting from the synergies of innovation, technology, expertise and production that follow the acquisition of Sampierana by CNH Industrial in 2021.
Greener minis!
Mahindra & Mahindra's in-house engine manufacturing capabilities are already geared up with a range of products to suit the new norms well in time. "Our BSIV range will include more modern electronic-driven engines over traditional inline mechanical systems. Best-in-class telematics solutions with diagnostic prognostic and predictive fleet management will significantly enhance the overall performance of the product and help our customers rise" shares Gupta.
Case's two electric models, the first available from the first quarter of 2023, are in the 1-3-tonne ranges, supporting customers operating on jobsites with demanding emissions controls and noise constraints, such as in urban locations.
Panda is optimistic about demand surging after the Government made national infrastructure development its utmost priority by announcing investments of Rs 111 lakh crore by 2024-25.