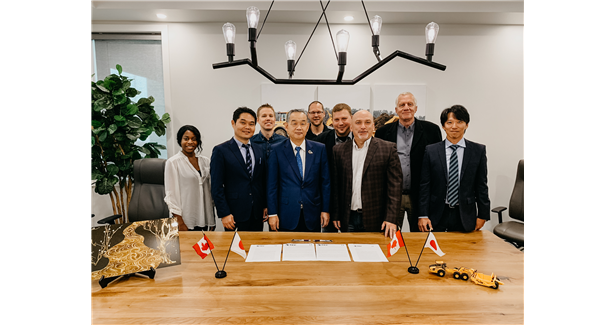 K-Tec Earthmovers Inc announced the signing of a Memorandum of Understanding (MoU) with JDC Corporation of Japan for promoting K-Tec?s earthmoving scrapers in ASEAN Countries. The agreement with JDC Corp signals K-Tec?s business strategy to geographically diversify and partner with forward-thinking, global enterprises. JDC Corporation headquartered in Tokyo, Japan, aims to pursue a better relationship between people and the environment to embody its corporate mission ?For the Better, For the Brighter?. JDC Corporation takes on challenges in every field of construction, based on improving the earth and creating comfortable environments. JDC Corporation has expertise in civil construction projects and solar fields.
Takeo Asakura, Chief Executive Officer, JDC Corporation, said, ?JDC had been seeking a scraper with high-speed performance to achieve a major breakthrough in large earthworks, and finally found that K-Tec is the solution. JDC was established in 1951 and since then, we have been developing our skills with highly efficient machines in earthmoving. We are going to reinforce K-Tec?s performance in Japan and will expand it into Asian countries shortly. The alliance between JDC and K-Tec makes me sure that it will lead us to our great success.?
Mike Palitsky, Chief Financial Officer, K-Tec Earthmovers Inc, stated, ?K-Tec is extremely excited to partner with JDC Corporation of Japan and has worked diligently to nurture our relationship. We believe that the signing of this MoU is a major step for our mutual goal to further earthmoving technology in Japan and the ASEAN countries which will greatly benefit both of our organisations now and for the foreseeable future.?
K-Tec?s ADT scraper models range in size from 21 to 48 cu m, with the ability to be pulled in train configuration for a total heaped capacity of 56 cu m in a variety of job environments. K-Tec Earthmovers currently has units working in a wide range of conditions including, road building, site development, energy fields, mining, and civil engineering projects.