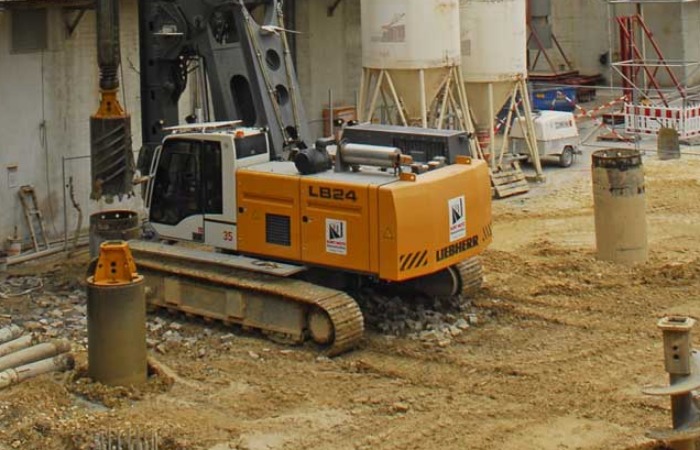 Foundation equipment, also known as pile driver equipment, is used to drive piles into soil to provide base support to bridges, buildings and other large infrastructures. A heavy weight is placed between guides allowing it to move up and down in a straight line. Once placed upon a pile, it is raised using diesel or hydraulics. Its components include diesel hammer, hydraulic hammer, hydraulic press-in, vibratory pile driver, piling rig, etc. In traditional foundation equipment, manual labour and animals are used to lift heavy loads. With the advent of new technologies, various methods such as diesel hammer, hydraulic hammer, and hydraulic press-in are used to raise the weights.
A piling rig is an important equipment used in construction projects. It is a machine used for piling in foundation engineering, especially for drilling in sandy soil, clay, silty clay, etc. Piling rigs are majorly used in diaphragm walls, foundation projects, foundation reinforcement, and cast-in-place piles. The availability of piling rigs with varied specifications makes it appropriate and apt to fulfill the various construction project requirements
Current market
The market size of the foundation equipment in India is estimated to be Rs 150-170 crore. The size of the market is well–expected to grow up with number of port projects lined up for green field and brown field expansion. Growth would also be catered by underground metro railway projects added with overall development of core infrastructure and real estate projects lined up.
The demand for foundation equipment in India is backed by continuous effort for modernisation of infrastructure. Major demand for foundation equipment comes from construction projects such as roads, metro, railway, power plants, special economic zone, mining and water and irrigation sector.
Sany Heavy Industry (India), MAIT India, Bauer Equipment India, Casagrande (India) Piling & Geotechnical Equipment, Thyssenkrupp, PRD Rigs, Swing Stetter, Ashok Industries, and GeTech Equipments, are some of the players competing in the Indian market on various grounds such as customer base, geographical presence, technology, repair and maintenance, product portfolio, etc.
Says Surajit Mukherjee, Managing Director of Suretech Infrastructure, "Due to the lockdown, the demand for foundation equipment was subdued in 2020. However, growth in the construction industry in 2021 is forecast to be strong, with output values across much of the industry expected to recover to their pre-pandemic levels by 2022 due to pent up demand."
Suretech Infrastructure offers specialised infrastructure construction and foundation engineering equipment and materials to the building and construction industry, throughout the Indian Sub-Continent.
Karan Chechi, Research Director at TechSci Research, says, "Several government initiatives such as development of urban infrastructure including metro rail projects, ports, industrial corridors and freight corridors are anticipated to boost infrastructural development in India. The focus of this will be to improve the connectivity by train, air, water and roadways. Additionally, the focus on smart buildings is constantly increasing in India, which is majorly attributed to the rising population, increasing urbanisation and improving lifestyle. Also, demand for affordable housing is increasing with rising income levels. All these are expected to provide a promising future for the foundation equipment market."
"The demand for foundation equipment in India is cyclic in nature, it will grow for 2-3 years at the rate of 20-25 per cent and then for next 1-2 years it will remain flat. Due to the current scenario of pandemic, the market size of the foundation equipment is estimated to see a drop by about 15-20 per cent compared to 2019.However, the major demand of foundation equipment will come from metros, MTHL and other important government projects", says Sanjay Saxena, Senior Vice President, Heavy Equipment Business Unit, Sany Heavy Industry India.
Vast product range
In foundation equipment, Sany Heavy Industry India offers small sized rigs for soft soils SR155 and SR205; mid-sized and higher depths - SR235, SR265, and SR285; and big sized and for hard rock SR365, SR405, SR445, and SR485. "We already have a vast range of piling rigs, however, to serve our customers better we will be introducing some more models in near future like SR185, SR215, SR245, SR335 and micro piling," adds Saxena.
Sany rigs are generally heavy in weight which increases the stability while operation. Also, crowd force of Sany rigs is maximum, which helps us cut through the rock very easily. The company uses renowned engines in its piling rigs, which help increase its efficiency by almost six per cent more than its respective competition. This also helps in low fuel consumption while operating rigs. We use auto calibration mode which helps in accurate vertical drilling.
MAIT rigs are most preferred and coveted equipment because of ease of operation and maintenance, coupled with unmatched service as well as spare parts support. MAIT rigs are multipurpose equipment that can be used for different foundation techniques like bore piles, CFA piles, diaphragm walls, stone columns, driven piles, cased CFA piles, SDA piles etc.
MAIT HR180 and HR260 are the most popular rig models depending upon the soil profile, which are suitable for drilling 2 m diameter and 40 m depth. Currently, there are more than 500 units of HR180 and more than 40 units of HR260 rigs operational with Indian customers.
Adds Mukherjee, "We have now added Woltman driven cast in situ piling rigs to our portfolio. Woltman piling and drilling rigs are developed according to the latest demands for performing traditional piling works as well as the latest piling and ground improvement technologies. As the scope of future projects keeps widening, customers now demand for equipment suitable for large diameter piles and for even greater depths. Given the intricate nature of many new projects, customers also demand for more accurate electronic sensors that help to improve the efficiency of equipment. "
Casagrande piling rigs have found applications in many construction projects across the country. Prime among this includes, construction of underpass section in New Delhi by Valecha Engineering. The company is using a Casagrande B125 with a KRC1 Diaphragm Wall Kelly Bar. The piling rigs have been finding usage in construction of DMRC projects.
The revival
Speaking on the revival of the construction market, Mukherjee adds, "While the situation is now much improved since the complete lockdown in 2020, we still believe that it will take at least a year for the market to stabilise. Since the easing of lockdowns in July, 2020 the government has taken many steps to help the construction industry. But given our worsening situation with Covid-19, it is likely the industry will remain subdued for the remaining part of the year. We believe that a blanket approach must not be taken while imposing stringent rules on construction projects, but instead it must be relative to the severity of the spread of Covid-19 in the region."
Says Saxena, "Revival of the construction market will depend on various factors like starting of existing and new projects, return of manpower at site and also financial support to projects. Moreover, we are already close to monsoon season which will lower the activity of foundation work, thereby hitting on demand of foundation equipment. So, in this current year, we have only 4-5 months wherein the government should start important projects in full swing which will help in reviving the market."