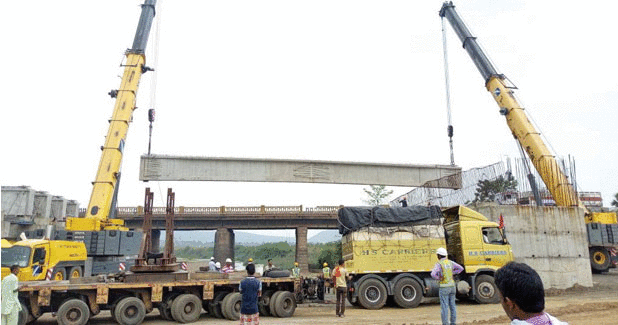 While mobile cranes market in India is dominated by pick-and-carry cranes, heavy-duty mobile cranes market is picking up gradually to meet the growing demands from big infrastructure projects.
Gone are the days of slowdown and stagnation for mobile cranes market. Many equipment were seen idle with projects not taking off as expected. However, in the past couple of years, the scenario has seen changing gradually with a bunch of big projects under execution while a few in the pipeline. Meanwhile small and medium projects in various infrastructure segments are back on track. All these together has set the turnaround of mobile cranes market. The momentum is expected to continue at least for the next 2-3 years. While pick-and-carry cranes will continue to dominate the mobile cranes market in India, heavy-duty mobile cranes have seen improved performance with more units in action with the planning and execution of more big size projects. Technology has also seen improving with the efficiency and productivity factors came into play a major role in the time-bound project execution.
Growing market
The mobile cranes market has grown in the past couple of years, after a slowdown. According to Samir Bansal, General Manager, India, Off-Highway Research, the market for mobile cranes in India was around 7,750 units in 2017, of which pick-and-carry cranes account for over 95 per cent, and conventional slew cranes including all terrain, crawler, industrial, rough terrain and truck-mounted for the balance.
Mobile crane manufacturers are also positive about the way the market is growing. 'The uptick in mobile crane market has a direct correlation with infrastructure and related industry expansion,' says
Ajay Mandahr, Chief Executive, Escorts Construction Equipment.
'Last financial year has seen substantial level of activities in both the above and as such the market for pick and carry cranes (PCC) has a growth in excess of 30 per cent. Going forward, we expect the industry to grow at a CAGR of 16-18 per cent for the next 2-3 years. Pick-and-carry cranes are about 80-85 per cent of the total mobile crane market (in numbers).'
Anil Bhatia, Vice President, Sales & Marketing, TIL
observes,
'
The market scenario looks quite promising at the moment. Some of the biggest infrastructure projects ever to be undertaken in India are underway. New metro railway projects, economic corridors, expressways, logistics parks, feeder routes, etc will spur the demand for mobile cranes. We also see a lot of new investment happening in the oil and gas sector, which will definitely have a positive impact on the demand for mobile cranes. Going forward, there is likely to be higher demand for cranes in the 25T-60T segment. Increased wind power generation should also lead to higher demand for high-capacity crawler cranes, all-terrain cranes and truck cranes.'
Satin Sachdeva, Secretary General, Construction Equipment Rental Association (CERA), and Managing Director of Equipment Planet,
opines from the rental market point of view, 'Crane rental industry across categories is facing a sluggish growth period currently. Main reasons are the release of cranes from big projects such as Reliance J3 expansion project after they reached completion and the new legislation restricting import of second-hand cranes.' However, he feels that the market is likely to improve as globally mobile cranes market is predicted to register a CAGR of 6.8 per cent over the next 10 years and will be largely driven by increasing demand from utility companies, cargo handlers, and airport authorities. He adds, 'Led by India and China, Asia-Pacific region, is currently the largest market for cranes, globally, and is likely to drive the growth in 2018-23 period. Asia also contributed to more than 50 per cent of investment in infrastructure between 2007 and 2015. Both China and India in the Asia-Pacific region are likely to continue to increase their infrastructure spending to support their economic growth. China made infrastructure spending its primary source to fuel economic growth, while India in its 2018 Budget has allocated $2.2 billion to augment the telecom infrastructure and $157 million for expanding its airports.'
Demand drivers
Demand growth of mobile crane market depends on the infrastructure development and construction activities. Says Bansal, 'Segments that drive the demand for mobile cranes include industry and warehouses; construction (road, rail, metro and bridges); erection, commissioning and maintenance of plants (power including wind power, refineries, petrochemical, fertiliser, steel, cement and others); mining; oil exploration and rig maintenance; and defence.'
According to Mandahr, infrastructure-related projects have fuelled the growth in the last couple of years. He adds, 'In infrastructure, I reckon roads and bridges, irrigation, ports and urban development initiatives have the highest shares of consumption. Though about 90 per cent of the PCC are bought by private entities, majority (about 55-60 per cent) of these machines are engaged in infrastructure and other government-funded projects.'
Pick-and-carry cranes is expected to continue to dominate in the mobile cranes market in India due to its lower price and wider scope of application. Says Mandahr, 'Pick-and-carry crane is a key site management and load handling tool. The value proposition offered by these cranes are enormous and the entire material movement at the construction site is built around this machine. Ease of use and lower operating cost is an established USP for pick and carry crane.'
Citing various ongoing infrastructure development and construction activities, Bhatia states, 'We expect significant opportunities to arise for mobile cranes from a range of sectors, viz. oil and gas, cement, fertiliser, metro, renewable energy (wind and solar), railways, etc.'
Says Sachdeva, 'With a surge in road construction, expansion of metro network across cities and the regional rapid transport system (RRTS), demand for cranes is likely to rise. The National Capital Region Transport Corporation alone plans to develop eight RRTS projects.'
Rentals: A major contributor
In India, mobile cranes market is dominated by rental players. According to Bansal, over 50 per cent of mobile cranes are sold to the rental segment, which could be deployed in various application areas. 'The demand from the rental segment is expected to continue as mobile cranes are expensive machines that generally used as support equipment with low utilisation rates,' he adds.
Says Mandahr, 'As per our estimates, 75-80 per cent of the cranes are bought by rental companies. There are about 20,000 unorganised and about 50 organised rental players in the market. Going forward, we expect the rental market to continue its growth momentum at 15-20 per cent CAGR for the next five years with relatively higher growth in organised sector. The organised rental penetration is about 8-10 per cent of construction equipment sales as compared to 35-38 per cent in China, 65-70 per cent in the US and up to 80 per cent in Japan. If we take Brazil as the closest reference for India, the rental penetration is about 15-20 per cent. So, there is huge potential for growth in rental segment.'
Bhatia explains on the rental market, 'The rental market for mobile cranes - truck cranes, pick-and-carry cranes and even high capacity rough terrain (RT) cranes - presents a sizeable opportunity for us and it is expected to grow bigger in the days to come. For the last few years, TIL has been expanding its footprint in this segment and plans to further strengthen its focus.'
According to Sachdeva, rental agencies are assessing the market closely prior to acquiring the category and class of cranes as per demand. Rental agencies are also eyeing upcoming hydrocarbon projects and other projects in roads, highways, bridges and Metro expansion projects. 'However, it is to be seen how soon big ticket industrial and transportation projects get actuated and open up more channels of business for the crane rental agencies,' he feels.
He adds, 'As the vintage cranes are gradually becoming obsolete owing to the requirement of new technology cranes for meeting the project deadlines, the demand for new cranes will consequently grow. This is likely to pave way for Chinese companies manufactured cranes such as from Sany, XCMG, Zoomlion, etc because of their price effectiveness and new technology.'
Speaking further on the rental types such as dry and wet rentals in India, Sachdeva says, 'Dry rental is not much prevalent in India unlike in western countries. It may not be more than one per cent here. The reason for it is lack of healthy business maturity and ethics. Dry rental gives the control of equipment in the hands of lessee and it has been observed that the equipment is not used and maintained in a standard way and consequently it cuts short the life span of equipment. However, the wet rental is highly prevalent in India as it keeps the equipment in control of the rental company in terms of operators and its maintenance.'
New products and solutions
It is always important to provide equipment with new improved features to meet the changing requirements of the customers. Says Mandahr, 'Escorts is a major player in PCC segment. We are a dominant player in higher tonnage category, the focus area for us. Historically, we have been an innovator and had pioneered the pick and carry crane concept in Indian. We shall continuing with this endowment and will continue to deliver many 'industry firsts' in this segment.'
He explains with an example, 'Last year we launched a compact crane Model CT-15 (to complement the Smart City initiatives of the Government of India) which has a turning radius of a SUV and boasts of several safety features. Recently, we upgraded this machine with anti-toppling system (ATS), which is also patented by us. For us, product value enhancement and improvement is a continuous affair.'
Mandahr further adds on future plans in this direction, 'Currently, we are working on new models slated to be launched over the next 3-4 years. Market can expect 2-3 models every year from this year onwards. We cannot disclose the offerings as of today due to confidentiality reasons.'
Bhatia elaborates on TIL's initiatives on product offering and innovation, 'TIL is a market leader in high capacity truck and truck-mounted cranes and rough terrain cranes. Our portfolio contains the entire range of medium-to-heavy lifters that are designed to address a diverse range of jobs and applications. We have a range of truck cranes with capacities from 25 tonnes to 80 tonnes, rough terrain cranes from 20 tonnes to 75 tonnes, and even higher capacity cranes - all-terrain cranes from 60 tonnes to 450 tonnes - which we import directly from our overseas technology partner, Manitowoc of USA, for customers in India. We also offer industrial cranes of up to 18 tonne capacity and hydraulic pick-and-carry cranes in the 10-15 tonne category.'
Truck cranes are characterised by high speed for greater inter-site mobility. Large wheelbase and better suspension offer limited off-road mobility. Bhatia explains on this range, 'TIL has launched longer booms in its truck cranes for maximum reach and optimum lifting performance, with U-shaped cross sections for a natural cradling position for the boom sections.'
Rough terrain cranes on the other hand are provided with features such as all-wheel steering, all-wheel drive, earthmover tyres, torque converter transmission, multi-speed forward and reverse gears, good gradient capability, etc, which make them exceptionally manoeuvrable in slushy and unmade construction sites. They are used for building bridges, in power and chemical plants, refineries and large-scale construction projects.
The GMK series of all-terrain cranes (in alliance with Grove, Manitowoc), ranging in capacity from 60 tonnes to 450 tonnes, combine the highway speeds of truck cranes with the off-road performance of rough terrain cranes. They have multiple steering modes that provide for jobsite mobility and the exclusive MEGATRAK? suspension system, standard on GMK models, which enhances drivability and traction both on-road and off.
Latest offerings from TIL - launched in 2017 - include a next generation pick-and-carry crane, MOBILOAD 315 - which embodies safety, easy operability, easy maintenance, and competitive cost of ownership - and a new rough terrain crane, RT 750, with a 5 section formed boom having an extended length of 41.3 m and maximum boom tip height of 53.3m with an optional 10.1m lattice extension.
Green and efficient
Mobile crane OEMs are focusing on fuel efficiency and emission. Says Mandahr, 'Escorts machines are updated and comply to all applicable standards. On Hydra brand, we are offering Escorts engines which offer more than 10 per cent fuel efficiency as compared to our competition. These engines offer higher service intervals of 500 hours and have lower maintenance costs. For higher-end cranes, we are using Volvo-Eicher and KOEL engines which offer contemporary technology and best operation economics. We are currently developing and testing engines to comply with upcoming emission standards for CEV, i.e. BS-IV and BS-V emission standards to be applicable from 2020 and 2024, respectively.'
According to Bhatia, mobile cranes from TIL are fuel-efficient and meet the latest emission norms. He adds, 'We have completed the homologation process as required under Central Motor Vehicles Rules 1989 (CMVR) for our entire range of truck cranes. For RT cranes, the process is underway and we expect it to be completed soon.'
Safety imperative
Safety is of paramount importance especially for heavy equipment working at heights and handling heavy loads. How do OEMs look at safety of equipment? Says Mandahr, 'For us, safety is of prime importance. All our machines are designed to offer the best safety to the operator and people around the machines. Limiting the articulation angle, lower centre of gravity, higher margin for safety by design, auto de-ration of capacity with articulation, audio-visual warnings inside the operator's cabin, anti-toppling system etc, to name the few. We do not compromise on the built quality of the equipment.'
According to Bhatia, when it comes to mobile cranes, operator safety and safety of operations are paramount. He adds, 'Products from TIL are equipped with the latest in safety features, for e.g. proximity sensors, load moment indicators, outriggers for stable operations, etc.
On the current market approach towards safety,
Vijay Tikhe, Partner, Cranesafe Technologies
, says, 'There are general safety guidelines in place from the government for mobile cranes and crawler cranes. However, much more specific guidelines need to be worked out.' According to him, the general safety related issues with heavy mobile and crawler cranes and negligence of which results in a crane accidents are: non-checking of soil conditions, improper lifting tackles, overconfidence of the operator about crane operations, less consideration on safety factors, and illegal modifications of the machines (jugaad) by unqualified persons.
On the steps needed for safe operations of mobile cranes and crawler cranes, Tikhe lists down the following: soil conditions verification, verification of safe load indicator (SLI) parameters, ensure proper selection of load charts, and verification of various safety cut-offs as per the load charts.
Being close to customers
Aftersales service brings the customer and the vendor closer. According to Mandahr, being closer to the customer and improving the response time is the key for ensuring customer satisfaction. He adds, 'We continue to work with this objective in mind. Currently, we have about 70 dealers with 125 customer touch-points. We would be doubling our after sales footprint within this year.'
TIL has a pan-India network of branch offices and sales and service personnel. Bhatia elaborates on the company's aftersales service, 'To strengthen equipment uptime and ensure higher profits for our customers, we have bolstered our team of skilled and dedicated aftersales service engineers and located them in close proximity to customer sites for faster response times and better problem resolution. We have spare parts warehouses in all four metro cities - Kolkata, Delhi, Mumbai and Chennai - and plan to open up a few more in the coming days.'
Challenges
Going ahead, the industry may have to address a few challenges
that make hindrances in its growth path. Says Mandahr, 'As for any manufacturer, we are concerned by the substandard quality of used equipment getting imported into India. We feel there is some room available to further tighten the import rules to avoid India becoming a scrap yard for the world.'
He further adds, 'Make in India is a good initiative for building local capabilities and creating employment. Here again, the local manufacturers should be sufficiently enable with regulatory support and anti-dumping duties on subsidised imports.
Government of India has initiated several initiatives to update the regulations and standards applicable in India. The regulations and standards are in discussion mode with the industry. We look forward to positive changes in the interest of the industry and customers.'
Says Bhatia, 'The Indian mobile crane market has been traditionally dominated by pick-and-carry cranes. However, with the series of big-ticket infrastructure projects - some underway and many more in the cards - there is a likelihood of demand shifting quickly in favour of high capacity mobile cranes, the segment where TIL is the market leader. When that happens, the challenge will be to address the increased demand with the right products and optimise equipment uptime by way of prompt aftersales service and easy availability of spares.'
According to Sachdeva, the most important challenge for the crane market is ensuring safety and preventing accidents involving cranes. He elaborates, 'The crane market is facing dearth of skilled operators. It has repeatedly come to our notice that accidents mostly occur when a helping staff is operating a crane. There is a need for intensive certified operators training which should include lessons on basic scientific thinking on balanced load distribution. Overloaded cranes are major reasons for accidents. Proper safety guidelines/manual for operators is necessary to prevent any loss of lives and loss of asset. There is also a need for periodic check-ups of cranes and to check the use of spurious spare parts.'
New opportunities
Bansal outlines, 'Government's continued focus on infrastructure development, industrial development such as new construction and capacity expansion in steel, power, cement, fertilisers, oil refineries and other sectors will have a positive impact on the growth of the mobile crane market. Development of defense production facilities and nuclear power projects provide new opportunities for sales of mobile cranes.'
Bhatia observes exciting times ahead for mobile cranes. He adds, 'With the impending revival of infrastructure sector and the government's definitive focus on growth, sales are expected to rise in the coming days. The outlook is certainly very positive. With adequate government emphasis on roads and other relevant sectors such as power, oil and gas, cement, steel, etc, along with improved focus on renewable energy projects (solar and wind energy), the market for mobile cranes is expected to grow significantly. Furthermore, given the ambitious expansion plans of the Indian Railways, with an envisaged investment of $140 billion over a five-year horizon, that is another area that should be worth exploring. Furthermore, sectoral developments and an overall revival of economic conditions should also encourage new capex and translate into good sales growth over the coming days.
Looking at the new opportunities for rentals in mobile crane market, Sachdeva says, 'As globally mobile cranes market is predicted to register a CAGR of 6.8 per cent over the next 10 years and Asia Pacific region, led by India and China, the largest market for cranes, globally, is likely to drive the growth in 2018-23 period, the rental market for mobile cranes will certainly offer vast opportunities at least for next five years. The market is likely to grow at 10 per cent year-on-year. It will be largely driven by increasing demand from utility companies, cargo handlers, airport authorities, roads, highways, bridges projects and Metro projects. However, government should announce more refinery projects and power plant projects to give impetus to the crane industry and crane rental agencies.'
Future outlook
Mandahr elaborates, 'As mentioned earlier, we are working on many areas viz., technology upgrades, improving the product reliability, new vehicle designs, safety enhancement, new platforms etc. We have tie-up with a European crane manufacturer, for jointly developing a crane platform for global markets. The platform will be used in next generation PCC by us. In addition, we are looking at expanding our slew crane portfolio. Currently, we offer rough terrain mobile crane in 20T-40T capacity, we want to broaden this portfolio of high-value cranes. As per our assessment, slew cranes offer a huge future potential and is expected to grow by 15-19 per cent CAGR for next five years.
Bhatia says, 'TIL is a technology-intensive and technology-driven company. And therefore, constant innovation is at the very heart of our operations. We are always working out new ways to satisfy customer requirements, and then go one step further. All our offerings are testimony to that guiding philosophy. Take for e.g., the modifications made to our range of truck cranes - longer booms for optimum lifting performance. We have successfully perfected the technology for manufacturing the longer 'formed' boom and upgraded our truck cranes in a big way.'
Based on market feedback and the insight of our valued employees, our design team and state-of-the-art factories are constantly experimenting on the cutting edge of technology, coming up with newer ways to make our offerings more suitable to the customers' diverse needs. The success of our customers has a direct bearing on our own success, and it is our constant endeavor to make them more profitable.
According to Bansal, the outlook for mobile cranes remains optimistic and Off-Highway Research forecasts moderate growth with sales of 8,000 units in 2018. Demand is expected to dip in 2019 due to general elections, but will recover to 8,000 units in 2020.
Demand for pick-and-carry cranes is here to stay and continue at a constant pace. However, it will be the demand for heavy-duty mobile cranes that will make the difference in the mobile crane market growth.
MOBILE CRANES MARKET FACTS
Total market in 2017:
7,750 units
Total market in 2018:
8,000 units (estimated)
Share of pick-and-carry cranes: 95 per cent
Over 50 per cent of mobile cranes sold to rental segment
- Off-Highway Research
SAFETY-RELATED ISSUES IN MOBILE CRANES
Non-checking of soil conditions
Improper lifting tackles
Overconfidence of the operator about crane operations
Less consideration on
safety factors
Illegal modifications of the machines (jugaad) by unqualified persons
- Cranesafe Technologies
FOR SAFE OPERATION OF MOBILE CRANES
Soil conditions verification
Verification of Safe Load Indicator (SLI) parameters
Ensure proper selection of
load charts
Verification of various safety cut-offs as per the load charts
- Cranesafe Technologies
SAFETY SYSTEM FOR MOBILE CRANES
Cranesafe Technologies manufactures state-of-the-art safe load indicator (SLI) systems for safe operation of cranes. The Pinnacle range of SLI systems offers the features such as: touch-screen graphical display; audio-visual warning such as overload, cut-off unsafe operations; all load charts can be viewed on display; extensive diagnostics/trouble-shooting available on display which helps crane operator to identify and solve the problem and ultimately minimise downtime; 24x7 aftersales service support; Cranesafe Technologies SLI model Pinnacle offers LIFTPLAN option, which assists selection of proper combination of the crane; and Most suitable for attachment with luffing jib above 200 ton capacity cranes.
A reputed manufacturer of SLI as well as crane control systems, Cranesafe Technologies also provides services for the critical problems in hydraulics, pneumatics and electronics for any type and make of the crane.
- Sudheer Vathiyath