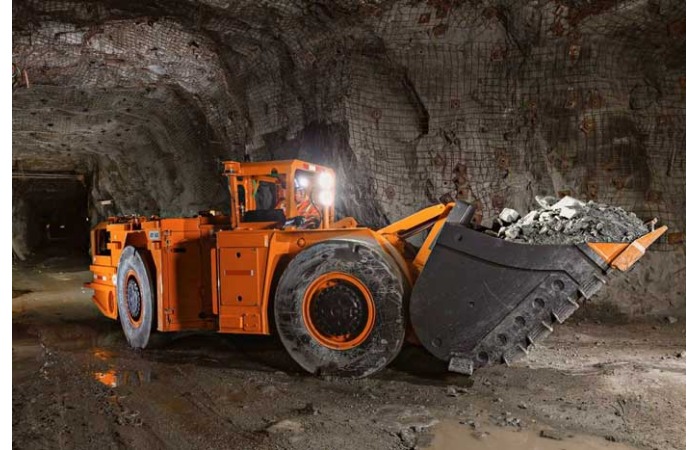 "The spending on mining equipment in India is moving in the right direction across every segment, from minerals to metals like iron ore, zinc, copper and limestone," avers Animesh Nandy, National Sales Manager, (India, Nepal, Bhutan, Bangladesh and Sri Lanka), Epiroc Mining.
First, consider the demand for coal and the corresponding demand for equipment for coal mining.
Coal: The major driver
In India, the production of coal has traditionally been the mainstay of subsidiaries of Coal India, which make use of heavy earthmoving machinery, the backbone of opencast coal mining operations.
Now, Coal India is emphasising upon the modernisation and upgradation of equipment to bring in latest cutting-edge technologies, which will push demand or larger mining excavators and dumpers, he continues.
The focus of various Coal India subsidiaries on the removal of overburden is also continuing so that coal production can be increased as and when required. This will also generate demand for mining equipment.
Coal India's thrust is expected to significantly impact demand for mining equipment. "Coal India's capital expenditure is estimated to have grown around 37 per cent in the past nine months as against the same period in the previous year," says Nandy. "Coal India plans to increase production by 28 per cent in 2022 as against last year."
With the auctioning of coal blocks – 32 have already been awarded and 99 will be auctioned in
January/February – the private sector will also be partaking of opportunities in coal mining. Mathur envisions that this involvement will increase demand for mining equipment. He expects opportunities for excavators of more than 45-tonne capacity.
Considering that the number of coal mines on offer for auction is very demanding and challenging, Asoktaru Chattopadhyay, President & Country Head, Sandvik Rock Processing Solutions (India, Korea , Japan & South East Asia), expects a huge requirement for mining and earthmoving equipment, material handling solutions, and crushing and conveying solutions to cater to the number of new mines in operation.
"Crushing and conveying solutions will be needed for short-term production to ramp up long-term production, and long-term production," he says. "In the short-term solutions segment, Sandvik has crushing solutions with heavy mining duty PriSec (patented) crushers for the reduction of ROM of ~1,000 mm feed size to the required product size of 100 mm in a single primary crushing station. This equipment can be supplied on skid mount units or semi-mobile/mobile units as well, and can be continued as complimentary production when long-term crushers like sizers are installed down the line."
Despite these positives, Nandy points out a potential area of concern – "Private auctioned coal mines where very little or negligible development has happened. If this segment fires in FY 22/23, it will further augment growth in the mining equipment sector."
Evolving automation
Says Nandy, "Digitalisation plays a major role in today's underground mining operation and major companies are focussing on AI/ ML based analytical modules, IoT smart sensors on remote equipment, condition – based monitoring and Real time reliability health index(RHI) of critical assets, automated process data analysis, 3D mine visualisation mine production planning for asset tracking which benefits in improved safety (people and assets) and availability, reliability and efficiency of equipment process optimisation and higher efficiency. This digitalisation trend is bringing the mining industry closer to intelligent unmanned mining. Epiroc Mining India is geared up with all such offerings to enhance the productivity, safety and peace of mind of our customers."
Epiroc has been a leading supplier of mining and rock excavation equipment with focus on maximising production with safe, cost-effective and sustainable solutions. This is reflected in our development and manufacture of quality rock drills, face drilling and production drilling rigs, underground loaders and trucks, electric/battery haul loaders and trucks, ventilation systems and digging arm loaders.
Automation varies from semi to full automation. Automation and remote-controlled equipment are generic terms that can be broken up into technological generations of evolution.
For instance, remote-controlled operations for certain functions have existed for two decades in track mobile crushing and screening plants, according to Sharad Thussu, Vice President, Mining & Construction Equipment Division, Voltas Limited. "The incorporation of telematics marks the latest evolution in automation."
Remote-controlled operations are at one end of the spectrum. Such operations keep operators safe from moving parts, harmful dust, noise and vibration or falling debris. "Operating by wireless remote control allows operators to move more freely, to get the best view of the work," says Nandy. Remote operations cause less fatigue, burnout and operator downtime; further, working longer with less fatigue definitely increases production and contributes to more consistent results.
Remote-controlled equipment is being used particularly for underground mining operations, to enhance safety and bolster the confidence of the team working at site to operate with greater efficiency.
Telematics technology
With telematics technology, managers can see the performance of men and machines on a real-time or close to real-time basis and take informed data-driven, proactive decisions, says Nandy.
Sandvik's crushing equipment is equipped with state-of-the-art automation enabling trouble-free operations and auto-timed setting of equipment parameters, shares Chattopadhyay. "We have also developed Cloud-based interaction systems, which means equipment can be operated and troubleshooting done by experts sitting in any connected global location."
So, who's using automated mining equipment in India?
A few of Epiroc's customers in India are using the IBH Mark II (Make in India) drill with basic telematics and automation as well as the imported surface and underground drills with Certiq.
"We have supplied smart surface drills (SmarROC Series) in India in 2021 with BenchREMOTE; herein, customers will eventually cut manpower costs (one BenchREMOTE for multiple drills), reduce exposure to dust, fumes and sound, eliminate the chances of accidents, and boost overall efficiency (on auto drill mode)," explains Nandy.
Overall, however, the use of automation is limited in the country.
Cost of automation
As automation gets more refined, the cost of equipment increases – but it is still affordable.
Speaking of Terex Powerscreen's Powerscreen Pulse, a telematics system incorporated in the brand's track mobile crushing and screening plants to optimise the use of equipment and the project site, which is the need of the hour. The cost differential between regular and upgraded telematic equipment is very nominal. Six Terex Powerscreen machines with Powerscreen Pulse have already been installed in India.
From Mining Sand to Manufacturing Sand

The exponential growth in infrastructure and road projects has spurred demand for sand. However, natural sand will not be sufficient to cater to this demand. Besides, the excavation of river sand can affect the path of the river, which may, in turn, lead to floods and the submersion of villages.
Also, the quality and size of natural sand changes based on the river location whereas manufactured sand plants produce consistently high-quality sand. In view of the growing demand for manufactured sand for infrastructure construction for its high compressive strength and cohesion, Puzzolana has developed higher capacity sand plants, up to 300-400 tph capacity, in combination with a sander and vertical shaft impactor (VSI) crusher in the third and fourth stage. Puzzolana has also introduced a track sander and track VSI to meet the demand for sand where mobility is required.
Puzzolana's 300 tph sand plants in Panvel and Talegaon cater to dedicated railway corridor projects and major bridges for metros and skyscrapers in Mumbai and Pune.
Sand-making machines are seeing huge demand in construction activities, both for M-Sand and P-Sand, says Asoktaru Chattopadhyay, President & Country Head, Sandvik Rock Processing Solutions (India, Korea, Japan & South East Asia). "Many renowned corporates are now venturing into sand production. Sandvik can offer a range of crushing combinations to produce the required sand, while strictly maintaining standards. Our tie-up with renowned global brands in sand-washing and classification has also evolved. We have delivered complete sand-making solutions, both dry and wet."