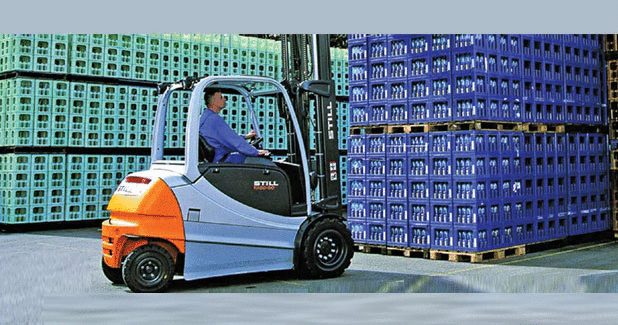 Policy initiatives such as introduction of GST and giving infrastructure status to logistics have created new avenues for the growth of warehousing equipment. However, low level of demand and volume compared to other developing markets is still a challenge.


Warehousing segment in India is evolving fast and is moving towards palletised loads which can be stored at heights. GST has brought in uniform tax across the country, which will enhance the setting up of more organised bigger warehouses to ease product distribution. The government's latest move to give infrastructure status to logistics sector has brought in the much needed support to the sector in setting up infrastructure and buying equipment at cheaper finance. This will give a further push in the sales of warehousing equipment. In this scenario,
EQUIPMENT INDIA
interacts with industry stakeholders to explore the overall logistics market scenario and the opportunities for warehousing equipment segment.
Warehousing - A crucial link
Indian logistics sector broadly comprises the road transport sector (consisting of unorganised small businesses, trucking, fleets and large transport companies), the storage and warehousing sector and finally third-party logistics (3PL).
"According to the Economic Survey released in January 2018, the logistics sector is expected to grow by more than 34 per cent from the current $160 billion to $215 billion by 2020," says
Aditya Sikri, President, IndoSpace.
According to
Cavas Dumasia, Vice President Marketing & Sales, Godrej Material Handling,
warehousing forms a crucial link in the overall logistics value chain. "The size of the Indian warehousing industry (across commodities and modes) is pegged at about Rs 560 billion (excluding inventory carrying costs, which amount to another Rs 4,340 billion). The industry is growing at over 10 per cent annually (according to EY overview)," he adds.
Sunil K Gupta, President, KION India,
says, "Logistics sector has shown tremendous change in the last one year. Complicated networks, higher coordination costs across the supply chain coupled with deficient infrastructure, different entry taxes and poor vehicle-load-carrying capacities were now way behind; the roll-out of GST addressed many of these problems, resulting in focus on 'operational efficiency' rather than 'tax efficiency'."
Sikri observes, "The logistics and warehousing sector is at an inflection point, with GST, growth of e-commerce and the granting of infrastructure status: this will lead the next wave of growth for the sector."
All these growth trends will require more warehouses and advanced handling technologies. According to
Manojit Acharya, Managing Director, Jungheinrich Lift Truck India,
warehousing sector in India is still at a nascent stage, as a large quantity of materials are still non-palletised, requiring large storage area. "Any material, which is not palletised, cannot be either stored effectively in a rack or handled using a material handling equipment. Therefore, it is important that the materials need to be palletised and effectively stored in racks, which saves a lot of space and enable easy handling with equipment," he adds.
Dumasia opines, "The vast majority of India's warehouses are still technologically outdated. In fact, the total quantum of warehousing space in India is inadequate and requires huge investments in terms of expansion and augmentation."
Gupta reflects the same as he says, ''With the increase in cargo traffic and overall space crunch, efficiency has become a major factor in determining business growth and profitability. Huge spending on ports infrastructure and a surge of e-commerce are among factors that are leading to an increase in containerisation and palletisation. This is a positive trend for the warehousing and logistics sector in India."
"The material handling equipment market already witnessed a very high growth in H2 2017 and Q1 2018, which is likely to be continued in the entire 2018," he observes.
Acharya says, "The total market size of warehousing equipment in India is about 12,000 machines per year, which is very small compared to the size and population of our country. However, the sector in India is evolving very fast and moving towards palletised loads, which can be stored at heights."
Says Dumasia, "In recent years, the Indian storage and warehousing industry has been in a transition phase from traditional towards modern infrastructure which includes increased emphasis on automation.''
Sikri adds, "We are also witnessing a gradual shift from unorganised to organised players in this sector. IndoSpace, being the largest and most advanced, has a head-start in providing modern, large and best-in-class warehouses at strategic locations to companies in need of this service."
GST factor
According to Gupta, ground storage and manual material handling is still common in the country with high share of small warehouses and logistics providers. "However, the trend is now shifting towards advanced and reliable ways of material handling to improve the productivity and reduce losses. With roll out of GST, consolidation of smaller warehouses build for tax efficiency will convert into fewer but large capacity warehouses to improve the operations efficiency."
He elaborates on the advantages, "GST has also removed the cascading impact of multiple taxes; which is very positive for hiring segment as overall cost of machine to them reduced hence better ROI. A continued double-digit growth is expected in the demand of hiring segment in 2018."
"The uniformity in taxes and removal of interstate checkpoints is leading to consolidation of warehouses into bigger spaces and greater overall efficiency, especially among larger and modern firms. The industry is witnessing surge in integration among 3PL and 4PL players as a result of this,"Sikri points out. He adds, "GST is also enabling companies to plan their manufacturing and distribution locations more strategically. The overall trend is to have large format modern industrial and logistics infrastructure spread across fewer key locations."
As a result of GST, there will be more organised players in the business as demand increases. Sikri says, "In the next five to seven years, IndoSpace plans to have around 50 million sq ft of modern developed and under-development light industrial and warehousing parks from the current portfolio of around 30 million sq ft."
"GST was something, which we had been looking forward to for the past few years. Prior to the launch of GST, the location of customer sites and storage of goods were dependent on states, tax sops, suppliers base, etc. With GST unifying the market, we have seen a significant rise in logistics and warehousing activities and in turn requirement of warehousing equipment. We expect a faster change in terms of technology upgradation and automation in the coming years," Acharya comments on the introduction of GST.
According to Dumasia, the introduction of GST has led to the tweaking of warehousing infrastructure from being tax-efficient to work-efficient. This has further resulted in the emergence of industrial hubs thereby providing a fillip to logistics.
He adds, "We do predict progress in the warehouse sector which will definitely have a positive effect on the growth of warehousing equipment. The warehouse sector is looking at attracting investments of about Rs 43,000 crore and creating approximately two lakh job opportunities at different levels of specialisation and specification. This will solely be driven by the GST implementation."
Industry experts have attributed the implementation of GST and the rapid growth of e-commerce as two important factors that have created significant growth prospects in the warehousing sector. Of all the categories, warehousing will be witnessing the highest investment of over Rs 35,000 crore in the next three years, mostly in creating storage facilities for retail and consumer goods.
Infrastructure status to create new opportunity
Market estimates indicate that Indian logistics sector was growing ~1.5 times India's GDP growth and will continue growing. According to Gupta, with logistics getting infrastructure status, more standardisation is on cards for the entire segment. He states, "There are opportunities for standard equipment, services and facilities which will be used for efficient domestic goods movement. We can also achieve harmonisation and integration of transport which will improve cost competitiveness," he adds.
On the opportunities for warehousing equipment, Gupta elaborates, "The standardisation will create huge opportunities for handling equipment as it is leading to an increase in containerisation and palletisation with focus on operational efficiency and reduced losses. This is very positive for technology-based MHE companies like us who are offering improved technology solutions to the customers in dynamic business environment. The market is already witnessing high growth in the demand of high-performing higher capacity reliable machines, which can improve utilisation of assets. This sector has a potential to add an additional 9.76 million jobs in the next five years, which is very important for our economy."
Dumasia comments, "The government has given infrastructure status to logistics sector, covering cold chain and warehousing facilities, a move that is likely to attract more funding at competitive rates for these segments. This will lead to capital expenditure in the logistics sector, thereby providing a fillip to the handling equipment segment.
According to Sikri, granting infrastructure status to logistics and warehousing sector was another landmark move made by the government last year. He adds, "With this, multi-modal logistics parks, cold chains, and industrial and logistics real estate, which comprises light assembly warehouses including those with just pick-and-pack operations, have been clearly defined as part of the infrastructure network of the country. This will enable not only logistics companies, but anyone wanting to set up warehousing or logistics facilities to access credit from financial institutions at attractive interest rates and enhanced limits with longer tenure. This will ultimately result in further expansion for industry players."
Products and solutions
Equipment players have always been in the forefront to offer new products and solutions regularly for the growing warehousing and logistics market in India.
KION Group is a major player that offers handling equipment and solutions to the warehousing segment. In India, the Group is represented by its six brands - OM, OM Voltas, Linde, STILL, Baoli and Dematic. "We are one-stop solutions for all the customer segments for their MHE requirements through our extensive product range and diversified solutions," says Gupta.
OM Voltas and OM have catered to the economy and value segment of Indian material handling market and has been the dominant player over the years. Linde, STILL and Baoli are prominent import brands. Linde and STILL brands are well established in the premium segment while Baoli is a key player of economy segment of Indian MHE industry. KION offers automated warehouse systems and solutions through the brand Dematic.
Gupta elaborates, "We have a state-of-the-art production facility at Pune for OM and OM Voltas products, which is well-prepared to address the long-term projected market growth. We have in-house production of IC forklifts ranging from 1.5T to 16T,
E forklifts from 1.5T to 3.5 T, stackers with mast height up to 6.5 m, battery-operated pallet trucks, and reach trucks with mast height up to 11.5 m."
He further adds, "Our IC trucks comply with BSIII emission standards and are the most fuel-efficient in their class. Our popular 3T automatic transmission IC truck is the only fully automated version among Indian manufacturers with single forward and single reverse speed selection. Electric trucks are eco-friendly and suitable for indoor application. Reach trucks are premium products with reach in-reach out, height pre-selection and other user friendly functions. Our OM products CTX stacker and TLX pallet truck are quality products in WHE segment. Our new VVE stacker has a side stabiliser to make it suitable for higher height applications. Our vast sales and service network with more than 100 customer touch-points across India makes sure our products and services are within customer's reach."
Jungheinrich is one such supplier which has the entire range of handling equipment required for a warehousing set-up. Says Acharya, "We do everything, starting from a simple hand pallet to a complete automation of warehouses, including racks, automation, software, ASRS system etc. However, in India we are currently focusing on material handling equipment only. We have the complete lift truck range from hand pallet truck to the complex VNA trucks with warehouse navigation. Each of these trucks is high-tech in terms of features they have and ensure safe and reliable operation during operation."
Godrej MHE offers a wide spectrum of solutions across equipment types, capacities and technologies. Dumasia elaborates, "Our range includes electric and diesel counterbalance forklifts of up to 25 tonne capacity, warehouse trucks and special trucks for specific applications. We also manufacture attachments of our own design to address a wide range of handling needs, besides offering attachments made by international specialists when the application demands. We also represent global players like Crown Equipment and Hubtex among others, in India. As market leaders, we strive to offer the right solution to each customer to meet their needs. Since we have a range of offerings, including products manufactured by us and those by our foreign partners, we can address a wide variety of user needs."
On the after-sales services, Dumasia adds, "We have an efficient after-sales service that we provide to our customers. We have a qualified, trained, experienced field force of over 100 engineers and technicians located at the 18 company branch offices to provide prompt and competent technical assistance and intervention. We are supported by a wide network of over 50 dealers for spare parts and technical intervention and are managed by a specialised Technical Cell at Mumbai to train, guide and support this large field force. The spares stocks maintained at Mumbai, various branches and with dealers ensure a high degree of parts availability. We also offer OMCs for Godrej equipment as well as those of our partners Crown, Komatsu, Tennant and Hubtex. As part of our overhaul service, we offer professional assessment of equipment by qualified and experienced staff to ensure best results. So, we do believe our range of equipment and solutions address the customer requirements in a holistic way."
IndoSpace offers large format ready and build-to-suit spaces for light manufacturing and storage. Sikri explains, "World-class buildings that meet and exceed local regulations in terms of structural integrity, access, floor quality, lighting and ventilation are offered. IndoSpace warehouses with super-flat floors are structured such that their vast spaces are unhindered by walls or columns and allow for high stacking of products and easy manoeuvring of forklifts for storage or pick-and-pack.
This also allows for abundant creativity in laying out plant and equipment. It also provides for easier movement within the buildings. IndoSpace parks are designed for multimodal transport that helps in moving goods in containers to facilitate an economical and time-bound delivery."
Understanding the ground realities of establishing a business in India, IndoSpace offers strategically located spaces coupled with best-in-class facilities such as industrial-grade power infrastructure, safety features like fire detection and suppression systems, and 24-hour security, according to Sikri. "The parks are constructed to address the needs of manufacturers, retailers, 3PLs and other enterprises with large-scale logistics hub or manufacturing space requirements. The parks have been conceived using global best practices for efficient and cost-effective operations. All parks are master-planned to allow for efficient movement and loading and unloading of trucks. Facility design includes ample clear heights, optimised column spacing, flat and super-flat floors designed to support high cube racking, high dock-door ratios and extensive concrete truck courts."
IndoSpace, with its stable capital base, has invested in state-of-the-art industrial and logistics hubs in Pune, Chennai, NCR, Bengaluru and Mumbai. Projects in Ahmedabad and Sri City (Andhra Pradesh) are also underway. The parks are typically 50 to 100 acres in size.
Green technology
According to Gupta, with the increase in industrial growth, rise in demand of consumer goods and services augmented by increase in disposable income and focus on efficiency and safety, market is shifting towards automated warehousing products and solutions in coming years. "Practically after a certain volume; manual material handling is beyond human control and requires advance and automated solutions. As much we move towards large capacity warehouses, automated and smart warehouses becomes vital for efficient operations, he adds.
On the green initiatives, Gupta says, "With the environment awareness as well as compliances and government push towards green and clean energy, future smart warehouses are likely to be based on non-pollutant energy efficient material handling equipment. Battery-operated electric forklifts and warehousing equipment will be base of automated/smart warehouses and pull the demand of battery-operated material handling equipment."
He adds, "KION India understands our responsibilities towards environment and we are continuously evolving our products accordingly. We are the first company to produce cleaner technology-based reach truck in India. We recently launched an environment-friendly electric forklift with advanced twin-motor drive technology providing very small turning radius."
Complete solution
There are many players who provide complete warehousing solution to customers which include racking and storage solution as well as handling solutions. Says Acharya, "Our products cover the entire range of warehousing equipment from BOPT, stacker to forklift and reach trucks. We also provide high-end warehousing solutions like Very Narrow Aisle (VNA) trucks along with warehouse navigation and warehouse management systems and racking system. Though we are not into complete warehousing solution as of now in India, we are open to providing automation and control solution apart from the handling solution in future, with the expertise from our head office in Germany."
Gupta elaborates on KION's solutions to warehousing needs, "We are a customer-centric organisation and our R&D team at Pune is continuously working towards evolving our products and bringing future-ready products to provide value for money to our customers. Currently, the customer is looking for customised and reliable material handling solutions as per their business requirement rather than MHE equipment only, which is very positive for KION India; as we are one-stop solution providers for all the customers to fulfill their material handling requirements. KION India is the only multi-brand company in Indian MHE market who offers a comprehensive product range through our various brands which are able to address the diverse customer requirements across various segments of MHE market."
Safety and productivity features
Says Gupta, "We provide a lot of features for specific needs such as customised attachments and solutions as per customer material handling requirement, which increase the productivity of the customer business. Our machines follow all the safety norms as per application of the machine. Operator sensors, overload protection system, travel speed control system, and belly button are key safety features of our machines. This increases the efficacy of the customer's material handling requirement and enhances the safety as well as reduces the damage losses significantly."
He adds, "We are continuously upgrading our products as per customer feedback and provide customised solution to our customers for their specific material handling application. We are planning to launch a number of new products in the coming years to address the market demand."
According to Acharya, Jungheinrich products are embedded with features, which provide high safety, reliability and productivity in equipment. He adds, "Our forklift with features like curve control on bends/turns, mast cushioning, energy saving during braking, crawl speed switch and anti-roll back ensure safe operation. Increased productivity comes from higher speeds, lower deadweight per tonne of capacity and high residual capacity at maximum lift heights. Our machines are designed considering ergonomics and anthropology requirements, features like adjustable seats, adjustable steering, more leg space, and more visibility all enhance the ease of operation for the operator. While we are more focused towards battery-operated machines, we have a range of diesel-powered machines also. In fact, we have launched a new product in our diesel range, which is compliant to the latest emission norms. Our trucks are majorly designed in Germany which are always ahead in emission regulations.
Challenges
After a slew of policy initiatives from the government, logistics and warehousing sector is growing fast. However, the warehousing equipment players are facing some challenges in spite of the anticipated opportunities. According to Gupta, the major business challenge is to remain cost competitive while offering improved technology solutions to the customers in the dynamic business environment. He elaborates on the other challenges faced, "Customisation of cost competitive technology as per requirement of Indian customer is the most important aspect to remain competitive in the market in long term. The other major challenge faced by the MHE industry is on the low market volumes causing low attractiveness for our vendors, channel and towards technology investments as a whole. As compared to any developing economy, Indian market for material handling is a very small market considering our sizeable population."
"With the high pace of growth, business becomes more dynamic and less predictable. Hence, organisation needs to be more agile without any cost inflation. The challenge of lower volume could be overcome only by driving the concept of 'Efficient way of material handling' through palletisation and containerisation change approaches in the market."
On the role of government support, Gupta says, "A policy framework on standardisation/palletisation to improve the efficiency of material handling, incentivise on the operation of non-pollutant battery-operated machine, etc can boost the MHE industry further. A differential GST for import and domestic players as well as emission norms on used imported trucks will further improve the market for local manufacturers."
Dumasia elaborates on the challenges, "The major issues and challenges faced by material handling equipment players are related to the low level of demand and volume as compared to major foreign markets such as China, USA, Japan and Europe. Due to these reasons, Indian manufactures face a cost disadvantage because of economies of scale as compared to foreign manufactures from other countries.
In addition, the availability of components from ancillaries and other suppliers is at a much lower level in our country as compared to the others. We also have a lot of administrative and infrastructural bottlenecks related to power cost, delays in transportation, and delays in import and export clearances, administrative problems, high taxation limits, and high interest rates and so on. These issues make the equipment manufactured in India expensive vis-a-vis machines imported from low cost countries. Many global majors dump in India, products made in their factories in low cost countries. These issues have already been addressed to the relevant government agencies. We are hopeful that these will be sorted. In spite all these issues, the government's emphasis on 'Make in India' campaign has spurred growth across the manufacturing sector, thus increasing the demand of MHE considerably."
Emerging opportunities
Compared to developed markets, Indian market is developing and need more warehousing facilities to cater to the population of the country. The opportunities lie in this scope of more development in future. Says Gupta, "Currently India has sales of ~10 MH/million inhabitants compared with more than 70 of other Asian countries. China has around ~270 while Europe and the US is at more than 700, which directly reflects the business potential in India." He adds, " Indian MHE market has a huge potential to grow in the coming years. The market witnessed a growth of around 20 per cent YOY basis in 2017. And we are now witnessing the same level of growth in 2018 so far and the trend is to be continued in the remaining period of 2018. There is high growth projection for Electric and WHE segment in near future. The Indian MHE market is highly competitive with the presence of many local and foreign brands offering varied solutions."
Looking at the future growth potential of the market, Gupta comments, "Increase in industrial production, followed by modernisation of logistics infrastructure has been a major reason for growth of the industry. Implementation of GST in 2017 was very positive for the industry as it has removed the cascading impact of multiple taxes, which is very positive for hiring segment as overall cost of machine to them reduced, hence better ROI. The advanced cargo handling methodologies, growth in port segment, growth of e-commerce and increasing space crunch will be other drivers of MHE market growth. The growth in Electric forklift market is driven by a shift towards environment-friendly products and WHE market growth is driven by an increased focus on efficiency in warehouses driven by segments like e-commerce. The Indian market is also developing and moving towards Industry 4.0 and automation has to be adopted in the coming years. In Indian MHE segment a fully automated, software controlled warehouse is the future milestone."
Dumasia explains, "The size of the forklift truck industry is approximately 11,000 units per annum. Similar to other countries, in India, the growth of the material handling equipment industry is dependent on the manufacturing and trading activity. There is a strong correlation between manufacturing GDP growth and MHE sales. Besides, MHE is also linked to the distribution and logistics chain. In addition, the immense growth being witnessed in the warehousing sector specially to support the booming e-commerce segment will be another key driver for growth in the forklifts industry."
According to Sikri, the warehousing industry has grown leaps and bounds over the last few decades, from being shelters for storage to spaces that include high-tech robotics to optimise the supply chain. "One of the key challenges faced by the sector was multiple taxes, but with the introduction of GST last year, the government has created a single national market with uniform taxes and removal of interstate checkpoints. This is triggering a sea change for the entire industry. According to the latest CBRE report, the logistics sector is likely to go from strength to strength in 2018, on the back of sustained demand from several sectors and government initiatives such as grant of infrastructure status and GST," he adds.
Acharya observes, "Logistics sector has been going through a huge transformation in recent years with new players trying to consolidate and create a market place for goods vehicles. With logistics sector getting 'industry' status and GST unifying the market, we anticipate a rise in logistics and warehousing activities as companies would like to consolidated warehouse, which are larger/higher and automated. Overall, the scenario looks bright for innovations in terms of emerging business models.
Warehousing and logistics segment is growing from the need for more bigger and advanced warehouses across the country to meet the growing demand from e-commerce and distribution companies. Warehousing equipment players are gearing up to provide more productive and efficient equipment to meet the demand. However, the sustainability of the demand will depend on how fast the logistics and warehousing players adopt the new technologies.
Opportunities in logistics and warehousing market
Logistics sector to grow by more than 34 per cent from the current $160 billion to $215 billion by 2020.
Warehouse sector to attracting investments of Rs 35,000 crore in the next three years.
Warehousing equipment sector to create 9.76 million additional jobs in the next five years.
Forklift truck industry size is about 11,000-12,000 units.
- Sudheer Vathiyath