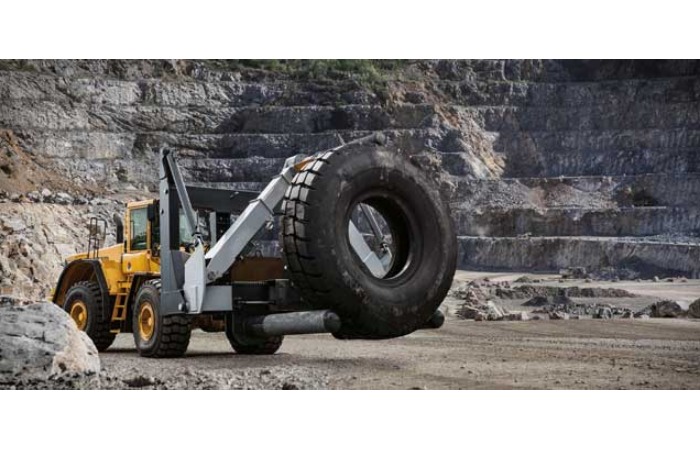 India has emerged as one of the leading markets in OTR tyres, growing at a faster pace and providing a new engine of global growth in emerging markets. Today, India is the largest market for construction and mining equipment, the largest use for OTR tyres is in mining and construction, which also includes some larger industrial applications such as ports and handling.
Mining and construction growth over the last several years has helped the overall market to grow, construction, and industrial have continued their steady performances, more in line with overall economic growth.
Over the next five years, the industry will be entering a transformative era and will be shifting from a transactional-focused model to a solutions-oriented approach to business. Much of this will be driven by the two key core OTR segments: mining and construction.
Said Prasanta Ganguly, Head – OTR Marketing (Domestic Sales), Balkrishna Industries (BKT), "The OTR tyre demand in 2021 rose above pre-COVID-19 levels, despite supply chain and logistics issues, and we do not see any demand slowing down in the coming years. The market is likely to grow at a CAGR of 9.05 per cent in volume terms with sales forecast to reach 15 million units by end of 2023. The growth is backed up by increased spending in the construction and mining sector as well as the agriculture sector. Major demand driving vehicle categories are tractors and earthmoving equipment such as loaders, excavators, etc. The mining and construction segment contributes to more than half of OTR tyre sales in India. Agriculture is the biggest segment for OTR tyres owing to increased tractor penetration in India's rural region."
A recent study conducted by the strategic consulting and market research firm, BlueWeave Consulting, revealed that India Off the Road (OTR) Tire Market was worth 10.81 million units in the year 2021. The market is projected to grow at a CAGR of 8.5 per cent, with sales forecast to reach 19.17 million units by the end of 2028. India OTR tyre market is booming because of the rising demand for off-road tyres which offer the best traction on uneven surfaces. Also, the benefits of OTR tires are used in various pieces of machinery for use in industries like construction, mining, mechanised agriculture, and industry. The demand for radial OTR tyres has been seen to rise recently over bias tyres, and this trend is anticipated to continue due to its many benefits. Moreover, OTR tyres continue to be most popular in Asia-Pacific, but demand is increasingly rising in Europe and North America.
Furthermore, OTR tyre market is one of the most emerging markets that grow continuously owing to the fast integration of new technologies such as the Internet of Things (IoT), Artificial Intelligence (AI), cloud computing, and others. However, both the cost of the press machines used in the production of OTR tyres and the cost of the raw materials are expensive. This, in turn, may act as a huge restraining factor for market growth.
Most emerging countries, including India, have seen significant growth in infrastructure development as a result of the impact of globalization. Expansion of transportation networks, significant investments in roads, bridges, and tunnels for easier commuting, an improved supply chain network for better trade, expansion of manufacturing industries, and building construction are all examples of infrastructure. With rising labor costs, the need for increased productivity, and the best use of resources, advanced machines are expected to drive demand for construction and mining equipment. Furthermore, private and public infrastructure investments are likely to rise, increasing demand for construction and mining equipment. This has a positive impact on OTR tyre demand.
More public and private infrastructure investments are likely to increase, which is expected to increase demand for mining and construction machinery. Because of a significant technological revolution taking place in India and around the world, as well as growing global development, the OTR tyre industry is poised to grow more than ever. Two of the sector's most significant advances are innovation that provides the best support to the industrial sectors and diverse products. The demand for construction, farming, and mining equipment is expected to rise significantly over the next ten years, propelling the India OTR tyre market even higher.
Choosing the right tyre
Coming to specific machines, the needs of loaders are special because the machine can be deployed in a wide variety of conditions, ranging from normal road to severe muddy, rocky and sandy terrain, observes Sang Jin Lee, GM-R&D, Hyundai Construction Equipment. "Whereas the tyres of machines deployed in mines must withstand heat."
"Choosing the right tyre ensures safety, longevity and fuel savings, which increases with the fleet size and when tyres are used in tough conditions. Unfortunately, a few customers use low-quality tyres from China and end up increasing their maintenance cost. Usually, the performance of a tyre is determined by its fuel-efficiency, braking and wet grip and the level of emitted noise," said Subhajit Chandra, Divisional Head-Mobile Crane Division, Liebherr India.
Radials vs. bias tyres
In general, the construction of radial ply tyres offers better traction, better control and loadcarrying capacity than bias ply tyres, says Lee. "Hence, radial tyres support better fuel economy, better maneuverability at high speed and, in the long run, lower overall cost of ownership. As radial tyres feature a complex arrangement of rubber-coated steel wires and rubber-coated steel belts, they are more durable against cut and punchers. Radial tires are best suited to applications where tread wear, distance and traction are important aspects."
Interestingly, Komatsu offers both radial and bias tyres in front-end wheel loaders.
Challenges
Although there are a lot of opportunities for OTR tyres in India due to the growing mechanisation in the construction and infrastructure industry, The OTR tyre manufacturers are facing many challenges, which are hampering the industry growth. For instance, growth in the OTR tyres market in the country is directly related with the growth of mining activities. Changes in the mining industry and market are also the impetus behind changes in large OTR tyres themselves. One of the issues facing the industry these days is the changing requirements of mining operation vehicles. Trucks are getting bigger and hauls are getting longer. Manufacturers have to develop products that will withstand these more intense conditions. New technological trends include compounds that are more heat-resistant and tread patterns that dissipate heat for longer hauls. For shorter hauls that require tight operations, better compounds are being developed to resist severe tyre cuts while in operation. Matching tyre to task is becoming more challenge.
Both the cost of the press machines used in the production of OTR tyres and the cost of the raw materials are expensive. As a result, none of the market's players can afford to spend a lot of money on R&D. While farm equipment requires different tyres for tractors, construction, and mining equipment is outfitted with heavy load bearing with a strong design and treads for better traction. The requirement for tyre retreading or replacement in the case of OTR tyres is determined by usage patterns and environmental factors. It is necessary to develop and test a wide range of tyre sizes because the size of tyres changes based on the application and terrain. R&D expenses rise as a result of customisations, a large range of products, advancing technology, and changes in demand. Because research is more expensive, producers tend to concentrate on their current product lines, which slow the expansion of the OTR ttyreires market's more recent sectors.
Service gaps
Tyres need to be in continuous good working condition to ensure machine safety. However, V Srinivasan, Partner, 6T Services, a tyre consultancy, believes "the technical servicing of off-the-road tyres, which are predominantly used in construction equipment, is not on a par with the quality one gets in the West; consequently, the 'ton kilometre' capacity of a tyre is not optimally exploited. Any downtime immobilises the asset."
To improve this situation, he recommends that tyre manufacturers repeatedly conduct 'tyre clinics' to educate driver operators and the management on the need to choose the most appropriate tyre for an application. Also, users should ask the tyre manufacturer's technical servicing team about the suitability and applicability of a particular tyre for the intended use.
Road ahead
Added Ganguly, "As India plans to invest $1.4 trillion on several infrastructure projects by 2025 including projects related to ports, railways, roads, etc., we are likely to see the demand for the OTR tyre market."
The OTR tyre industry in India is anticipated to exhibit significant growth in the future, the demand for OTR tire is on the rise in the domestic market with demand coming from construction, mining (bigger OTR tyres with bigger capacity dump trucks) and material handling equipment segments. With more projects lined up like: Coal consumption will be doubled by 2025 and planned to increase the total mining area. Cement industry will also start moving with new projects and plants as GOI is developing Infrastructure pan India (Road construction, new railway lines, and other village development program).
Ports are one of the key segments especially as per the Indian market perspective. The entire project to develop ports and connectivity will provide opportunity for the port equipment segment growing up and prompting the use of a new range of tyres. In fact, the existing ports are seeing more demand coming in.
Demand drivers

With reference to the various development activities taken up by the government, the OTR tyre market is expected to gain majorly in the coming years as TechSci Research highlights the major demand drivers as:
Growth in infrastructure: Increasing population and rising urbanisation are boosting the infrastructure projects landscape. With upcoming and ongoing projects, the construction sector is the third largest contributor to the economic growth.
Government initiatives: The Indian government is taking steps to boost construction activities across the country. The National Infrastructure Pipeline (NIP), the Affordable Rental Housing Complex (ARHC) scheme and investments in the industrial sector open great opportunities in the construction sector in 2021.
Increase in mining projects: The Ministry of Environment has approved 10 coal-mining projects in different states of India. The ministry states that the projects will have an output of 160 million tonnes annually. These projects are going to bring a quick rise in the demand for OTR vehicles, which in terms is directly going to boost sales of OTR in OEM as well as replacement segments.
Maintain your tyres
The basic tasks include maintaining the appropriate tyre pressure based on the manufacturer's recommendations; discarding old, unevenly worn, bulging and cracked tyres; attending to punctures; and checking the alignment, advises Subhajit Chandra, Divisional Head - Mobile Crane Division, Liebherr India. "Unevenly worn tyres impact the axle of the crane, which can misbalance the entire superstructure. Significant tread wear can reduce the weight and increase tyre rigidity."
Off-the-road tyre customers must go beyond basic servicing; predictive analytics would help minimise downtime and maximise safety and productivity, suggests Sang Jin Lee, GM - R&D, Hyundai Construction Equipment.