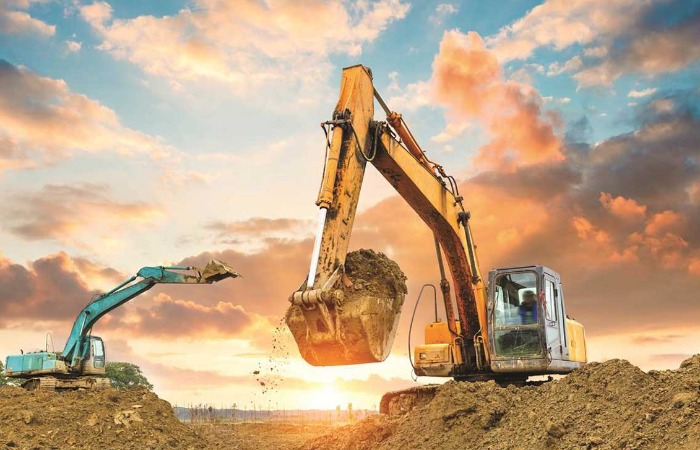 The market demand for earthmoving equipment in the Indian industry has been on the rise due to various factors such as increasing urbanization, infrastructure development, and growth in the construction and mining sectors. The demand for earthmoving equipment has been further fuelled by the Indian government's focus on infrastructure development through initiatives such as the National Infrastructure Pipeline (NIP) and the Smart Cities Mission.
According to a report by Mordor Intelligence, the earthmoving equipment market in India is expected to grow at a compound annual growth rate (CAGR) of 7.9 per cent from 2021 to 2026. The report highlights that the demand for earthmoving equipment is driven by the construction industry, which accounted for the largest share of the market in 2020. The mining industry is also expected to drive the demand for earthmoving equipment due to the growth in mineral and metal mining activities in the country.
The demand for earthmoving equipment in India is also driven by the need for efficiency and productivity in construction and mining operations. The use of advanced technology and equipment in these sectors helps in reducing the time and cost of operations while improving the quality and safety of the work.
Furthermore, the Make in India campaign has encouraged the manufacturing of earthmoving equipment within the country, which has helped in creating a robust supply chain for these machines. This has also helped in reducing the cost of earthmoving equipment, making them more affordable for customers.
Market dynamics
For over four decades, JCB has remained committed to the India growth story. From introducing the backhoe loaders in India in 1979, to the global manufacturing force the company has become today, JCB India has been making the nation and its communities stronger every day. With six state-of-the-art factories in India, it manufactures a wide range of world-class equipment, not only for India, but for over 125 countries. Driven by constant innovation, revolutionary products, and adherence to global quality standards, JCB has sold over 3,50,000 machines - furthering the 'Make in India' initiative and steering millions towards empowerment. India is today not only an important market for JCB but is also the global manufacturing hub for the Group. Our focus on one global quality has led JCB to explore global markets on such a large scale.
Said Deepak Shetty, CEO & Managing Director, JCB India, "The JCB backhoe loader continues to be a favourite for infrastructure projects for the last 42 years since it is a versatile, easy-to-use, and easy-to-transport machine. It is suitable for government projects like the Pradhan Mantri Gram Sadak Yojana (PMGSY) and Har Ghar Jal in rural areas. PMGSY was launched by the Government of India to provide connectivity to unconnected habitations as part of a poverty reduction strategy. According to the latest figures, about 167 thousand unconnected habitations are eligible for coverage under the programme. This involves the construction of about 3,71,000 km of roads for New Connectivity and 3,68,000 km under upgradation. The Har Ghar Jal mission is envisioned to provide safe and adequate drinking water through individual household tap connections by 2024 to all households in rural India."
He added, "Infrastructure projects have now restarted which is leading to green shoots in the construction equipment industry. A strong focus, along with sustained spend on infrastructure development would result in multiple long-term benefits. Roads and highways will continue to play a key role in bringing forth recovery in the Construction industry. The Government reforms in the sector are a step in the right direction as it is expected to give a strong push to highway construction. The Government has a plan for Rs 111 lakh crore in the National Infrastructure Pipeline. This proposed plan must continue as the growth of the infrastructure sector will create demand with a multiplier effect and will also contribute to the spike in urban demand."
"MB Crusher's products have a very promising market in India, which is predicted to be one of the top three infrastructure equipment markets for the next decade in terms of percentage and value growth. The company has successfully established a strong presence in the country through its direct distribution channels, and its products have been well-received by customers. In India, we are carefully segmenting the market based on contractors' profiles and specific application requirements. India is a large and diverse country with varying characteristics of materials across regions and states. By using these two key variables, we are able to provide the right solution for each specific worksite. Having introduced the product category in the market a little over eight years ago, we are online begging to scratch the surface and the medium to long-term prospects are truly exciting," said Piero Guizzetti, CEO, MB Crusher India.
Speaking on the rental market scenario for earthmoving equipment in India, Satin Sachdeva, Secretary General, Construction Equipment Rental Association (CERA), had this to say: "The rental market size in India has grown in last four years from less than 10 percent to over 25 per cent now. Mordor Market Intelligence report has projected India construction equipment rental market to register a CAGR of about 5.1 per cent during 2020 – 2025. The construction equipment rental market can be segmented based on product into earthmoving machinery, material handling machinery, and concrete and road construction machinery. Earthmoving machinery such as excavators, backhoe loaders enjoy enormous demand around the world as it has a wide application in construction and mining."
He added, "The rental penetration in India has grown to over 25 per cent in the last 5 years and is undergoing a transformation towards becoming organised and adopting standardisation. Rental companies have now young and advanced fleet equipment with new technology, artificial intelligence and telematics."
Automation: Need of the hour
The demand for automated construction equipment is being fuelled by the accessibility of numerous automation technologies. It is also bolstered due to the fact that automation also increases equipment efficiency and removes the need for human involvement during operation, lowering the overall cost of the construction project. It is anticipated that this will increase demand for automated construction equipment over currently available equipment.
In India, we are already seeing the integration of automated technologies like Telematics and IoT in construction equipment to give customers real-time data about the performance and operation of their equipment. Telematics in construction equipment involves the use of sensors, GPS tracking, and other technologies to monitor and transmit real-time data about equipment performance, location, and usage. Sensors gather this information, which is then sent across a wireless communication network to a central server. Software programmes are then used to evaluate the data in order to provide information about the fuel usage, maintenance requirements, and productivity of the equipment. The benefits of telematics include improved equipment efficiency and productivity, reduced downtime, proactive maintenance, and optimised equipment utilisation.
"In recent years, the industry has embraced automation as a way to increase efficiency, reduce costs, and improve the quality of its products. Automating multiple aspects of the manufacturing process has helped manage rising demand, improved efficiency and saving costs. Welding, painting, and assembly are a few examples of monotonous, dangerous, or highly precise operations that are now handled through robotics. Additionally, to tackle the labour issue, manufacturers commission automated guided vehicles (AGVs) and mobile robots related to material handling and transportation, manufacturers. The application of computer-aided design (CAD) and computer-aided manufacturing (CAM) technologies is another method of implementing automation. These technologies enable the fabrication of automated components and 3D models of machinery, cutting the time and expense of generating parts and minimising mistakes," said Puneet Vidyarthi, Head of Marketing & Business Development - India & SAARC, CASE Construction Equipment.
He added, "The industry also increasingly utilising sensors and the Internet of Things (IoT). With the use of sensors, equipment performance may be tracked and problems or malfunctions can be found, which enables proactive maintenance and helps decrease downtime. IoT technology can be used to connect machines and equipment, providing real-time data that can be used to optimise operations and improve efficiency."
At CASE Construction Equipment, the manufacturing, research and designing process are both aided by automation on various levels. Said Vidyarthi, "Our Pithampur facility is designed with cutting-edge automation technologies to manufacture superior-quality products. The automation includes robotics welding which gives welding joints superior strength and robustness. This helps in the repeatability of the same welding, minimises human error and maintains consistency in quality. Our ultra-modern paint shop uses both Manual and Automated Paint operations providing aesthetically-appealing products. It also boasts eco-friendly next-gen technology ensuring that the paint lasts longer. Additionally, we use automation in laser cutting, gas cutting, and in our machining centre."
Himanshu Sharma, Head – Marketing and Corporate Communication, B&R Industrial Automation, said, "Technological advancements are the need in present times within every industry. Newer technologies give a boost to new opportunities and developments, which in turn uplifts the market opportunities and significant growth can be seen in the market size. As the technology and products get updated, there is more space for new designs and advancements in machine build-up, this gives new dimensions to the technology trends. It is seen that emerging technology or innovations give rise to new ideas of product upgrade too."
He added, "The market is continuously exploring newer technologies but recently multifunctional earthmoving equipment are in higher demand such as a backhoe loader, which can be used in many applications like material handling, excavating, and re-filling. As consumer demands are increasing manufacturers are turning towards implementing advanced automation. Thus, the manufacturers are introducing new models of earthmoving equipment with multiple functionalities."
Added Sharma, "Automation has become vital at present in every stage of the construction equipment industry, from design and planning to maintenance. The evolution of automation has given rise to a mass spectrum of different options for handling equipment. More of that it has refrained human dependency thus reducing faults and errors. The alarm and remote monitoring systems have eased human dependency and machine error rectification. Under the Make in India scheme, as per reports, it is expected that billions of investments for the infrastructure sector would be accomplished in years to come."
Jaideep Shekhar, Managing Director – Asia, Australia & EMEAR, Terex India, said, "Another important tool for fuel efficiency is telematics, launched in India in 2021. In-depth machine telematics helps customers see how and where their machines are being operated, understand fuel consumption, and carry out fault-finding activities to ensure optimised performance. Customers receive actionable information, with customised reports and suggested actions for more fuel-efficient operation."
Electric CV on the rise
Said
Nischal Mehrotra, VP - Sales & Marketing, Liugong India,
"Yes, electric construction machinery is becoming increasingly popular in the construction industry due to a growing emphasis on sustainability and the need to reduce emissions. Electric construction machinery operates on electric drive systems rather than traditional internal combustion engines, and they produce zero emissions on the job site. The benefits of electric construction machinery include improved energy efficiency, reduced operating costs, and a reduced impact on the environment. Additionally, electric construction machinery can be more reliable and require less maintenance than traditional equipment, as they have fewer moving parts and do not require oil changes or other routine maintenance tasks."
He added, "In recent years, there has been a growing demand for electric construction machinery, and many manufacturers have responded by developing new and innovative electric equipment. This includes electric excavators, wheel loaders, cranes, and other construction equipment. In conclusion, the use of electric construction machinery is on the rise, as the construction industry shifts towards more sustainable and environmentally friendly practices. Electric construction machinery offers a range of benefits, including improved energy efficiency, reduced operating costs, and a reduced environmental impact, and it is expected to continue to gain in popularity in the coming years."
"We also view the electrification of the construction equipment segment as an essential update to the industry. We have started testing electric technologies for excavators, dump trucks, material handlers and forklifts advancements in technology can certainly improve the market for construction equipment and at Sany, we are taking adequate measures to power our machinery and equipment with renewable energy sources and put forward the strategy of "electrification". As the nation is ushering in new emission standards, we have successfully embraced the Bharat CEV Stage IV norms and upgraded and launched our motor graders and truck cranes into the market," said Dheeraj Panda, Chief Operating Officer (Sales, Marketing & Customer Support) Sany Heavy Industry India.
Said Shekhar, "Terex India's commitment to sustainability and making a positive impact on the environment continues with electric and hybrid solutions, giving customers alternative energy options to operate their equipment. This has been dramatically enhanced to include more fully electric crushers and screeners as well as models powered by innovative combinations of diesel and electricity. These options enable customers to choose which fuel to use, depending on cost, location, and availability, and are of particular benefit to customers who operate in an area where electricity is more cost-effective than diesel fuel, where diesel engine noise is unwanted or on sites where electricity is the preferred energy source."
The road ahead
Said Shetty of JCB India, "The industry estimates sales of construction equipment (domestic sales and exports) to grow 15 to 20 per cent in fiscal 2023. Since JCB has a high market share in the sector, the demand for JCB equipment will increase accordingly. One in every two machines is a JCB and we expect that we will continue to support the government at the same level."
The Indian government offers several incentives, such as tax exemptions and subsidies, to promote the manufacturing and use of earthmoving equipment, which can create opportunities for domestic manufacturers. Similarly, Indian earthmoving equipment manufacturers can collaborate with global players to access new technologies and markets, which can help them improve their products and expand their business.
In conclusion, the market demand for earthmoving equipment in India is expected to continue growing in the coming years, driven by infrastructure development, growth in the construction and mining sectors, and government initiatives to promote the manufacturing of these machines within the country.
QUICK BYTES

The earthmoving equipment industry in India is expected to grow at a CAGR of 8 per cent between 2021 and 2026.
The industry is largely driven by infrastructure development projects, such as highways, airports, and railways.
The demand for earthmoving equipment is expected to increase due to the government's focus on infrastructure development and initiatives such as "Make in India" and "Atmanirbhar Bharat".
The use of advanced technologies such as telematics, GPS, and IoT is increasing in the industry, which can help improve efficiency, reduce maintenance costs, and enhance safety.
Key maintenance practices followed in earthmoving equipment
CERA advises and keeps educating the equipment rental industry for following key maintenance practices for their earthmoving machinery.

Clean your earth-moving machinery: It is a perfect way to keep earthmoving equipment safe and running. Dirt, grime, and debris accumulate on and in parts of the equipment, which can damage parts and the machine can malfunction. Therefore, it is important to clean the machine and its parts thoroughly and regularly as earthmoving equipment has to do difficult and dirty work, which can alter the performance of the machine. However, cleaning should be done in a way prescribed by OEM.
Train employees to operate earthmoving equipment: Unskilled operators can damage the equipment and can put their own safety or other workers at risk. Therefore, to protect your employees and equipment, all workers should be properly trained to operate earthmoving equipment.
Lubricate your equipment carefully: Heavy earthmoving equipment and associated parts and tools will malfunction or become damaged if they are not lubricated properly. Moving parts and components need lubrication because frequent movement causes friction. We also advise using the right oil and lubricants as prescribed in the manual.
Preventive maintenance and regular inspection: Regular equipment inspections go hand-in-hand with preventive maintenance. Both save unnecessary breakdowns and save costs for a rental company. Therefore, we also advise rental companies to use telematics and equipment management software. Small problems that aren't repaired may eventually become bigger problems and incur costs and losses.
Use the right spare parts and tools: First of all, don't use spurious spare parts. Second, don't use them if they don't fit or aren't compatible. If you do this, you put your machinery at risk. Employees are also at risk. Always read manufacturer's manuals, and find the right spare parts and tools.
Challenges in the earthmoving equipment industry

Unorganised sector: A significant portion of the earthmoving equipment industry in India operates in the unorganised sector, which makes it difficult for the industry to develop and grow in an organised manner.
Lack of skilled workforce: The earthmoving equipment industry requires skilled workers to operate and maintain the heavy machinery. However, there is a shortage of skilled workers in the industry, which makes it challenging to operate efficiently.
Lack of financing options: Financing options for earthmoving equipment are limited in India, which makes it difficult for businesses to invest in new machinery and expand their operations.
High maintenance costs: The cost of maintaining earthmoving equipment is high, and with limited financing options, it can be challenging for businesses to keep up with the maintenance costs.
Government regulations: The earthmoving equipment industry in India is subject to strict regulations and standards, which can be challenging for businesses to comply with.
Competition from low-cost imports: India's earthmoving equipment industry faces competition from low-cost imports from countries such as China, which can make it difficult for domestic businesses to compete.
Infrastructure challenges: The earthmoving equipment industry is dependent on infrastructure development and construction projects. However, delays in infrastructure projects and bureaucratic hurdles can lead to a slowdown in the industry.