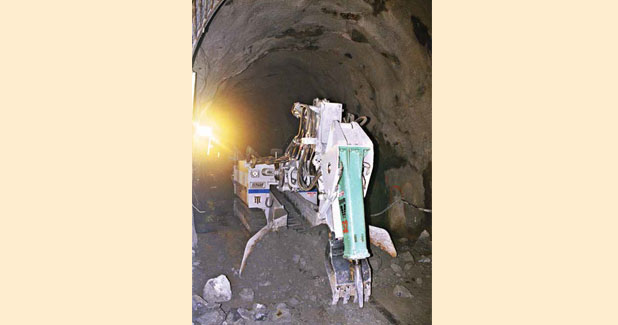 Currently representing 20 reputed construction equipment manufacturers around the world, SEPL plans to continue introducing new high-technology products in India.
Salgaocar Engineers Pvt Ltd (SEPL) is one of the renowned distributors for marketing earthmoving, mining and construction equipment from reputed manufacturers of Europe, Canada and China. SEPL was founded by the visionary Chairman Anil V Salgaocar to market earthmoving, mining and construction equipment and provide aftersales support for the equipment supplied by the company. The beginning Anil Sachdev, President, Equipment Division, who has completed 40 years of his service in the organisation, initiated the process of including more products to its portfolio by selecting good quality equipment manufactured by reliable companies from China and has been marketing Chinese construction equipment since 2003. The company?s growth has been driven by the substantial requirements of latest technology equipment along the growth in the Indian infrastructure sector over several years. SEPL currently represents more than 20 reputed manufacturers from around the world.
With the objective to provide proactive and constructive solutions to continuously improve competitiveness and profitability of its valued customers, SEPL plans to continue introducing new high-technology products in India. It intends to offer high quality and reliable products at a very competitive price to its valued customers, as also to provide excellent aftersales service and spares support to minimise downtime of the equipment supplied by the company. Further, the company aims to ensure more than 95 per cent availability of the equipment marketed by them.
Technical superiority
SEPL has introduced some of the most technically advanced equipment to the Indian market. These include Tamrock drilling jumbos, ITC Schaeff Terex tunnel loading equipment, Arkbro raise climbers, etc. These highly productive units have been used in hydro-electric projects resulting in timely completion of the projects. With the availability of European equipment becoming dearer due to higher cost and long deliveries, the company ventured into the Chinese market and selected products and established manufacturers in China as well as exported their products to various other countries. Selection of a manufacturer from China is extremely important, as there are a number of small players offering equipment at a lower cost but their products are neither proven nor capable of providing after sales support. Hence, SEPL has carefully selected their overseas partners. At present, they represent Taishan Construction Machinery Co Ltd for pipe layers; XCMG-Xi?an Dagang Road Machinery Co Ltd for slurry seal/micro surfacing pavers and Henan Roady Road Machinery Co Inc for asphalt mixing plants. Apart from China, SEPL continues to market products from Europe and Canada.
SEPL was successful in introducing Tunnel Loading Equipment as an alternative to Load Haul Dump Trucks (LHDs), normally used in underground mines and tunnelling projects. Tunnel loading and mucking unit promises to reduce 40 per cent time as compared to mucking by a conventional method, by using LHD. SEPL offer consists of a boom system mounted on specially designed crawler-mounted excavator. A muck conveyor system with an apron conveyor, the loading arrangement at the rear side of the machine allows the blasted material to be directly loaded into the dumper or rail car. The unit is fitted with a bucket that can be removed if a hydraulic hammer is needed for tunnel excavation. Bearing in mind the need for fuel-efficient and optimising working conditions inside the tunnel, the unit is designed to operate on diesel as well as electric power. Diesel power is used for travelling, whereas the electric power is used for operating the machine at the face to minimise ventilation requirement. So far 28 units are working in various hydro electric projects for excavation of tunnels. The mining sector is expected to get the benefit soon from this utility.
Aftersales service
Involved in marketing equipment since 1967, SEPL offers efficient after-sales service support by providing spare parts and attends to the breakdown of equipment during and after warranty period. It trains the operational and maintenance staff of customers, both at site and the Principals? works. Based at Goa, the company has offices in Delhi and Mumbai.