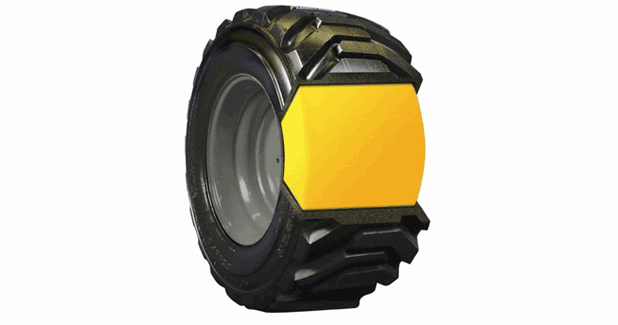 Tyres are the only connect between the vehicle and the terrain hence ensuring that tyres are reliable, safe, performance worthy any time and every time, is critical specially for severe duty applications such as construction, industrial plant, mining, recycling, scrap handling etc. Besides, as tyres represent the highest operating cost after fuel, understanding tyre related global best practices & emerging concepts is essential.
Trident offers contemporary puncture-proof tyres and technologies that reduce total cost of ownership (TCO) and cost per hour (CPH).
Semi-solid industrial tyres
These are developed specifically to address the problems of frequent punctures and fast wear encountered by industrial vehicles/equipment used in demanding service environments and difficult underfoot conditions.
These semi-solid tyres are airless, thus puncture-proof, have an extra deep tread for long, uninterrupted service, with specially designed side wall apertures to provide shock absorption and ride comfort.
These are available in a range of patterns to suit various operating conditions and supplied as ready-to-fit tyre and wheel assemblies for easy replacement.
Product features and benefits include: Puncture-proof; zero downtime; high safety ? no danger from blow outs; and long life ? 4-5 times that of pneumatic tyres.
Semi-solid tyres are suitable for industrial equipment with a maximum operating speed of 25 km/hr such as: Port equipment such as RTGs, reach stackers, empty container forklifts, etc; aerial work platforms, backhoe loaders, skid steer loaders, telehandlers and wheel loaders.
PU foam-filled tyres
Tyre filling is a process in which a pneumatic tyre is injected and pressurised with a special two-component urethane polymer in a precise proportion using a special metering pump. The polyurethane cures into a soft, resilient, synthetic rubber core replacing the air in the tyre. The resultant filled tyre is thus rendered puncture-proof and maintains the required pressure throughout its service life. PU filled tyres have a full footprint and are capable of carrying their rated load at all times.
The soft core is designed to provide a ride similar to air-filled pneumatic tyres.
Product features and benefits:
Puncture-proof and maintenance-free
Enhanced man and machine safety
Better ballast in overload conditions
Extended limp-in capability
These are suitable for vehicles with a maximum operating speed of 90 km/hr and industrial equipment for which semi solid tyres are not available.
Typical applications are in access equipment, defence and paramilitary, port and harbour, open cast mining and quarrying, steel mills and underground mining
Semi-solid tyres and PU-filled tyres offer the following long term benefits:
Zero tyre maintenance:
No punctures and elimination of periodic tyre pressure checks
Lower operating costs:
Direct puncture costs and puncture-related costs such as machine downtime, operator idle time and operational delays are automatically eliminated. While semi-solid tyres cost about three times the price of pneumatic tyres, it is important to note that they are puncture-proof and their life is four to five times that of pneumatic tyres, thus offer a lower CPH.
User and equipment safety:
Semi-solid tyres/PU-filled tyres significantly improve occupational safety as there is no possibility of tyre blow-out related accidents.
Maintenance of operational tempo:
The elimination of punctures allows sustained, continuous use of the equipment in any operating environment. Tyre damage does not cause delays or stoppages.
Damage resistance and all-terrain utility:
Abrasion and cuts do not affect structural properties and stability of the tyre, thus offering a high degree of failure-resistance in severe service conditions.
Stability:
The added weight augments balance and ballast properties. This provides stability when negotiating gradients and uneven terrain.
Ease of installation
: Semi-solid tyres are supplied as ready-to-fit tyre and wheel assemblies. No special mounting equipment is required and the entire assembly can be hand-mounted in a few minutes.
Inventory management:
Fewer replacements mean that costs associated with re-purchase, downtime, inventory and repair are significantly reduced.
Wheel rims
Keeping in mind the safety implications of high tyre inflation pressures and 24x7 operations of port and harbour equipment, it is important to include wheel rim inspection and maintenance as a part of preventive maintenance protocol as per manufacturer recommendations. Typically International port operators mandate compulsory checks for fatigue cracks, deformations, etc, every 6,000 hours of service. Trident offers a comprehensive range of OEM specification wheel rims for port equipment.
Ideation to implementation
Trident has developed application-specific, outcome-orientated products and solutions to assist machine owners and operators get the best out of their equipment in the most demanding conditions. Trident products are distributed in over 25 countries.
For further information:
visit www.trident-intl.com
Email: ankit@trident-intl.com.