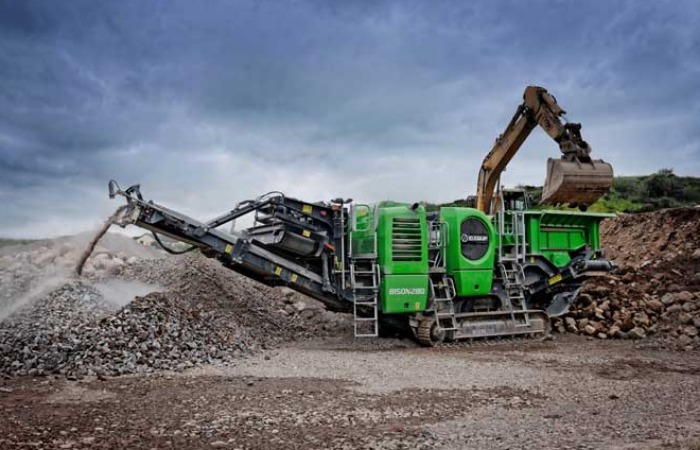 As governments around the world, including the Government of India, commit to carbon neutrality, there have been changes in customer demands as a result of the global response to climate change. This, along with growing investor and public interest in sustainability, contribute to the need for the construction industry to act. Terex India, a global manufacturer of materials processing and lifting machinery, is responding to the industry's decarbonisation challenge by providing solutions that work towards minimised environmental impact and greater sustainability. This decarbonisation story begins with the introduction of the concept of mobile crushing and screening, which has evolved to increase fuel efficiency and electrification strategy, and 'wash recycling'.
Some may view this topic as a recent trend, but the mobile concept of our crushing and screening products has always contributed towards decreasing the carbon footprint per tonne of material produced. This is done by reducing unnecessary material handling of hauling and loading material to static plants in aggregate production or in the ability to recycle and reuse material at the point of use, for example in roadbuilding projects where sub-base material is produced in situ. Using stockpiling conveyors as part of a track mobile set-up is another perfect example of cutting out unnecessary double handling, reducing fuel consumption and carbon production.
We offer a range of sustainable solutions for crushing, screening, and sand manufacturing, including the Terex Autosand® machine which produces high-quality Manufactured Sand (M-Sand), an alternative to river sand. Over 100 Autosand® machines have been supplied across India, with one of the largest installations being able to produce 300 tons of M-Sand per hour.
Our Ecotec range of machines works towards sustainability by producing Alternative Fuels from Municipal Solid Waste (MSW) currently accumulating at landfills for cement and waste to energy plants, preserving fossil fuels and improving community living standards.
Our compact range of crushing machines such as jaw crushers and impact crushers under our EvoQuip brand, are being developed to cater to projects in the Construction and Demolition (C&D) waste crushing very close to cities.
Terex India has evolved its product range to reduce environmental impact by making equipment as fuel efficient as possible, using direct drive systems for its crushing range and improving engine capabilities and drive-line design for its screening range. Direct drive systems are proven to be 13 to 18 per cent more fuel efficient when compared with hydrostatic, resulting in significantly fewer carbon emissions, while improvements to our screening range have reduced engine speeds from 2,200rpm to 1,800rpm, which not only means cleaner engines with fewer emissions but also reduced fuel usage and therefore carbon produced. For example, a typical mid-size screener running at 1,000 hours per year, has a fuel usage reduction of approximately 450 litres, which equates to 1.2 tonne less of carbon produced annually.
The coal sector is also set to grow rapidly for the next few years, so while we already have a range of equipment that customers are currently using in their coal mines, we are also launching new models in hybrid and dual-powered machines, which will further help in the reduction of fuel consumption.
Another important tool for fuel efficiency is telematics, launched in India in 2021. In-depth machine telematics helps customers see how and where their machines are being operated, understand fuel consumption, and carry out fault-finding activities to ensure optimised performance. Customers receive actionable information, with customised reports and suggested actions for more fuel-efficient operation.
Terex India's commitment to sustainability and making a positive impact on the environment continues with electric and hybrid solutions, giving customers alternative energy options to operate their equipment. This has been dramatically enhanced to include more fully electric crushers and screeners as well as models powered by innovative combinations of diesel and electricity. These options enable customers to choose which fuel to use, depending on cost, location, and availability, and are of particular benefit to customers who operate in an area where electricity is more cost-effective than diesel fuel, where diesel engine noise is unwanted or on sites where electricity is the preferred energy source.
Key highlights are the state–of–the–art electric-driven Finlay 690i Hybrid Mobile Screen, and Powerscreen 1010E Maxtrak, both of which received acclaim at the recent bauma CONEXPO.
Finlay 690i: By providing customers with the flexibility to run the plant from an external power supply or a standard onboard engine, the Finlay 690i mobile inclined screen has opened doors to low emission screening on multiple applications such as quarrying, mining, sand and gravel and recycling. Additionally, it has been specifically built to meet the needs of users with high output requirements. Terex India was extremely honoured to have Shri Nitin Gadkari, Minister of Road Transport and Highways from the Government of India visit the Terex India booth and launch the electric Finlay 690i Hybrid Mobile Screen. Having a government minister advocate our products and commitment to sustainability was a huge recognition for the Terex India team!
Powerscreen 1010E Maxtrak: The Powerscreen 1010E Maxtrak Cone Crusher offers customers the flexibility to power the plant either by mains electricity or an onboard genset power pack. Either power option presents the customer with significant power along with service and maintenance cost savings. This energy-efficient and productive machine incorporates the proven 1010E Maxtrak Cone Crusher with direct electric drive, automatic tramp relief, and hydraulic closed side setting (CSS) adjustment.
Wash Recycling: Another recent development is in the product offerings from Terex Washing Systems, which provides a broad spectrum of specialist equipment, utilised to 'wash' clean and classify often sub-mm material fractions to produce clean sand and scrubbed aggregates. Jaideep explains "Our customers use these end products across a wide spectrum of needs, including concrete production, asphalt, specialist sands for glass and silicon—the list is almost endless. Not surprisingly, sand and aggregates are the most consumed natural resource after water itself." An example is the FM120 Direct Feed contributes to the economical processing of dust and minerals, which was also on show at Bauma CONEXPO INDIA.
Terex Washing Systems FM 120DF: Committing to India's efforts towards recycling, enhancing, and reusing, this compact static washing plant uses centrifugal force within the high chrome-lined hydro cyclone to remove clay, silt and slime from sand to bring it into the preferred requirement. The range combines a collection tank, centrifugal slurry pump(s), hydro cyclone(s) and a dewatering screen to produce up to two grades of clean sand with reduced residual water content in the final product to 10 to 15 per cent.
In fact, a lot of our equipment is part of the circular economy, which is a big focus area at Terex. The demands of our customers in India are constantly evolving and meeting their needs with a sustainable approach has been a core value of Terex. We host training sessions to educate our dealers and customers on how our products can support sustainable operations. The push for net-zero emissions is evident through our government's initiatives as the Swachh Bharat Mission and Smart Cities programme. It's critical that we dramatically reduce our carbon footprint and Terex India has many solutions available today in support of this.
ABOUT THE AUTHOR:
Jaideep Shekhar is Managing Director – Asia, Australia and EMEAR with Terex India.