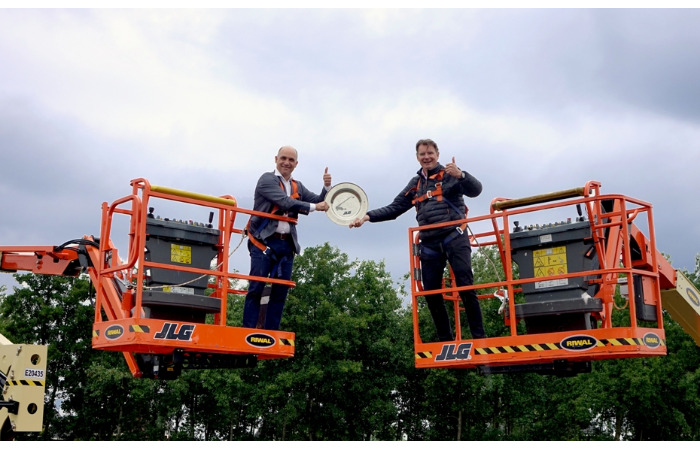 JLG Industries, Inc is celebrating its 25th anniversary this year with Riwal as its official JLG distributor. The relationship was originally established in 1986, with the first purchase of JLG machines for the rental fleet operated by Riwal. In 1995 the relationship emerged to an official distributorship for the Netherlands.
Over the years, Riwal successfully introduced many of JLG's innovations to the Dutch market, such as JLG's ultra booms, hybrid machines and most recently the Lithium-battery operated EC booms and high-capacity models.
The relationship has undergone much change over 25 years. Karel Huijser, General Manager and Vice President of JLG EMEAIR comments, "Riwal and JLG have come a long way since we started working together. We have seen the market mature and continued to develop and innovate the rental market. We appreciate the shared values of safety, innovation, and customer focus between both companies. We are looking forward to continuing our relationship in the future and congratulate Riwal with this milestone."
In support of its international growth strategy, Riwal extended its JLG distributorship in Poland (2015), Croatia, Slovenia, Montenegro, Bosnia and Herzegovina (2018). Most recently Kazakhstan (2019) was added to the list of distribution areas.
Pedro Torres, CEO, Riwal adds, "The long-term relationship between JLG and Riwal is much more than that of a supplier and a customer. It is all about partnership, there is plenty of trust between both the parties. I am very proud of the 25th anniversary of the distributorship and I look forward to a successful continuation of our cooperation."