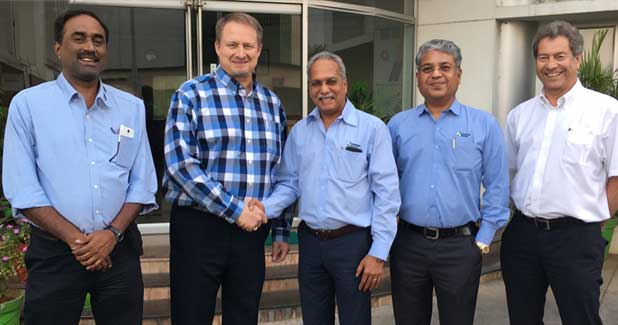 Schwing Stetter India has announced partnership with GOMACO Corporation for the sales and service of GOMACO?s entire range of concrete paving products across the country, except for the state of Telangana. The company plans to target $10 million sales in India during its first year of association.
Kent Godbersen, Vice President of Worldwide Sales and Marketing, GOMACO Corporation
said, ?Schwing Stetter has been serving the concrete construction market in India for nearly 20 years and they will be an excellent partner of GOMACO Corporation and our concrete paving products. We have chosen Schwing Stetter to help lead our efforts in India because of their commitment to the customer, their attention to quality products, and excellence in service.?
On this partnership announcement,
Anand Sundaresan, Chairman, Schwing Stetter (India)
said, ?We are proud to be associating with GOMACO to offer their concrete paving products in India. This is a great opportunity for concreting all the roads in the country. We are pleased to join the world leader in this space to empower India with well-laid, concreted roads across India.?
VG Sakthikumar, Managing Director, Schwing Stetter Sales & Services,
said ?Concrete pavers have multiple applications like building roads for the national and state highways, airport runways, canal lining, high speed rails, etc. We at Schwing Stetter have always been eager to partner with a player that has great expertise in this line of products. Additionally, our country can greatly benefit from a product like this owing to the fact that building concrete roads are cheaper, faster to build, long lasting and require minimum post construction maintenance costs.?