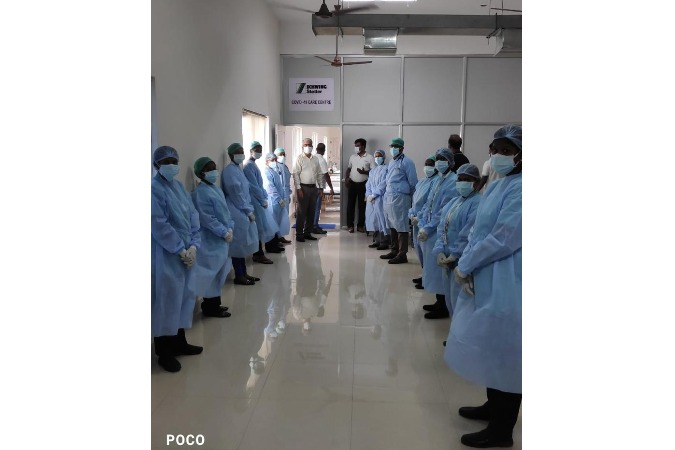 Schwing Stetter India, one of the largest manufacturers of concreting and construction equipment's across the country, announced that it has converted a floor in one of its existing building of its factories – F75 unit in Sri Perumbadur into a Covid care centre. This facility will cater exclusively towards the company's employees and their dependents.
The centre has been set up in compliance with the Tamil Nadu Government's protocols for treatment facilities. Schwing Stetter has deployed:
3 Covid duty medical officers who will be available at the hospital 24/7
6 Covid duty staff nurses
2 Covid duty ambulance drivers
5 beds with oxygen supply
20 beds without oxygen supply
To provide overall well-being for patients admitted at this facility, Schwing Stetter will also organise a Yoga therapist and a psychiatrist/counsellor will be available as well.
VG Sakthikumar, Managing Director, Schwing Stetter India, said, "As we fight this relentless battle against Covid-19, it is in our best interests to ensure complete safety of our employees and their families. The idea behind converting our existing facility into a Covid hospital is to ensure that our people will have access to the right medical treatment to battle Covid immediately. This is, in our own way – rendering some support to the Tamil Nadu Government to curtail the spread of this virus."
Incorporated in June 1998, and commencing its manufacturing operations in 1999, Schwing Stetter India is a 100 per cent subsidiary of Schwing GmbH, a $1.30 billion German concreting machinery manufacturer and a part of XCMG group. Schwing Stetter is a pioneer in manufacturing equipment for concrete preparation, placement, transportation and recycling. Schwing Stetter (India) manufactures concrete batching plants, concrete placing booms, concrete pumps, concrete truck mixers for transporting readymade concrete to construction sites, concrete truck mixers with concrete pumps, concrete recycling plants, plastering pumps, self-loading mixers and sludge pumps.

Schwing Stetter (India) sells and services equipment like concrete pavers, aerial working platform, all terrain crane, cold milling machine, crawler crane, excavator, horizontal directional drilling, motor grader, rotary drilling rig, tower crane, truck crane and wheel loader are our various newer range of equipment that have been launched recently from GOMACO and XCMG. We cater to the requirement of infrastructure developers and also act as an OEM supplier to various cement companies who offer ready mix concrete. Schwing Stetter has its manufacturing units in 12 countries including Germany, Austria, USA, Brazil, Russia, Ostrava, UK, India supported by sales and service centers in France, Netherlands, Austria and Sweden as well as representations in more than 150 countries Worldwide.