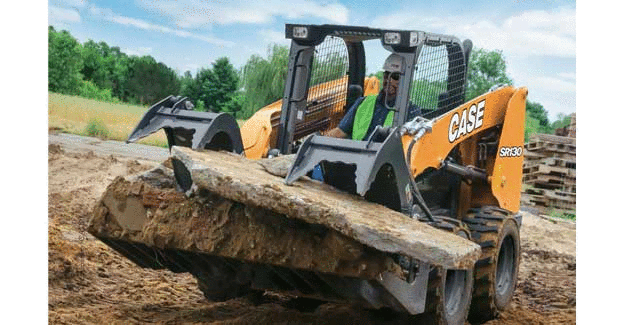 In spite of the vast opportunities available, skid-steer loaders are still looking for a level-playing field in the Indian market. Policy support, together with awareness on the machine and availability of trained operators will steer the growth of this compact equipment segment.
Skid-steer loader is a compact machine designed to operate in restricted areas. This highly versatile machine with a wide array of compatible attachments makes it suitable for a host of applications such as agriculture, industry, construction, demolition, material handling and maintenance. Furthermore, its tight turning radius makes it especially suitable for use in confined areas with limited access.
Applications and advantages
Skid-steer loaders are most suitable for applications in narrow space due to their compact size. With various attachments, they can perform multiple jobs of landscaping, site development, final grading, etc in small areas. In urban areas, underground structures and difficult to reach space, skid steer loader is the ideal option. With the scarcity of labour on the rise, mechanisation of such jobs is the ideal way to meet the requirements. Here skid-steer loaders are the option with their compact size and versatile applications using wide range of attachments. Municipal corporations and municipalities use skid-steer loaders in large numbers for various applications in narrow spaces and light-duty jobs. With rapid urbanisation, use of skid-steer loaders sees a positive outlook.
Skid-steer loaders are being offered in different rated operating capacities (ROCs). These are commonly classified as small, medium and large capacities. A small skid-steer loader maneuvers easily in tight spaces and drives through narrow passageways, making it the best choice for interior work. These are mainly used for landscaping, site development, and final grading and to add soil layers over patios, sidewalks and other areas. They are also preferred for work on underground parking structures, due to relatively smaller size and lightweight. Small loaders are also suitable for small demolition projects and can be equipped with almost any hydraulic attachment.
A medium-size skid-steer loader can be used in other areas where a small loader is not suitable to complete the work. The medium-capacity machine can be used when there is no room for large backhoe loaders or excavators and where digger is not allowed.
Large loaders are suitable for grading work, excavation, drilling, and larger demolition work. Due to its quickness and relatively low profile, a large loader can be moved around the site without the need for transport by a semi-truck. When equipped with hydraulic attachments, a large loader can be used to haul and dump a lot of soil. It can also be used as a telehandler and for forestry operations.
Market scenario
Despite being very useful in a wide range of applications, the market for skid-steer loaders in the country is still very small. The market growth is unstable and is picking up slowly. According to an Off-Highway Research report, sale of skid-steer loaders in 2018 is estimated at about 600 units. Going forward, the sales are expected to pick up again, though slowly, to reach 750 units by 2022. Ajay Aneja, Brand Leader, CASE India says, "Skid-steer loader industry in India was around 500 units in 2018, with year-on-year growth of approximately 20 per cent compared to 2017. As per latest report, we are expecting similar growth in upcoming years also to touch 1,000 units by 2020."
Sunil Tiku, Head - Marketing & Product Support, ACE is optimistic about the market as he says, "The trend for skid steer loaders, going forward, is quite upbeat as the market will witness a growth of 8-10 per cent per annum till 2022."
According to Aneja, SSL market in India is driven mainly by government tenders, used for municipality works and the civilian sector. Tiku elaborates,"Due to compactness and versatility of the equipment, demand of skid-steer loaders is growing from all municipal and urban development bodies, besides industries.
"Market size of skid-steer loaders currently is around 600 to 650 units per year," he adds.
Products and solutions
Skid-steer loader market in India is currently dominated by imported products. While Bobcat leads the market, brands such as CASE, JCB, Caterpillar, Terex (Manitou Group), L&T and ACE also have presence in the market. Indian players like ACE manufacture skid-steer loaders in-house, which provides them the opportunity to offer the products at competitive prices.
Bobcat offers skid-steer loaders in various ROCs. These include Bobcat S70, S450, S590, S650 and S770, according to the company. Currently these products are imported and supplied in the Indian market. However, the company is planning to start production of skid-steer loader from India so that it can offer the products at much competitive way.
Manjunath S, General Manager and Sales Head, Doosan Bobcat India, says, "We are taking our skid steer loaders towards the most versatile ones. It can do a lot of multi-purpose jobs which a backhoe loader cannot do due to narrow work spaces. Our main endeavour is to increase the number of working hours of SSL per day, so that it would increase rental income to hiring customers which can be done by using various attachments for different applications. For skid-steer loaders, Bobcat is offering more than 70 different attachments."
CASE India offers model-SR130 imported from CASE plant in the US. Aneja elaborates, "The SR130 is equipped with reliable ISM engine developing 49 HP. The rated operated capacity is 590 kg. Key features of SR130 are: fuel-efficient ISM engine, excellent serviceability, higher wheel base for better stability, and advanced joystick lever for better controllability."
Tiku says, "We offer our skid-steer loader with reputed aggregates at very competitive and affordable prices to our customers. Also, we offer following attachments with the machine: backhoe, 6-in-1 bucket, ripper tooth, rock breaker, auger/stump planer, snow blower, sweeper collector and pallet fork."
SSL vs other compact equipment
Though there are many compact models available in other major earthmoving equipment categories such as in excavators, backhoe loaders, and wheel loaders, skid steer loaders have their own set of advantages that other equipment cannot perform. Aneja says, "There is no much similarity between skid-steer loaders and mini excavators in terms of equipment or its applications. Excavator is tracked machine mainly used for excavation purpose. However, skid-steer loader is wheeled machine used for small loading applications. Transportation of skid-steer loader is also pretty easy from one site to another compared to mini excavator. This is one of the reasons skid-steer loader is being used more in small municipality or building construction works. In terms of total industry volume, both skid-steer loaders and mini excavators are pretty similar."
Tiku explains the advantages, "Skid-steer loader is a multi-purpose utility equipment as it has option of different attachments which can be used with it. Even excavator attachment can be used with it to provide added advantage to the customer."
Challenges and opportunities
The major challenges faced by the skid-steer loader market in India are limited demand due to lack of awareness among the users about the real advantages and benefits of using a skid-steer loader, lack of trained operators for operating the machines, larger import contents in parts and attachments of skid steer loaders and larger dependency on imported machines.
According to Aneja, skid-steer loaders, despite their versatility, have limited demands due to the popularity of the backhoe loaders and the availability of cheap labour. "However, with increased mechanisation and the scarcity of manual labour, the market should expand in the future. Demand from government sector is likely to continue especially in the civic bodies. We are expecting demand to increase to 1,000 units in 2020."
According to Manjunath, municipalities need to focus on quality when choosing skid-steer loaders. "Today, municipalities are investing in skid-steer loaders and purchasing low-cost machines by seeing technical specification on paper through tender on L1 basis. In fact, they should buy equipment after thorough validation by seeking references and history before making purchase decision, instead of looking at initial cost alone."
Tiku is of the view, "High import content of components like motor and hydraulic pump, etc is the major challenge faced by skid-steer loader OEMs. Besides, most of the attachments are not localised and imports are very expensive. With the focus of current government on major schemes like Swachh Bharat Abhiyaan is big opportunity we see for the future."
Pushing growth
With construction and infrastructure development is on an upward growth, use of various construction equipment will increase in future. Skid-steer loaders being special-purpose utility machines will have a great demand in the emerging scenario of growing urbanisation and reducing trend of manual jobs. In this scenario, how can skid-steer loader market pick up its growth momentum? The only way is to identify the growth opportunities in the market, provide the much needed awareness about the advantages of the machine among the user fraternity, make available the machines and attachments as per the requirement, provide after-market support to the users, promote rentals which can be a great boon to the market, and produce more machines locally, which can cut down the dependence on imports. Also needed is a pool of trained operators. Training and certification needs to be done through reputed government recognised organisations such as the Infrastructure Equipment Skill Council (IESC). Without proper operator training and trained and certified operators, mechanisation cannot bring in the desired results. All these can be done with the help of policy support from the government.
Bobcat is doing their bit in promoting skid-steer loaders and their advantages and bringing awareness among the customers. Manjunath elaborates, "We have introduced a Segment Application Market Management (SAMM) concept and a designated SAMM demo truck which could carry S 450 with seven different attachments. This demo truck covered all across India to give demonstrations at all significant potential pockets to provide awareness to customers about the versatility of SSL. After the completion of one round pan India, we are planning to repeat the activity once again and cover the entire country. This is one of the initiatives we are doing for market creation and reach in India. Another aggressive step is providing attachments to customers on rental basis through our dealers. Buying more attachments along with the machine by single customer needs higher initial cost of investment, which may not required for rental customers. Buying on rent will help the customer do more jobs and increase working hours of SSL with less investment."
Aneja says, "With new tenders, demand for skid-steer loaders is growing continuously. We are expecting similar growth in future. Also, with the new norms coming in 2021, the cost of backhoe loader will go high. This will increase the gap between cost of skid-steer loader and loader backhoe."
Tiku observes, "Scarcity of manual labour in the coming days is going to be a big challenge in India. Mechanisation is the only solution and skid-steer loader as most compact multi-purpose product can be the best substitute for speedy execution of jobs being done in confined areas applications like solid waste management, industries, farming, land development, real estate, fencing etc. Most critical for increased utilisation of skid steer loader is price competitiveness of equipment and attachments."
Market outlook
The future is going to be of more projects, construction and developments. Opportunities are immense for construction equipment and skid-steer loaders are no exception. Aneja says, "As per industry trend, we are expecting industry to reach 1,000 units by 2020. CASE India is also continuously working with our R&D to improve our products as per Indian market requirements. With that, we are also working with our dealers to improve support of existing units."
According to Tiku, market would be around 750 units by 2020 and 1,000 units by 2022. "We would like to be dominant player in this product category by localising most of the components/attachments and offering best return on investment for our valued customers," he says.
Manjunath seeks government support in the market growth of skid-steer loaders. He adds, "Customs duty exemption for government purchases would help the government procure better quality and reliable equipment which would be handy to perform the job at a reasonable cost and high speed."
Growing urbanisation and mechanisation manual jobs are creating more opportunities for compact equipment such as skid-steer loaders. Collective step by OEMs, users, government and other stakeholders in creating more awareness, policy support, market and after-market support, and training can definitely create a level-playing field for skid-steer loaders.
CASE Product features

Productivity: With enhancements in engine power, torque and auxiliary hydraulics, the CASE SR130 is perfect for construction and agricultural applications.
Operator comfort: The wide door, repositioned grab handles and a lower threshold provide easy access to the cab. The SR130 skid steer loader benefits from a cab with up to 25 per cent more internal width, providing greatly improved operator comfort
High visibility: CASE SR130 has wider glazed surface for safer operations, the large glazed surface with ultra-narrow wire side screens, the lowered threshold and thinner front pillars provide the best visibility in the market
Outstanding stability: SR130 rides on a 21 percent longer wheelbase than main competitor, delivering greater stability and comfort and allowing increased lifting capabilities, regardless of jobsite conditions.
Top ranking breakout force: CASE cylinder and chassis design provides maximised pushing power. The cylinder geometry optimises the skid-steer push power, while the bucket support baring directly on the chassis of the machine further adds to its pushing power.
- Ajay Aneja, Brand Leader, CASE India

Bobcat SSL in road construction
Road widening in Odisha was done by using Bobcat grader attachment on skid-steer loaders where the work was happening without disturbing the traffic because of the small size of the machine. The single-lane road was widening both sides by two metre for new construction of state highways and PMGSY roads without causing traffic blocks. Bobcat SSL is an excellent solution for grading, loading to trucks and heap spreading. One can buy a skid-steer loader instead of paying for 10-15 non-reliable labourers, which will be much more productive, cost saving, and environment-friendly.
- Manjunath S, General Manager, Doosan Bobcat India - Sudheer Vathiyath