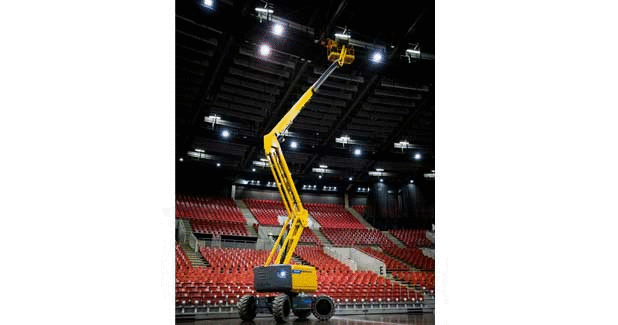 Being the safest means of working at heights, Aerial Work Platforms (AWPs) are naturally the option to work at height safely. However, use of AWPs in India is still limited and is picking up slowly.
With projects growing taller, working safely at height has become imperative. Nobody wants to work under unsafe conditions, especially when working at heights. Depending on conventional means of accessing heights is becoming a risky affair. Use of equipment with proper safety features is becoming increasingly important as human safety is of prime concern working at heights. At the construction and maintenance jobs, especially in taller structures, use of AWPs needs to be promoted and made mandatory.
AWPs for safe work
In today's age where structures are growing taller and higher and when people need to work at heights across sectors, use of AWPs should become mandatory. Souma Ray, Director, Haulotte India says, "Safety, productivity and efficiency are the key drivers to funnel the growth in the use of AWPs. Whilst awareness on the advantage of using AWPs has been increasing steadily, unfortunately we still wait for the government to come out with proper legislations in the context to working at heights."
AWPs find use across sectors where people need to work at heights. Be it construction, infrastructure, facility management, manufacturing plants, plant maintenance, metros, power sector, oil & gas, airports, shipyards, defence, hospitality, malls, hospitals, etc, AWPs are becoming exceedingly popular and being used all across. Application would vary from sector to sector, for e.g., maintenance work, construction-related (erection, fabrication, PEB, HVAC, lighting, painting), and all such works wherein people need to work safely at heights.
Gopal Modi, Executive Director, Mtandt says, "AWPs are the best option as compared to ladders or scaffolding for working at heights. With the current trends of faster project completion, increased emphasis on human safety, higher importance on worker comfort and convenience, it's all the more important to use AWPs for working at heights."
The most commonly preferred type of AWP is the boom lift, which again is of two types. The articulating boom lifts are used more during maintenance while the telescopic ones are preferred during construction stage. There is yet another kind of boom lift which is only for architecture related applications such as malls and IT parks, airports and so on.
According to VG Sakthikumar, Managing Director, Schwing Stetter India, AWPs from XCMG help in operator safety, increased productivity leading to faster project completion, less downtime, enhanced outreach and flexible height which determine their usage in project site for working at heights.
Demand trends
According to Ray, awareness across sectors which entail working at heights has been increasing steadily as more and more people now realise that such machines not only allow work safely at heights but also increases productivity. And this trend is growing across the country. He adds, "Today's customers seek machines that give them the best value for money, ease of operation, ease of maintenance, one that can operate both indoor and outdoor (on rough terrain conditions), silent in operation, and environmentally friendly. Understanding the need of the hour, we at Haulotte have launched our PULSEO generation of machines which address all the said parameters. The first such machine, our HA20LEPRO electric articulating boom ordered by our close rental partner Shakti Equipments, Mumbai was displayed by us during the bauma CONEXPO INDIA 2018. This machine was a showstopper from us in the exhibition and it generated a massive interest amongst the visitors. For the first time in the AWP industry and as the first full range manufacturer, we are offering a five-year warranty on this machine."
Modi feels that the industry in general is showing encouraging signs of switching over from conventional access devices to AWPs. Even in industries where traditionally ladders were used, the shift towards AWPs is quite visible in recent times. He adds, "The trend in India is positive and has caught on momentum quite well in the past one decade, so much so that even late entrants in the AWP industry are seeing very good demand."
As a new entrant in this space, Schwing Stetter India offers XCMG's range of AWPs which include models ranging GTJZ10, GTBZ14J, GTJZ1012, GTJZ1212, GTBZ18A1, GTBZ22S and GTBZ30S. According to Sakthikumar, AWPs from XCMG adhere to the safe, reliable, environmentally friendly and efficient design concept. He explains the advantages and applications, "Multi-level integrated protection technology for aerial manned operation ensures the safety and reliability of operations in complex emergency environment. It is predominantly used in firefighting and is growing across sectors of construction, facility management, maintenance, manufacturing, and infrastructure like roads, airport, power, mining, refineries, hospitality, telecommunication, etc."
The user industry is not so serious in moving, but with more awareness on the usefulness of using scissor lift and aerial working platform, it will largely help the contractors with their time-bound projects to be completed faster.
Challenges
In the current industry scenario, access equipment and AWPs are considered as secondary machinery which can be used if it is necessary. So many users and contractors opt for other cheaper and conventional means to reduce cost. Since there is no proper regulation for mandatory use of access equipment with proper safety features, people are reluctant to use such machines. Also, there is a lack of availability of trained operators to operate these equipment. All these together have created a challenging environment for AWP manufacturers and providers.
Ray elaborates, "The AWP industry in India continues to be plagued by three major factors. First is of course the lack of any legislation for working at heights which is causing a hindrance in the growth that the industry needs to be experiencing in India like in other emerging BRIC nations like Russia, Brazil and (most importantly) China which has started to witness exponential growth. Second is the unabated import of used machines of any age and condition (since India doesn't have any embargo towards such imports), even brings in machines which have passed their serviceable age and put to use. Third is lack of proper operator training specific to AWP. In matured markets, the users themselves are trained to operate the machine, whereas in India, every machine generally needs to go with an operator who's job is to operate the machine from the ground controls and lift the workmen to the requisite heights. This not only involves additional manpower, but also affects the rental rate of a machine.'
Modi observes, "The main challenge in India is to educate the buyer of the perils of the inferior quality of AWPs manufactured or assembled by some unscrupulous organisations. As there is a human life at stake here, the main challenge is to make the buyer understand to choose a better machine while procuring an AWP for his use.' According to Sakthikumar, awareness is important on the need to use aerial work platform for working at heights of 3 m and above, which helps with increased productivity, thereby helping a project to complete faster. He adds, "Acceptance on the need for operator safety by using an AWP in every factory is still in its nascent stage in India.'
Srivatsan Jayashankar, CEO, Atlas Simulations, sees lack of adequate training to AWP operators as a major challenge in terms of safety and equipment productivity. He adds, "When a worker is not properly trained to operate an aerial lift, serious accidents are likely to occur due to the massive size and weight of the aerial lift. Boom lift accidents, included amongst aerial lift accidents, are some of the highest because of the incredible reach power and height of these machines.'
According to Jayashankar, the skilled labour force in India is very limited. "Traditional training methods are proving insufficient when working under time pressure and during emergency situations. On-site training means experienced personnel and equipment downtime. There is also added language barrier when training the workforce that leads to loss of information during training. There is a strong need for a standardised training content that increases awareness of best practices, clarifies responsibilities and addresses safe use of equipment,' he adds.
Safety imperative
Safety is considered to be the highest priority when working at heights. Adequate safety precautions can bring in improved efficiency and productivity at a project site. "Unfortunately, India still doesn't have any regulations in place on working at heights. Unless we have laws in place that make it mandatory to use AWPs beyond a particular height, as it exists in the developed countries, the use of AWPs cannot be enforced and lives shall continue to be in danger, fatalities shall continue to happen because of use of improper methods and practices while working at height,' observes Ray. He further adds, "However, it is time that we the major manufacturers start working together on it with the relevant authorities and have the Aerial Platform Association of India (APAOI) along with us. I am sure if we pool in our efforts and singularly work at creating the demand for putting up legislation for working at heights as it exists in the matured markets, our government agencies like National Safety Council would also support us in this bid.'
Modi reflects the same, "There isn't a strong regulation in place. Because of this, there are still some sectors where AWPs are viewed as costly devices yielding insufficient returns on the investments made.'
Sakthikumar highlights the Central Government Act of Section 32 in The Factories Act, 1948, which says: "Means of access -In every factory: (b) There shall, so far as is reasonably practicable, be provided and maintained safe means of access to every place at which any person is at any time required to work. 2[(c) when any person has to work at a height from where he/she is likely to fall, provision shall be made, so far as is reasonably practicable, by fencing or otherwise, to ensure the safety of the person so working.' According to him, this Act is for mandatory use of AWPs in a factory environment in India. In developed nations like the US, it is mandatory to use equipment for 'Working at Height' (of 3 m or above).
Rental market
Rental market for AWPs has seen a turnaround in the recent past as many rental players have started acquiring new and technologically advanced equipment that can be used across a wide industry segments and applications. Ray observes, "The Indian AWP rental market that was dominated with only imports of used AWPs from across the world has started emerging from its cocoon with many rental players having started to invest on new machines. Besides the traditional players, we also are seeing new parties entering into AWP rentals, which is a very encouraging sight. As in all matured markets, AWP industry growth is sustained and fuelled by the rental industry, we see the same situation in India which today is at the 'tipping point' of growth.
Modi elaborates on the importance and relevance of rental players in the AWP segment, "AWPs are categorised into capital goods and therefore follow the same pattern of high acquisition and maintenance costs, but with longer ROI because these are not production machines. This makes it that much difficult to justify outright purchase. Thankfully, there are several rental companies in both organised and unorganised sectors offering AWPs on hire basis. The fleet sizes of all these rental companies are quite adequate to meet the demand and more machines are planned to get added to satisfy the growth.'
Sakthikumar brings forth the rental market trend in India, "Aerial work platform rental market is expected to exceed $24 billion by 2024. Compared to the US, Europe and other developed countries like Japan and Singapore, the Indian AWP market is still in the process of maturing in terms of knowledge, use, and the importance of the equipment.'
Growth opportunities
With the growing awareness among the users about the advantages and importance of AWPs, the market sees a positive outlook in the coming years. Especially, organised players are using AWPs in large numbers in key projects and many rental players are also upgrading their fleet with new equipment to suit the emerging application requirements.
Ray on a positive outlook, says, "The Indian AWP market is poised for a strong growth in the coming years. As things stand today, demands are increasing across sectors and with the gamut of construction and infrastructure projects under execution and planned in the country, this demand is going to increase exponentially.'
Focusing on the future growth of the AWP market, Modi suggests, "A lot of education to end-users and professional training to operators and technicians will help in the AWP market growth. But the rental companies and the manufacturers need to be agile in terms of better fleet maintenance, spares availability and standby machines so that the confidence level of the customers are always high.'
He further adds, "Many large Indian manufacturers of hydraulically operated boom type machines are yet to venture into AWP manufacturing. This is necessary in the coming years to ensure in bringing down the procurement costs of AWPs and will certainly help in increasing the market even further. Being safety-related equipment, the government needs to do its bit by offering subsidies and concessions for making these more affordable and increasing their reach to all segments of the society."
Sakthikumar provides an estimate on the future requirement of AWPs, "According to industry estimates, there would be a requirement of 200 new equipment additionally when the current projects reach peak of their construction by the end of this year. Growing awareness about utility of AWPs has resulted towards increasing demand from industrial and general infrastructure projects for construction and maintenance purposes.
Going forward, there is going to be an increased requirement of AWPs considering the kind of projects coming up and the need to maintain them once they are operational. It would be ideal now to bring in a stringent regulation on working at heights by modifying the existing section in the Industry Act. There should also need more trained operators to operate the new generation AWPs as well as the existing range so that the speculation among the users on the practicality of employing such machines at work will be eliminated.