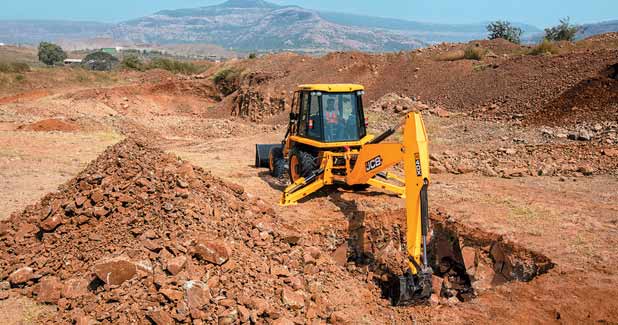 With the government plans to invest Rs 102 trillion in infrastructure development in the next five years, the demand for construction equipment will be immense. Earthmoving equipment being the largest used in across the infrastructure projects will play a major role and new innovative features will aid the progress of infrastructure development in the country.
With more than 50 per cent market share, earthmoving equipment constitutes the major infrastructure equipment segment in the country. Considering the large amount of excavation and earthmoving activities in construction and mining, earthmoving equipment is the backbone of the infrastructure development and construction activities in the country. Though the economic slowdown has impacted the sales growth this year, from the third quarter of this fiscal, the equipment market has seen picking up and the trend is expected to continue in future.
Current market scenario
India has always been one of the largest markets with high customer demand for earthmoving equipment across the world. Currently the market is going through a slow pace of growth. However, Jasmeet Singh, AVP, Corporate Communications and Corporate Relations, JCB India, is of the view that owing to the investments over the last few years in the infrastructure sector and the focus on construction (road building and real estate) projects, the construction equipment market in India, will overcome the slowdown and is expected to pick up in the near future.
According to Puneet Vidyarthi, Brand Leader, CASE India, the year 2019 showed a slowdown due to the sluggish economic conditions of the country and impacted every sector. "We expect this phase not to last too long and with the kind of reforms being taken into consideration the conditions will soon change," he observes. In a bid to further give a push to the country's infrastructure, the government has set up a task force to draw up plans for building infrastructure worth Rs 100 trillion ($1.4 trillion) over the next five years. The National Highways Authority of India (NHAI) has been spending nearly Rs 700 billion annually on road construction; NHAI is also trying to involve private investments to improve the sector's crises. "With aiding steps taken to improve the sectors monetarily we expect some stability in the demand in near future," points out Vidyarthi.
According to Hyunsoo (HS) Kim, Director-Commercial, Doosan Bobcat India, the demand trend has been on the decline this year compared to last year. This is seen across many product categories barring one or two. "Overall we see 20 per cent reduction in sales for compact equipment and backhoe loaders compared to last year. The drop is seen more for the backhoe loaders. In the compact equipment, the skid-steer loader has remained stable while mini excavators have witnessed steady 15 per cent growth. But in general excavators, sales also have been affected. However, we are encouraged to see the monthly industry size becoming better for the last three months."
Manish Handa, Business Head-EED Division, Action Construction Equipment, adds, "As compared to last year, the demand of earthmoving equipment is down by around 20 per cent for all the operations."
Demand to pick up
The earthmoving equipment market has evolved in India from depending largely on backhoe to using other equipment such as excavators, wheel loaders, skid-steer loaders and dozers depending on the application demands. Singh elaborates on the trend, "As for the demand in machine-type, backhoe loaders have always been the choice of the customers. The trend however, is evolving with a rise in demand of excavators and telehandlers as well. Excavators, wheeled loaders and compactors have also made their space in the market. We see all of these machines being used in almost every construction site in sectors ranging from roads and highways, railways, irrigation, rural roads, and housing, to general construction, and maintenance."
Kim adds, "Our equipment range has also followed market trends. However, our products are in the compact equipment category which is relatively less affected. We are market leaders in skid steer loaders and we have not seen any major drop compared to last year and it remains flat. We continue to do well on the mini excavator. We have just recently launched our B900 backhoe loader and we are at the initial stages."
Handa explains ACE's initiatives in the segment, "We have recently started our earthmoving equipment range with the introduction of the all new backhoe loaders AX-124 and skid steer loaders. Both the equipment are generating good response from the market and we are confident towards building sizable volumes in the coming years."
Demand drivers
According to Singh, roads and highways is the key growth driver for the earthmoving equipment industry at the moment and will continue to give a strong impetus to the sales of the equipment. He adds, "In the coming years, we also expect rural economy to emerge as the next key demand driver. As rural further integrates, we are hopeful of seeing more infrastructure development in this sector; Pradhan Mantri Gram Sadak Yojna has been one such program. Also, with a focus on water, Har Ghar Jal and Conservation projects, lakes and reservoirs are further expected to boost demand. With large-scale infrastructure projects such as Sagarmala, Bharatmala and Jal Marg Vikas in the pipeline, together with government's rising focus on urban rejuvenation and railways, the long-term trajectory looks positive."
Emerging technologies
Technology plays a pivotal role in the efficiency and productivity of a machine or equipment. Most equipment manufacturers have revived their products with added features of advanced technologies on IoT and digital platforms. The recently held Exon 2019 has seen many such technologies on display. Speaking at the event, Roads minister Nitin Gadkari advised contractors to use technology to bring in efficiency and productivity in their execution and thus bringing down total operational cost.
Elaborating on the technology trends, Singh says, "A new trend that has evidently been on the rise is the use of technologically-advanced machines in construction, offering safety, fuel efficiency, multi-tasking and operator comfort. JCB India, as a responsible CE manufacturer, has been fulfilling this demand by producing Smart machines."
According to Vidyarthi, technology has been a "game changer" in 2019 and a similar trend is seen buzzing in the earthmoving equipment sector as well. "Automated and computerised machines are becoming extremely popular due to their real-time applications.
Some of the recent trends and advancements which have taken over the earthmoving equipment are adoption of IoT and newer technologies, Industry 4.0 revolution, Eagle eye telematics - GPS based tracking system, artificial intelligence, operator comfort and safety," he adds.
Kim elaborates,"Telematics system is gaining traction amongst recent trend. In certain developed markets Bobcat has introduced Telematics in the machines called as "Connected Machine" that offers remote access to information of the equipment including location, machine health, performance, fuel levels, and operator performance. Computerised machine diagnostics for troubleshooting and checking machine parameters have made its way into the compact excavator segment as well. We already have them in our mini Excavators we sell in India."
Like most other markets, Indian excavator market is totally dependent on engines running on conventional energy. But in the passenger and commercial vehicle segment, government has started promoting electric vehicles in urban transportation under National Electric Mobility Mission Plan. "Though electric vehicles like electric dump trucks and shovels are being used in the mining segment, we do not see an immediate demand for those technologies in the compact excavator market.
However, globally many companies have started developing fully electric excavators in the"less than" 2T operating weight category which is being selectively launched in developed countries in Europe and in the US," says Kim.
He adds, "Bobcat also has fully electric version of its most popular model E10 which has been launched for Europe market. Though some of the trends look currently too advanced for India, we feel we will move faster catching up with developed countries with faster adoption rate."
According to Handa, the recent technology trends of earthmoving equipment can be divided into three major categories: Advanced hydraulics for optimum efficiency and higher productivity; GPS system - advanced telematics system to manage and monitor machines remotely; and BS IV upgradation.
Technologies for better performance
Construction equipment manufacturers have come out with latest innovative technologies in their machines. Robotics, the Internet of Things (IoT), data analytics, telematics and artificial intelligence are a few digital solutions or new technology trends that are bringing revolution in the space. Staying committed to the infrastructural growth and development of the country, JCB India today manufactures over 60 different technologically-advanced products in eight different categories which include backhoe loaders, excavators, compactors, telehandlers, wheeled loaders, skid-steer loaders, mini excavators and generators. According to Singh, the rise of informed customers and innovative technologies has made the earthmoving equipment industry reshape the overall operations of the organisation.
The integration of production techniques with the latest technological developments has the potential to make road equipment more efficient.
"All the new JCB machines manufactured, exhibit a seamless blend of technology and digital innovation in terms of design, performance, efficiency and safety, thereby bringing to light JCB India's effort towards meeting the ever-rising demand for next-gen construction machines used for building a new India. Some of the new intelligent machines can save fuel with fuel savings of up to 12 per cent and lower maintenance cost of up to 22 per cent and come with "IntelliPerformance" and "IntelliDig" technology which gives customers real time information about the performance of the machine.
All these machines are connected via LiveLink - an advanced telematics technology that benefits customers in better fleet management through remote monitoring and management of the machines. Our machines are also geo-fenced and can be located easily. In the past few years using our technology, police has recovered more than 40 stolen equipment of our customers."
CASE offers its latest Eagle Eye telematics solution, present in CASE's loader backhoe, compactors and now in the newly launched excavators, for enhancing the performance and efficiency of the machine. Vidyarthi elaborates, "In the loader backhoe segment, we have 770 EX OL, 770 EX PRO, CASE 770 EX Magnum PRO and 851 EX PRO. The PRO series is equipped with Eagle Eye telematics system. Eagle Eye is a real time vehicle tracking and communication based on GPS technology which can help keep track of your machines. For example, if the fuel box is empty or the machine is working far away from its prescribed geographic area it automatically sends a message regarding the same to the concerned person hence controlling the overall activity of a machine. CASE graders are equipped with CRDI electronic engines for on-board diagnostics, having a laptop connectivity to download the entire data log and analyse the past and ongoing operations/also get to the root cause of any failure that may occur during operation. This technology offers an advantage over any mechanical engine grader which gives more control and more visibility on the usage of the grader."
According to Kim, total cost of ownership plays a big role in the buying process. He adds,"More than just features, it is a combination of regular maintenance, rightly priced parts, fuel efficiency, quality components which results in longer life of machine and the durability factor. It also includes the components such as financing offering with the best interest rates, in all, the whole cumulative offering becomes the Total Cost of Ownership. The after sales services such as parts availability and maintenance become crucial to the customer. Downtime of the machine effect the customer's overall productivity and with our dealer network, we support the customer with quick resolution of their query."
Handa adds, "Our earthmoving equipment range provides complete value proposition for customers, offering power packed performance at attractive price. Manufactured with precision, they are extremely fuel efficient, offering higher productivity and lifting capacity, low maintenance cost and enhanced operator safety and comfort. The recently launched all new backhoe loader AX 124 is powered with highly efficient 76 hp and 96 hp Kirloskar engines. The machine comes with improved hydraulic pumps and robust structures with higher breakout force while digging or loading materials, ensuring 10-15 per cent higher productivity. Fitted with globally renowned axel transmission from Carraro and hydraulics from Parker, it is available in both two-wheel and four-wheel drive options to cater diverse customer needs. We are geared up to meet BS IV emission norms and also offer telematics, AC cabin and rock breaker as a customised option (on demand) to our customers. With two years warranty on machine structure, we stand out in the market for our excellent customer service and after sales services. To cater timely customer demand, we have developed a pan-India robust aftersales service network of dealers and area offices, operating out of over 100 locations and supported by 21 regional offices based at key Tier-I and Tier-II cities. These regional offices are connected with product and zonal heads through our marketing headquarters and a dedicated product support division based out of Faridabad (Haryana).
Market outlook
In spite of the current slowdown, the construction equipment market has all the reasons to bounce back soon. The Roads and Highways Minister Nitin Gadkari announced major investment plans in the roads and highways sector that will push the construction equipment market towards a growth of 40 per cent in the coming years. And now, the Union Finance Minister Nirmala Sitharaman has announced Rs 102 trillion investment in infrastructure sector, in the next five years towards becoming $5 trillion economy by 2024-25.
Vidyarthi elaborates, "Considering the challenges faced by the industry this year, government has taken a number of corrective measures. Recently, Prime Minister took notice of the sluggishness in the sector and directed all ministries and departments to expedite pending payments to contractors and construction companies. Similarly, in the recently concluded Excon 2019 in Bengaluru, the Road and Transport Minister Nitin Gadkari added to the hope of the construction industry by announcing that the Central Government will be investing Rs 2 trillion in the upcoming year and within the next five years, the total government expenditure on the road infrastructure will be about Rs 17 trillion. To cite some more opportunities by the government to promote the sector, the government has set up a taskforce to draw up plans for building infrastructure worth Rs 100 trillion ($1.4 trillion) over the next five years. The Highway Ministry will also line up projects worth Rs 500 billion to be awarded by next year. With curative steps taken by the government to improve the sector, we expect some stability in the future and a good momentum in the earthmoving equipment market.
Singh adds, "We believe that the current challenges are transient. India's construction equipment industry has started seeing green shoots and some amount of recovery is expected in the next 6-8 months. Therefore, we are anticipating a positive turnaround in the industry in the middle of next year. With more than 60 types of products across eight different categories, we are ready to leverage the positive market environment anticipated for FY20. Staying committed to the India growth story, JCB India will continue to focus on investing on indigenisation, manufacturing, skills and innovation during any future down cycles to ensure good profits post recovery."
Kim explains on the market outlook, "Currently there is a slowdown in the construction and earthmoving equipment market. But we see this more as a temporary phenomenon as there is still a need for building up infrastructure. The government is taking efforts and working towards a target of economy reaching $5 trillion in the next five years. This is expected to come through government and private investments. We expect the market to get better from third quarter of 2020.
So the future looks promising and we expect the shift towards more mechanisation to result in steady growth for the equipment market.
From a technology perspective, we feel that more customers will start adopting Telematics for better monitoring and management of the machines."
Handa points out the market outlook specifically on backhoe loaders, "Incidentally, in earthmoving equipment segment, backhoe loaders hold the largest market share in India besides being the largest equipment segment in terms of volumes. And it shall continue to be like this for years to come. Currently, the demand for backhoe loaders is 35,000-40,000 units per year and is expected to reach the peak demand of 50,000 units in next 3-5 years.
The Central Government has already announced its mega plan to invest Rs 102 trillion in infrastructure development in the county in the next five years. This investment will spread across the major infrastructure developments in roads and highways, railways, airports and ports, urban and rural infrastructure, and industrial infrastructure in the country. In this scenario, earthmoving equipment will be in top demand with every project requiring various types of earthmoving equipment. The future belongs to technology and technologically advanced machines will drive the growth of the construction and infrastructure sector.