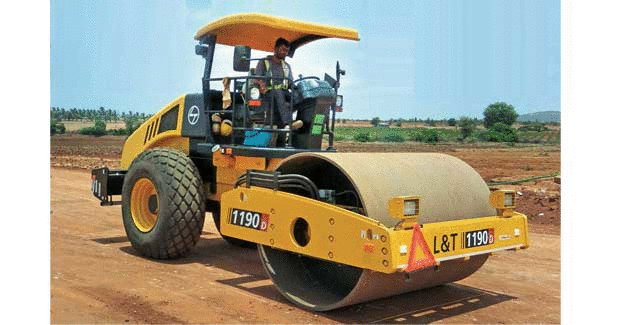 The roads and highways sector is expected to bounce back soon with the government's corrective measures to combat slowdown and the large number of projects planned in the coming years. The road equipment players are bullish on the future growth prospects.
As the backbone of infrastructure, roads and highways has a prominent place in the overall development of a country. For the past few years, roads and highways has been the growth engine of the construction equipment market in India. However, in the past one year, the sector has slowed down due to various reasons. This has of course affected the road construction equipment segment as well.
Market realities Road sector for the last few years has been growing at a faster pace. Till recently, the roads and highways sector has been the key growth driver for the Indian construction equipment industry. The national highway projects were being executed at an average pace of 25-30 km per day for the last 3-4 years. As per the Ministry of Road Transport and Highways data, in FY2017-18 total 9,829 km roads were constructed, followed by 10,855 km national highways during FY2018-19. However, 2019 is seeing a demand compression due to a variety of reason. Fewer awards of contracts, limited budgetary support, high risk aversion of public sector banks to infrastructure projects, liquidity position of NBFCs, and disruption in construction activity during monsoon and high cost of land acquisition are the factors adversely affecting the sector. According to the latest ICRA report, despite the increased capital outlay for roads, railways, and metro projects in the recent Union Budget, continued slowdown in project awards, payment delays to contractors, change in the awarding model for road projects and the overall uncertainty in the economy has led to a sharp decline in expenditure on roads during YTD FY2020.
Ramesh Palagiri, Managing Director and CEO, Wirtgen India, says, "Both the awarding and construction of road projects have slowed down in the last financial year 2018-19 and the trend continues even in the current year. We expect this scenario to continue for some more time, before commencing the high level of activity which was seen in the previous years."
According to Jaikumar Kamath, Head-Road Machinery Business, L&T Construction & Mining Machinery, the National Highways Authority of India (NHAI) has large debts on its books now and the Ministry of Road Transport and Highways (MORTH) is exploring innovative ways of raising money. He adds, ôAs road projects are assets and need long-term finance spread over 15-20 years, these assets need "patient funds".
Canadian pension funds have started investing in the infra bonds of Indian road developers and companies like IDPL and IRB. NHAI is also mulling the sale of a few assets which will help raise the finances required for awarding newer projects. The debt of NHAI has increased to about Rs 1.7 trillion which makes the banks reluctant for further funding, until NHAI brings in further equity. The officials in MORTH and NHAI maintain that NHAI has no issues with regard to raising capital for the projects."
Jasmeet Singh, Associate Vice President-Corporate Communications and Corporate Relations, JCB India also feels that the recent times have witnessed an overall economic slowdown, which has been directly affecting the construction equipment sector. "The liquidity related challenges around NBFCs have inevitably impacted the industry. Further, 2019 being an election year, has contributed to the overall stress leading to demand compression," he adds.
However, VG Sakthikumar, Managing Director, Schwing Stetter India sees industry growth over the long term as he says, ôThe roads and highways segment in India will be good for a long time but 2019 is an exceptional year because of too many projects got awarded and are in the various stages of implementation from 2018. Due to various reasons, 2019 did not reflect big off-take in the machinery. But it will not be correct to judge the overall road construction in India. We see it to have a great future for the next decade."
Supporting measures
Government in the current Budget has increased allocation for road projects. Also, to combat the adverse situation, the government has come out with plans for the roads and highways development in the country. Also there are other measures to support the segment by giving contracts for 65 highway projects in three months. Will these measures have a positive impact on road construction activities and the equipment market? Yes, says Sakthikumar, "It is definitely a positive on the construction equipment business. Once we have other issues sorted out like progress of projects, payment, NBFC funding for equipment purchase and overall improvement of sentiment on infrastructure industry, we expect our business to become normal like in the previous years."
Palagiri is of the view, "The current budget allocation for road projects is definitely a positive sign. However, the NHAI has to relook at various other options for self-financing of new highway projects. The MORTH is looking at the TOT and the BOT projects, the funding for which could come from monetising the existing highway projects which are already operational."
Kamath is positive on the government's corrective plans though liquidity issues are making things difficult. "The Central Government has announced that it would identify infrastructure projects worth Rs 2 trillion for awarding in the near future. There will be more clarity soon on which projects will be included in this funding. The road construction equipment market is likely to see a growth in demand once the projects are announced. Liquidity issues are making it difficult for the contractors to execute existing road projects at a faster pace and this impacts the off-take of construction equipment," he adds.
Singh also is positive on the market revival as he observes, "Given the investments earmarked by the government for the roads and highways sector, we foresee a considerable growth potential in the road compaction segment. There is a requirement for building a world-class road network in India, especially in rural parts of the country. This presents a significant opportunity for compaction equipment."
During past five years, government has made huge investments in the roads and highways construction sector. In Budget 2019 too, the government emphasised on the construction of Bharatmala Phase II, upgradation of roads under Pradhan Mantri Gram Sadak Yojana (PMGSY) under Phase III, and comprehensive restructuring of national highway programme which automatically impacts the demand of construction equipment favourably. According to Puneet Vidyarthi, Brand Leader, CASE India, these projects have been a growth driver for road equipment segment. "With the implementation of these projects, we can hope for an increased demand of road equipment."
Opportunities
According to Palagiri, the investment in rural road projects under PMGSY continues and the opportunities in this segment continue to be high. "However, in the highway segment, there has been a significant slowdown in the last 4-5 months and we expect this to continue for some more time, before revival next year," he adds.
Kamath sees some opportunities in the maintenance of existing roads. "The existing rural roads which were constructed a decade ago need maintenance. India being a tropical country with heavy rains, the road surfaces tend to deteriorate and the top surface periodically needs to be re-laid. This activity drives the demand for pavers and compactors. The expectation of the road users to have a smooth road surface puts demand on the authorities to maintain existing roads in good condition. Road maintenance would throw a large opportunity for equipment demand in the years to come." As far as the opportunities in new projects, he adds, "Many new projects have been announced like the Mumbai-Delhi Expressway which is estimated at Rs 2 trillion. A major cost of projects goes for land acquisition, where costs have been steadily increasing and the state governments are bound by the state support agreements to complete the process in time."
Despite the slowdown, there is still a thrust from the government for creating infrastructure in India. Singh says,"At JCB, we are fully geared up to leverage this opportunity with our world-class range of product solutions, especially in road construction. JCB offers the finest road and soil compaction equipment which are highly versatile with high compaction forces."
On the opportunities in the rural infrastructure sector, he adds, "The rural economy will be the key demand driver for the next many years. As rural further integrates, we are hopeful of seeing more action in terms of building infrastructure in this sector. The PMGSY is one such program."
Sakthikumar also reflects the same, "India has a lot to do on rural road connectivity and improvement of road quality in the rural area. So across India, various states have different level of road development and if India has to have similar type of road connectivity across, it gives us a great opportunity for rural roads and national highways through various projects announced like Bharatmala, Sagarmala, coastal roads, horizontal and vertical national highway corridors crisscrossing the country, etc."
Vidyarthi says, ôIndia has the second largest road network across the world with total length of around 5.9 million km. Significant progress has been made in building rural roads since last few years, thus, road construction activities and related equipment demand has grown considerably. Important announcement made by the government for 1.25 lakh km of roads under PMGSY Phase III at an estimated cost of Rs 802.50 billion has had a positive impact on the construction equipment segment. This large scale development of rural roads is expected to have a positive impact on the road paving equipment demand as with the demand for construction of rural roads, there will be an increased demand for road equipment."
Challenges
Apart from the challenges from the current economic slowdown, the road equipment is facing challenges from various other fronts as well. Kamath elaborates, "Road equipment industry which gets charged 18 per cent GST, is also taxed an additional 5-15 per cent as Lifetime Tax, when the machine is required to be road registered. This makes the equipment more expensive. In the more advanced economies, the capital goods get taxed at a lower slab (8-12 per cent), as these equipment are used for infrastructure building. Keeping the tax rate low for capital goods will eventually help keep the input cost for infrastructure also lower. While Road Tax is a state subject, it will help if there is rationalisation of rates."
Vidyarthi commends, "One of the major challenges in the slowdown is the pace of construction of roads and highway project due to limited budgetary support. We believe that the government's efforts of encouraging private investments in highways will support the road sector growth. Also, we expect that with several reform measures being discussed and announced by the government, this phase is not going to last long and the conditions will improve soon."
According to Sakthikumar, the slowdown has created a stock pileup in the construction machinery manufacturer's end. He adds, "For the real production activity to pick up, we have to wait till all these stocks clear. However, for that to happen and the market to revive, we have to see actual sale of machines to pick up in good volumes which we are hoping will happen in the upcoming months from October-December. The current issue is majorly a sentiment issue. Even though a combination of factors such as increase in NPAs and liabilities along with shrinking funds of NBFCs have adversely impacted sales in automotive and construction equipment sector. Contactors payments and delay in allotment of new projects have also contributed to slowdown which we are hoping will all get sorted one by one."
Product and Technology trends
Road equipment is one construction equipment segment which has seen some revolutionary technology innovations and product introduction with advanced features. Palagiri explains on the technology initiatives from Wirtgen Group, "Vogele has been the industry pioneer over the last 50 years and has introduced several innovations like the pressure bars and electric heating of the screed, NIVELTRONIC Plus operating concept and ErgoPlus operator features. With our Dash-3 pavers, we also offer the EcoPlus which helps in saving fuel, AutoSet Plus, PaveDock Assistant etc." Vogele also offers several other innovative products like the Spray Jet paver which does the tack coat and paving with the same paver, mobile feeder which are now being used for building of airport runways and expressways, and also the InLine paving technology. The most recent innovation from Vogele is the RoadScan which helps the operator of the paver to know the exact temperature of the MIC as it is being paved. Sensor pavers play an important role in getting the right levels and grades when building the roads. The final finish of the road depends to a great extent on the accuracy delivered by these pavers in addition to the mix quality and temperature at which it is laid and compaction.
"With technologies like InLine pave, we are able to pave both the dense bitumen macadam and the wearing course in a single pass operation, as hot-on-hot, thereby eliminating the tack coat and thus saving in other costs," he adds.
For compactors, HAMM offers various optional innovative systems like HAMM intelligent compaction meter and analyser (HCM), Continuous compaction control (HCQ) and HAMMTRONIC which ensures the delivery of required compaction efforts from the machine to ground and also avoids over compaction of the surface to be compacted. "These technologies are in use in India as well as globally, which helps in optimising the operating cost along with saving of time," says Palagiri. He adds, "We cannot miss here to talk about HAMM oscillation technology which also available in asphalt compactors in combination with vibration in the front drum and oscillation in the rear drum."
HAMM soil compactors (HAMM 311) and tandem roller (HD99) are built with patented design of three point articulation joint. Palagiri elaborates, "This connects the front and rear ends of the compactor and ensures even weight distribution in turns for outstanding traction in rough terrain, shock absorption (driving comfort), outstanding directional stability and increased resistance to tipping when turning."
According to Kamath, there are technologies which help a contractor track the utilisation of the machine. "L&T DigiEye is fitted on to LTCEL range of equipment - L&T 1190 soil compactors, L&T 990 tandem compactor, L&T 491 mini compactor, L&T 2490 pneumatic-tyred roller and L&T 9020 wheel loader. DigiEye helps track the machine location and all important machine parameters. The development in the materials used has enabled in improving the machine performance and productivity over the years. The current generation machines have lower operating costs as compared to machines which were offered five years ago. This is possible due to technological improvements,"he adds.
Singh elaborates, "At JCB, we have strengthened our range by introducing a wide range of innovative and intelligent road compaction equipment with three state-of-the-art products - the VMT330 (a 3T class mini tandem roller), the VMT860eco (a 9T class tandem roller) and the JCB116 (an 11T class soil compactor). These machines exhibit a blend of technology and digital innovation to build India's next-gen infrastructure."
The range of JCB compactors offers lifetime lubricated centre joints and grease-free bearings. This saves the costs of lubrication and reduces the possibility of failures due to any negligence in greasing the joints. In the compactors, the vibrations and heat levels are kept the lowest to provide a comfortable work environment. Moreover, operator-friendly and ergonomically located controls with steering wheel and console help in easy machine operation.
Singh adds on the new technology developments in road equipment, "Production of "Intelligent machines' to enhance scientific working with minimal human intervention, is the new trend in the market with JCB being the pioneer in introducing a new concept known as "Intelli Compaction". Another trend gaining steam is the compaction monitoring system, which monitors all the compaction parameters of a machine and ensures consistent uniform compaction with a precise measuring system, giving real time updates about machine health to the contractor or owner on his smart phone. This enables better site management and equipment utilisation, thereby hugely catalyzing the operational efficiency and cost-saving of the operations. According to Singh, big ticket infrastructure projects not only demand the best quality output, but also work on tight timelines thus, creating a need for specialised, intelligent and technologically advanced construction equipment. He adds, "The rapid adoption of digital technologies such as "Internet of Things", "Big Data", and machine learning, has been ushering a new era of innovation in the Indian construction landscape today. JCB has pioneered in this area with the introduction of JCB LiveLink, an advanced telematics technology." Adarsh Gautam, National Head-Sales & Product Support, Road Construction Equipment Division, Action Construction Equipment explains the technology developments in road equipment, "Compaction meter is being used by a few OEMs as an optional feature. Although, this technology is not the latest and was introduced in Indian market a decade ago, due to the costing impact it wasn't received well in the market and got discontinued soon. Compaction meter helps with the desired compaction result with less number of passes, thus saving fuel, maintenance and man hours. The IoT and digital technologies help in expedited construction of roads without compromising the quality standards. The built quality has the adequate load taking capacity and gives maximum life thus reducing the overall maintenance cost of roads."
Vidyarthi, adds, ''Technology integration is CASE India R&D team's primary focus. IoT, AI, Telematics, Robotics and 3D printing are the next big changes being foreseen in the construction technology industry. These technology developments will have far reaching impacts on the infrastructure projects and the industry.
CASE has the following technologies in it products: Compaction meter technology in compactors range aiming for easier and fast job completion; CRDI electronic engines in graders for on-board diagnostics, with laptop connectivity to download the entire data log and analysis of past and ongoing operations as well to get to the root cause of any failure that may occur during operation; Advanced Eagle Eye telematics solution, a real time vehicle tracking system equipped with Geofencing which assists in keeping track of loader backhoe. This solution helps in alerting the user about any kind of theft or unauthorised use of the machine along with device tempering alerts.
According to Sakthikumar, the basic machine capacities are becoming bigger than what it used to be. "Otherwise, most of the innovations are happening on managing the machine and to ensure higher productivity through artificial intelligence (AI), augmented reality (AR), virtual reality (VR), machine learning, predictive analytics, advanced uses of GPS, industrial internet of things (IIoT), cloud and mobile based collaboration technology, robotics, automated processes, autonomous vehicles, wearable technology, green innovative materials, modular construction and modular equipment are the trends emerging across all construction equipment," he adds.
Rentals need to pick up
Rental plays a major role in the road construction equipment sector with many contractors largely depending on the rental players for the commonly used road construction equipment. However, the penetration of rental players to this market is still low.
Palagiri observes, "Organised big rental companies are yet to enter Indian market. However, the medium and small-size rental companies are already present in the road equipment segment. Earlier, these were only for compactors but recently we find that even pavers are available."
According to Kamath, post-GST, it has become possible for the rental operators to shift machines inter-state with greater ease. He adds, "This sector will see a large growth in the years to come. The actual road contractor would prefer to hire the equipment and conserve his own capital for buying only critical equipment like hot-mix plant. For this trend to accelerate, the rental companies will need to become professionals in order to gain the confidence of the actual user regarding machine availability."
Singh opines, "Purchasing construction equipment involves a lot of working capital. Moreover, it is not just purchasing that counts but a lot of other factors like repair and maintenance that are to be evaluated while making a purchase decision. Given the diversity of construction work, it also depends on the utility and the frequency of use. Additionally, the alternatives of rentals mitigate risks and increases flexibility. Therefore, there is a lot of scope and opportunities for growth in the rental market for road equipment, especially when it comes to tier 2 and tier 3 cities."
He adds, "JCB has been continually encouraging rental companies to include varied products in the fleet enabling them to offer complete solutions to their customers. As the concept takes off and becomes more acceptable, there will be more rental companies willing to invest. However at present, the rental market is still localised and large rental companies are very few in number."
Gautam observes, "Looking at the various road making projects across the country, rental market growth is expected to rise. There are many players who are inclined towards engaging rental fleets in their projects to reduce the owning cost. This not only makes them free from maintenance point of view but helps them to focus on other aspects of road construction. In near future, road projects are expected to increase hence rental business has good opportunity."
Vidyarthi, says, "Construction equipment rental business is a recent ongoing trend for the manufacturers. It gives the dealers/customers a major advantage of cutting on higher equipment cost, protection from market fluctuations, eliminating storage and transportation issues. The ease of availability of financial schemes has been driving the demand for rental construction equipment industry. In future, rental business is predicted to increase with the ongoing projects and is further expected to achieve a higher growth in coming years."
Road to recovery
Palagiri says, "With the return of the current government with a bigger majority and the same minister for highways, the industry was expecting the growth momentum to continue. But the current slowdown has come as a surprise for the road construction industry and this has led to high inventory with various manufacturers. We are taking suitable action on this. However, we expect that this is temporary and the growth momentum should pick up."
Kamath adds, "NHAI has been executing a number of high priority projects across the country and some moderation in the pace of execution cannot be labelled as slowdown. The demand for construction equipment will be back once the pace of execution picks up. The recapitalisation of the banks, easing the liquidity in the system, award of fresh infrastructure jobs, divestment of profitable road assets by NHAI will all help in fastening the process of building roads. The economy grows faster by a factor of 3-4 times, when road connectivity improves. This will help India to march towards the $5 trillion economy by the year 2024."
According to Singh, a significant area of opportunity for recovery path is to have more growth drivers such as other potential sectors like irrigation, ports and water conservation in the industry. He adds, "With government announcing significant financial outlay in projects such as roads, irrigation, railways and also importantly in the rural economy, there seems to be opportunities for enormous growth. Urban rejuvenation is another area that can significantly create demand if focused on as an opportunity by the government. The heartening fact is that the government is taking notice of the stress and is showing resolve and commitment to improve the situation. Recapitalisation of banks, support for NBFCs etc are all steps in the right direction."
Outlook positive
According to Palagiri, the long-term outlook for road equipment market in India is positive. On the short-term outlook, he says, "In the short term, we are facing certain headwinds and it may take some time for the recovery phase to start." On the company's plans he adds, "Wirtgen Group in India has been continuously investing and we continue to expand our facilities in Pune, including buying of additional land - both for the demands of the upcoming requirements in India and for export."
Kamath says, "The road equipment market in India has come of age. The best-in-the-world players are already here and many have set up manufacturing bases in India. There are many reputed Indian companies who design, manufacture and supply a range of road equipment."
According to Singh, with the focus on building roads, rural and urban both, significant budget allocation in consecutive Union Budgets has been made."With large-scale infrastructure projects such as Sagarmala, Bharatmala and Jal Marg Vikas in the pipeline, the long-term prospects look positive and we are hopeful of seeing a strong growth trajectory in this sector in the next few years. Additionally, regional road and air connectivity projects, coastal economic zones, which are aimed at port-led industrial development, are poised to give further impetus to the construction equipment industry," he elaborates.
Gautam adds, "Road equipment market is perhaps the most booming segment of construction equipment field in last few years. With the construction of 1,000 km of roads in progress and under pipeline for construction, there need not be any worry in terms of business prospects.
Major projects like Bharatmala, Freight corridors, airports construction, super expressways etc, will play a stellar role in driving the growth of road equipment market in India. Currently, roads are being constructed at an average rate of 30 km/day, which is expected to increase further."
Sakthikumar says, "It is very positive as the future coastal road projects in Gujarat, Maharashtra, Odisha and Tamil Nadu under the Bharatmala Pariyojana have an aggregate length of 1,500 km. Apart from coastal roads, port connectivity projects totalling over 700 km provide sizable order for the industry over the next 3-4 years."
Singh concludes, "Roads and highways will be a key growth driver for the construction equipment industry and critical to fulfilling the $5 trillion economy dream of India. It focuses on rural economy as the major contributor in the foreseeable future, with rural roads development projects being in the forefront. With implementation of large-scale projects, including projects of national importance, the road equipment industry is on a path to gain momentum. Further, new growth drivers such as interlinking of canals, railways, mining, and real estate are going to push the sales and utilisation of road equipment."
The announcement of roads and highway projects in large numbers is of course good news for the road construction equipment market. However, a favourable environment is needed for the contractors to execute the projects comfortably without any issues related to land acquisition, approvals, finance etc. This will help the road equipment players to regain their business and plan the road ahead comfortably.
OPPORTUNITIES
1.25 lakh km of rura roads under PMGSY Phase III
Maintenance work of existing roads
New highway/expressway projects announced
CHALLENGES
Road equipment levied with 18 per cent GST
Additional 5-15 per cent as Lifetime Tax, when the machine is required to be road registered
Slowdown in the pace of road construction
Slowdown has created a stock pileup in the construction machinery