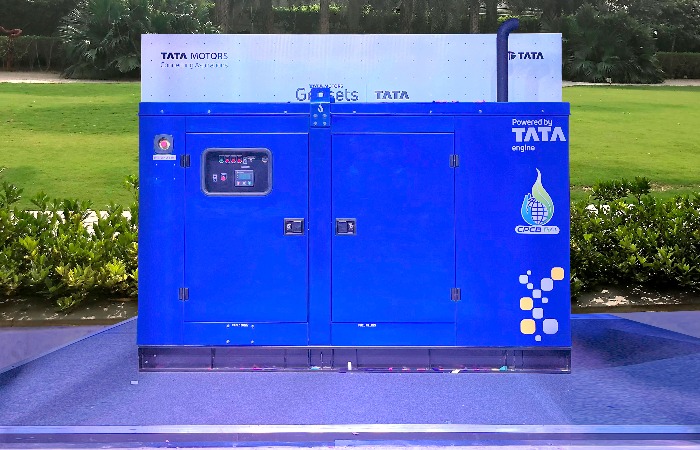 Tata Motors, India's leading automobile company, has launched a new-generation, cutting-edge range of gensets in India. Backed by the reliable and technologically advanced CPCB IV+ (Central Pollution Control Board IV+) compliant Tata Motors engines, the high-performance gensets are available in 25kVA to 125kVA configurations. The new range of Tata Motors Gensets is more fuel efficient and comes with strong block loading capability, which provides lower operating costs and uninterrupted power delivery for businesses. Designed, developed and tested at Tata Motors' top-notch R&D facility, Tata Motors engines that power these gensets are perfectly suited for diverse applications.
Commenting on the launch, R Ramakrishnan, Senior Vice President, Spares and Non-Vehicular Business – Commercial Vehicles, Tata Motors, said, "We are delighted to introduce top-of-the-line Tata Motors Gensets to the Indian market. These advanced Gensets further strengthen our commitment to empowering India's industries, infrastructure and progress. The state-of-the-art gensets deliver enhanced performance, are more fuel-efficient and come with a strong block-loading capability that ensures lower operating costs and uninterrupted power delivery for businesses. I am confident that the advanced range of new gensets, backed by a strong pan India customer support, will be beneficial for all business."
The new range of Tata Motors Gensets are powered by greener, cleaner families of Tata Motors engines which are more fuel efficient and compact. The gensets are designed and developed to offer peace of mind to the customers and cater to diverse industries that include medium and small enterprises, real estate, healthcare, hospitality, telecom, rental application, offices and warehouses, among others.
Part of the $128 billion Tata group, Tata Motors, a $42 billion organisation, is a leading global automobile manufacturer of cars, utility vehicles, pick-ups, trucks and buses, offering extensive range of integrated, smart and e-mobility solutions. With 'Connecting Aspirations' at the core of its brand promise, Tata Motors is India's market leader in commercial vehicles and amongst the top three in the passenger vehicles market.

Tata Motors strives to bring new products that fire the imagination of GenNext customers, fuelled by state-of-the-art design and R&D centres located in India, UK, US, Italy and South Korea. With a focus on engineering and tech enabled automotive solutions catering to the future of mobility, the company's innovation efforts are focused to develop pioneering technologies that are sustainable as well as suited to evolving aspirations of the market and the customers. The company is pioneering India's Electric Vehicle (EV) transition and driving the shift towards sustainable mobility solutions by preparing a tailor-made product strategy, leveraging the synergy between the Group companies and playing an active role liasoning with the Government in developing the policy framework.
With operations in India, the UK, South Korea, Thailand, South Africa and Indonesia, Tata Motors' vehicles are marketed in Africa, Middle East, Latin America, South East Asia and SAARC countries. As of March 31, 2023, Tata Motors' operations inter alia include 88 consolidated subsidiaries, 2 joint operations, 3 joint ventures and numerous equity-accounted associates, including their subsidiaries, in respect of which the company exercises significant influence.