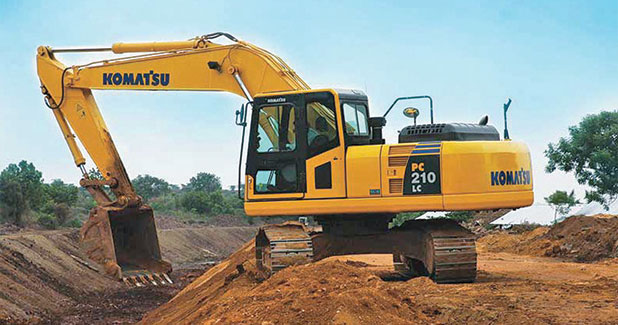 Exponential rise in roads and mining has given a boost to the earthmovers, the largest stakeholder in the construction equipment. Immediate future is bright and more will follow.
As a consequence of the excavation activity gaining momentum, earthmovers like front-end loaders, crawler dozers, traxcavators and other earthmoving equipment are registering a CAGR of 15-18 per cent. Since the Indian economy is reviving, these equipment are also finding emerging markets in other sectors as well.
Current market trend
India?s earthmoving and construction equipment (ECE) industry has enjoyed strong growth over the years as a result of rapid economic development in the country. The economic growth and increased investment for improvement of infrastructure facilities in the country is providing a growth opportunity for the manufacturers to invest more in the earthmoving equipment market.
Though there was a lull in the past four years, the earthmoving equipment market has shown an upward trend in the last six quarters in different product segments. The driving force for this can be attributed to the positive steps taken by the government to remove the hurdles which had impacted most infrastructure projects.
According to Neeraj Bhatia, SBU Head Construction Equipment, Eimco Elecon (I) Ltd, the bringing of the Real Estate Regulation Act, Model Building Bye Law, Affordable Housing for all and other reforms led to positive sentiments in the real estate market. ?This has created a space for additional equipment of smaller size like mini excavators, loader backhoes, skid steer loaders, mobile batching plants and some attachments like rock breakers. Igniting the speed engine of road construction projects has given impetus to equipment like vibratory compactors, graders hot mix plants and mobile crushers. The focused area for the rural development market has been sanitation led by ?Swachh Bharat Abhiyan?, rural connectivity, collection and regeneration of water for potable purpose. The Smart Cities project will further consolidate this trend,? observes Bhatia.
Ajay Aneja, National Head of Sales, CASE India, says, ?The recent government initiatives like Make in India, Skill India, Swachh Bharat Abhiyan and Smart Cities has further given rise to construction projects in India, increasing the demand for material equipment used for road construction across regions in the country. To meet the increasing demands, our company has successfully launched dealership stores at multiple urban and rural cities.?
Amarnath Ramachandran, President, LeeBoy India Construction Equipment Pvt Ltd, describes the trend as sector-specific. As he explains, ?Each machine is created with a purpose. The demand for these will vary depending on the sector and according to the nature of the job. Big ticket projects with shorter completion targets will use heavy productive machines, whereas for projects with longer timelines, the demand would be for smaller machines. This way the contractor has the incentive to buy larger machines to kick up productivity. This will come in when projects are genuinely accelerated to finish quickly.?
Says Jasmeet Singh, Head - Corporate Communications, JCB India Ltd, ?We have seen an overall increase in the demand for construction equipment products ranging from backhoe loaders for general purpose construction to our world class range of excavators, wheeled loaders, and compactors for more specialised applications. There has been an increased activity in roads and highways, which is leading this revival for the construction equipment industry.? He is positive on the way the industry is growing, as he says, ?We believe the rise in infrastructural development has given a boost to the demand for construction equipment in India. Given the investments and reforms from the government, we are hopeful that the sector will continue to grow in the coming months.?
Hemant Mathur, General Manager and Head - Construction Equipment Business, L&T, also attributes the current growth trend in the market to the Indian government?s thrust on infrastructure development, which has widened the opportunities for the construction equipment business. According to him, issues such as delay in land acquisition, environmental clearances, fund flow and capital availability, shortage of skill and many other hurdles in infrastructure development have been addressed by the government. ?Impetus has been given to both urban and rural infrastructure development. So there is a wide spectrum of activities and a time-bound project execution plan. Speed and quality of execution of a project with maximum returns has become the key requirement,? says Mathur.
Scenario of loaders
The market for loaders had always remained subdued in India in spite of the fact that this machine is extremely essential for material handling in a very effective and efficient manner. The main reason for the low demand can be attributed to availability of cheap labour and the trend to take multi-utility machines in place of specific purpose machines. Bhatia elaborates further, ?The market of 2-5 tonne loaders can be divided into two basic categories depending on their use, i.e., for construction work and for mining application. While 2-3.5 tonne loaders are prevalently deployed in construction work, the 5-tonne loader is primarily used in mining application. There is a substantial scope for every category of loader in the years to come, since the mindset of users is seen getting upgraded to specific-application vehicle from multi-utility vehicle.?
According to Singh, the 2-5 tonne wheeled loaders segment has remained consistent in the past few quarters since major sectors like mining have not seen high growth. ?However, with the government?s renewed thrust and significant initiatives in this industry, we are hopeful of a gradual recovery in this segment. Once mining projects are cleared, wheeled loaders will grow in numbers and it will also drive demand for high tonnage loaders.?
Mathur observes, ?The wheel loader market staged a smart bounce-back after three years on negative growth by an impressive 39 per cent in the 3 T class, which happens to be the highest selling class in the country. The recovery is aided by import of coal and other minerals at Indian ports by the power and steel industries. There have been clear signs of increase in the stevedoring activities at the large ports, providing impetus to the recovery in the wheel loaders market. The government?s push to remove hurdles in many stalled infrastructure projects, especially in road, ports, airports, metros etc., has resulted in surge in demand for blue metal in many areas. This has further helped boost demand from the quarry and mining segment. We are seeing demand from both replacement markets as well as from new entrants.?
On the 5 T category, he comments, ?There has been a turnaround in the availability of coal in India against the severe shortage faced by us two years back. This has happened due to the firm action taken by the government in allocation of coal blocks, increasing the production from state-owned coal companies like Coal India. This meant that the coal handling contracts became bigger and the rates dropped due to severe competition in the sector. Hence, there has been a distinct preference towards 5-tonne capacity loaders, particularly from the projects where the quantities are huge and the time available is less. Improvement in economy and focus on core sectors like mining, power, cement and steel would further improve the prospects of the wheel loader market in the next three-four years.?
Feature-driven
Earthmoving, as the name goes, is the movement of earth or any other material, normally from the place of present placement to the place of final consumption. The total cycle consists of loading or excavation, carrying and hauling and finally unloading of the material at the final or intermittent destination. The effectiveness of any machine depends on the capacity optimisation and fuel efficiency. Says Bhatia, ?We at Eimco Elecon are presently manufacturing loaders of 2.3 T and 3.5 T payload capacity. The articulated hydrostatic wheel loader, AL-120, is a highly fuel efficient machine because of its inbuilt technology. It can optimally cater to batch mixing plants of 30, 45 and 60 cum, crushers up to 200 TPH, hot mix plant up to 120 TPH. The fuel costs of material handled per tonne is lowest in its class and also lower than cost incurred by loader backhoe, excavator and shovel because of its technological advanced hydraulic features. Single and easy joystick operation, four-wheel drive, small turning radius and provision for various attachments make this machine a wonderful combination for the applications of material handling in ready mix concrete plants, hot mix plant, solid waste management and other industrial material handling applications.?
Ramachandran elaborates on the features associated with LeeBoy ranges, like high driveline efficiency for optimum productivity and fuel saving; high ergonomic comfort to maximise operator productivity; and advanced telematics to ensure that machines are working at their optimal health.
CASE India has a legacy of excellent quality products and has been a major contributor towards greater efficiency and productivity of resources in India. Says Aneja, ?The company makes more fuel-efficient equipment for reducing emissions on the environment keeping in mind that the operator is one of the biggest influencers on production, up-time, fuel burn, and machine life. CASE India engineers are constantly developing clever innovations. The company has succeeded in lowering the sound levels in all the construction equipment and has set up AC cabins in their equipment. This enhances operator comfort, which in turn increases productivity and keeps pollution under control.?
Says Mathur, ?Hydraulic system has a crucial role in determining productivity. A system that has lower losses and utilises the pump flow better, produces more. Komatsu uses HydrauMIND - a patented Closed Centre Load sensing system for its excavators that are used in the construction segment. No neutral loss, exact flow on demand and actuator speeds independent of load makes it highly productive. While this system is the best to convert engine HP to productive output, features like the pump and engine mutual control ensure that the engine is never overloaded and hydraulic HP consumed is equal to the engine HP. This is complimented by an array of working modes like the power mode, economy mode, breaker, and lifting and attachment mode available for the operator to choose from. Each of these modes adjusts the pump absorption torque to suit the type of job. The economy mode has four sub-modes that further fine-tune the system to give the correct balance between productivity and fuel economy. The operator or the site engineer can choose the mode according to the site conditions such that neither fuel nor time is wasted.?
He further adds, ?Our machines also offer standard features like the powermax function, 2-mode boom setting along with auto deceleration to provide the extra bit of power, stability and fuel saving respectively at the press of a button.?
?Mechatronics and ICT (Information Communication Technology) features continuously provide online eco-guidance to the operator for energy saving operations. While the operator gets online support, such events are also captured in the KOMTRAX server so that the operation can be analysed later on and proper corrective action can be addressed. L&T has a dedicated team of engineers to drive new improvements in the product features and also ensure that the customer is able to effectively use these features,? explains Mathur.
Damage prevention
The working conditions in most of the projects or factories in our country are full of dust and as such very detrimental to equipment. Bhatia comments, ?The site management has to play a major role to provide a dust-free and operator-friendly environment at the work site. However, these conditions are rarely available at the workplace. The operational staff try to extract maximum use from the machine by overloading, deploying the equipment to non-specified applications e.g., dozing in wheel loaders. All these actions take a toll on the life of the machine and also reduce its efficiency. Flow on demand feature through variable displacement pump optimises the power utilisation and also provides safety features to operate our loader AL 120 beyond its capacity.?
Says Ramachandran, ?LeeBoy believes and recommends deploying skilled operators who are trained by the company. At LeeBoy, we offer the ORM (Operations, Repairs & Maintenance) initiative that provides customers with a professional and comprehensive solution for operation and maintenance of this equipment. We take full responsibility for seamlessly providing equipment operation, preventive and breakdown maintenance. Our machines are designed to take care of everything that Indian conditions throw at them.?
JCB introduced an advanced telematics technology in the Indian construction equipment industry in 2015 known as JCB Livelink. It is an advanced machine monitoring system that enables the customer to stay connected to the machines at all times. Singh further elaborates, ?JCB Livelink strives to deliver constructive, real-time information to increase profits and improve productivity. Both the equipment owners and operators can look for information such as fuel consumption, idle time, machine location, fluid levels and service alerts on their mobile devices or laptops using the Internet. It also helps in informing users via SMS alerts, the location and condition of their JCB machines.
Geo-fencing and time-fencing features also give out SMS alerts whenever the machine moves out of the designated, pre-determined geographical areas. This feature also works when the machine is being operated beyond the time that the customer has preset. Over 20,000 JCB machines are already working with Livelink fitted in them.?
The operator of a hydraulic excavator is not wrong if he wishes to lift the entire mountain in one scoop. The reality is - it does not happen that way. Hydraulic excavators are fitted with main pressure regulating valves that limit the maximum working pressure of the system. Explains Mathur, ?Power balancing controls like the Power Constant valve fitted on the pump ensure that the engine is never overloaded; they reduce the pump flow as the hydraulic HP absorbed exceeds the engine HP. Safety-suction valves are provided between the directional control valve and the actuator that protects the circuit when the spool is in neutral. A flow cutback feature is inherent when the working pressures reach maximum range to reduce load on engine and reduce power loss and heat generation due to relief loss. Hence an excavator can never be overloaded.?
An operator can mechanically damage the machine, say by banging the bucket on the rocks, trying to use the inertia of the attachment to dig very hard un-blasted rock or trying to pry boulders using the attachment as a lever rather than a hydraulic actuator. This is where a skilled operator is necessary.
Komatsu machines have pressure sensors fitted on the machine that monitor the load and relief operations. These sensors not only prompt operators online, they also capture the event and keep a count of it, so that the maintenance team or the owner can analyse how the machine has been used. A watchdog in form of KOMTRAX is there on the Komatsu PC210-8, always monitoring the operations, so that the owner is forewarned of the abuse that his machine is undergoing. Added to these features, L&T has been regularly training the operators to ensure they have the necessary skill sets to operate the machine in various tough and demanding applications at the worksite.
Wheeled vs tracked
Use of type of earthmoving equipment, wheeled or tracked, depends upon various factors, like underfoot conditions, nature of work to be performed e.g., excavation or loading, distance to be covered, etc. Bhatia states, ?Tracked equipment are preferred where the underfoot conditions are rough, very uneven, marshy and where distance to be travelled is low, whereas wheeled equipment are used on comparatively leveled surfaces and where ?Carry & Haul? distance is comparatively large.?
He adds, ?Use of wheeled equipment brings savings in maintenance by way of less expenses on tyre replacement viz tracks, but the same cannot be deployed effectively in swampy and muddy underfoot conditions, where we require more surface area for effective traction. In India, both the types of equipment are equally popular and deployment depends on the factors as mentioned above.?
Skill development
Operation & Maintenance is the most essential task of any earthmoving equipment. The efficiency, effectiveness, availability and the life of any equipment depends on how it is operated and maintained. According to Bhatia, the available operational skill of these costly machines is not up to the mark in our country. ?The government, through its arm of NSDC, has certified some training facilities for developing operators and mechanics and has also introduced vocational courses of maintenance in certain educational institutes. However, as a part of CSR activity, many private OEMs have started imparting training to the maintenance staff of their customers. We at Eimco Elecon also conduct regular training for our customers and dealer staff. We, as a special practice, deploy operators for an initial period of about a week at the customer site, who in turn impart training to the operator and maintenance staff of customers. These trainings help us achieve right operation and also result in low maintenance for our equipment.?
Echoing the same sentiment, Ramachandran says, ?In India, there is a deep lack of quality which can only be overcome by training, which is the reason for South Korea?s success. At LeeBoy, we have the LeeBoy EDGE (School for Expertise Development Growth and Excellence), an exclusive training academy, where operators undergo intensive training on operating the equipment competently and on preventive maintenance and troubleshooting. This certification helps ensure a longer lifespan of the equipment, higher uptime and lower maintenance costs.?
Aneja elaborates on the CASE initiatives, ?CASE India has introduced the Customer-Driven Product Definition (CDPD) process, wherein they invite equipment users to participate in defining and improving new products. This further helps to understand the customer needs in order to develop and test new models based on customer specifications. The company has factory trained technicians ensuring top-notch service professionals are working on equipment maintenance needs by providing a thorough service for the everyday wear and tear of the machines. Through CASE India customer care centres and dealers, customers have access to world-class equipment and aftermarket support along with industry-leading warranties and flexible financing.?
JCB has been at the forefront with its skilling initiatives. Singh explains, ?We have 14 operator training centres across India which provide a one-month training course to students on how to safely and productively operate a JCB machine. Till date we have trained about 24,000 people on our machines who are successfully earning a living for themselves.?
Says Mathur, ?We in L&T have invested heavily both in terms of infrastructure and faculty, and attach great importance to training. L&T?s central training centre at Kanchipuram, along with four regional training centres, continuously conduct programmes towards this skill enhancement. A customer training calendar is released every year that has over 50 O&M programmes planned at different machine concentration locations, so that correct techniques can be imparted. L&T has installed operator training simulators at Kanchipuram and Durgapur so that control familiarisation and basic skill development can be imparted without consuming fuel or the fear of accidents, before one gets into the machine. We partner the Skill India movement and we are an approved training partner for IESC and conduct operator and mechanic programmes under the PMKVY and IESC scheme.?
Outlook
Aneja states on a positive note, ?The economic slowdown has impacted the Indian construction equipment industry over the last two years. However, the medium term scenario to 2020 seems positive. The rate of decline seen since 2011 has tapered out to single digits now. This is primarily driven by a change in the general sentiment of the infrastructure industry, owing to clear growth-oriented intentions shown by the Central government. Therefore the CE industry, being a direct derivative of infrastructure development, is likely to get benefitted in the medium to long term.? On a similar note, industry captains are bullish on the growth trend in the medium term owing to the kind of effort from the government in various infrastructure development plans such as Smart Cities, Swachh Bharat Abhiyan, rural development, etc.