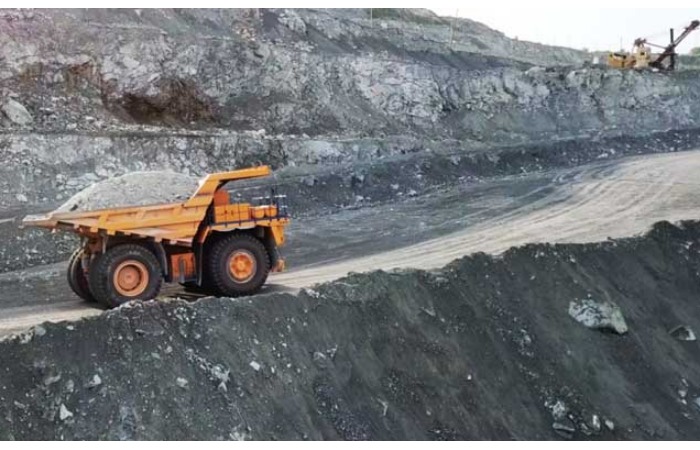 The mining sector in India plays a crucial role in the country's economic development and contributes to its industrial growth. Recently, Finance Minister Nirmala Sitharaman launched the sixth tranche of the auction for commercial coal mining. A total of 140 mines have been covered across 12 states, including 72 explored mines, and 69 partially explored mines. Ministry's additional secretary M Nagaraju said that the coal mines would give Rs 20,000 crore in revenue to states once they become operational. They were expected to generate over two lakh jobs and bring in an investment of Rs 22,000 crore.
The government approved the continuation of the central sector plan 'Exploration of Coal and Lignite scheme' with an estimated expenditure of Rs 2,980 crore. The time period for the extension is from 2021-22 to 2025-26 co-terminus with the 15th Finance Commission cycle, the Cabinet Committee on Economic Affairs (CCEA). Under this scheme, exploration for coal and lignite is conducted in two broad stages: (i) Promotional (Regional) Exploration and (ii) Detailed Exploration in non-Coal India blocks. The approval will provide an outlay of Rs 1,650 crore for promotional (Regional) exploration and Rs 1,330 crore for detailed drilling in non-CIL areas.
The demand for coal has risen to 784.6 million tonnes for the financial year ending March 2023. Exploration for coal and lignite is required to prove and estimate coal resources available in the country, which helps in preparing detailed project reports to start coal mining. The geological reports prepared through these explorations are used for auctioning new coal blocks, and the cost is thereafter recovered from successful allocatee.
Over the forecast period (2022-26), India's coal production is expected to post a CAGR of 7.5 per cent, to reach 1,153.3 MT by 2026, owing to the commencement of various upcoming projects, along with supportive regulatory reforms.
Coal and iron ore are key driving factors of the mining sector in India. There lies a huge scope and opportunity for increasing the capacities of coal and iron ore mines and considerable opportunities for future discoveries of sub-surface deposits. While India has adequate iron ore reserves, however, the same is not the case for coal as there are not sufficient reserves for coking/metallurgical coal. To keep the industry globally competitive, India plans to maximise the use of its domestic reserves to meet its requirement for coking coal to reduce iron ore to iron.
The Government of India is also working toward the development of the metals and mining sector by launching key policy initiatives and regulatory interventions in the auction process, levy of duties, and land availability. Private sector has also adapted new technologies, automation and digitisation. However, there is still a considerable scope of improvement.
Mining equipment outlook
The Government of India has allowed 100 per cent foreign direct investment in the mining sector and exploration of metal and non-metal ores under the automatic route, which will propel growth in the sector. The Government introduced Mineral Laws (Amendment) Bill, 2020, to open a new era in Indian coal and mining sector, especially to promote "ease of doing business". The National Mineral Policy 2019 was launched for transparency, better regulation and enforcement, and balanced social and economic growth into the sector.
Said Arun Misra, CEO, Hindustan Zinc, "Mining companies play a crucial role in socio-economic development of the country. Over the last decade, the contribution of the Indian mining sector to the country's GDP has not been more than 3 per cent. With focussed investment, the mining sector aims to contribute 7 to 8 per cent to the GDP, which could create around 25 million jobs in the country, directly and indirectly, and has the potential to propel GDP growth to more than 9 per cent. Thanks to technological revolution, the nature of mining is constantly shifting."
"At present, we are contributing to the growth and development of the sector and country at large by creating jobs for more than 22,000 employees currently working and have further created multiple opportunities for downstream and ancillary industries in and around Hindustan Zinc. Other than that, we are also transforming the lives of communities around our operational units through varied CSR initiatives of skilling the rural youth, sustainable farming practices for farmers, mobilising rural women through microenterprises and much more," he added.
Said Rajesh Nath, Managing Director, VDMA India, "Mining would continue to play an important role in India. In actuality, mining accounts for 4 per cent to 5 per cent of our total GDP. Around 60 to 65 per cent of India's electricity still comes from coal. By 2025, the Ministry of Coal wants to expand coal production from its current level of 740 to 750 million tonnes to one billion tonnes. India is still one of the few nations in the world where mining is still a major industry. Because of this, even German businesses are optimistic about India."
"Caterpillar has been active in India since 1930's, with our products extensively used in key projects across the country over the decades. We are seeing many changes taking place in the coal mining sector in recent years, particularly with the auctioning of coal blocks for commercial coal mining. Although a majority of these coal blocks are yet to become operational, we feel there is tremendous growth potential in this segment in the years to come," said Karthik Bala, Mining Regional Manager, Resource Industries Sales, Services and Technology, Caterpillar India.
Caterpillar is closely working with customers to understand their equipment needs. Said Bala, "We are trying to guide them into what could be the best mining solution. We are not only talking about machines but end-to-end solutions. We are giving them examples of benchmarking sites so that they can refer to them. From the perspective of the private sector and state-owned enterprises, we think there are a lot of opportunities for growth. The next 10 years will be an important period for mining in India."
BEML has registered a growth of around 8 per cent in the mining and construction business vertical during the FY 2021-22, "we expect a growth of 10 per cent during the current year," said Amit Banerjee, Chairman and Managing Director, BEML.
BEML being a core mining equipment manufacturer has started manufacturing high-capacity equipment in the segments of dozers, dumpers and excavators. Also, it is now in the process of indigenously developing 20 cu m rope shovels for the first time in India. Further, based on the market requirement, BEML is also planning for indigenous development and manufacture of 8t capacity tyre handler and 550 HP motor grader.
Arvind K Garg, Senior Vice President and Head, L&T Construction and Mining Machinery, says that coal continues to be the major demand driver in mining, followed by limestone and iron ore. "India still imports a large quantity of coal and the demand for coal is expected to grow steadily till India has adequate alternative renewable energy options. Hence the GoI has taken the necessary steps to ramp up coal production to over 1 billion tonne by 2025. Coal India and its subsidiaries and commercial coal mining by MDOs are expected to drive the demand for Mining Equipment to new heights. The capacity utilisation of cement companies is rising, and they are also going ahead with new capacity addition as per plan. The steel manufacturers are also going ahead with the expansion plans; hence, we see demand growth in iron ore mining."
Added Garg, "Overall, we see a stable demand and good growth in both the construction and mining equipment segments."
On the outlook on the Indian mining industry, Sujeet Kumar, Business Line Manager - Surface Division, Epiroc Mining India, said, "The future looks promising. Growing infrastructure is the main factor driving India's population toward urbanisation. We require development in steel, cement, and power to sustain this. These three factors are the main ones influencing the mining sector in India. The growth is overwhelmingly excellent. In Epiroc, mining and construction are very evenly distributed. Fifty percent of our revenues come from the mining industry, and 50 per cent from the infrastructure-related business."
Rise of automation in mining
The rise of automation in mining is a significant trend that has been gaining momentum in recent years. Automation refers to the use of technology and robotics to perform tasks traditionally carried out by humans. In the mining industry, automation is being implemented to improve safety, increase efficiency, and reduce costs.
Overall, the rise of automation in mining brings several benefits. It enhances safety by reducing the number of workers exposed to hazardous conditions. It improves productivity by enabling continuous operations, reducing downtime, and increasing efficiency. It also lowers costs by minimising human labour requirements and optimising resource usage. However, it's important to note that the implementation of automation in mining may also lead to job displacement and require upskilling or retraining of the workforce to adapt to the changing industry landscape.
Cat MineStar Edge is Caterpillar's cutting-edge cloud-based, subscription managed application that creates an operational ecosystem that gives our customers near-real-time visibility to every aspect of their operation. It allows them to efficiently execute their mine plan and deliver optimal quality to the plant and to the surface. Edge makes it possible to measure, manage, analyse, and optimise customers' entire operations.
Kumar of Epiroc Mining India thinks India lags behind in comparison with other mining markets. He said, "Players like Tata Steel are integrating a lot of technology into their mines. Another corporation that heavily relies on technology is Hindustan Zinc. Even prominent Indian players like Adani are entering the fray. In addition, they are bringing about a significant technological change in the mining sector."
Said Dheeraj Panda, COO – Sales, Marketing & Customer Support, Sany Heavy Duty India, "We can track the machine and its functioning with the aid of mechatronics. Additionally, it interacts rather directly with the customer. The consumer is fully aware of the HMR, fuel consumption, and geo-coordinates of the machine it is using. Mechatronics assists in identifying any machine flaws early on so that a device failure is avoided. Many of our customers own a group of machines. We can provide them with an URL through which they can look at machines from the comfort of their office and also check the HMR, fuel consumption, and various other parameters."
Sustainable mining
Said Bala of Caterpillar, "With nearly a century of sustainable innovation, Caterpillar is uniquely positioned to address a wide range of customer needs on the rapidly evolving pathway to decarbonisation and to help them build a better, more sustainable world. Our remanufacturing and rebuild options deliver multiple sustainability benefits. By returning components at the end of their initial serviceable lives like-new condition, we reduce waste and minimise the need for raw material, energy, and water to produce new parts. Caterpillar parts are designed to withstand numerous rebuild cycles. Our customers can benefit multiple lifecycles of our products as they are made to be rebuilt numerous times because of their unique design."
He added, "We offer low-carbon intensity fuels in most of our construction industries' products allowing for an opportunity to reduce lifecycle emissions. We are focused on supporting sustainable mining with new battery electric and automated equipment options. Caterpillar gas generator sets are being configured to use 100 per cent hydrogen on a design-to-order basis and some commercial sets are configured to operate on natural gas blended with up to 25 per cent hydrogen."
Said Tridib Majumder, Managing Director, Quaker Houghton India, "Our foundation for growth is sustainability and we have a target to achieve net zero in CO2 emissions by 2030 and carbon zero by 2050. Whether it is mining, metals, or automobile customers, we are prepared to do introduce solutions to meet these goals. In terms of the utilisation of fossil fuels, our actions will also assist our customers in achieving their sustainability objectives."
Mining components industry: On the rise
Speaking on the market for OTR tyres for the mining segment in India, Ashok Chhajer, Senior General Manager – OE Sales, BKT Tires, said, "Large mining trucks (LMTs), medium mining trucks (MMTs), and small mining trucks (SMTs) make up the OTR tyres category in the mining industry. The market for LMT tyres has the potential to expand rapidly owing to the increase in the demand for coal, which is one of the main energy sources in India. The requirement for coal in India is about 1.1 billion tonnes, but we are currently producing approximately 700 million tonnes. The increased demand has led to increased mining activity, thus increasing the demand for LMT tyres."
"Since India has been focusing majorly on the mining industry and aims to become one of the primary markets for mining activities in the next 5 to 10 years. The government has drawn policy too in the same direction – with the privatisation of coal, the demand for OTR tyres is set to rise in the coming years," said Chhajer.
Pune-based Trident International specialises in producing industrial tyres for mining equipment, material handling equipment, infrastructure equipment, and construction equipment. Shyam Gyanani, Co-Founder and Executive Director, Trident International, said Our concentration is on underground mining within the mining sector—tyres for LHDs, jumbo drills, etc. As you are aware, underground mining has its own unique quirks and working circumstances that set it apart from surface mining. As a result of the tight quarters and challenging terrain, operating in underground mines presents safety challenges. If a tyre fails in that setting, whether due to damage or premature manufacturing-related problems, it presents many difficulties. We developed solutions for the underground mining industry because of this."
Vishwa Industrial offers its solutions to Coal India and all its subsidiaries, Singereni Collieries, Indian Railway, Tata Steel, HPCL and other businesses a large number of projects. Subrata Mitra, Group President, Vishwa Group of Companies, said, "We are manufacturing the dust and silica monitoring system through our UK-based OEM. The dust monitor utilises a next-generation optical Particle Counter (OPC) to deliver dramatically improved accuracy and repeatability of measurement over a diverse range of Particulate Matter (PM) sizes. With its advanced design, patented algorithm, dynamic flow, and multiple scatter angles, it delivers more valuable information than any other unit of its kind and now comes with a full on-device configuration to give maximum flexibility and accuracy of results."
Vishwa also provides rock monitoring system, which aids the mines in securely holding the roof in place. He said, "We have partnered with Australian and British business associates for this. The Rock Monitoring System continuously collects data to enable the optimisation of roof support planning while also monitoring the integrity of rock structures in underground mining and tunnelling and maintaining the highest levels of worker safety."
Said Majumder, "We offer fire-resistant hydraulic fluids for the mining segment. There are numerous hydrocarbon gases in subterranean mines which have a tendency of catching fire. This can cause the entire equipment to be destroyed or damaged in the fire. The fire-resistant hydraulic fluids not only protect the equipment but also enhance its performance. We also have dust suppressants that help to improve the air quality in mines."
Amit Nangre, Executive Director, SIT PTC India, said "Our product line includes categories for practically every industry, including machine tools, building supplies, pharmaceuticals, mining, cement, packing, and textiles. We serve over 150 OEMs from various market categories in India. Couplings, belts, and timing belt drives are available from SIT PTC India. There are various coupling types for various uses. We also deal with locking assemblies, which is particularly relevant to the mining sector."
Smartchem Technologies provides technical ammonium nitrate in the mining chemicals industry, which is used to make explosives. ". These explosives are then used in blasting various minerals, such as coal, limestone, and iron ore, and other infrastructure-related areas," said Vivek Misra, Associate Vice President, Business Excellence and Transformation, Smartchem Technologies.
The rental scenario
Rental companies play a vital role in India's mining sector, providing a diverse array of products, services, and specialised equipment to cater to the unique requirements of mining operations. Companies have emerged as key contributors to this sector by offering a wide range of services, and equipment for smooth mining operations. The importance of rental companies in the mining sector is due to several factors. Firstly, they provide cost-effective solutions, allowing mining companies to reduce upfront capital investments Instead of purchasing expensive equipment outright, mining companies can rent the required machinery from rental companies, freeing up capital for other crucial aspects of their operations.
"Rental companies offer a wide range of machinery and equipment tailored to the needs of various mining activities. This wide range of products ensures that mining companies have access to the right equipment for various tasks, such as excavation, material handling, transporting and crushing. By renting equipment as and when needed, mining companies can optimise their operations without the burden of owning and maintaining a large fleet of machinery. Rental companies also now a days offer right telematics and IOT solutions which enables mining companies to track and monitor their rented equipment and vehicles in real-time. This technology enhances operational efficiency, reduces costs, and improves safety in the mining industry," said Satin Sachdeva is Founder and Secretary General at Construction Equipment Rental Association (CERA).
Rental companies in the mining sector provide an extensive selection of equipment to cater to the diverse needs of mining operations. Excavators, bulldozers, wheel loaders, dump trucks and crushers are some of the key products offered.
Challenges
Speaking on the challenges in the mining equipment market in India, Misra said, "In the coming years, mining industry will witness a green shift which will be aided by the usage of battery electric vehicles and energy efficient norms. The mining industry is subject to various regulations related to environmental impact, safety standards, and land acquisition. Adapting to evolving regulatory frameworks and ensuring compliance can be a challenge for mining equipment companies. To address this, companies alongside equipment manufacturers need to invest in technologies that reduce environmental impact, improve safety measures, and maintain transparency in their operations."
He added, "Inadequate infrastructure from a technological standpoint can hinder the growth of the mining equipment market along with that the lack of workforce to maintain and operate such equipment is another factor that needs attention. Economic factors, such as commodity prices, foreign investment, and government policies, can significantly impact the mining equipment market."
These challenges can be foreseen in the mining equipment market and a thorough understanding of the market and the expectations of mining companies in areas of operations will help in overcoming them.
Road ahead
Nath concluded: "India is one of the very few nations where mining is still expanding. Due to the greater quality of the imported coal and our inability to supply India's present demand, we must import a certain amount of coal. There will be significant growth during the next five years. The government is putting a lot of effort into helping India transition from an economy worth $1 trillion to one worth $5 trillion. The mining industry is benefiting greatly from incentive programmes for production. We have high hopes for the market."