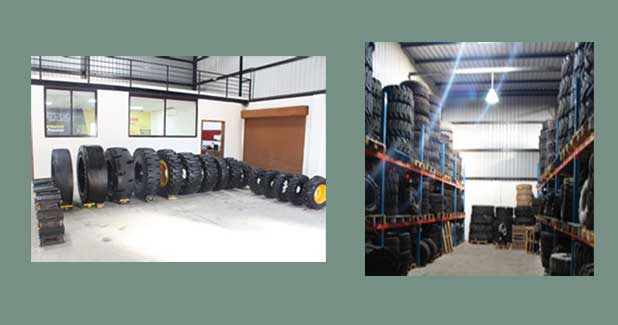 Rental companies are the largest owners of aerial work platforms (AWPs). For them, crew safety, maximum machine uptime and low operating costs are critical success factors. With this in mind, Trident has developed comprehensive, tailor-made solutions to ensure safe and efficient operations of all self-powered aerial and access equipment such as man lifts, boom lifts, scissor lifts, telehandlers, etc.
Trident offers a full range of AWP tyres such as OE approved pneumatic tyres, non-marking wheels and TRAXTER solid tyre assemblies, as well as related services such as foam filling, tyre mounting and wheel repair under a single roof. A modern, well-equipped workshop in Pune with highly trained technicians for fitting and foam filling pneumatic tyres, mounting/demounting solid tyres, refurbishing wheels along with an extensive inventory ensures the highest level of quality, service and availability.
Trident has also pioneered a wheel exchange program for the AWP segment, under which customers can order ready-to-fit tyre and wheel assemblies and return their old assemblies, thus saving up to a week's downtime. The company also collaborates with IPAF to increase awareness of best practices in tyre maintenance.
Besides the domestic market, Trident's range of TRAXTER solid tyre and wheel assemblies are sold in over 30 countries including North America and Europe.
For further information, visit: www.trident-intl.com
(Communication provided by company)