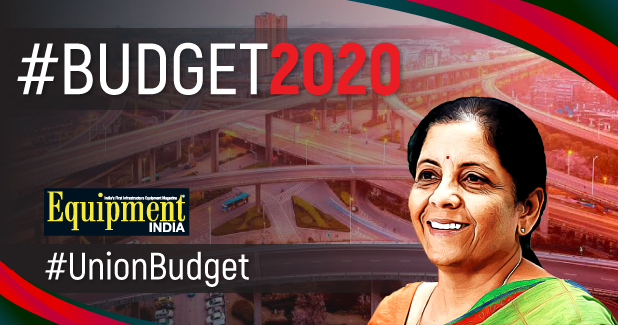 The thrust given in the Budget 2020 on the development of various infrastructure segments in the country will provide some positive push to the infrastructure equipment market in India. The Budget?s focus on the National Infrastructure Pipeline (NIP), setting up of new airports, accelerating the construction of economic corridors, national highways and expressways can generate flow of more construction equipment effective utilisation at these projects. Some of the key proposals in the budget that can drive the demand of infrastructure equipment can be:
Rs 103 lakh crore to be invested in infrastructure over the next five years
Rs 1.7 lakh crore proposed for transport infrastructure in 2020-21
Accelerated development of highways to be undertaken, including: 2,500 km access control highways, 9,000 km of economic corridors, 2,000 km of coastal and land port roads, 2,000 km of strategic highways.
Delhi-Mumbai Expressway and two other packages to be completed by 2023
Chennai-Bengaluru Expressway to be started
Proposed to monetise at least 12 lots of highway bundles of over 6,000 km before 2024
100 more airports to be developed by 2024 to support Udaan scheme
Rs 22, 000 crore proposed for power and renewable energy sector in 2020-21
Fibre to the Home (FTTH) connections through Bharatnet to link 100,000 gram panchayats this year.
Rs 1.60 lakh crore for agriculture, irrigation and allied activities
Apart from the above, the proposals such as healthcare and hospital infrastructure, developing tourism infrastructure, logistics policy, etc can add to the scope of equipment market. In spite of all these forward-looking proposals, the equipment market can only gain from these proposals once these projects are successfully implemented.
© 2020 EQUIPMENT INDIA - ALL RIGHTS RESERVED

+91-22-24193000
|

Subscriber@ASAPPinfoGlobal.com