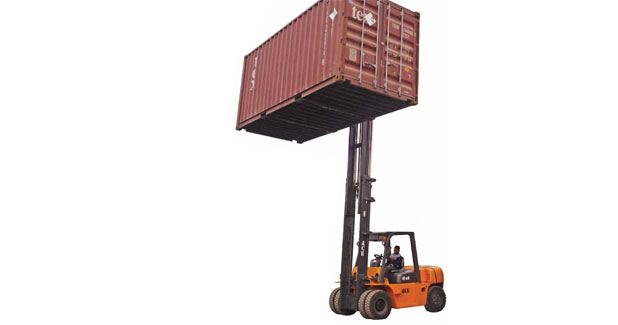 Advanced material handling and warehousing equipment have a vital role that can help speed up the efficiency of logistics industry. More focus on palletisation and the opening up of retail segment are expected to boost the demand for warehousing equipment like forklifts.
The entire range of counter balance forklifts can be segregated into three major categories: Light duty (1-3 tonne capacity), medium duty (4-8 tonne capacity) and heavy duty (10 tonne and above capacity). According to Ajay Kumar Mandahr, Director - Operations, Toyota Material Handling India, the size of the forklift industry is 8,000-9,000 per annum. Around 60 per cent of is the counterbalance products and the balance 40 per cent is warehousing. Rajinder Raina, General Manager - Marketing, Escorts, says, ?The Indian forklift market today stands at about 7,000 units per annum (sit down type). Compared with global standards, this is a very low number. The 3 tonne plus category comprises very low volumes.?
Growth drivers
Global statistics indicate that compared to West Europe, USA, Japan and even Africa Oceana region, India uses the minimum number of forklifts per million populations in the country. Currently it stands at a mere seven units per million. In light of the accelerated growth triggered by ?Make in India? initiatives and consequent requirement of upgrading logistics in the country, India has the maximum potential for both diesel and electric forklifts. In fact this is the largest growth driver for this business.
?Light duty electric forklift will be the major growth drivers since current trend is to have pollution-free greener forklifts,? says Chetan Gole, Head - Forklifts, ACE. According to Manojit Acharya, Managing Director, Jungheinrich Lift Truck India, segments like automobile, logistics, chemicals, pharma, etc are growing in Indian market and they contribute to major share of forklift applications. ?Forklifts in the capacity range of 2 tonne and 3 tonne will dominate in the market,? he feels. Mandahr also feels the same as he says, ?Globally, a three-tonne truck is very popular and is widely used, which is the case in India too.? He also observes that now people are gravitating towards battery-operated zero emission products.
According to Raina, while the fastest growing range will continue to be 3 tonne, demand for higher capacity forklifts will keep increasing. He feels that, thrust on manufacturing sector through ?Make in India?, warehousing and logistics and increased mechanisation in mines, brick kilns, and customised (non-palletised) material handling will drive the growth in the near future.
Indian customers have realised the importance of cycle efficiency, safety and wastage reduction, resulting into more of palletisation and mechanised handling. This will certainly boost the demand scenario of forklifts in India. Infrastructure in India is improving, which will directly help in our logistics improvement. Forklifts and warehouse trucks will contribute to this improved logistics system.
Technology trends
Transportation of goods on pallets entails use of forklifts at various stages of re handling including warehouses, yards and stores. As the size of the warehouses grows, the throughput also needs to increase - forklift is the solution. Currently there are three power options offered in Indian forklift market: diesel, dual fuel (petrol and LPG) and electric. Hydrogen cells, which have already gained prominence in matured markets, have not come to India as yet.
Indian forklifts market has seen a sea change in product and technology trends in the last couple of years. Most of the international players have started setting up their base in India which has resulted into availability of new product design and latest technologies. Due to increasing competition in the material handling market, there has been a continuous influx of better technology in the market. Says Gole, ?Today products are offered with focus on operator comfort, safety and ultimate productivity in mind. Products are designed to be more reliable, efficient and service friendly.? He further adds, ?The technology in electric forklifts have also seen a lot of change over a period of time. Currently, AC drive forklifts is the trend which reduces the maintenance and increases the up-time.?
?Electrically driven forklifts will dominate the logistics industry wherein major operations are indoors. They will take predominance over the CNG and LPG driven forklifts for the simple reason of environmental compliance. The earlier problem had been the batteries which required frequent recharging. But now the new technology batteries and AC drives have resolved the problem,? comments Anil Lingayat, Senior Vice President and Business Head, Godrej Material Handling Equipment.
Acharya sees a vertical expansion of warehousing facilities. He observes, ?Since the land cost in India is increasing and land availability is becoming a matter of concern, warehouses are growing vertically instead of horizontal expansion, and India is moving towards high-tech automated warehouse trucks like VNA and ASRS. Indian market is moving in this direction, albeit slow. This encourages us to be very strong in this market.?
Most of the players feel that with pollution control norms are getting stringent, diesel forklifts will be slowly replaced by electric forklifts. ?Going forward, the market will gradually move towards electric version and eventually the diesel forklifts will remain in the outdoor applications only,? says Acharya. Mandahr says that in the MHE space, people are going for light generation trucks. These trucks are high-safety products with higher reliability and greater fuel efficiency.
However, Raina doesn?t see any major growth in high technology product segment as he says, ?On the technology front, India will continue to be a mid and low segment market owing to price sensitivity. A very small segment shall continue to exist for high end/contemporary technology forklift trucks. Statutory compliance on emission norms, safety and noise is still not mandatory but the user industry is acting responsibly on this front. Department of Heavy Industries and iCEMA are working towards this.?
In warehouse trucks, manual movement of material is now replaced by battery-operated pallet truck. According to Acharya, now the trend is moving from reach truck to VNA and ASRS which are semi-automatic and automatic systems. ?The trend will be towards more compact trucks which can go the highest and deliver a good residual capacity at that height,? he says.
Mandahr says, ?e-commerce has been a big boom for us as a lot of warehousing operations got a fillip because of that. Many 3PL companies, which have entered India, are doing their job very efficiently. Many automotive companies are outsourcing their movement to specialist players. So this is a major step towards more mechanisation into the country.?
Products
ACE manufactures about 4,000 cranes, 5,000 tractors and 1,000 forklifts. Currently, ACE offers 1-3 tonne capacity fully AC and DC drive electric forklifts, 1.5-35 tonne diesel forklifts and 2-3 tonne dual fuel forklifts. ?Our light duty forklift trucks are considered to be the most fuel efficient forklift and offers 30-40 per cent more fuel efficiency than the competition,? claims Gole. ACE engines offered in this range of equipment are compact in size, fuel efficient and service friendly. ACE engine on 2 tonne and 3 tonne diesel forklift has directly mounted hydraulic pump which improves hydraulic system efficiency by reduced transmission loss.
Jungheinrich offers a wide range of forklifts and lift trucks for warehousing and logistics industry. Electric forklifts range from 1 tonne to 5 tonne, while diesel/LPG has a range starting from 1.6 tonne up to 9 tonne. Acharya says, ?Our electric forklifts come with AC technology, which is maintenance-free. All our electric forklifts and warehouse trucks guarantee maximum operation hours for single charging of the battery. In certain application areas like chemical industry, we have a good range of flame-proof trucks. Also our forklifts and trucks are efficient in operating in extreme temperature conditions (sub-zero in cold storage).?
Its robust torque converter counterbalance trucks give high productivity, coupled with high reliability in all applications. The simple design of the torque converter drivetrain allows it to be used in a wide range of rugged and industrial operations. In addition, it provides a smooth power take up while accelerating and producing optimum efficiency at all speeds. The rugged Kubota engines have been tried and tested globally in harsh environments, including high and low temperatures, high humidity and tough terrains, returning optimum reliability.
Toyota MHE offers 1-10 tonne range and can go up to 25 tonne. These ranges are available for ICE trucks and for 1-7 tonne comes as battery operated ones. Elaborates Mandahr, ?All our products coming to India are the latest ones and comply with all the stringent norms. The engines powering the counterbalance machines comply with Euro-III norms. And battery forklifts are zero-emission products.?
Escorts has introduced the contemporary technology forklift trucks in the Indian market two decades back, from Doosan (Daewoo then), South Korea. In 1999, Escorts launched LPG forklift trucks that generated big demand from food and beverages industry in particular. Doosan offers a wide range of forklift trucks wherein diesel forklifts 1.5-16 tonne, LPG 1.5-7 tonne and electric 1.5-5 tonne. All the forklifts are Tier III compliant with below 72 db noise level.These are CE and UL certified. Fool proofing against abuse and carelessness by the operator is a standard feature. Escorts Doosan has ?oil-cooled disc brakes? which is a unique feature. Power shift automatic transmission, anti engine re-cranking and operator seated sensing etc are some of the major features.
KION provides Voltas brand IC forklift trucks with capacity ranging from 1.5 tonne to 16 tonne. These comply with BS-III emission standards and are most fuel-efficient in their class. E-trucks are provided in capacities of 1.5 tonne to 3.5 tonne. Battery-operated pallet truck, stackers with height up to 6.3 m and reach trucks with heights up to 9.6 m cater to warehousing needs.
?Godrej offers diesel driven forklifts range from 1.5 to 25 tonne capacity and electric forklift range of 1 to 5 tonne capacity. In addition, they also offer special forklifts for container stuffing, de stuffing and empty container handling in the range of 16-32 tonne capacity in association with CVS Ferrari,? says Lingayat.
Close to customers
Remaining close to customers is the most important factor in a business. According to Gole, ACE has appointed more than 90 dealers across India besides its own 18 areas/regional offices. It has also initiated and established toll-free customer care number, first in industry, for quick access and registration of complaints, if any. The complaints are documented and recorded. Audio recording with relevant information is forwarded to the concerned product service head, concerned area manager and dealer for their quick action to resolve the customer complaint.
According to Acharya, Jungheinrich has taken utmost importance in staying close to its customers. He elaborates, ?About 50 per cent of our workforce is in aftersales service and is constantly expanding. Optimising downtime is of paramount importance. We have placed our trained engineers at strategic locations for providing quick response to customer?s call. We also provide special technical training to our engineers for quick resolution of complaint if any on our equipment. Though we don?t keep spare parts at multiple locations, we have a centralised warehouse at Bhiwandi in Maharashtra from where we are able to cater to 85-90 per cent of the spare parts requirements in the country.?
Challenges
All players point towards a complex tax structure which is prevailing in the country. The current structure of different sales tax, octroi, entry tax etc in different states puts the manufacturers at disadvantage and does not offer a level playing field. A uniform tax structure would help improve the scenario. Says Acharya, ?GST is one factor that can really help enable the logistics industry grow with rationalised tax structure by eliminating the anomalies. This will help in setting up many more large tall warehouses which will require many handling equipment like forklifts and trucks of high efficiency to serve the industry reliably.? Mandahr echoes, ?Taxes need to be restructured and GST is the only solution that we can foresee.?
Speaking on the challenges, Raina goes beyond the tax burden as he says, ?So long as the industrial vehicles operate within the bound premises of a factory, RTO registration is not mandatory, yet at some there is a lack of clarity. The hirers need to get the forklifts registered with the RTO in case they are using these on road or driving them on their own power from one place to the other. The basic import duty on fully built up unit and kit for manufacturing is the same, whereas there is a need to promote value addition/localisation through differential duty structure. Like for other products, GST would be a big relief.?
Rental market
Demand for forklifts from rental market has seen growing regularly. The growth of rental market has been more aggressive than what it had been 4-5 years back. Earlier the market was limited with small rental companies which were moreover localised and the fleet was utlised to make temporary arrangement to meet peak loads and stop-gap arrangement to meet the delivery schedule till the purchased equipment can be deployed. But now the scenario is changing due to OEMs providing complete solutions to the industry including rental services.
The flexibility of renting out new machines has increased and that?s how big industries are saving capex by deploying rental machines for their long term usage also. According to Acharya, due to the increase in retail and e-commerce business, warehousing is on rapid growth, giving sharp hike in rental market. He adds, ?We are one of the few OEMs in the material handling equipment industry who do rental business on our own. And we will be investing in a workshop for refurbishing our used trucks which are in the rental market. By the end of this year our refurbishing centre will be ready.?
Gole feels that customers, especially fleet users, like to off-load logistics/material handling activity to rental machine providers. This arrangement saves them from huge capital investment, day to day operations and maintenance issues. ?We see a huge potential in this segment in future. We already have a fleet of machines for rental business,? he adds.
According to Raina, the rental market is just beginning to get organised. Currently, there are only a limited number of big players. He adds, ?Going forward, rentals would constitute more than 30 per cent of the demand/deployment. Rentals being a norm globally, will catch up in Indian marketplace in the near future.?
Outlook
In the current market, the supply is more than demand because, being a developing market, most of the global players are here in Indian market. Acharya says, ?Demand for the medium duty forklift is more as compared to others. Market for forklifts is increasing at the rate of 25 per cent every year. Demand for warehouse trucks like stacker, BOPT, reach truck etc is also increasing at 15 per cent year-on-year.?
According to Gole, forklifts up to 5 tonne capacity is the major selling segment and contributes to almost 85 per cent of the total requirements. ?Though this segment will continue to be the major growth driver, we see a considerable growth in heavy-duty forklifts segment mainly due to increase in import/export activities and exponential growth in ICDs,? he says.
Mandahr feels that although, the last few years saw a sales downtrend, there has been a slight uptake in volumes as the industry is growing by 20 per cent over the last few years. He sums up, ?If the ?Make in India? concept really catches up, more and more equipment are going to come to India. Companies would be looking at material handling in a gigantic manner as they will be increasing their focus on outflows which involves material movement.?
In light of the accelerated growth triggered by ?Make in India? initiatives and consequent requirement of upgrading logistics in the country, India has the maximum potential for both diesel and electric forklifts.
Safety features in Jungheinrich electric forklifts
Deactivation of hydraulic functions if seat is unoccupied.
No roll-back on ramps or inclines due to automatic parking brake, even when the truck is switched off.
Automatic reduction of travel speed when cornering with Jungheinrich Curve Control
Drive Control: The speed control which automatically reduces the speed of travel when cornering and from a defined lift height.
Lift Control: The lift speed control which, in addition to the travel speed reduction, also automatically reduces the tilt speed of the mast from a defined lift height. The tilt angle is shown on a separate display.
?Light duty electric forklifts will be the major growth drivers since current trend is to have pollution-free greener forklifts.?