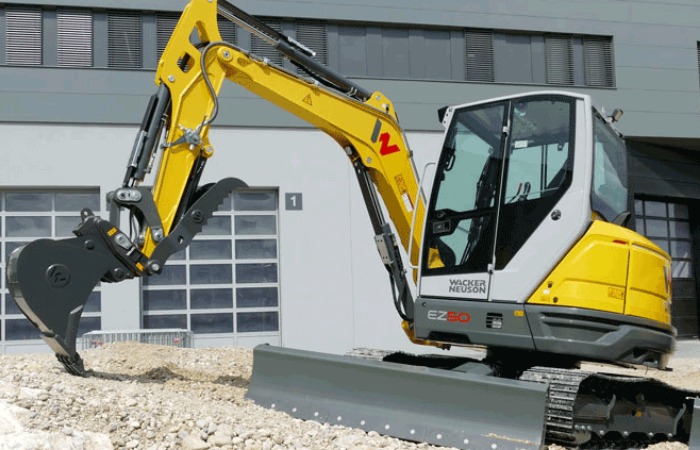 The flagship model of Wacker Neuson's latest compact excavator models was on display at Equip Expo 2022 in Louisville, Kentucky. The 5.8-tonne ET58, a conventional tracked excavator, is part of a family of excavators, the 4.2-tonne ET42 and the minimal tail swing 5-tonne EZ50, that have been released over the past couple of years.
"It's an interesting class of machines," said John Dotto, Wacker Neuson product application and training specialist. "The 4-ton excavator was the catalyst for designing this particular family of machines, because when EPA regulations said that 3.5-tonne excavators over 25 horsepower required an aftertreatment system, it became pretty cost ineffective to have that size class machine with the high horsepower."
For customers looking for a machine with a small footprint but high productivity, Wacker Neuson came forward with the ET42.
"That's where we've got the 48-horsepower Perkins engine on the ET42, EZ50 and ET58," Dotto said, noting that the E4T2 filled the gap, bringing Wacker Neuson back into the high-horsepower game in a compact package.
With a cab a bit bigger than a 3.5-tonne machine and maintaining a small footprint, contractors can haul a 4.2-tonne excavator and CTL. Dotto noted that many are opting for that option versus the one-piece tractor/backhoe solution.
"A lot of landscapers are used to running 3.5- to 4-tonne excavators," he said. "If you get into things like small boulder walls or things that are going to require a little bit more carrying capacity, a 6-ton size class maybe a 5-ton zero tail is appropriate for the landscaper who's carrying maybe outcroppings or boulders that are a little bit larger."
Dotto cited the ET58 as being well-balanced and powerful for heavy lifting.
"It's a great machine overall," Dotto said. "In this family, it's the heaviest machine. It's got a different arm system and undercarriage than the ET42 and EZ50, so it's a little bit heavier, and it's got the most technology."
Among the unique features of the ET58 is the larger seven-inch display with a backup camera.
"I would call the ET58 kind of our flagship mini excavator because it's got the most technology," he said. "With the off-set cab, the four-way angled blade with float, this is a great example of top-tier performance in that 5.8- to 6-tonne size excavator."