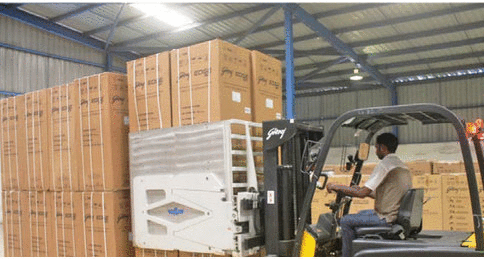 Warehousing equipment is at the cusp of further growth due to an expected demand for bigger and taller warehousing set-ups in the coming years.
Driven by the growth of various industry segments such as FMCG, pharmaceuticals, food and beverages and e-tailing, logistics distribution hubs and clusters are mushrooming in all major parts of the country. With GST in force and uniform tax across the country, more bigger and smart warehouses are expected to come up to ease product storage and distribution. Going further, this will enhance the demand for high technology material handling systems coupled with suitable automation solutions.
Market: Small but growing
Compared do developed markets, warehousing operations in India is very small. However, it is gradually changing from a tradition concept of godowns to the modern concept of warehousing and distribution hubs. According to Manojit Acharya, Managing Director, Jungheinrich Lift Truck India Pvt Ltd, warehousing sector in India is at a nascent stage currently, as a large quantity of materials is still non-palletised, requiring large storage area. He explains, 'Any material which is not palletised cannot be either stored effectively in a rack or handled using a material handling equipment. So it is important that the materials need to be palletised and effectively stored in racks which saves a lot of space and enable easy handling with equipment. The total market size of warehousing equipment in India is about 10,000 machines per year, which is very small compared to the size and population of our country. However, the sector in India is evolving very fast and moving towards palletised loads which can be stored at heights.'
A few recent developments in the Indian market have opened new avenues in the warehousing operations. One of these developments is the introduction of Goods and Services Tax (GST). Cavas Dumasia, Vice President - Marketing & Sales, Godrej Material Handling, compares the scenario, 'Post GST, companies that distribute products through large number of warehouse/distribution points in India are definitely reviewing their supply chain. Before GST, there were the issues of various tax components such as VAT, entry/exit tax, octroi etc, and the related economics. But today a company can take a completely different view of where they want to set up warehouses/distribution points, how they want to configure the supply chain, and so on.'
Dumasia further adds,'Today, GST has taken out the tax angle from decision making. Now the decision making will be totally based on the demand, supply, location (close to customer and/or vendor base), and logistics cost. This is a major change and is definitely going to change the logistics scenario. GST will be a major step towards reducing logistics cost. Now with the check posts and octroi points being dismantled, trucks can reach faster which will reduce the overall logistics costs due to higher truck utilisation and reduced operational costs.'
Acharya opines, 'GST was something which we had been looking forward to for the past few years. Prior to the launch of GST, the location of customer sites and storage of goods were dependent on states, tax sops, supplier base, etc. With GST unifying the market, we anticipate a rise in logistics and warehousing activities as companies would like to consolidated warehouses which are larger/higher and automated. This will lead to growth in number of material handling equipment required, which will improve the prospects of handling equipment industry as well. So we expect a faster change in terms of technology upgradation and automation in the coming years.'
Equipment demand to grow
With consolidation of warehouses, and they getting larger and taller, it will necessitate mechanised handling and may be automation. As the land availability is shrinking, people are going vertical for storage of cargo, preferably in palletised format. To palletise and store cargo vertically, one will require material handling equipment. In the workforce also the trend is towards more skilled work rather than being involved in unskilled jobs. Consolidation of warehouses, shrinking land availability and the non availability of semi-skilled/unskilled workforce will push for mechanisation and automation.
According to Dumasia, palletisation is a major factor that will drive the growth of material handling equipment in warehousing. He adds, 'Many large companies looking at making their supply chain more productive and efficient will look at how they can handle loads effectively. When loads are palletised, the backward and forward linkages also need to be palletised if the system is to be efficient. This will put increased focus on palletisation and utilisation of heights etc, which will again enhance the demand for handling equipment. Growth in manufacturing and trade will really push the absorption of material handling equipment. 'Make in India' will be a real boost to manufacturing sector which will benefit our industry of material handling.' Acharya is also on the same page when he says, 'More palletisation of loads and vertical expansion of warehouses will drive the demand for warehousing equipment. Also more automated equipment will create skilled workforce with a lot of unskilled workers transforming to become skilled operators.'
Holistic warehousing solution
The logistics segment has become more efficient with the integration of fragmented components such as services, transportation, packaging, tracking, etc. In future, once the automation and software become more prominent in the warehousing operations in India, customers will look for a complete warehousing solution from technology providers.
Says Dumasia, 'At Godrej, we provide three major solutions required in warehousing. One is the material handling equipment, in which we have a vast range of reach trucks and articulated trucks, right from a small pallet truck to a 25-tonne forklift truck. That allied with our racking systems and automation solutions (in JV with Korber) allows us to provide a complete package of solution for a customer. Any requirement of a customer can be met by Godrej. It allows our teams to look at customers' problems and requirement of solution holistically, without being sub-optimal.'
In India, Jungheinrich is basically a sales and service organisation, according to Acharya. He adds, 'We sell new equipment, provide equipment on rental basis, and sell used equipment. All three functions are supported by our after sales team, offering commissioning services, AMC and spare parts. Our products cover the entire range of warehousing equipments from BOPT, stacker to forklift and reach trucks. We also provide high-end warehousing solutions like Very Narrow Aisle (VNA) trucks along with warehouse navigation and warehouse management systems. Though we are not into complete warehousing solution as of now in India, we are open to providing racking solution, automation and control solution apart from the handling solution in future, with the expertise from our head office in Germany.'
Products and solutions
In India, the warehousing equipment market is not new, at the same time not so old also. While traditional Indian players such as Godrej which started in 1963 manufacturing forklift trucks, foreign players also entered the market later. Dumasia elaborates, 'Started in 1963, Godrej MHE has been the pioneers in material handling industry. We manufactured the first forklift truck in India. Since then we have been manufacturing counterbalance trucks of various capacities along with useful attachments. We have also added a full range of warehouse trucks and now represent major global players. That along with our own exhaustive product range and storage solutions allows us to give a complete solution to customers who wish to set up or modernise their warehouses.' According to him, Godrej has pioneered many of the newer technologies in India and found solutions for industries, including a 10 tonne forklift truck which can go inside a container. The company also does a lot of customization as Dumasia explains, 'For steel manufacturers we have designed and developed a forklift which can carry steel coils of up to 10 tonne inside a container. We have also introduced paper roll clamps for forklifts. We have also pioneered tyre handlers in India handling tyres weighing up to 8 tonne fitted on large earthmoving equipment. This equipment has rough-terrain capabilities and can go into mines. We continue to innovate to assist our customers add value to his operations.'
Jungheinrich is also one such supplier which has the entire range of handling equipment required for a warehousing set-up. Says Acharya, 'Globally, we do everything, starting from a simple hand pallet truck to a complete automation of warehouses, including racks, conveyors, automation, software, ASRS system etc. However, in India we are currently focusing on material handling equipment only, range from hand pallet truck to the complex VNA trucks with warehouse navigation. Each of these trucks is high-tech in terms of features they have and benefit they provide.'
VNA truck is one of the latest innovative products provided by Jungheinrich. They are characterised by maximum space utilisation by making aisles as small as possible along with high lift heights. Narrow aisle storage allows strategies such as first-in first-out to take place in controlled environment. Minimising the aisle width and maximising throughput allows the best possible utilisation of bulk storage and picking profiles increasing efficiency. There are different types of guidance on the truck, rail guidance or inductive guidance. The guidance system allows high travel and lift speed without operator intervention. These trucks have various driver assistance systems for safe and reliable operation.
'Our trucks come with assistance systems like end of aisle control lift and drive cut-off, truck cut-off and speed reductions. These trucks can also be automated, i.e. man less operation. We are well equipped to provide automated products and consistently supply in Europe. In India, automation is still at a nascent stage however we envisage a growing awareness amongst customers,' adds Acharya.
JCB offers a range of material handling solutions that can be used in warehousing operations as well. Jasmeet Singh, Head of Corporate Communications and External Relations - JCB India Limited elaborates, 'In the material handling segment, we have a world-class range of equipment that can be used in various applications where material has to be lifted or placed at heights, including in the warehouse application. Our material handling range includes the telehandlers known as JCB Loadall, the skid steer loaders known as JCB Robot and the Super Loader.? JCB India currently offers three variants of Loadall - the Made-in-India 530-70 and 530-110, which have lift heights of 7 m and 11 m, respectively. Additionally, there is a 17 m machine, the 540-170 for high lift and reach applications which is imported from the UK.
Productivity and Efficiency Features While productivity, fuel efficiency and ease of operation are important for a material handling equipment, safety is of paramount importance, because this is a moving equipment in a plant or a warehouse. Dumasia elaborates on the safety features incorporated in Godrej range, 'Godrej material handling equipment are safe as they adhere to the relevant IS standards. Yet it is a material handling equipment driven by contract workers. Hence, we try to go beyond the standard to provide additional safety such as automatic speed reduction of equipment while equipment is turning. These features come standard in our equipment, while in many of our Indian competitors' products this is an optional feature.'
On the emissions front, he further adds, 'In emission, we have seen a sea change. We see the opportunity in people wanting to be more environment-friendly. Godrej as a company is always environment conscious. We have invested in R&D towards development of battery-operated electrical forklift trucks. As a result, today we have a range of electrical products which are state-of-the-art, incorporating the latest technology available in the world.'
Singh also emphasises on safety and says, 'Safety is an important parameter today. In a warehousing application, customers are looking at a machine which has the reach and the height to perform that job and JCB Loadall is an ideal equipment which can meet the requirements of handling material at different heights. They are becoming popular in process industries, agricultural logistics, and construction.' He further adds, 'Ensuring safety at a construction site is of paramount importance. Today, OEMs are constantly looking at ways to make their products safer to use by offering world-class safety features. The material handling range offered by JCB India is a perfect combination of safety, productivity and versatility.'
Some of the key safety features that are being offered in JCB telehandlers are: ROPS/FOPS cabin; Load moment indicator with alarm; Hose burst check valves; Stabilisers; Four-wheeled drive for better traction; Great visibility from within the cabin; and Robust structures. Singh adds, 'From a lift height of 11 m onwards, the machine comes with stabilisers. Above 11 m height, the stability of the equipment becomes important and that is where JCB telehandler is an ideal pick. It has got internal sight gauge, audio-visual alarm and other such safety features. All these features put together make JCB telehandler a safe choice. Thus, JCB's telehandlers combine the unique features of Safety, Productivity and Reliability.'
According to Acharya, Jungheinrich products are embedded with features, which provide high safety, reliability and productivity in its range of equipment. He elaborates, 'Our forklift with features like curve control on bends/turns, mast cushioning, energy saving during braking, crawl speed switch and anti roll back ensure safe operation. Increased productivity comes from higher speeds, lower deadweight per tonne of capacity and high residual capacity at maximum lift heights. Our machines are designed considering ergonomics and anthropology requirements, features like adjustable seats, adjustable steering, more leg space, and more visibility, all enhance the ease of operation for the operator.'
On emission compliance, he explains, 'While we are more focused towards battery-operated machines, we have a range of diesel-powered machines also. In fact, we have launched a new product in our diesel range which is compliant to the latest emission norms. Our trucks are majorly designed in Germany which is always ahead in emission regulations.'
Acharya further adds, 'The controller of our machine is equipped with CANBUS control. In this type of system, all participating elements are linked together for exchange of data. This enables real time feedback, closed loop system, quick data transfer and about 30 per cent reduction in cable connections. Features related to safety, reliability, productivity and ergonomics, are things for which we are possibly the world's best.'
Telehandlers: advantages
Materials and loads in a warehouse are usually being handled by forklifts, which are good to use till a certain height only. Singh explains, 'If the material has to be placed beyond a certain height, JCB's telehandler range is a perfect fit. This power packed machine can lift loads of up to 3 tonne to a level of 7 m and 11 m, using the 530-70 (7 m height) and the 530-110 (11 m height), while the bigger 540-170 machine can lift up to 4 tonne to a level of 17 m.'
Apart from warehouses, JCB's Loadall can also be used wherever there is lifting requirements at heights, be it in airports, in real estate or even in areas where other machines cannot go. It also comes with a variety of attachments which makes the machine even more versatile. The widely used attachments are general purpose shovel, heavy duty forks, bucket with grab, crane hook ? fork-mounted, grain bucket, power grab, man platform and drum handlers. All these are made with the purpose of making the machine do a variety of tasks on site, thereby improving the utility of the machines.
Diesel vs battery-operated
While diesel-operated machines are being used for heavy outdoor applications, battery-operated machines are used inside the warehouse. Currently, the ratio of battery-operated vis-a-vis diesel operated trucks is almost equal. According to Acharya, currently, diesel-operated machines constitute almost 40 per cent of the total market. While the trend is not clear in India as of now, in western countries it is towards battery-operated machines. However, in future there may be more demand towards battery-operated machines in India, though diesel-operated machines will still play major role in certain segments. We introduced a 5 tonne capacity battery-operated truck long back when nobody had such a heavy capacity machine. Globally, now we are looking at going to higher capacities in battery-operated trucks.'
In the battery-operated machines, one of the concerns is the time required to charging the battery whenever required. This can affect the productivity of the equipment. Jungheinrich has introduced its machines in Europe fitted with lithium-ion batteries. Acharya states, 'Jungheinrich is amongst the early suppliers who adopted lithium-ion technology to material handling equipment. These batteries are extremely compact, more efficient, faster charging, provide 6-10 times more cycles, have 100 per cent discharge and are environment-friendly as compared to lead-acid battery. In future, lithium-ion battery will be standard feature for our trucks. We will shortly introduce this to Indian markets as well.'
According to Acharya, going forward, while focusing on both newer and further high-tech products, Jungheinrich will also give the necessary attention to basic handling equipment also. 'While we are launching a lithium-ion battery lift truck, we are also launching a simple 1.5 tonne battery-operated pallet truck. So we are looking at the entire spectrum of the industry,' he adds.
Customer support
Training is imperative to update the operators and staff about the new and emerging technology developments. Dumasia elaborates on the training initiatives, 'We have three training centres at Mumbai, Bhubaneswar and Chennai, and are planning to open one in the North. We train forklift operators at these training centres including customers' operators. We also identify unemployed youth from the area and provide them training. Our training centre in Mumbai is the first forklift training centre in India to be registered under the National Skill Development Corporation (NSDC).'
After-sales service is the backbone of the success of any business. On the after-sales services, Dumasia says, 'We have a wide service network with 16 company-owned branches and 51 dealers covering 72 locations across India, where we have factory-trained mechanics and service engineers. Parts are stocked across these locations to provide easy availability to our customer. So we have mapped the whole of industrial India. Our aim is to be close to our customers. Our reach is a major advantage towards service support. We also provide warranty services, a range of AMCs and comprehensive maintenance.'
Acharya says, 'At Jungheinrich, we believe in complete customer engagement and hence we have a strong service team. Our after-sales team is the biggest team in our company with about 55 per cent of our total workforce. They are well-equipped and trained to do commissioning services and AMC. We also run operator training workshops. We have our spare parts warehouse near Mumbai where we stock critical spares parts for our range of products and deliver the same at the shortest time to our customers. Jungheinrich ensures that customer's equipment remain highly available via a comprehensive network of service engineers and part support.'
Rental scenario
Rental is an ideal option for customers because it will keep away the issues of capex, equipment maintenance, dedicated operator, space to keep the machine, etc. Many OEMs are involved in rental services of their own equipment. Says Dumasia, 'Rentals allow a lot of flexibilities to customers. It plays a major role in the growth of material handling equipment such as forklifts, reach trucks etc with about 25 per cent of the total market being catered by hirers. We expect this to go up to 40-50 per cent in the next five years. Currently rental market is largely unorganised, however, there are a few organised rental players and we are one of them. Godrej has been in the business for almost 10 years now and we have a matured model in renting to meet our customer needs.
Challenges
According to Dumasia, the scale of warehousing operations is a major challenge in the growth of material handling equipment. Considering the current level of manufacturing, warehousing and trading activities in India, the market for material handling is at a lower level compared to the industrial economy like India should have for the annual sales of lift trucks. He adds, 'In 2000, the number of lift trucks was about 1,600 and today it is about 10,000 which means it has taken time to grow to this scale. Our warehousing set-ups need to improve in size and operations which will increase the requirement of more handling equipment and storage solutions. Today, about 70 per cent warehouses are small in size where the scope for mechanisation is not eminent. Warehousing and handling use sub-optimal and in such cases the logistics cost goes up. Other major challenge of varied tax structure is now gone with the GST.'
Singh comments, 'There are no major challenges, but since Loadall is a new concept in India, pioneered by JCB, we do have an opportunity for growth in this market. There are a lot of new market avenues that can be tapped with this revolutionary product. Once the market further matures, Loadall and other material handling equipment will find great use in multiple applications.'
Opprotunities galore
The warehousing sector is on the cusp of a major change, according to Dumasia. He adds, 'We can expect changes happening over the next six months to three years as India graduates towards more organised modern warehouses from the current unorganised small ones. Material equipment market will grow in time with this. A successful 'Make in India' programme and the GST will lead to an exponential growth of the industry.'
On the company's sales trend, Acharya says, 'Jungheinrich India has experienced consistent growth in the past few years as we have seen an increased acceptance of our technology and products in India market. Our market share has grown by 50 per cent between 2015 and 2016, and we are expecting it to grow by about 20 per cent in 2017.
On the market outlook, Acharya observes, 'The requirement for trucks is 930 and 235 units per million people per year in Germany and China, respectively. In India, this is less than 10. So, compared to global markets, the Indian market is very small. However, the trend of using safe and reliable products that are highly efficient, coupled with the need of companies to build larger and taller warehouses, we see a tremendous potential for growth in this market. On an average, the market is expected to have a sustainable growth of 10-12 per cent year-on-year.'
Singh states, 'The material handling industry has immense growth potential across various applications. Increasing popularity of vertical stacking, thrust on palletisation, along with the growing need for safe, reliable and productive equipment are the driving factors for demand. Faster and safer solutions will have to be adopted in terms of equipment if we are to replicate the global best practices in India.' He further adds, 'Moreover, in India, now the trend is towards multi-utility. When a customer plans to buy equipment for an application, he is also looking for a couple of other applications by using different attachments. It is time to replicate the global best practices in India.'
With India aiming at transforming into modern organised and bigger warehousing operations from the traditional small godowns, warehousing equipment sector has a lot to cash in from this progressive trend, and the market is expected to see a major change with new technologies and solution in the overall warehousing material handling operations.
- Sudheer Vathiyath