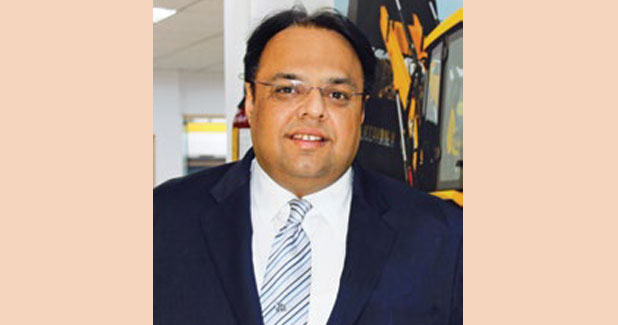 JCB has 15 operator training centres across India and trained about 25,000 people so far.
Jasmeet Singh, Head - Corporate Communications and External Relations, JCB India,
elaborates more on the importance of operator training and the company's initiatives.
Skill development scenario
There are two aspects to upgrading the skill sets of equipment operators. One is giving training to first-time operators, who are just getting on to machines at worksites for the first time. They need training on all aspects of equipment operation.
Other is upgrading the skill sets of existing operators - upskilling them on new technology and features. As an industry, there are opportunities in both these areas. There are opportunities in giving proper training and skilling to first-time operators, at the same time, there is an equal opportunity in terms of upgrading the skills of existing operators.
In the last few years, various initiatives have been taken to skill people on Construction Equipment machines, which includes setting up of the Infrastructure Equipment Skill Council (IESC) to cater the requirements from Indian construction equipment sector.
The skill council from each sector has been entrusted with the responsibility of creating a training course, imparting it and trying to provide employment post the successful completion of training.
In the construction equipment sector, the IESC in association with the industry, provides certified training courses. It has been entrusted with the responsibility where all the members of the council (which includes JCB and other OEMs), come on a common platform and create a course that is approved by the industry and Government.
Importance of skill development
Skill brings two important aspects to the project site. One is productivity and the other is safety; both are important. However, safety is more important because if the site is not safe, one cannot be productive.
A skilled operator can increase
the efficiency in the project sites considerably. So, the skill development covers the safety aspect in great detail. The increasing number and size of projects has necessitated more investments in products and equipment. With equipment becoming more advanced, there is a growing need for trained operators. So productivity and safety are the two major factors and only a skilled operator can effectively address both these.
Maintenance plays a key role in the productive operation of a machine. It is equally important for improving the maintenance skill.
For JCB, we have almost 6,000 service engineers in the field who have been trained regularly through formal periodical training processes. Infrastructure projects are becoming bigger in size and the equipment being used now are different from what they were 20 years ago. A lot of digital technology has come into these equipment. So you need a technician or operator who understands all these aspects. This can be achieved only through regular skill development initiatives.
Training for excellence
JCB has a wide number of operator training centres in India. All our 15 training centres conduct training and provide certificates to the candidates after the successful completion of the one month training programme. However, a lot of work still needs to be done to narrow down the gap between the demand and supply of skilled operators.
For anyone who is just entering the trade and wanting to become a operator, we provide a dedicated training course. Such students will go through a one month training programme. After the successful completion of the training, he will be granted the qualification with a certificate.
So far we have trained about 25,000 people in total. And many of our centres are accredited to IESC, some of which are also linked to Pradhan Mantri Kaushal Vikas Yojana (PMKVY). We have pioneered this segment with the first centre established almost 15 years ago. We realised the importance of skilling long ago, given the growing focus on infrastructure development in the country, more machines are going
to be used and more people have to be trained.
Of course, the number of machines sold are outnumbering the number of people getting trained. Yet, we are making a significant effort in our own way to ensure that at least we have more number of skilled operators on site.
Currently, we provide training for backhoe loaders. But we are also making bespoke programmes for customers who are buying other products such as telehandler, skid steer loader, wheeled loader etc.
If a telehandler is getting sold and customer is not fully aware of the functions or the operator is not aware of the machine operation, we are happy to give them training on site. Because these products are new and different from machines such as excavators. Hence, it is imperative to provide them with adequate training.
Training is also important in manufacturing of equipment. As the technology changes, the people who are making the products need training to improve their skill sets. At JCB, we are doing a lot in terms of skilling the existing workforce as well.
In our Jaipur factory, almost 30 per cent of the workforce on shop floor is women. We have a 16 week detailed induction programme at the welding training school at the Jaipur facility for ITI and Diploma holders.Comprehensive skills developed through these programmes have helped young men and women excel in their careers, especially women engineers, who are now making their careers in traditionally male dominated areas of manufacturing such as welding and assembly.
Role of government in skill development
Government support is essential for effectively taking forward the skill development programmes. But having said that, what we see is that over the last 3-4 years, many programmes have been rolled out on skill development, which is really encouraging.
The Central Government's PMKVY is a great initiative in this direction, which can be a game changer. It makes people think more on the importance of having skill sets, how it can lead to success, and the need for making skill development mandatory. The Indian construction equipment industry is working with the government to ensure availability of skilled workforce.
Training for bright future
We look forward to increasing the number of operator training centres from what we have now. We also want more people come to us and get training. We are fully committed to improving the products and equipment, and provide training to match the technological developments.