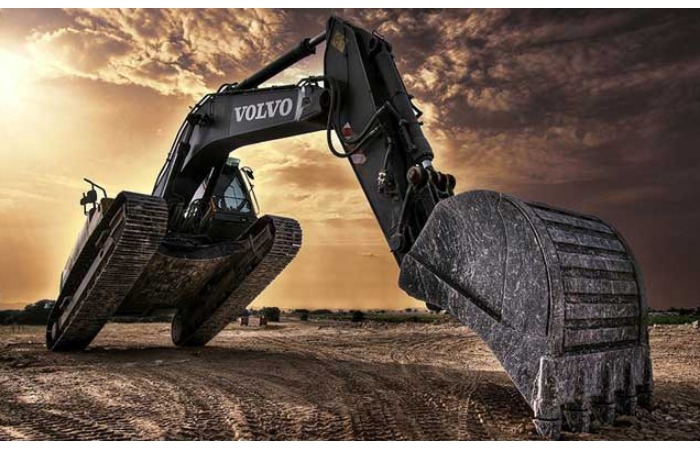 Commercial infrastructure is expected to witness significant growth due to increasing infrastructure activities and urbanisation. Construction projects such as the expansion of airports, construction of commercial buildings, growing highway constructions, etc. are reinforcing the demand for undercarriage components.
The global undercarriage components market is set to surpass a valuation of $6,829.6 million in 2022 and further expand at a CAGR of 4.1 per cent to reach $10,173.9 million by the end of 2032. Sales of undercarriage components accounted for less than 32 per cent of the global undercarriage system market at the end of 2021.
Earthmoving equipment, such as mining excavators, construction excavators and dozers, are heavy equipment that serves the primary as well as secondary sectors of an economy. One of the vital parts of earthmoving equipment is undercarriage. Undercarriages consist of several components, including track shoes, final drive units, track rollers and other auxiliary components, to support the movement of earthmovers. Since the cost of new construction equipment is much higher than the cost of replacing existing components, operators tend to supplant earthmoving equipment undercarriage, bolstering the aftermarket trading of undercarriages.
The major undercarriage components include links, pins, bushings, sprockets, rollers, idlers, shoes and frames. The market for track-mounted equipment is growing in India which contributes to the growth of crawler parts and components. Equipment such as crawler excavators, piling rigs, dozers, cranes, trenchers, pavers, milling machines, etc. are the major markets for undercarriage parts.
The rising demand for this device in the mining and construction industry has led to manufacturers developing new and advanced products in the market. Technological advances have made undercarriage components more durable and efficient.
The prevalence of counterfeit products has also risen in the market. The low pricing of these products has resulted in increased sales. However, the quality of these products remains questionable. This factor is expected to confine the sales of original products in the coming years.
Over the 2017-2021 period, the global undercarriage components market registered a CAGR of -2.1 per cent, and according to the Fact.MR, a market research and competitive intelligence provider, the market is projected to exhibit growth at 4.1 per cent CAGR between 2022 and 2032.
Market share analysis of undercarriage components based on equipment type and region is provided in a nutshell in the infographic. Under the equipment type segment, crawler excavator sub-segment will dominate with 33.3 per cent market share in 2022.
Prominent manufacturers of the undercarriage components industry worldwide such as Caterpillar, Continental AG, DBA Group (Berco), Deere & Company, DIGBITS, Dozco, Gemmo Group, Hitachi Construction Machinery, Hoe Leong Corporation, Komatsu, MST, Renomag, ThyssenKrupp AG, Titan International, Topy Industries, Trident International, TVH Parts Holding NV, USCO SpA, Verhoeven, etc. are putting emphasis on launching products that are technologically advanced to gain competitive advantage over others. Companies are following growth strategies such as acquisitions and collaborations with other market players to help improve production capacities, improve market penetration and capture larger market share.
"DOZCO, a reputed Indian manufacturer of mining and construction equipment, attachments, and components, joining forces with ITM, an international leader for manufacturing undercarriage components to meet the global demand, is a milestone in the honourable Prime Minister's Make in India initiative. This will be a boon to the customers who are starved of quality and critical components. The world will reap the benefit with the joining hands of two respected and renowned leaders in their field," said NG Bangur, Director, DOZCO.
"By leveraging on ITM's expertise in undercarriage production and design, and DOZCO's market knowledge and service capability, we will be able to offer our customers a significant improvement in operational efficiency and quality service. This reinforces ITM's position as a global player and key partner in the world of undercarriage," said Maria Cecilia La Manna, Chief Executive Officer, ITM.
L&T Construction & Mining Machinery's Suraksha-10000 / MCP-4 Machine Care programme is a unique, industry-leading initiative from L&T and Komatsu. Under this program, Komatsu's PC210/PC210LC-10M0, PC300 / PC350LC-8M0 machines come with an extended power train warranty for a period of four yours/10,000 hours and bundled with a host of value-added services such as scheduled services, energy-saving, training and guidance, preventive maintenance clinics, undercarriage inspection, and machine health reports. This programme is aimed at assuring customers true peace of mind.
CASE CX220C Excavator, launched in December 2020, is specially designed for the toughest applications. Fitted with a powerful and reliable FPT Industrial engine to ensure high productivity with low fuel consumption, this equipment is ideally suited for quarrying and earthworks around mines. Its robust design, with 33 per cent stronger heavy-duty arm, boom and undercarriage structures improve the machine's durability in the harsh mining terrains. It is easy to maintain from the ground level, which makes it a good choice for the user.
Demand drivers
The construction industry across the globe is anticipated to present significant opportunities for construction equipment such as crawler excavators, dozers, compact track loaders, and crawler cranes. This in turn is expected to propel the usage of undercarriage components consequently driving their demand and sales. Moreover, growing commercial infrastructure is estimated to push undercarriage components' demand.
With the advent of hybrid and electric equipment as well as stricter emission norms for conventional engine equipment, the cost of new equipment has increased. With tighter project timelines, the need for specialised construction machines such as bulldozers, excavators, and crawlers has increased substantially for executing specific tasks with ease at a faster pace. The construction and industrial equipment market is expected to be valued at somewhere around $36 billion in the US in 2022.
Hence, manufacturers are focusing on providing these services which are increasing the demand for such equipment at a quick pace. This, in turn, enables the manufacturers to maintain the machinery regularly, particularly the undercarriage components which play a crucial role in the equipment. Such rental and leasing services by equipment manufacturers are predicted to drive the growth of the undercarriage components market.
Furthermore, an earthmoving equipment undercarriage represents a significant proportion of the equipment's purchase price and upkeep and maintenance of undercarriages is not a short-term activity. Moreover, nearly half the overall maintenance cost of equipment can be attributed in its undercarriage. During operations, undercarriages experience wear due to rough terrains. For the proper operation of equipment, maintenance plays a vital role, which subsequently creates an opportunity for aftermarket maintenance and repair activities. The demand for earthmoving equipment carriages can be correlated with the growth of end-use industries, such as construction, agriculture, and mining. Therefore, significant investment, government initiatives, and subsidies elevate the sales of earthmoving equipment undercarriages.
The increase in government investments in developed and developing countries for projects such as infrastructure development and repair is predicted to drive the growth of the undercarriage components market. The construction industry GVA in the UK has reached a valuation of more than $138 billion in 2021. An upsurge in the growth of government spending is expected to propel the demand for heavy machinery, in turn, supporting the growth of undercarriage components.
The growth in the agriculture and construction sectors is expected to propel the demand for heavy machinery. This, in turn, drives the demand for undercarriage components. Accelerated construction of road infrastructure across developing economies has hoisted the demand for construction machinery, such as track loaders, bulldozers, and crawler dozers. Rise in the incorporation of machinery in the agriculture segment, increase in the usage of small heavy-duty machines in the industrial sector, and surge in construction activities across the globe, drive the global heavy-duty machinery market. This, in turn, boosts the demand for undercarriage components. The availability of numerous machines that are driven on wheels and do not need tracks and undercarriage components is liable to inhibit the demand for undercarriage components.
However, the substantial initial price associated with construction equipment has triggered the trend of renting and leasing of construction equipment. Mid and small-level construction players are experiencing high-cost burdens while purchasing new construction equipment. In a bid to satisfy their infrastructure requirements, they are opting for rental equipment to avoid high costs of new machinery. This is likely to negatively affect the sales of latest undercarriage components, owing to lowering demand for brand spanking new machines, successively restraining the expansion of the undercarriage components market.
The growing efforts to build dams, highways, railways, and roads as a part of the initiative to develop smart cities in the fields of mobility and energy, With the pouring investments made by the government, the increase in demand for construction equipment is increasing, and this increase is directly contributing significantly to the undercarriage components market.
Sandip Chakroborty, Managing Director, JCBL, said, "Defence is going to be one focus area; the other focus area is going to be railways. We are planning to supply products for railways as there are a lot of new trends and upgradations coming up. They are much better in terms of quality than what they do to produce earlier. For railways, it is going to be fabricated components such as the undercarriage or the roof panel of the train or the end walls. Those are the kind of products that are going to be provided by our kind of setup, mainly with mild steel or stainless-steel fabrication."
Challenges
The increased economic uncertainty and practical constraints of site visits and inspections have led the mining companies to adapt and evolve to automation. Such transition is expected to result in a higher cost of technological advancement, thereby prohibiting the growth as a large number of heavy machinery and construction equipment are used for mining purposes.
This, in turn, will restrain the growth of undercarriage components. Mining end use market share in 2022 is expected to be 24.2 per cent, further it is expected to lose a significant market share by the end of the forecast period.
Further, many miners have experienced a downturn in the global supply chain, uncertainty in the geopolitical landscape, and technological disruptions that are resulting in declining investment in mining activities on a global level. Several stringent government norms related to mining equipment are also posing a challenge to the industry, and this is negatively affecting the sales of undercarriage components globally.
The rising demand for undercarriage components in the construction and mining sector has influenced manufacturers to develop advanced products that satisfy the customer's demands. Due to this, there has been an increase in the price of undercarriage components. In addition to this, there are also the high-maintenance costs.
Due to the high price of genuine products, the market is flooded with counterfeit undercarriage components which are low in quality but also low in price. Due to this, several small-time construction and manufacturing companies prefer these counterfeit products.
Due to a lack of efficient marketing practices, consumers find it difficult to distinguish genuine products from counterfeit products. This factor is likely to confine the sales of original undercarriage components, in turn posing challenges to OEMs and genuine aftermarket players of undercarriage components in the coming years.
Needs to be on fast track
In spite of the positive trends, the market for undercarriage parts and components needs to gain pace in the coming years. Compared to global market, the segment in India is still moving at a slow pace. Upgraded maintenance practices and developing advanced components matching the growing requirements of the OEM market can put the segment on fast track. While the global market prefers for tracked equipment, in India the tracked machines are limited to a few equipment segments such as excavators and crawler cranes. However, going ahead, there is a great chance of compact equipment with crawler base to work in difficult to reach areas and urban development projects.