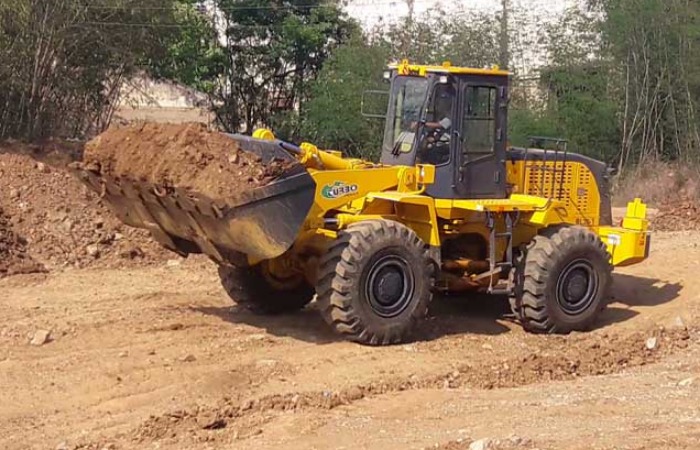 Mining policy reforms, privatisation of commercial coal mining, more private players in mineral mining, National Infrastructure Pipeline for the creation of next-level infrastructure projects: reasons are many for the wheel loader market in India to cheer. These developments will definitely drive the growth of wheel loaders in India in the long term as these are the major equipment used for high volume loading in the construction activities, mining, warehousing and ports. Because of their high volume and weight loading capacity, mega construction projects will drive the demand for wheel loaders. Higher capacity loaders are used in mining. The rising demand from mining and quarrying application is anticipated to further contribute to the market growth.
The demand trend
The demand for wheel loaders is primarily for loading, unloading and bulk material movement in sectors such as ports, mining, roads and highways, tunnelling, quarry and crushers. The demand is expected to gradually grow in the coming years as wheel loaders will be widely used in large scale infrastructure and construction projects as well, such as roads and highways, railways, dams, ports, airports etc.
Productive moves
When considering the efficiency and productivity in wheel loaders, the bucket plays an important role. The bucket capacity and size are important for specific applications. MV Rajashekar, Director (M&C), BEML, explains the features of buckets, "Buckets are provided with spill guard to avoid material loss and increase the bucket fill factor. Side plates and cutting edge of bucket are provided with advanced wear and abrasion resistant material. Multiple bucket options like general purpose bucket, multi-purpose bucket, rock bucket, and hard face bucket are offered based on the application."
L&T offers several types of buckets to provide customised solutions for specific applications. Vivek Hajela, General Manager and Head - Construction Equipment Business, Larsen & Toubro says, "The buckets are available from 1.5 cu m to 3.5 cu m with the options of straight edge or bevel nose cutting edges. The buckets are also available with tooth points or without tooth points. We also offer buckets with 'weld-on tooth points' or 'bolt-on tooth points' as per the customer requirement. There is a six-in-one multifunction bucket to further enhance the versatility of the machine for different utility applications."
Digital and intelligent solutions play a vital role in coordinating the overall functions in a machine efficiently making the equipment productive at work. Jasmeet Singh, AVP, Corporate Communications and External Affairs, JCB India, says, "The 'IntelliLoad' feature in JCB wheel loaders allows the machines to move and carry maximum tonnes in a day, by keeping a check on under-loading. It is an accurate load measurement and reports the weight loaded on to the bucket. This innovation has helped bring accuracy to the bucket function of our wheeled loader machines, reducing the cycle time. The feature contributes to all-round efficiency by implementing optimised truck loading, preventing double handling of material, improving fuel efficiency of the machine, preventing overloading fines, preventing spillage and structural damage."
How to reap benefits of future demands
Wheel loader is a key equipment that finds applications in large volume operations in across the infrastructure segments, from construction, mining, warehousing and ports for high volume loading and unloading operations. At a time when projects are growing bigger and wider, the scope of using bigger equipment such as wheel loaders is also growing. In spite of the current slowdown due to the COVID-19 impact, the opportunity for wheel loaders is immense in India from a long-term perspective due to the mining policy reforms and the large infrastructure projects planned as well as under execution. In order to gain from these opportunities, it is important to iron out the challenges faced and make the machine more region-specific and cost-effective. Singh says, "For infrastructure projects to be successful, liquidity is essential. The pandemic has made banks and NBFCs even more risk averse. Transmission of liquidity is critical for our industry – RBI has done a lot in the past few months, the benefits of which need to be passed on to the end users."
L&T is bullish on developing new products and solutions by strengthening its R&D initiatives in the new approach towards indigenisation. "There is likelihood to a strong focus on 'Made in India' products after the Prime Minister's clarion call for Atmanirbhar Bharat. The government has already taken steps to provide preferential treatment to local manufacturers in public procurement. This will encourage local players to expand capacities and invest in state-of-the-art technologies and build effective local supply chains," says Hajela.
Speaking on the same line, Rajashekar suggests, "With long term market looks positive to reap the real benefit for the wheel loaders market, it is necessary to develop complete local manufacturing facilities for wheel loaders in India with 100 per cent indigenisation. This in turn will stop the outflow of foreign exchange and generate local employment."
Post-COVID scenario, Indian wheel loader market is expected to grow at a higher CAGR due to evolving mining sector, construction and government initiatives for infrastructure development. Hajela concludes on a positive note, "The long term prospect for the loader is positive and we expect the market to grow at healthy rates of 12-15 per cent annually once the COVID-19 gets out of the way."
Box 1
L&T 9020 WHEEL LOADER
Net power: 133 HP
Operating weight: 11,500 kg
Bucket capacity: 1.5 to 3.5 cum with standard bucket 2.0 cum
Max dump clearance: 2,746 mm
Static tipping load: 7,200 kg
Engine: AL H6ETIC3RU23/3 133 HP @2,300 rpm
Box 2
JCB 455ZX WHEEL LOADER
Net power: 165 kW (221hp)
Operating weight: 17,880 kg
Bucket capacity: 3.1 cu m
Engine: JCB DIESELMAX 672
Box 3
BEML WHEEL LOADERS
| | | | | | |
| --- | --- | --- | --- | --- | --- |
| Model | Gross power (hp) | Operating weight (kg) | Rated bucket capacity (cu m) | Static tipping load (kg) | Dump height @ full lift (mm) |
| BL200-1 | 133 | 10,500 | 1.7 | 6,600 | 2,800 |
| BL30-1 | 225 | 18,000 | 3.1 | 10,800 | 2,782 |
| BL40 | 300 | 28,000 | 4.7 | 16,000 | 3,260 |