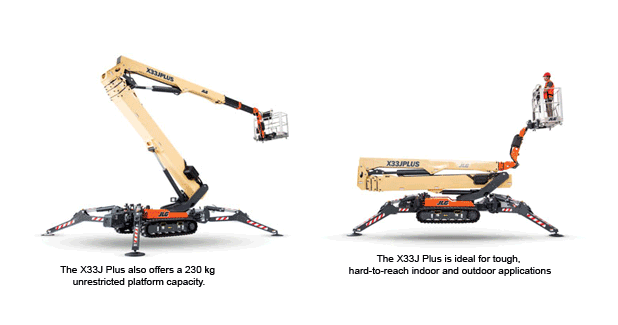 JLG Industries announced that the new JLG« X33J Plus compact crawler boom (CCB) is now available. The latest of four JLG CCB models brings the CCB line into the 30 m height class. The US equivalent, model X100AJ, was previewed in February 2018 at The Rental Show in New Orleans in the US.
'The revolutionary X33J Plus demonstrates JLG's continued commitment to delivering the industry's broadest range of access equipment,' said Jan-Willem van Wier, Sr Product Marketing Manager for JLG in EMEA. 'This newest addition to our CCB line allows operators to reach greater heights with increased machine flexibility to navigate more spaces safely.'
The extended work envelope 17.20 m up-and-over height and 16 m of horizontal working outreach. Its compact footprint allows the X33J Plus to fit through a standard double doorway for easy movement between indoor and outdoor applications.
Retractable non-marking tracks, along with a patented platform disconnect system, make it easy to maneuver the machine through tight spaces. The X33J Plus is less than 5.80 m long and under 1.20 m wide when the platform is removed.
The X33J Plus also offers a 230 kg unrestricted platform capacity, allowing operators to bring more materials to the work area, creating a safer and more productive work environment.
Other features include:
New articulated column design, giving operators the ability to work flush with the surface of a structure
Smart technology that improves boom functionality by enabling multiple simultaneous movements
90 degrees +/- jib movement for added reach
One-touch self-levelling outriggers to stabilise and level the machine on slopes up to 16o
Stability is further enhanced by large, Teflon«-coated outrigger pads, while standard forklift pockets and lift hooks allow for easy loading and unloading
SkyGuard« enhanced control panel protection comes standard, continuing the company's commitment to enhanced control panel protection

An advanced technology 150aH/76 Volt lithium-ion system is available to provide clean, quiet operation and performance, comparable to or better than the traditional gas engine power. A Kubota diesel power source is standard. The X33J Plus comes with fully synthetic biodegradable hydraulic fluid for use in environmentally sensitive areas.
This new machine is ideal for tough, hard-to-reach indoor and outdoor applications, such as atriums, gymnasiums, arenas, auditoriums, airports, schools and universities as well as city, state, federal and military facilities. The X33J Plus' versatility and ease of mobility is ideal for jobs performed in hotels and convention centres by window washers, painters, maintenance professionals, electricians and tree trimmers.