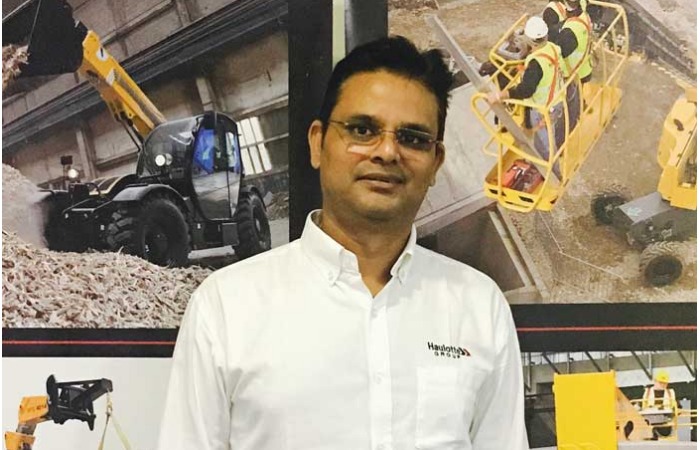 Souma Ray, Director, Haulotte India shares his thoughts on the AWP market outlook and the company's activities.
What are the application trends of AWPs in India? Which segments drive demand for AWPs?
AWPs are required across segments of the industry and businesses. Be it in infrastructure, Construction, power, oil and gas, facility management, maintenance, buildings, hospitals, malls, hotels, etc, wherever people need to work safely at heights, such machines are required. Of course, with the growth of awareness, people have started preferring AWP over traditional methods of accessing heights since it is directly related to safety and productivity.
The demand of AWPs needs to be divided between new and used machines. Whilst power, construction, infrastructure, in-plant maintenance, shipyards, and manufacturing sectors mainly fuel the demand for new machines. The rental industry albeit with few players buying some new machines is mostly into used machines.
What is the rental and owned market share of AWPs in India? What is the growing trend in both these segments?
The end-user segment owned machines have generally been new machines that have been imported over the years, whereas the rental segment has mostly been used machines with a lesser percentage of newer machines added. The estimated share between end user owned vis-a-vis rental segment is 30 per cent and 70 per cent, respectively.
However, the growth trend over the years in both end-user and rental segment with respect to new machines has not been to our expectations. While demands in other markets have grown exponentially over the period of last 4-5 years (China from 300 machines in 2016 to over 50,000 machines in 2020), in India we are still in the range of 150-350 units during the same period, considering the reputed worldwide brands. Thus, essentially the market in India hasn't grown much. This is primarily due to lack of legislations whilst working at height and the unhindered import of cheap used machines of any age and condition. Whilst many developing countries follow a strict norm of limiting the age of used machine import, we in India have no such embargo.
How far the pandemic-induced market conditions impacted the AWP market? How is the market recovering now?
The Covid-19 pandemic has deeply affected all business sectors across the world including the AWP segment. The pandemic and the extended lockdowns that followed have punctured India's economic growth in Q2 and Q3. In India, after the lockdown was announced on March 21 for over three months, the entire economy of the country came to a standstill. Since the open up was announced from June 8 onwards, slowly business started to trickle again. It was miniscule in the initial months due to the series of restrictions on movement, transport etc. As a result, the economy will likely to see its sharpest-ever contraction in 2020.
However, the bright side is that in the past three months, things have started becoming better and the demands are picking up again, which is an encouraging site.
The year 2021 would be a year of challenges and consolidation, so we need to keep ourselves ready to make good of any opportunity that is available. Recent trends in fast-moving indicators are encouraging, with growth in manufacturing and tax collection and improvements in mobility levels. Fast-moving data in recent months indicate that manufacturing and consumer spending have improved considerably, likely on the back of pent-up demand and easing restrictions. However, the recent growth momentum is unlikely to be sustained, and we expect economic activity to return to pre-Covid levels only in 2022.
What are your key initiatives to effectively serve the market and support the customers in the current market conditions?
If you see Haulotte's tag line, it says 'Let's Dare Together'. We at Haulotte believe in being in close proximity to our customer. Further, we also strongly work on enhancing the skills and knowledge of our customers who own or desire to own our equipment. That is why, during lockdown period we engaged ourselves in providing product, maintenance and service training to many of our customers. We are also working intrinsically with our customers to find solutions to the new or upcoming requirements and also assist them, if required, in finding suitable financing solutions.
How do you view the market opportunities for AWPs in the post-pandemic scenario?
We expect the demand of AWPs to pick up in the coming months. With the increase in the pace of activities across sectors, the requirement of AWP would see an increase. We are already noticing the trend since the past two months, which is a heartening trend. However, as I have mentioned earlier, 2021 will be a year of challenges and consolidation. Unless the vaccine is out there would be a lot of scepticism in the market. We can only hope that things start steadily improving in the later part of 2021.
What are the new technology developments in AWPs? What are your latest products and solutions in AWPs?
Over the past six years, we at Haulotte have been adding new models in our line-up to keep in pace with the changing technology and needs of our customers. We have introduced new generation AWPs in our product line up that had the best value, performance, features that enhance operation and maintenance capabilities, yet been easy for the user to operate and maintain. In 2018, we launched our first machine of the PULSEO generation, a fully rough terrain electric articulating boom HA20LE/LEPRO. This is a unique machine that can work both indoor and outdoor on a 24x7 basis, if required. Also, we are the first manufacturer to offer a five-year warranty on our machine. This machine has won many prizes and accolades across the world and is very popular both with end user and rental segments. In line with our global strategy of becoming a BLUE company with a view of introducing newer technology machines that are environmentally friendly, silent and yet rugged to work indoors as well as outdoor rough terrains, our latest offering is the new PULSEO Generation 15 m and 18 m electric rough terrain scissors. This is a unique product with matchless proposition in its category. With the news on the impending launch of this machine, we are already being flooded with enquiries and major rental companies worldwide have already placed advance orders.
What is your outlook on the AWP market in India?
Although the growth of the AWP industry in India hasn't been up to our expectations, the pandemic has been a reason of major setback. However, on a global perspective, over the years, the demand of AWPs has certainly increased both in government and private sector. Rental sector is also seeing good demands of our equipment which is an encouraging sign. Hopefully, going forward as the AWP industry matures in India and people become more aware about the multifarious advantages of using such an equipment, the AWP industry shall start seeing a steady growth. In my opinion, in the next five years, this industry shall evolve to become one of the fastest developing sectors.